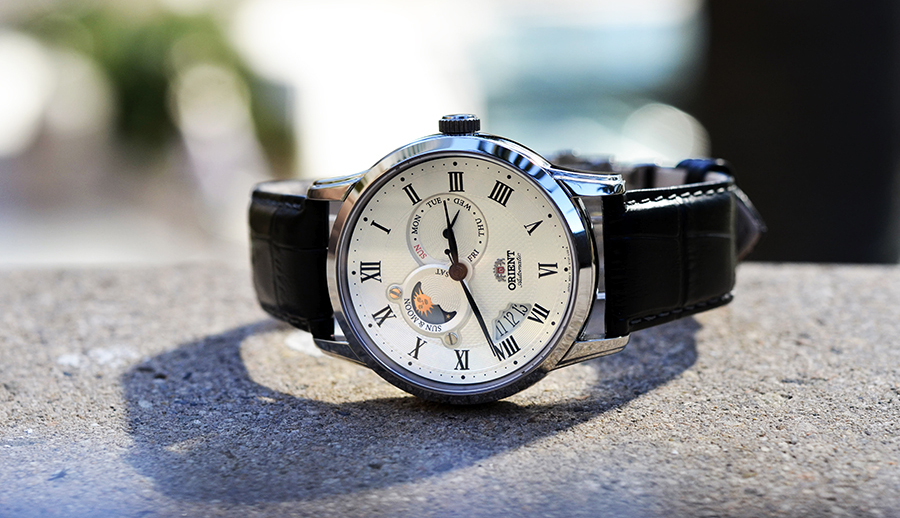 Moon phase watches are some the most sought-after timepieces among luxury watch buyers. In the late 19th and early 20th centuries, moon phase watches were commonly found in more complicated pocket watches. When the wrist watch took the place of many pocket watches, the moon phase watch also migrated to the wrist.
As you would expect, this type of watch shows the current phase of the moon as it is seen in the sky. A "moon phase" is the lighted area of the moon that is visible as it travels around the earth. The moon phase indicator is a rotating disc on the dial that displays the illuminated portion of the moon, as seen from Earth. Early studies taught that the movement of the Earth and the moon's position relative to us meant that we are constantly seeing a different view, but there really are only four primary phases of the moon. If you're not familiar with them, they include waxing crescent, waxing gibbous, waning gibbous, and waning crescent.
The moon has always played a significant role in our movements and daily existence, particularly with regards to nature, navigation and even religion. As most of us are aware, the moon was the first method of telling the passing of months. The cycle from new moon to full moon and back again is 29 and a half days, providing a regular cycle that has been the life cycle for a variety of things throughout centuries, from religious celebrations to our paychecks.
Moon phase watches are known to embody timeless charm and whimsical artistry that you can't always get from other watches. If you are considering purchasing a moon phase watch, I believe it says something unique about your personality! Whether your decision to invest in a moon phase watch is one of practicality (they are very useful in some occupations), or one of simple attraction, they are timepieces that you will thoroughly enjoy and want to hold onto for life.
Below are our top 7 picks, which are also the cheapest options on the market today.
Quick Compare
Watch
Movement
Size
Band
Price Point
Seiko SRX003

Check Price
Kinetic quartz
42mm
Genuine leather
$$$
Bulova 96C26

Check Price
Japanese quartz
35mm
Stainless steel
$
Citizen AV3006-50H

Check Price
Japanese quartz
44mm
Stainless steel
$$$
Frederique Constant FC270SW4P6

Check Price
Swiss quartz
40mm
Genuine leather
$$
Orient ET0T002S

Check Price
Japanese automatic
42.5mm
Alligator leather
$$
Baume & Mercier BMMOA10055

Check Price
Swiss automatic
43mm
Alligator leather
$$$$$
Lucien Piccard LP-40012A-RG-02S

Check Price
Swiss automatic
44mm
Leather calfskin
$$$$$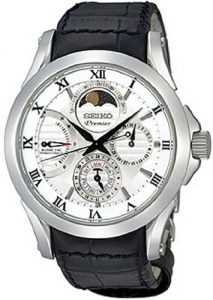 The Seiko SRX003 is an extremely well-engineered watch that is nothing short of charming while still maintaining a true sense of masculinity. This watch features a 42mm polished stainless steel case that's 13mm thick. Through an anti-glare sapphire crystal, this watch displays a classic white dial with black roman numerals and 24 hour complications which make the watch easy to read. The most exquisite feature of this watch in my opinion, is the sophisticated moon phase indicator located at the twelve o'clock position of the dial. The SRX003 features motion power kinetic quartz hybrid movement made in-house by Seiko. The kinetic hybrid drive allows the motion of your wrist to charge the capacitator rather than winding a spring. So, this watch won't let you down during a crucial moment. At full power, the SRX003 will last a month or more. And, it features a power reserve indicator that sits on the left of the dial which doubles as a real-time charge gauge, showing you how much power you are generating along a linear scale. The hands of this watch are a black brushed metal that contrast well against the white dial. The black croco-style leather strap features an elegant push button T-bar release clasp that's comfortable on the wrist.
With so many features, you could argue this Seiko SRX003 is too busy, but there's no debating its function and attractiveness. Although the SRX003 is considered to be more of a dress watch, it can easily hold up to every day wear, and can be even taken swimming if you swap the band. It's water resistant to 100m. If you're looking to make an affordable investment in a functional and exquisite moon phase watch that you will have for years to come, look no further.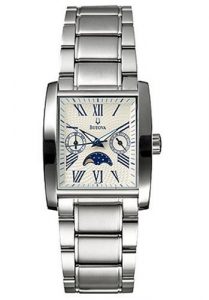 Bulova is known for its ability to keep up with constantly changing trends. Founded in 1875 in New York City by Czech immigrant Joseph Bulova, it was 1912 before Bulova set up a manufacturing business to sell high quality clocks and pocket watches. Bulova was one of a small handful of watch manufacturers that existed in early 1900. The manufacturing techniques developed and soon perfected by Bulova drove the company to renowned success by 1923. In 1919, Bulova introduced its first line of fully jeweled men's wristwatches. From there, the company took off and grew rapidly. And, the rest is history.
If you want a moon phase watch that's sleek but simplistic enough to wear every day, consider the 96C26. The Bulova Men's 96C26 features a 35mm brushed stainless steel case. The rectangular dial on this watch is a slightly textured soft cream color with classic navy blue Roman numerals. The dial is covered with mineral crystal, and features unique white hour and minute hands outlined in navy blue making this watch both pleasing to the eye and easy to read. The moon phase function on the 96C26 is perfectly located at the bottom center of the dial. The stainless steel band on this watch is 25mm making it lighter the most and easy to wear. Japanese quartz movement assures accurate time keeping, so you can get where you need to go without worry. This watch is water resistant to only 99 feet, but has is easily removable by the deployant buckle.
The Bulova 96C26 is more simplistic than other moon phase watches on the market, but has all the features you want at a price that won't break your budget.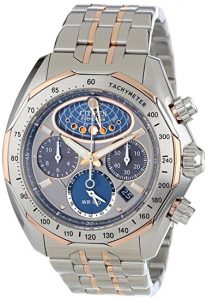 The hand assembled Citizen AV3006-50H is a head turner. Weighing in at 1.1 pounds, it's a substantial but doesn't lack in styling or detail. This stainless steel watch with rose gold accents has a 44mm case and thickness of 14mm. It features an impressive dual-coated anti-reflective sapphire glass crystal for plenty of protection. The steel grey dial on this watch is one of the most unique and impeccably detailed available in my opinion. It features 1/5 second chronograph measuring up to 12 hours and 12/24 hour time. If this wasn't enough, additional details include a second-hand, date window. Surrounding the dial of the watch is a tachymeter for measuring the speed and distance of various activities. The orange moon phases of this watch located at the twelve o'clock position is displayed against a blue background making it appear almost 3D, though it's not. And we haven't even gotten to the bracelet yet. The 5-link bracelet of the AV3006-50H is constructed with screws all the way through the links, and further secured with a safety fold-over clasp with push-button. The AV3006-50H comes with Eco-drive technology, so no need to concern yourself with replacing batteries. You will always be on time when wearing this watch. Japanese-quartz movement allows for superior time keeping. Not surprisingly, this watch is suitable for countless activities excluding diving. It's water resistant to 330 feet.
For the functions and seemingly endless features that the AV3006-50H boasts, the price is worth it. If you're considering investing in a moon phase watch that is versatile, can hold up to an active life style, and impressive, I recommend you invest in the Seiko AV3006-50H. Just wait until you hear the compliments you get.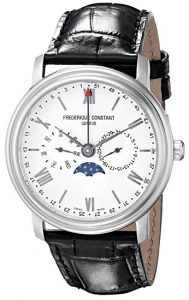 A slightly pricier but still well within reach moon phase watch is the FC270SW4P6 by Frederic Constant. For the price, this moon phase watch has an extraordinary luxurious look.
Although relatively new having been founded in 1988, Frederic Constant is one of the largest Swiss manufacturers of watches. The brand is hailed by watch aficionados for their accessible but luxurious timepieces. As part of the Classic Collection, the FC270SW4P6 has clean, simplistic lines with functional complications that aren't distracting. This watch features a stainless steel 40mm case with an anti-reflective sapphire to safeguard against scratching. Did you know if you rub your sapphire against cloth then place it against your face, it will be cold? Try it. I highly recommend this trick for cocktail parties.
The silver dial of the watch is surrounded with 2 O-ring crowns made of brushed stainless steel that add contrast, depth and attractiveness to the watch. It's important to point out that the dial of the FC270SW4P6 appears to be white when viewing via computer, but is in fact, silver. The dial displays elegant applied silver Roman numerals and darker grey minute and hour hands. Function was not forgotten when creating the FC270SW4P6. It features week, day and date complications. The blue, gold-starred moon phase of the watch located above the six o'clock position is an engaging contrast to the silver dial. Swiss-quartz movement made in-house by Frederique Constant ensures meticulous timekeeping. This watch has a masculine 20mm black calfskin leather band with buckle clasp that's both comfortable and practical enough to wear every day. Be sure to leave this timepiece at home if you plan on swimming. It's water resistant to 165 feet.
The FC270SW4P6 is a watch you will appreciate wearing every day. If you're searching for a moon phase watch that's not only affordable but classic and functional with a touch of luxury, I highly recommend purchasing the Frederique Constant moon phase watch.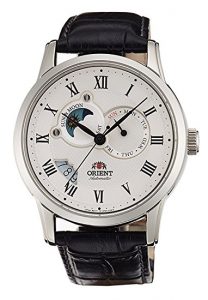 Next on our list of affordable moon phase watches is the oh so eclectic but chic Orient Automatic ETOT002S. This is a more simplistic looking moon phase watch but one that also displays fineness. This is a watch that's appropriate for the office, a night out, or trip overseas. Although the ET0T002S has a 42mm case with a thickness of 14.mm, its larger appearance is stylish. This watch features a sunburst white dial with day and date complications. If the sunburst white dial doesn't suit you, it comes in a variety of colors. A sapphire crystal sits over the dial to guard against scratches. The black Roman numerals and black hands against the white dial make this watch effortless to read. The most enchanting characteristics of this watch are the embossed day indicator subdial and slightly raised sun and moon phase indicator located between 10 and 11 o'clock. The moon phase indicator alone is worth purchasing this watch for. It displays a memorable color contrast between the black sun and teal blue moon disc. This, together with a red Sunday highlight, and the Orient logo, tie the entire watch together. This ET0T002S watch is powered by a Orient made 21-jewel self-winding movement and keeps especially accurate time. The band on this watch features a handsome black alligator grained leather strap with a deployant clasp. Water resistant up to 50 meters, you will want to keep this watch safe in its box.
Finding a moon phase watch this pleasingly aesthetic for an affordable price with all the functionality you need is not easy. There are thousands of designs to choose from, but not all moon phase watches are created equal. At a very affordable cost, the Orient ET00T002S delivers everything you could ever ask for.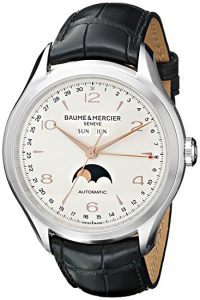 Our next moon phase watch is the priciest on the list, but one that you should consider if you're looking for both affordability and design. The Baume & Mercier story began in 1830 as a family business in Swiss Jura. The two brothers responsible for leading the business earned an outstanding reputation for creating exceptional models that incorporated cutting-edge innovations. Answering the public's desire for new products, Baume & Mercier launched the first "shaped" (meaning other than round) wristwatches. To date, the brand continues to operate by a philosophy set forth by Paul Mercier; horological mastery embodied through timeless elegance.
Not surprisingly, the BMMOA10055 exudes style and refinement but is also sturdy without overpowering the wrist. It has a sizable 43mm stainless steel case that is open in the back giving you a beautiful display of the movement. The sides of the case have both polished and brushed finishes adding depth and brilliance to this watch. The silver dial on this watch features rose gold-tone Roman numerals and hands with alternating Arabic numeral and index hour markers. The watch features You'll appreciate the anti-reflective sapphire dial window that ensures unwanted scratches will be kept at bay. This Swiss automatic movement in the BMMOA10055 allows for meticulous accuracy in timekeeping. This might be the most luxurious watch band you place around your wrist. Made of genuine black leather, the beautifully tailored and padded band tapers to 18mm at the deployant clasp and push button closure. This watch is water resistant to 50m so take a dip if you must, but if you want to preserve your investment, I recommend removing if it you intend on swimming for an extended period. Marketed primarily as a dress watch, this watch goes above and beyond. It's so attractive while being functional that you will want to wear it every day. If you're looking for a higher-end moon phase watch to add to your collection, the BMMOA1055 will fit perfectly. You won't be disappointed with your purchase of this watch.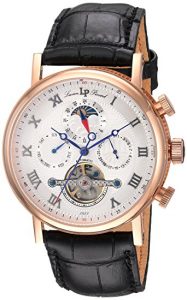 For over 90 years, the Swiss watch maker, Lucien Piccard has been making watches with superb artisanship and timeless designs. Lucien Piccard watches have been worn by royalty and celebrities around the world and are immediately recognizable because of their precise craftsmanship. Not only did Lucien Piccard pioneer the use of gemstones on watches, they were one of the first watchmakers to use slim-line watch designs.
The Ottoman LP-40012A-RG-02S is an elaborately stylish and debonair moon phase watch. This watch has a perfectly round rose gold tone ion-plated stainless steel case that is substantive one at 44mm with a 16mm thickness. The bezel of the watch is stationary. The back of the case is open allowing you to see the movement of your exquisite timepiece. Despite its size, this watch is water resistant to 30M, so it's not suitable for activities involving water. The dial of this timepiece has an intricately textured silver dial with a skeletonized window at six o'clock. The gunmetal Roman numerals and blue hands against the textured silver dial create a pleasing contrast that's attractive but also allows for easy reading of the dial. Covering the dial of this watch is a sapphitek crystal that provides superior protection against impact, water, wear and heat. Other features include day of the week and date subdials at three o'clock and nine o'clock. The 24-hour moon phase on this watch is stunning. Located at the twelve o'clock position, it features blue, gold and red colors that are striking. This watch has a 24mm thick black leather strap with crocodile texture and convenient dual deployant clasp. Not surprisingly, the LP-40012A-RG-02S keeps excellent time with precise automatic 20 jewels movement.
If you're considering purchasing an affordable moon phase watch that provides function but extraordinary design that is comfortable and not over-stated, considering trying on the LP-40012A-RG-02S. I'm certain you'll not want to take it off once you do.