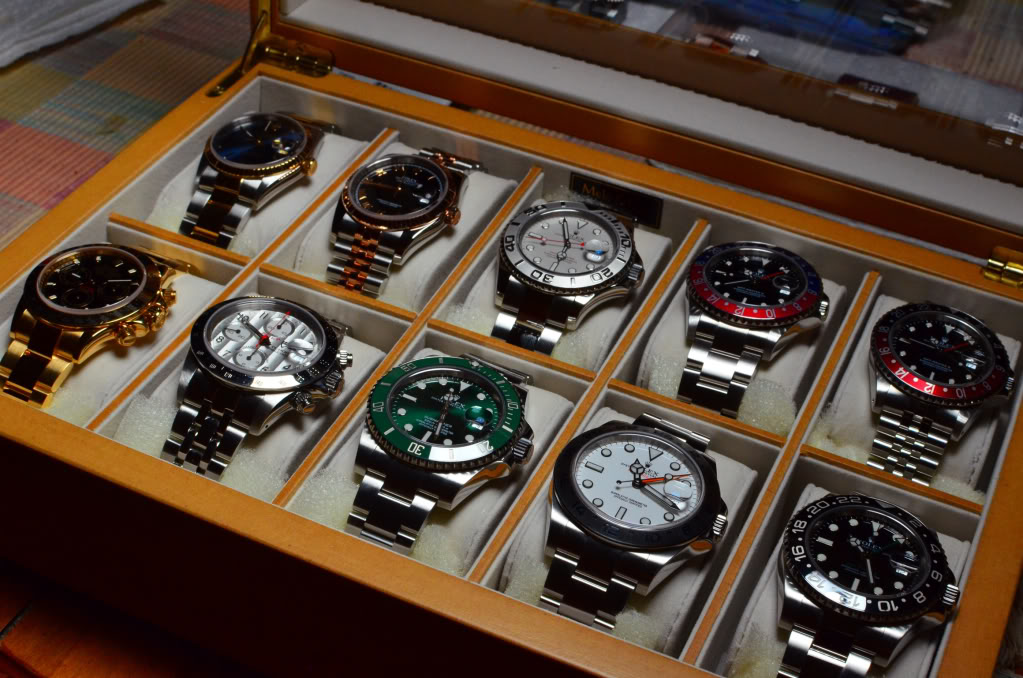 Let's be honest, if you love watches and enjoy reading about them, there's a good chance you probably have a timepiece or two yourself. Choosing your collection of watches wasn't an easy process; it took time, patience, and self control to find exactly what you want. So, wouldn't it make sense for you to want to have a way to keep them safe in something that's both practical, secure and elegant? Here are the top 5 best affordable watch boxes on the market right now.
Quick Compare
Watch Box
Capacity
Material
Size
Price
WATCHPOD Triple Watch Case

Check Price
3 Watches
Soft Lycra/Hard Shell
10 x 3.5 x 2.5
$$
Sodynee WBPU12-03 Large

Check Price
12 Watches
PU Leather/Glass
13 x 7.5 x 3.5
$$
Case Elegance Wood

Check Price
6 Watches
Wood/Glass
13.8 x 2.5 x 3.7
$$$
SONGMICS

Check Price
12 Watches/Jewellery Compartment
Faux Leather/Glass
12 3/4 x 7 5/8 x 5 1/8
$$$
Ohuhu

Check Price
6 Watches
PU Leather/Glass
11 7/8 L x 4 3/8 W x 3 1/8
$
Sodynee Elegant

Check Price
6 Watches
Wood/Suede
13 L x 4 1/4 W x 3 1/4
$$$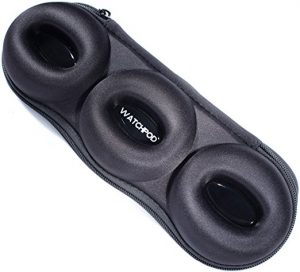 The WATCHPOD triple watch case checks all the boxes for us here at the Watch Review Blog. It's slim and compact, modern and innovative design provides maximum protection to your three watches whether you are storing them or traveling with them. This unique "pod" shaped design is a game changer, your watches are separated in separate compartments ensuring they never bump into each other!
The case is made from thick durable EVA plastic, lined on both the inside and outside with a soft Lycra material. Since the case has a hard-shell design it provides amazing protection, just as safe as a wood box, but with the benefits of being more compact and portable. The Triple WATCHPOD is also one of the most affordable options available, it also comes in a single case design for one watch with a few color options.
Sodynee WBPU12-03 Organizer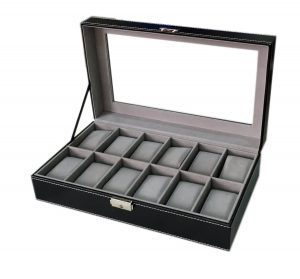 This leather black watch box from Sodynee is great for the price, and it begins our list. It's reasonably priced and you get a quality wood-constructed box that holds 12 watches very comfortably. This is an extremely popular option among people looking for an affordable watch storage case, and there's certainly some merit as to why.
The size, construction, and look of the Sodynee WBPU12-03 are all fantastic. As stated, it holds twelve watches, but if you don't have twelve watches to occupy this space you could store other items like rings, cuff links, or similar items. The construction is also great, offering a pu leather cover over a wooden frame that looks absolutely beautiful. The space in-between the compartments do have lining that sometimes comes up from the wood sometimes, but it's really not a huge deal. This box also features a basic locking mechanism and includes keys.
Bottom line: for such an affordable price, it's impossible to go wrong with this timepiece organiser. It's well-constructed and has all the features you need without getting too fancy or complicated. The design, appearance, and overall functionality of this product make it a phenomenal choice.
Case Elegance Solid Wood Organizer
Moving on, this solid wood watch organiser from Case Elegance is a fantastic option for those in the market for an effective watch box with a simplistic, yet beautiful design. It has all of the functions that an entry-level collector should need, and you can tell that Case Elegance put a lot of effort into crafting this piece of hardware.
The Case Elegance holds six watches comfortably, and if you don't have a ton of pieces that need storing, this might be a huge perk for you. I personally own a case with six storage slots because I have three watches, so getting a larger one would look sort of goofy. This is something that should be taken into account because you normally would get a smaller sized case and max it out with hardware before upgrading. If you need a timepiece organizer, this one is a fantastic option.
The wood Case Elegance has embedded magnets that help make sure the lid stays in place and also features a felt bottom to prevent it from moving or scratching the various surfaces in your home. It's is compatible with virtually every watch on the market including fitness trackers, GPU units, and others. The protective pillows also ensure that your timepieces won't get dinged up in storage or transportation.
Overall, this one is a beautiful, and it offers everything someone should need for a basic watch-storage device. Its beautifully simplistic design coupled with its pristine functionality make it an unassuming powerhouse in the watch storage market. This is a fantastic organiser that shouldn't go overlooked by anyone currently looking to store their watches, unless you have more than six watches. Even then, buying two or three of these to hold your collection would still look phenomenal.
SONGMICS Black Leather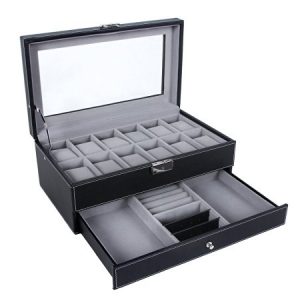 This slightly larger case from SONGMICS is a another great option if you're looking for the best bang for your buck. This one is bigger than others on the market, but the utility that the additional drawer provides makes it worth it. It's affordable, sturdy, and sleek.
This unique storage case features twelve spaces for your watches, while also having a small drawer that can be used for storage of bracelets, rings, or other jewellery. The SONGMICS is very sturdy, and the velvet pillows that hold your favorite watches will ensure they're well taken care of in storage. The lid is 100% glass and the bezels are just small enough to allow you to see every watch in your collection without any visual obstructions.
The functionality is also something worth noting, as it's not simply just a basic timepiece organiser. It can be used for all sorts of purposes, and holding your favorite watch is just the primary function. If you or your significant other have other forms of jewelry lying around without a home, they'd easily be able to fit in the compartment designed specially for smaller jewellery. The lid will stay open without any issue and it has a very tight seal when the case is shut.
The SONGMICS a great option, especially if you have needs that go beyond just storing watches. You can put cufflinks, rings, earrings, or other jewelry in here as well, assuming you don't need it to be displayed. If you only desire to have a twelve-slot case and nothing more, I'd personally recommend looking for something a bit more sleek and simplistic because it helps accentuate the watches in the case instead of diverting focus to the various compartments.
Either way, you really can't go wrong with this one, and it's multi-functional design make it a perfect option for people who want to go beyond simple timepiece safekeeping.
Ohuhu 6-slot Leather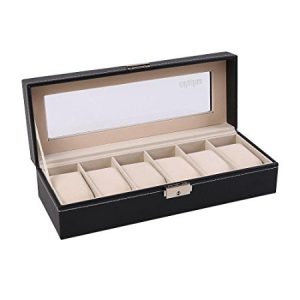 If you're someone who prefers simplistic designs that truly show off your favorite timepieces, then the Ohuhu six-slot watch box should be on your radar. This is about as simple as it gets, but it does its job with precision. There aren't any unnecessary features about the Ohuhu to detract attention off your watches, and the watches it contains are presented with class and beauty.
The Ohuhu has a faux leather exterior cover with (presumably) wood interior, and has a white stitching around the mouth of the case. It can stay open if you'd like, but it also features a basic locking mechanism should you choose to close it. The six soft removable pillows will ensure your watches are protected, but I would be wary using the Ohuhu whilst traveling because it doesn't feel as sturdy as some of the others we've looked at. These pillows are also removable, you can adjust the way that your jewelry is displayed and tweak it until you're satisfied.
The thing about this one and many others like it, is that if you're spending a lot of money on a watch collection, why not spend an extra ~$20 and get a solid wood box like the Case Elegance? I could just be biased towards wood, but I think it would be worth considering spending more money and getting more quality as a result. That isn't to say this isn't a good choice in any way, but it's just something I consider worth noting.
With nearly the lowest price tag on the list (at the time of this review), you really can't go wrong. It looks great, feels pretty great, and displays each watch extremely well and free of obstructions. The pillows are functional and ensure your watches won't be damaged, and the lock will ensure no one you don't want to have access to your collection can open it.
Sodynee Elegant 6 Piece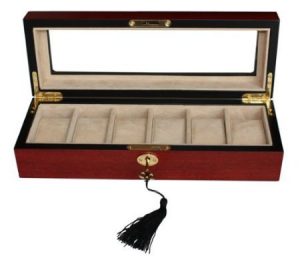 Continuing the trend of simplistic designs, we have the Sodynee six-piece wood watch box display case. This is another fantastic option if you're looking for a gorgeous way to store your watches, especially if you enjoy a fancier-looking presentation. This organiser comes equipped with an inlaid glass window, gold-toned hardware, and a lock and key.
I really won't be able to say it enough, but this case is gorgeous. The market of watch and jewellery storage is honestly oversaturated with dull black and grey color schemes without much, if any, variation among them. However, the rich dark wood with black finish of the case, coupled with the gold-toned hardware make this box absolutely gorgeous. When you open the Sodynee Elegant 6 piece, you immediately notice the gold hardware and black trim, which you couldn't see as well on the outside, and it makes every other feature pop-out in an exquisite way.
In terms of functionality, the Sodynee does everything very well. It opens and shuts perfectly, and also has a very tight close with a sturdy lock. It has extra clearance for larger watches and has six pillows to ensure your watches are well cared for during their tenure in the wooden case. I did notice that it was a bit hard to open at first, but it ended up being totally fine after I opened and closed it a few times.
Overall, this is my favorite watch box in this price range. It's absolutely gorgeous and has every feature you'd need to display your watches in a safe and effective way. The color scheme alone dramatically sets it apart from the rest of the industry, and I would almost venture to say you'd be spending more time staring at the aesthetic of the Sodynee instead of the watches it's displaying.