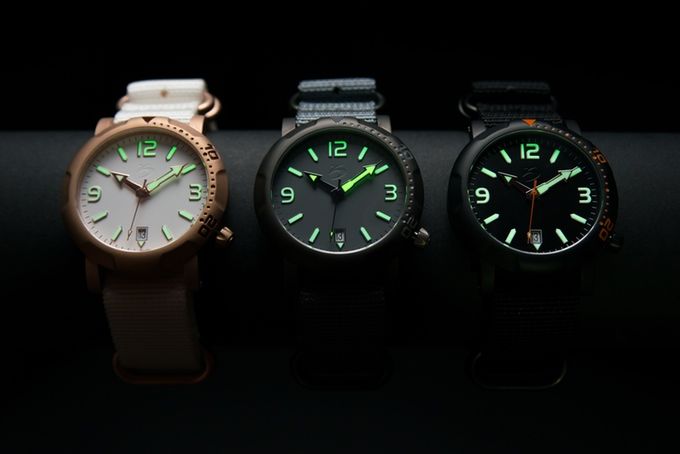 There are thousands of analog watches on the market from hundreds of different manufacturers. With so many to choose from, where does a person start looking and what should they look for? You want the greatest value for your greenbacks, but you do not want to sacrifice quality or function. Whether you are looking for a casual daily watch that encompasses classic features like leather straps and clean dial designs, or you are looking for a functional diver watch with chronographic subdials and screw-down crowns, we have you covered. We have scoured the world wide web to find the top 7 best analog watches for men with price points under $200.
Comparison Chart
Analog Watch
Size
Lume
Water Resistance
Price
Seiko SSC017 Prospex

Check Price
43mm
Yes
660 Feet
$$$$
Citizen AT0200-05E

Check Price
41mm
Yes
330 Feet
$$$
Orient FDB08005W Esteem

Check Price
42.5mm
No
165 Feet
$$$$
Bulova Marine Star

Check Price
44mm
No
330 Feet
$$$$
Stuhrling Original Aquadiver

Check Price
44mm
No
660 Feet
$$
MVMT Silver/Black

Check Price
45mm
No
96 Feet
$$
Invicta 3049 Pro Diver

Check Price
47mm
No
984 Feet
$$
Seiko Men's SSC017 Prospex Solar Watch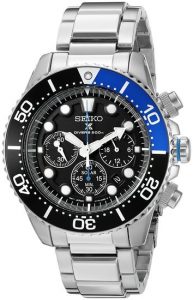 The Seiko SSC017 watch initially came onto the market in 2014 and has great value for the price. This solar powered bracelet watch has most of the features that you would need on a diver style analog watch. With a jet black dial and yellow tinted luminous hands and markers, the SSC107 is easy to read day or night. It is suited for professional marine wear with a water resistance depth of 220m/660ft although not recommended for scuba diving. The Hardlex mineral dial is created from silicon and barium, which is heated to harden it and give a good quality scratch resistant surface. This watch has a stainless-steel bracelet that is 20mm wide and comes with a fold over clasp and double push-button safety feature.
The case is 14mm in depth and 43mm in diameter giving it a bold stance on the wrist. Japanese quartz movement and a small date calendar on the dial. Three chronograph subdials are located on the face with one being a 24hr counter, the second being a 60-minute counter and the third counting the seconds. The Seiko SSC017 is easily recharged with natural or artificial light, and although the luminous markers do not light up for lengthy periods of time, this watch is still a good value for the money. If you are in the market for a diver style watch, the SSC017 is a logical and inexpensive choice.
Citizen Men's AT0200-05E Eco Drive Watch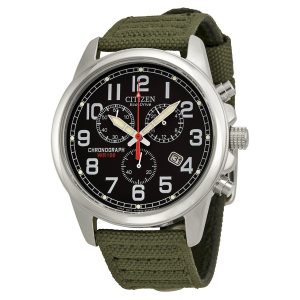 Citizen has been creating watches since 1930 and over time has been able to improve the overall function of their watches. This military inspired watch has a rugged green canvas strap with buckle closure. The stainless-steel case is 41mm in diameter and 11mm thick. The contrasting red second hand really stands out with its luminous details posing on the black dial. Although the Citizen AT0200-05E is water resistant to 100m/330ft, it is not recommending for diving. The bezel is stationary, but there are three subdials including a 12/24 hr time and 1-second chrono measuring up to 60 minutes.
The date calendar feature is well placed and relatively easy to read although a magnifier would be useful. With a mineral quartz crystal dial, you will have a level of scratch resistance that will get you through day to day wear. The shifting is smooth with the Japanese quartz mineral, and the watch is easily recharged with indoor or outdoor light. This watch does come with a 5-year Citizen Warranty, and that is one of the best out there for the price of the watch. Although this watch loses on average 60 seconds per month and the wrist band is a little short, it is still a quality watch for your money.
Orient Men's FDB08005W Esteem Watch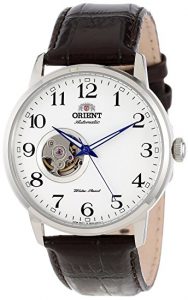 This classic watch from Orient is both stylish and functional. The Esteem is comprised of a Stainless-Steel case dial and a brown leather strap. What sets this watch apart is the open-heart design with its skeleton cut-out. To watch the mechanisms movement is both entertaining and stunning at the same time. The face of the watch is a soft white with Arabic hour marker detailing, and the hands have a distinct blue tone with a soft, luminous accent. The croc-embossed leather strap with buckle closure is stiff, to begin with, but over time softens to the shape of your wrist. Automatic self-wind technology, make keeping time stress-free.
With the analog display and a protective mineral crystal dial window, the watch boasts a scratch resistant window, although a sapphire crystal would be much stronger and would match the design of the Orient Men's FDB08005W Esteem Watch. The case diameter measures 42.5mm, and the thickness is 12mm giving this watch a meaty feel. If you want to take this watch into the water, it is not advised with a water resistance depth of only 50m/165ft. To keep this Orient watch ticking, it is recommended to keep it out of the water. In general, if you are considering a stylish watch for everyday wear, the Orient Men's FDB08005W Esteem watch will definitely turn heads.
Bulova Men's Marine Star Strap Watch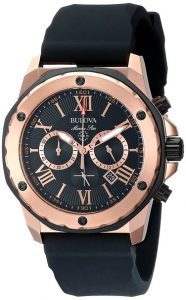 If you are looking for a functional divers looking watch with unique character, then this is the watch for you. The Bulova Marine Star watch is made of stainless steel with luxurious rose gold tone accents. The black guilloche face that has been mechanically engraved to give the look of intricate braiding accentuates the overall look of the watch with the rose gold hands with luminous detail. With three chronographic subdials and Roman numerals, the Bulova Marine Star is distinctive and functional. Japanese Quartz movement allows for accurate time keeping on the analog display that boasts a case of 44mm in diameter. It is a large watch that you can really feel when you are wearing it.
The rubber band strap with deployment clasp is both comfortable and durable, and the push button closure allows for a certain amount of security. Water Resistant to 100m/330ft, the Marine Star is ideal for water activities but is not recommended for diving. This watch is sharp looking and comes with a 3-year warranty if any problems arise. Although the wristband is a little on the small side, this watch will grab the attention of passerbys, and you will receive compliments galore on the unique design. All in all, the Bulova Marine Star is a solid purchase and has great value with impeccable design elements for those of you that love to stand out.
Stuhrling Original Men's 417.3 Aquadiver Regatta Espora Watch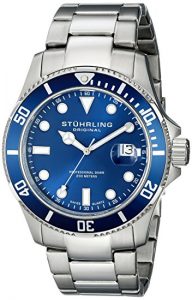 If you prefer Swiss quartz movement, the Aquadiver Regatta Espora just might be the timepiece for you. This watch has a synthetic sapphire dial window that is stronger than a regular mineral window, so scratching and chipping will not be a huge issue for you. The watch is made of stainless steel and has a 44mm case, and the dial with imprinted logo comes in an attractive blue tone with a unidirectional bezel. The Aquadiver Regatta Espora has an analog display and is accurate to approximately 15 seconds per month. With a magnified date calendar, it is easy for you to see what day it is and enjoy those days off!
If you are a water sports enthusiast, this watch has a water resistance rating of 200m/600ft, so even diving can be done without removing your watch. The timepiece comes with a stainless-steel link bracelet with a fold over push-button clasp for added security. Although the crown is not as sturdy as some higher priced watches, the overall function and design of the Stuhrling Original 417.3 Aquadiver Regatta Espora is well worth every penny. Rarely can you find a divers watch within this price range that you can count on, and with a 2-year warranty you will have peace of mind if anything does happen to it. A thumbs up for the Regatta.
MVMT Watch with Silver Case and Black Leather Strap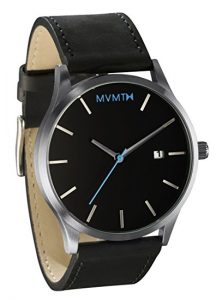 Sometimes we need a watch that focuses on simplicity and function rather than bells and whistles. A watch that we can wear to the office or out on the town is what you will receive with the MVMT Watch with a 44mm in diameter and 10mm thick silver case. This analog watch has a small date counter that is nicely placed but is a little difficult to read on the solid white dial. With a stainless-steel bezel and 24-hour time display, the MVMT Watch has a classic look which is perfect for wearing to the office or as a casual everyday watch. With the Japanese Quartz movement, this watch keeps relatively good time and is consistent with other classic watch designs in this price range.
This MVMT only has a water-resistant rating of 30m/96ft, so it is strongly advised to take it off even when having a shower. The black patent leather band is soft and flexes well with everyday wear and has an easy to use closure. MVMT believes in using quality materials and keeping things simple, so if you want a traditional timepiece that will stay in style, has great value for the money and is quite accurate, the MVMT timepiece with silver case and black leather strap is a level-headed purchase that you will be content with.
Invicta Men's 3049 Pro Diver Collection Grand Diver GT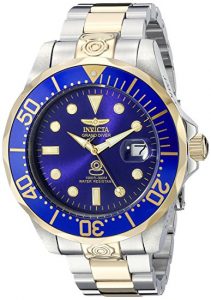 There are so many great features on the Invicta 3049 Pro Diver GT, that we have to tell them all to you and why this watch is last on our list but possibly one of the best picks. Alright, the Japanese quartz movement is standard on any watches under $200, but Invicta has added some great features to this piece to make it stand out in the pack. Firstly, Invicta uses a Flame Fusion crystal that is a fusion of a mineral crystal with a sapphire coating. Although this material is not quite as strong as a traditional sapphire crystal, the Flame Fusion definitely adds to this watch being more scratch and shatter resistant. The crystal also has an anti-reflective coating that allows better visibility.
With a magnified date calendar, the numbers are easy to read, and the Tritnite luminous detailing on the dotted markers and dagger hand, make keeping track of time simple whether day or night. The Invicta Men's 3049Pro Diver Collection Grand Diver GT is made from 2-tone surgical grade stainless steel, and you will find the divers logo molded into the solid end pieces of the bracelet. The bracelet comes with a diver's buckle with safety clasp for peace of mind, and with a water resistant rating of 300m/984ft, you will not be worrying about losing your watch in the deep, dark abyss. It even has a screw down crown to prevent infiltration of water.
With a unidirectional blue and gold bezel including gold elapsed time markings and blue mother of pearl dial, the face on the Invicta 3049 is remarkable. The gold scalloped edge of the bezel adds to the design and is powered by your own movement. If you do not wear it often, a watch winding box will keep this bad boy running effortlessly. This watch is large with a 47mm case diameter is not for the faint of heart because if it has one drawback, it is the weight; this watch is HEAVY! The Invicta Men's 3049 Pro Diver Collection Grand Diver GT is an imposing watch with every features you need whether you are a diver or just enjoy a masculine watch on your wrist. Well worth the bucks and includes a 1-year warranty.
How to Choose
With a couple of hundred dollars in your pocket, there are great choices out there for you to select a new watch. Whether you are looking for a classic daily wear timepiece or a contemporary divers watch, there are duds and superstars available. Take the things that are important to you into account and do a little research to increase your knowledge and gain a new watch that you will be satisfied with. With the selections, we have researched for you for the 7 Best Analog Watches under $200; you can be confident that you will be able to find a watch that works for what you want and need in a quality and affordable timepiece.