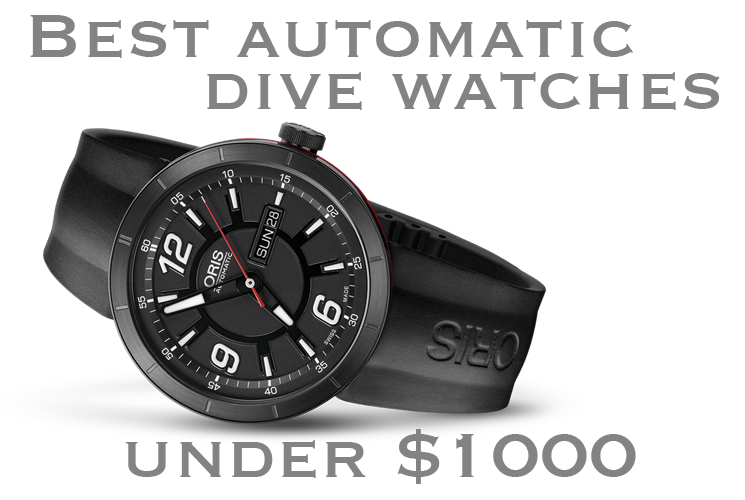 Dive watches are the perfect mix of style and functionality. From humble beginnings as an important tool in a diver's life, they have gained tremendous popularity and design improvements. Consequently, they are now a highly sought-after accessory for both their original purpose and their aesthetic value. There is a problem though, dive watches can cost a fortune. We, however, have some good news. After scouring the timekeeping universe, we have discovered the five very best dive watches for less than four figures. These watches, each with a litany of qualifications and individual qualities, are worth every penny. Whether your timepiece is used as a tool for actual diving or just for looking fabulous, you cannot go wrong when you choose one of the following timepieces. In addition to being stylish, these watches will get the job done right.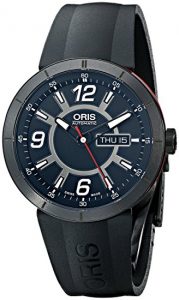 First up is the Oris TT1. Demand for this model is high, and it frequently cycles in and out of stock. This is unsurprising, considering this watch's sleek exterior and good price. Well-sized at 43mm, this automatic, Swiss design keeps perfect time up to 100 meters. It has a useful push-button clasp, a sturdy stainless steel case, and a stationary bezel. The TT1 comes equipped with day and date reading, and at a weight of only 3.52 ounces, it is barely felt when worn. The date marker is shown at the usual three o'clock position, and time is shown in an analog manner.
Oris is a rising company, making authentic Swiss watches for just under 100 years. They recently innovated a unique clasp system to prevent a watch falling off, even when accidentally undone. The company also has a strong moral sense and a benevolent legacy, developed recently by a partnership with the Australian Marine Conservation Society. With the AMCS, significant contribution was made towards the preservation of the Great Barrier Reef, creating and selling a limited edition divers watch for awareness. As a company, Oris personifies originality and care. In addition to the diving industry, they have made rich contributions to motorsport, with a tremendous line of racing timepieces.
The TT1 has a transparent case back and black, luminescent hands and markers. Sapphire crystal composes the dial window, and the TT1 uses a push/pull crown. Its 120 click Bezel is stainless steel and unidirectional It is, of course, a Swiss automatic, and the clasp on the TT1's rubber band is push-button with a buckle. Although not bearing the wholly impressive features of some of our other choices, the Oris TT1 is a sleek, well-made, effective dive watch. Best of all, it is currently on sale for well under our maximum price of $1000.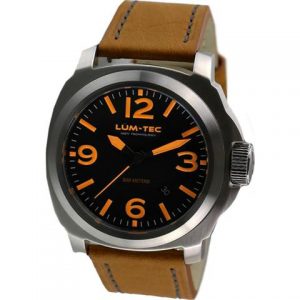 The Lum-Tec M68 gives off a dignified, sophisticated aura, similar in appearance to the V Series V2. It has a brushed finish, a gunmental gray sunray dial, and double-side, anti-reflective coating on its sapphire crystal dial window. Lum-Tec is an American company, and stands out from its Swiss competitors. It places a tremendous value on product quality, with many available service points, and even has developed its own patented MDV technology. In addition, every Lum-Tec watch is handcrafted by full-time, professional watchmakers. The transparency and openness that this company takes pride in is most evident by its President, Chris Wiegand, having his direct email available to the public for questions and comments.
One culmination of this tremendous attitude to watchmaking is the M68, the specifications of which are impressive. This bad boy is water resistant for an impressive 300 meters (or 990 feet). In addition, a purchase of this watch includes three straps for added customization: a brown leather strap, a custom molded anti-static rubber strap, and a stainless steel bracelet. The leather is beautiful, comfortable and genuine. The rubber anti-static is a perfect companion for underwater adventures, and the stainless steel is a classy addition. The M68 also has a unique, beautiful lume. It has extra springbars for the fitting of additional straps, and a one year warranty. The movement is ultra precision tuned, Japanese, Miyota 9015, and runs at 28,000 BPH. In addition, one can receive timing adjustments, free of charge for life.
Incredibly, there is an extremely limited production run of this model. Each individual watch is numbered between just 1 and 175. Consequently, this watch will not be available for long, but will provide a massive boon to anybody who makes the decision to invest in it. To summarize, the Lum-Tec M68, at a diameter of only 44mm is beautiful, dynamic and highly adaptable.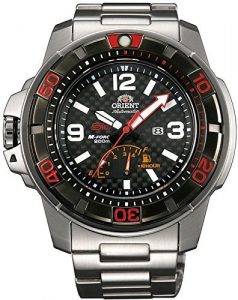 The X STI M-Force, which is an abbreviation of "mechanical force", truly makes a statement with its bold looks and color scheme. In addition, it is the best-priced watch in our collection, at only $500. Orient is a proud Subaru racing sponsor, and this limited edition, individually numbered production run demonstrates that. Each piece has a carbon fiber dial and the Subaru STI brand logo, as well as a power reserve indicator meant to simulate a fuel gauge. These are followed by emulations of the actual Subaru racer that won the Nurburgring 24-hour Race two years in a row, including signature cherry red accents and a urethane strap of the kind used by race drivers at the Nurburgring. This watch screams power and utility, yet manages stay sleek and useful.
In addition to a brilliant backstory and aesthetics, the specs of Orient's heavy hitter are impressive. One of the bigger watches in our collection, the M-Force is 48mm in diameter and 13.3mm in thickness. It has an admirable water resistance of 200m, and razor-sharp precision at 6 beats per second. Unfortunately, it only comes with a 1-year warranty, compared to the 2 years that one enjoys some of our other choices. However, Orient's in-house customizations, including the hack feature on this watch, make it a truly unique tool. It is also well equipped for shock resistance and anti-magnetism, and -for the price- you really cannot go wrong.
The 21-jewel movement can be self-wound or hand wound; it also comes with a second-hand halt mechanism. A sapphire crystal dial window gives way to luminous hands and markers, as well as a date display and, as necessary, a power reserve gauge. The crown and case back must be screwed down for the water resistance
A tried and trusted brand, Victorinox is internationally known, even to laypeople, for the timeless quality and beauty of its work. This model in particular is called the Dive Master 500. It has earned its name, and carries an unbelievable 500 meters of water resistance. In addition to an obvious ability to withstand extreme aquatic pressure, the Dive Master has a litany of extras so that it can withstand anything you throw at it. In true Victorinox style, it is as hardy and reliable as can be; a scratch-resistant sapphire crystal dial and Gunmetal PVD stainless steel ensure this. The Swiss Army name and brand represent timeless quality and effectiveness, to which the Dive Master is no outsider. It is currently available for a tremendous discount, at over 63% off. The original price of the Dive Master 500 would have excluded it from this list, but, thankfully, it is well below our limit.
After an adventurous first time being wound up, the Dive Master 500 will function with a 24 hour clock and a date indicator, all conforming to its timeless Victorinox style. It has a two year power reserve, and is not too large at 43 mm. The unidirectional rotating bezel is Gunmental PVD, and the dial is analog. Scratch resistant sapphire protects the display, which includes luminous hands and markers. A rubber strap ensures good grip and reliability when in use, and a tang clasp guarantees that, once it is on, this watch is not going anywhere. As usual, Victorinox have pulled off another high-value tool worthy of their name. The best part about this is that it comes at an extremely reasonable price compared to its competitors and its original MSRP.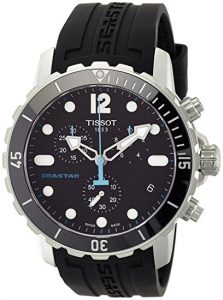 Ending our list is another famous name with another brilliant watch. Tissot watches are known for their upmarket style and appeal, and the Seastar 1000, of course, does not disappoint. The round watch comes with a corrugated, dive-style bezel, as well as an anti-reflective sapphire window. In addition to the unidirectional bezel, the SeaStar comes with a diver's buckle and extension for its strap. The hands and markings on this model all come with an eye-catching aqua lume. The one band, made of silicone, complements the bezel, which is made of stainless steel. Like the rest of the pieces in this collection, you can rest easy with automatic, Swiss quartz movement and an analog display keeping you up to date on everything you need to know.
Slightly larger than some others at 45mm, this masterpiece is full of goodies and extra features. It has .1 second, 30 minute, and 60 minute functions, as well as subdials. The date window is ergonomically placed by four o'clock for easy viewing. The heavy duty, 22mm thick band of the SeaStar ensures maximal usability, and mitigates any potential issues with keeping a hold of the watch. A tremendous additional convenience is the presence of a helium valve, which allows for completely automatic depressurization. The Tissot Seastar 1000 truly is the perfect combination of functionality and beauty.
Last Remarks
Whether you are an avid diver or just someone with good taste in watches, these are the best automatic dive watches for under $1000. There are really no wrong answers, because each and every one of these watches will uniquely give your life a positive spin. One less thing to worry about when diving is what's on your wrist; and these watches will bring you, above anything, comfort and security for your dive. The best part about these is that they will give you every bit of functionality and style that you need, but they will not empty the bank.