Picking a digital watch is hard. There are so many different styles and options, and it´s also important to find something that looks good too. So, to make choosing a little bit easier, we´ve rounded up a selection of five top-selling digital watches for women. Even better, we´ve been checking out the sales online and whilst our top-priced watch only comes in at the mid $50 range, our lowest comes in under at under $25, so all of our picks are affordable on every budget. We´ve also zoomed in on two reliable but affordable brands, Timex and Casio, so you know you can trust them to keep on working too. What more could you want?
The list is in no particular order, because each of the watches here has its own special features, so there´s no best or worse option. To help you pick though, we´ve got a couple of pointers that you might want to compare. And yes, color is in there. Maybe it´s just me, but even if a watch is cheap, does everything I want, and comes with a hundred pieces of fancy technology that I don´t even really understand, it´s still not going into our shopping basket if it´s sludge green. Sorry sludge green, but that´s just how it is:
Price
Color
Band (strap) material
Size of the dial (watch face)
Reliability
Timer feature
Alarm feature
Water resistance
Okay, so now you´ve got your checklist ready, it´s time to check out our round up to see if there's anything for you.
Top 5 Round Up
Digital Watch
Strap
Water Resistance
Size
Price Range
Casio "Baby-G" BG169R-7A

Check Price
Resin band
660 Feet
42.6 mm
$$
Timex T49660 "Expedition" Classic

Check Price
Velcro canvas
330 Feet
33 mm
$
Timex TW5K901009J IronLadie Essential

Check Price
Resin band
330 Feet
35 mm
$
Casio A168WG-9 Classic

Check Price
Stainless Steel (gold plated)
98 Feet
36 mm
$$
Timex TW5K892009J "Ironman" Classic

Check Price
Resin band
330 Feet
37 mm
$
If you would like a deeper insight on each model, keep reading below!
Casio "Baby-G" BG169R-7A White Gloss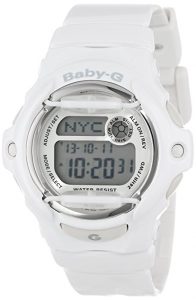 First up is the Casio "Baby G" BG169R-7A in white gloss. When it says white, it means white: this watch comes in an "in-your-face" glossy shade of white, which is anything but boring. White is very on-trend still and, even better, it´s a neutral shade too so it matches with any outfit.
The display is crisp and easy to read, and is lit with afterglow so it´s still usable in the dark too. It´s possible to set up to 5 alarms on it, as well as store 25 pieces of data including names and phone number.
The watch also has a decent timer, accurate to 1/100 second, and able to time up to 23:59'59.99, so almost 24 hours. It can also be used in split-timer or first-second place modes, if you like to use your watch when running or competing with friends. Finally, it has a daylight-saving setting too, and 29 time zones, so changing the hour is a quick as pressing a button.
Overall, the alarms setting could be useful, but we´re not really sure when we´d store our personal data on a watch. True, if you lose it then you might get it back, but who goes through lost property looking for personal data stored on watches? The other main draw is the looks: this watch is a nice modern take on classic neutral, without being boring. This is one of the best and most popular digital watch for women on the market.
(Although the model reviewed here is white, Casio also offers this watch in black and pink (BG169R-1B,) grey and blue (BG169R-8) and pink and blue (BG169R-4) and black (BG169R-1.))
Click here for specs, reviews, and current pricing.
Timex T49660 "Expedition" Classic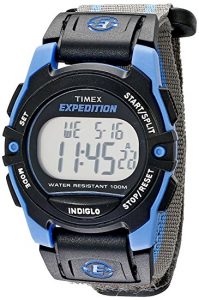 The Timex T49660 is a unisex watch, targeted at young men and women who want a sturdy, comfortable digital watch that can survive anything you throw at it. Whilst it might resemble something you see on the wrist of your teen cousin, it´s also a decent choice for an adult woman who wants something durable that can survive a range of adventures without breaking the bank.
It has a timer function including lap times, although these cannot be stored on the watch so it´s more for fun than for serious training (unless you save everything on your phone,) and an alarm.
This timepiece is cheap, and can be adjusted to fit most female wrist sizes with its Velcro strap (although beware if buying from Amazon, some people have reported that, contrary to the spec for this model, they´re being sent watches with regular straps.) It´s good if you want a watch for an active lifestyle, but can´t afford to spend much, and it looks okay too if you like an old-school look. Best for younger women or as a gift for a teenage daughter though.
Click here for specs, reviews, and current pricing.
Timex TW5K901009J Ironman Essential 30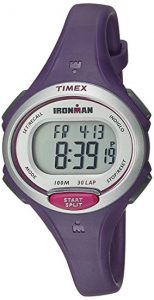 For those women who enjoy an outdoors lifestyle and can afford to spend a bit extra, the Timex TW5K901009J "Ironman" Essential 30 may appeal more. The thin plastic band fits well and the lack of edges that could catch on anything makes it good for sport or outdoor activities. Unlike the "Expedition" it has a buckle, not Velcro, strap so it´s not as suitable for anyone who wishes to be able to take it off easily in an emergency, but for most people it´s more convenient and better-looking.
The "Ironman" Essential only has one alarm, which is fine for most people, but worth noting as most modern digital watches for women allow at least 3 separate alarms. It does, however, let you save up to 30 different lap times – perfect for joggers, runners or swimmers who wish to keep track of their progress, and it´s accurate to 1/100 second so no excuses for a slow lap time. It is waterproof to 100m, which is not exceptionally deep compared to what is offered by slightly more expensive models, but it´s fine for the local swimming pool. If you´re interested in this watch, also look at number 5, the Timex TW5K892009 Ironman Classic, which has most of the same features but a more solid strap. As noted below, it also comes in a variety of colors, so it´s perfect if you´re looking for a watch that can brighten up your work-out outfit.
Click here for specs, reviews, and current pricing.
Casio A168WG-9 "Classic" in Gold.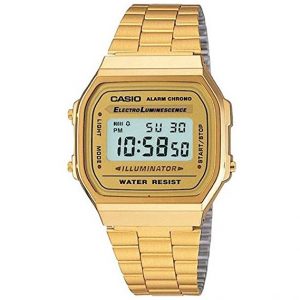 This is actually a men´s watch, but it's a small design and works well as a unisex watch (it´s actually too small for most male wrists so we´re not really sure what they were thinking of with the labelling there…) In fact, we thinks it's one of the best looking women's digital watches available. If glitzy and glam are words that describe your style, then the Casio A168WG-9 could be right up your street.
The gold-tint of the stainless steel band is very bright, although you´ll need to take care of it to keep it looking this good as it is colored not gold-plated. The steel itself is durable though, so unlike some of the other watches here, the band should last a very long time, and the battery should last up to 7 years too.
It comes with a 1/100 second – 1 hour stop watch function, as well as the option to set 1 alarm. This isn´t much compared to some of the sportier watches we´ve reviewed, but it´s enough as you probably wouldn´t be wearing this one to go out for a run.
For a touch of cheap glam, or for anyone looking to make a statement piece out of their watch, then the Casio A168WG-9 is a good buy and will be more reliable than many of the fashion watches out there.
Click here for specs, reviews, and current pricing.
Timex TW5K892009J "Ironman" Classic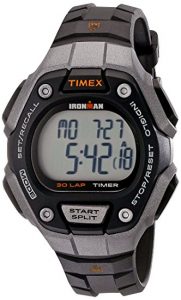 Finally, our last watch is another "Ironman" from Timex (I know, why isn´t it Ironwoman?) Anyway, this watch has a very similar spec to the TW5K901009J Ironman Essential 30 that we reviewed in number three, so the question is: what´s different?
The Classic allows you to track up to 100 split laps in one go, perfect for a work out, and as before, you can save 30 laps, so it´s easy to keep tabs on your progress. It has 3 separate alarms, and is water resistant to 100 meters too. If this is sounding familiar, then that´s because it is. The only real differences between the Classic and Essential are that the Classic has a slightly larger dial (37mm compared with 35mm,) it has a slightly thicker and more solid band, and there is the option to save and set three separate alarms (not just one.)
The "Ironman" Classic watch is currently on sale at Amazon, making it cheaper than the Essential and therefore a better buy if the difference in strap material doesn´t bother you. Really though, there´s not much to distinguish between these two models and so it´s a question of what looks best to you, and what you find most comfortable. Both the Classic and Essential come in a variety of colors ranging from baby blue to tangerine or lime, as well as regular favorites such as black and purple, dependent upon the supplier. Both of the Timex "Ironman" options are great if you want a reliable sports watch that will be comfortable to wear during your work out, and both offer a greater technical spec than the Timex "Expedition."
This is the last of our watches, but hopefully these ideas have given you some inspiration in picking your next top rated ladies´ digital watch, and we´ve shown how easy it is to find a great watch for a great price without compromising on style or functions. What are you waiting for?