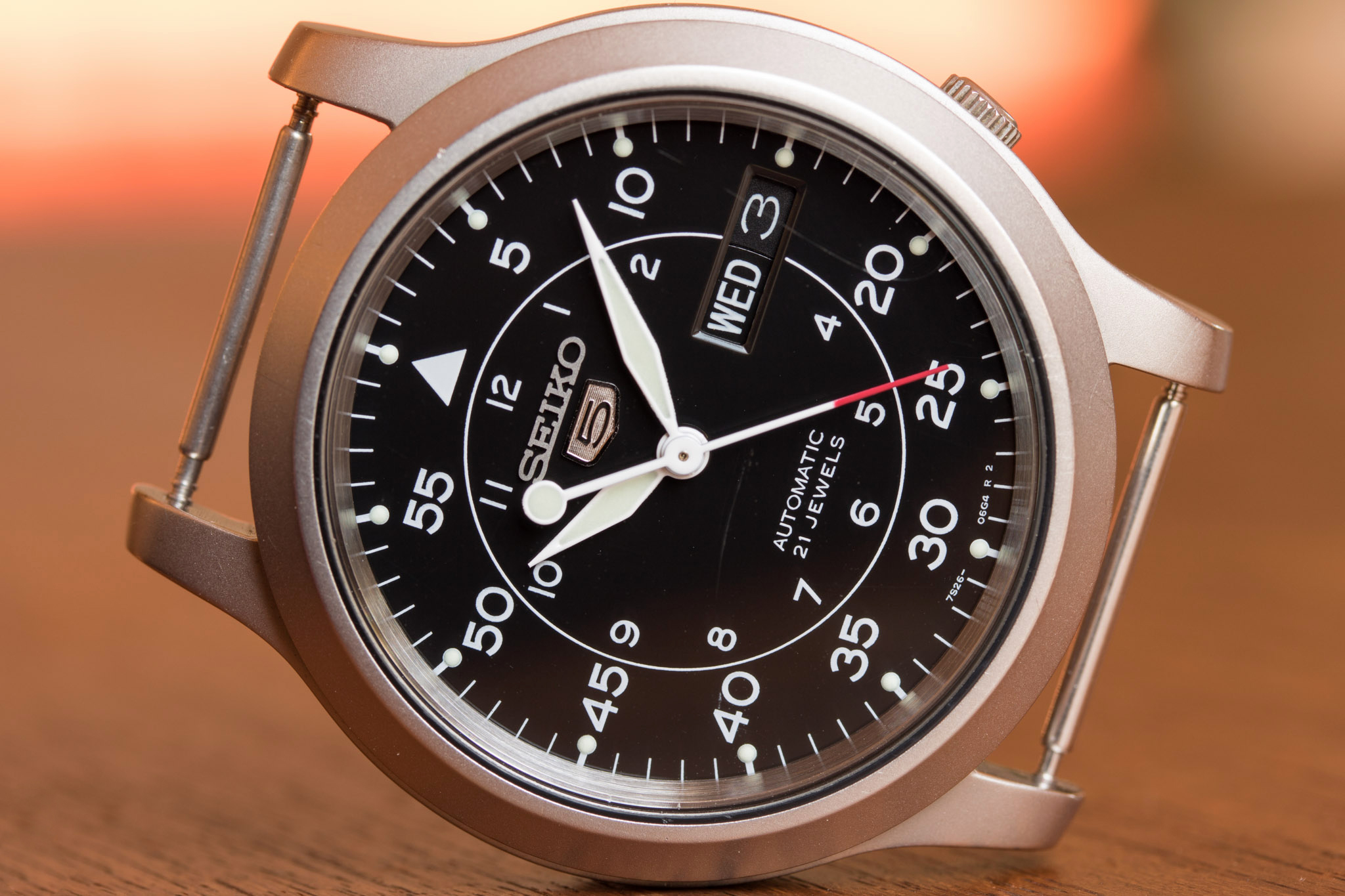 OK, so you're not signing a treaty, you're not flying at Mach 2, and you're not fifty meters underwater in a shark cage. You just want a casual, everyday watch, and you don't want to spend your life savings on it. We're here to help. This list comprises our top six watches that belong in your casual drawer alongside the graphic tees and faded jeans.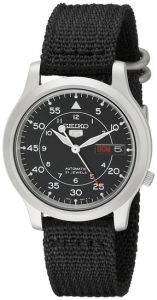 Our first selection is the SNK809 Seiko 5. Seiko timepieces are famous for their accuracy and long history of exquisite craftsmanship. This is the most inexpensive watch on our list and may be a good choice if you're not ready to invest in one of the higher-end Seiko models.
This is a smaller watch; the brushed stainless steel case is only 36 mm in diameter and 11 mm thick. If you like a discreet watch that doesn't have everyone staring at your wrist, this product has "subtle" written all over it.
The round watch face features a flat, scratch-resistance Hardlex window. Beneath is a smooth black dial with crisp white markers. In a slight break from tradition, the outermost chapter ring actually tracks the minutes, from zero to fifty-nine, while a smaller concentric ring displays the hours. It seems a little counterintuitive and even makes the dial look a bit like a stopwatch, but if you can get past that, it really isn't difficult to read the time.
The Seiko 5 features a precise, 21-jewel automatic movement, so you'll never have to worry about batteries. Seiko recommends wearing the watch 8 hours a day to keep the mainspring wound. Short of that, simply wind the mainspring by turning the crown.
The 17 mm strap is black nylon with a buckle clasp. Frankly, on an otherwise handsome piece, this band may be the one giveaway that you spent less than a hundred dollars on your watch. Of course, if you're dissatisfied with the strap, it's easy enough to buy a smarter one and convince everyone you're wearing a much more expensive watch.
The slim, angular hands are luminescent, and you'll also find a date window with a unique feature: the day of the week can be configured to either English or Spanish. So for the bilingual watch enthusiast looking for an unbeatable value from a renowned watch maker, give the Seiko 5 your consideration!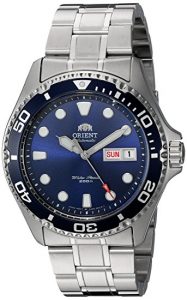 Next, we'll take a look at another Japanese watch, the Orient Men's Ray 2. Call it casual, but with its burnished stainless steel and rich blue dial, this watch is anything but plain. It's a mid-sized watch, 41 mm by 13 mm. It runs on a 22-jewel, Caliber F69 automatic movement. Besides precision timekeeping, this also means the movement is self-winding or hand-winding—whatever your preference.
Orient boasts a couple of design upgrades from a previous iteration of this watch. For one thing, it features a unidirectional bezel with 120 clicks. Next, the movement "hacks," halting the second hand for easy time-sync. They have also eliminated the day pusher at the two o' clock position for a slimmer profile. You still get a day and date window with high-contrast red and black fonts. Both of these are adjusted with the screw-down crown, which is on the small side but well-notched for easy operation.
The Ray 2 has a simple mineral window, and the dial, while elegant, is a model of simplicity. No numerals on this watch face—just applied circles and trapezoids, with an additional chapter ring to mark the minutes. The blade-like hands have a silver-white finish, and the second hand is tipped with scarlet for better readability. The hands, hour markers, and the "zero" mark on the bezel are all lumed and show up pretty well in low-light conditions.
Orient watches typically come with nice bands, and the Ray 2 is no exception. This is a 22 mm stainless steel bracelet with Orient's trademark pushbutton deployment clasp. Also worth noting is that this watch is water-resistant to 200 meters, so you could consider it a dive watch. We know you're only looking for a casual watch, but if you happen to "casually" dive into the ocean, know that your watch will keep on ticking.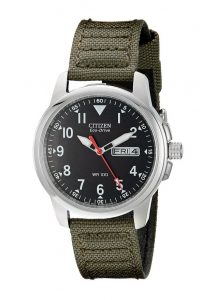 Citizen may be known for their sleek, refined watches, but don't think they cater solely to the dinner jacket and martini set. They know how to produce a good, everyday casual watch, too.
The BM8180-03E is an Eco-Drive watch, so you'll never have to worry about winding, replacing batteries, or even swinging your arm around. Just expose it to ambient light (sunlight works best, but any light will do), and the internal capacitor will begin storing energy. It has a power reserve of up to 180 days.
Perhaps because it has so few bells and whistles, the BM8180 maintains a relatively small profile, only 37 mm in diameter and 9 mm thick. If you're not the kind of guy who likes walking around with a timekeeping hockey puck strapped to his wrist, this slim and unassuming watch may be for you.
The watch dial is a flat black with Arabic numerals around the circumference. A day/date window stands in for the number 3. This display is easily configured by pulling out the crown one click and rotating either clockwise (to set the day) or anti-clockwise (to set the date). One neat thing about this is that the weekday can be displayed in either English or Spanish. As you scroll through the days of the week, the language alternates; apparently, once you select a language and push the crown back in, the gearing within the watch will keep your selected language on display and skip past the other.
The band on this watch is a take-it-or-leave-it kind of bracelet. It's woven green canvas with a lot of stitching. It looks at home on this plain watch, but your decision to keep or scrap the stock band may depend on how you feel about its series of steel rivets. True, these will keep the band from stretching and tearing with use, but they give the watch a clunky, military feel you will probably either like or loathe.
The BM8180 also features luminous hands and hour markers, but you'll probably find that while the hands are adequately bright, the hour markers are rather dim.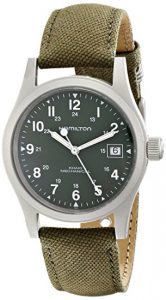 The next watch on our list is actually quite similar to the Citizen we just looked at. Small, lightweight, and plain, it's just the kind of watch to wear when all you really want is to be able to tell the time without a lot of fuss.
Hamilton's motto is "American spirit, Swiss precision," and in this particular watch that translates to a scrappy, rugged-looking watch with a precise mechanical movement. This is another small watch, only 38 mm across and 8 mm thick—it would barely rise above a small stack of coins. The round window is scratch-resistant sapphire crystal, and the hour markers are standard Arabic numerals, with a magnified date window at three o' clock.
Although you're getting "Swiss precision" with this watch, if you're truly looking for a casual, low-maintenance timepiece, you may be turned off by the fact that this is a hand-wound mechanical movement. Fully-wound, the watch will run for about 28 hours, so you may not want to invest in this one unless you can commit to a nightly winding ritual.
Also like the Citizen BM8180, this Hamilton comes with a woven canvas strap in military olive green, although the underside is a smooth, tan-colored faux leather. This band also has riveted holes for the buckle clasp, but unlike on the Citizen, these rivets are smaller and have a relatively flat profile—they're neither distracting nor clunky-looking.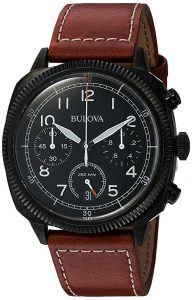 It seems that Bulova can't help creating exceedingly handsome watches, even for their more casual, inexpensive offerings. The 98B245 Classic sports a black stainless steel case with a rich, mahogany-colored leather strap. This may be a casual watch, but don't be surprised if it draws a little attention and admiration.
This watch features a ridged, unidirectional bezel and a chronograph function. The heart of the watch is Bulova's exclusive Japanese quartz "Precisionist" movement, which laboratory tests have proven to be up to three times more accurate than standard quartz. This not only keeps your standard dial on track to within seconds a year, but it also allows the chronograph to keep time to the thousandth of a second over a twelve-hour timeframe.
The 98B245 Classic is on the larger side, 41 mm in diameter and 12 mm thick. The screw-down crown and chronograph buttons don't jut out too far, but they are still easy to manipulate.
The watch face, though busy, is intuitive and easy to read. White numerals on a smooth black dial provide excellent contrast. There are three subdials: a sixty-minute dial, a sixty-second dial, and a 1/10th second dial. The date window is located at six o' clock.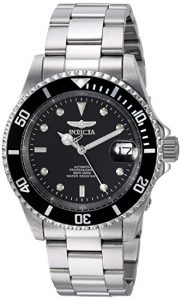 Finally, take a look at the Invicta Men's 8926OB Pro Diver. This watch combines rugged functionality with classical styling for a sporty watch that can keep up with all of your activities, whether you're plying the waters in your kayak or chafing your thumbs on a video game controller.
This is a silver-tone watch with a black face. Small, thoughtful design choices make a big impact, and when you look at this watch you'll see why. The watch as a whole is a study in contrasts. The unidirectional, coin-edge bezel offers a sharp, mechanized look, but this is offset by the softer styling of the bracelet. The outer links are satin-brushed while the inner surfaces are polished smooth for a sleek appearance.
What about the watch face itself? This, too, shows some thoughtful contrasts. Take the big, bold numerals on the bezel and compare them with the tiny, pearlescent hour markers on the chapter ring. Look at the date window with its magnification bubble and compare it with the dignified yet understated Invicta logo applied at twelve o' clock.
This is a handsome watch—no argument there. Let's mention a couple of practical considerations. The case is stainless steel, 40 mm across and 14 mm thick. The clasp is a fold-over type with a safety, so no worries about this watch flying off your wrist. The dial window, unfortunately, is plain mineral, so its scratch-resistance is not great. The movement is a Japanese NH35A automatic.
Finally, it's worth mentioning that both the hour markers and all three hands are luminescent, painted with Invicta's proprietary Tritnite compound. This is apparently a brighter-than-average luminescent paint, similar to Seiko's LumiBrite.
Our Thoughts
The watches on our list run the gamut from plain-Jane to surprisingly chic. If you're in the market for a casual watch, that doesn't mean you have to sacrifice style, quality, or special complications. Your choice should depend, of course, on your personal style, and on what you want your watch to be able to do. Even an inexpensive watch may come with a chronometer and several subdials, but maybe you want "just the facts, ma'am" and prefer a timepiece that just tells time. Just remember that a casual watch can still look good and keep time like a champ!