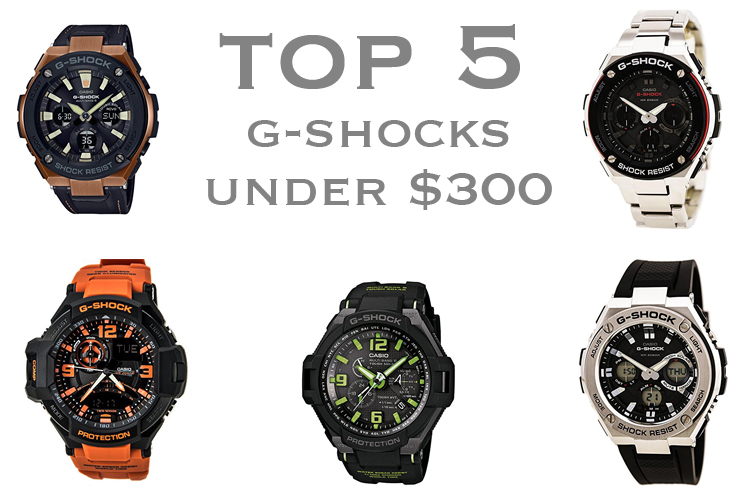 You have most probably come across this article because you are looking for some of the best G-Shocks you could purchase. We have put together a range of brilliant G-Shocks that are available on the market, all for under $300.
As everyone wants something different from their wristwatch, we have included a big range of 5 different G-Shock watches that would suit a range of lifestyles from daily wear, professionals to active and sports people. Regardless of your desired features, you are bound to find a watch for you.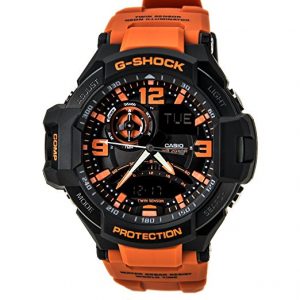 This G-Shock offers brilliant durability and style that is perfect for the everyday watch wearer as well as sport styling. Whether you are looking for a watch to wear to work, meetings or while being active, this wristwatch is perfect for you. This G-Shock timepiece features a neo-display which provides illumination after just a short period of exposure to light, a stopwatch function that measures with 1/100-sec accuracy and has been housed by mineral glass that is well-known for its scratch-resistant quality to minimize any signs of wear and tear.
The G-Shock GA-1000-4EAR also features a thermometer, digital compass as well as a World Time precision and a shock-resistant construction. The shock-resistant construction allows your watch to withstand vibrations as well as impacts while continuing to work, unaffected.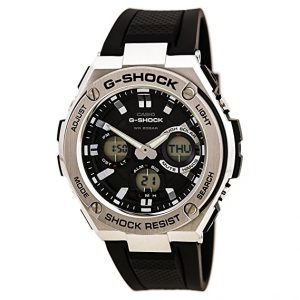 This G-Steel G-Shock watch features a tough solar system which provides the power for operation, a radio signal that keeps your watch ticking whether you are in Europe, Canada, Japan, China, North America or Central America. Wherever you are, once it has been set to local time it will continue to show the correct time of that particular time zone. So if you are one for travelling, you never have to worry about keeping track of the time, making this the perfect choice for those who travel a lot – whether it is for work or pleasure.
The watch has also been fitted with mineral glass to minimize any signs of damage, features luminous hour markers so you can still continue using it even in low light conditions, water resistance and a battery level indicator. Not only that, but this G-Shock wristwatch is also shock-resistant as well as having a built-in stopwatch function with 1/100-sec accuracy.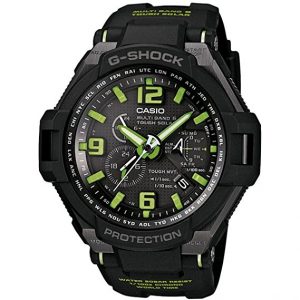 This brilliant Casio G-Shock has features that you would expect to find on a standard G-Shock watch, which makes it excellent for the price. You never have to worry about making sure that your wristwatch is showing the correct time either as the solar movement has a self-calibration feature that enables it to check and correct the hands if the alignment is incorrect, automatically without any prompt from yourself.
This watch also features neon green numerals, hands and detailing on the watch face, and is completely solar powered, so the light during the day will ensure that you are able to continue using your watch even in low light conditions. The watch has been fitted with mineral crystal and stainless steel casing as well as having an amazing water resistance feature for up to 200m, making it a great choice for active watch wearers.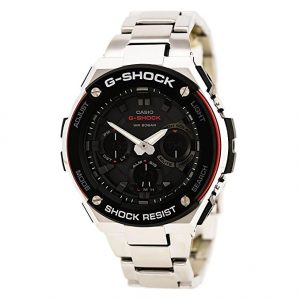 The G-Shock Edifice features all of the latest, cutting-edge technology that makes the watch incredible value. So if you are looking for a high quality, low price watch this may be the perfect one for you, depending on what you are looking for from your watch.
This G-Shock features Atomic Timekeeping allowing it to keep perfect time by picking up signals from radio transmitters – this signal can be picked up wherever you are in the world, ensuring that your time is always correct. Not only that, but with just a quick flick or twist of the wrist in low light, the watch's display backlight will light up automatically. The Wave Ceptor range also enables the watch to adjust automatically when daylight savings time is altered, ensuring that your precise timekeeping is not affected.
Lastly, this G-Shock has been built with a shock-resistant construction to prevent any damage from vibrations, as well as a luminous coating so you can still see the watch face even in the dark. The luminous coating is able to fully work even after only a short time in light.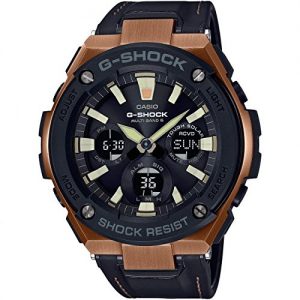 The bronze Casio GST-W120L wristwatch is perfect for those who are looking for a well-designed, functional watch that still remains to be excellent value for money. If you are looking for quality but for lower price, then this may be the perfect G-Shock watch for you.
This G-Shock includes a black leather strap, black dial as well as stainless steel casing. The wristwatch features shock-resistant construction that protects the watch against any vibrations and impacts, to minimize damage, as well as being solar powered. With just a small movement of the wrist this G-Shock will automatically light up, even in weak and low light conditions. The neo-display feature allows you to even see the time in the dark as the luminous coating enables it to light up even after just a short period of time in the light.
The World Time function that is built-in displays the correct time in most of the major cities around the world, including specific areas. The wristwatch further features 5 independent daily alarms that are great for important appointments and events as well as an automatic calendar that will always show the correct date once it has been set.