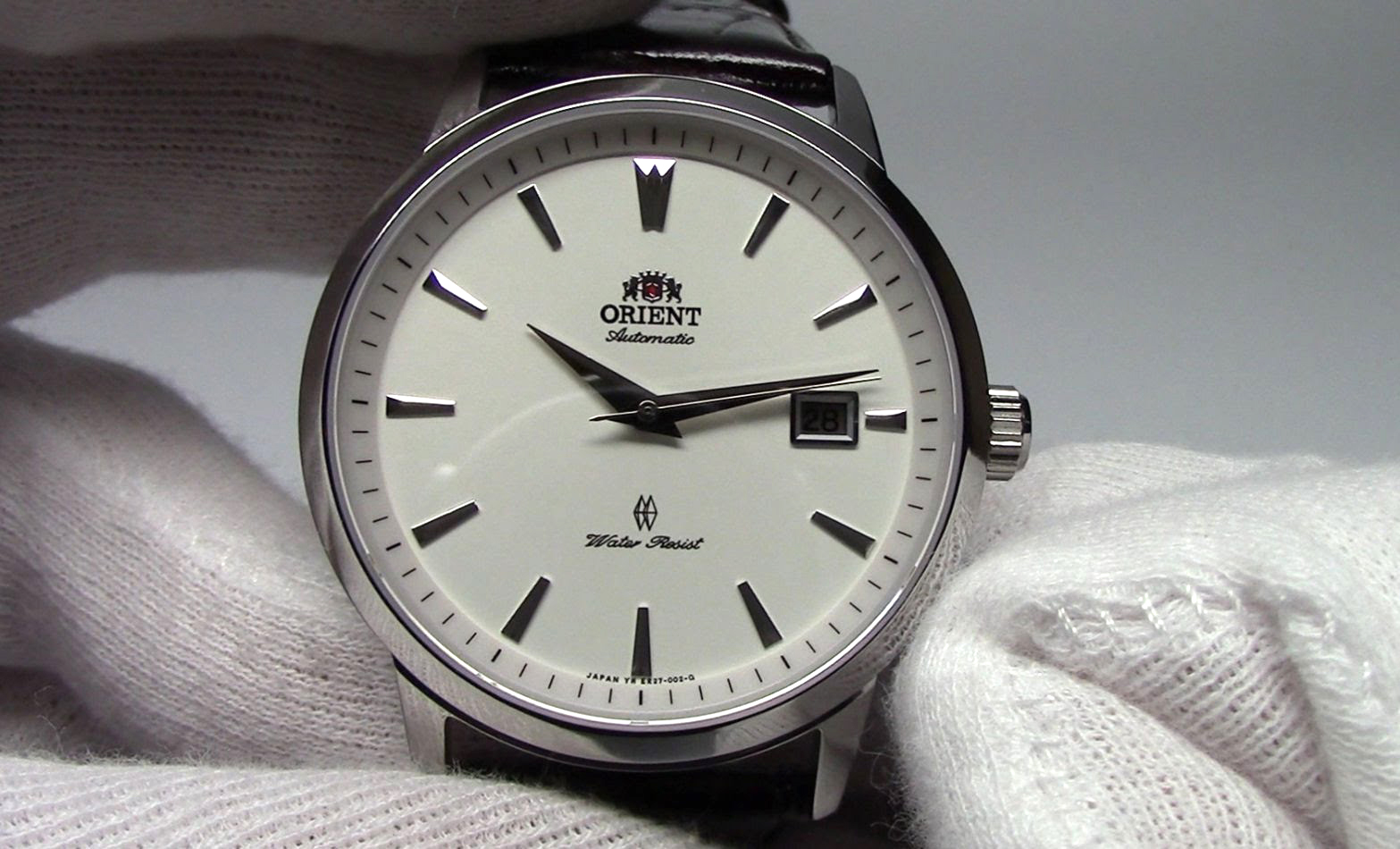 A fancy occasion calls for a fancy watch, right? Not necessarily. When you need to be dressed to the nines, you may want to dial down the flash and flair of your wristwatch. A good dress watch is a balance of subtlety and elegance. It's not the centerpiece of your ensemble. Think of it, instead, as a supporting piece that speaks through understatement and simplicity.
Think of the tuxedo: a model of refined minimalism. Your dress watch, too, should be clean and simple. Most formal watches have uncluttered faces—few complications, often only a minute and hour hand. They're smaller than the other watches in your collection. Rounded edges and thinner cases fit more easily beneath the cuff of a long-sleeve dress shirt.
A dress watch is a simple but important accessory. Yours should inspire confidence and simply look good without being overwhelming or distracting. And you don't have to mortgage your home to acquire a good one. With that in mind, here are our top five men's dress watches under $200.
Comparison Chart
Watch
Size
Movement
Crystal
Price Point
Seiko SRN049

Check Price
42 mm
Kinetic
Hardlex
$$$$
Citizen AO9000-06B

Check Price
42 mm
Japanese quartz
Mineral
$$$
Bulova 97A123

Check Price
41 mm
Quartz
Mineral
$$
Bulova Precisionist

Check Price
41 mm
Japanese Quartz
Mineral
$$
Orient ER27007W

Check Price
41 mm
Automatic
Mineral
$$
Seiko SRN049 Kinetic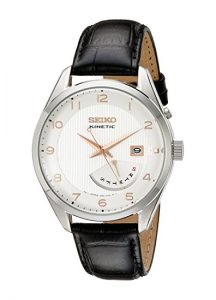 Seiko is a company of firsts—the first quartz watch, the first kinetic watch—so perhaps it's appropriate we begin our list with a Seiko.
To start with, the SRN049 is powered by kinetic energy, so if you don't like winding your watch every night, if you find batteries a bother, or if you're concerned for the environment, this is a good choice. The everyday movements of the wearer wind the watch and keep it ticking. A full charge will last about six months. If you wear your watch every day, you'll never need to worry about it losing charge. However, if formal occasions are rare and you're not wearing this watch often, you may want to invest in a watch-winder to keep your timepiece charged between uses.
The SNR0490 has a luxuriant, cream-colored face with a fine pinstriped texture. This nicely offsets the polished rose-gold-tone hands. The second hand moves with a smooth sweeping motion, not a ticking—a plus for those aficionados who appreciate the tradition and craftsmanship of mechanical watches.
A slightly domed Hardlex window makes the applied rose gold numerals easier to read, although the date window at the three o' clock position is admittedly on the small side. The weekday subdial has a retrograde movement feature, meaning the indicator will automatically sweep back from Saturday to begin the new week on Sunday—no manual reset needed.
Bottom line: an affordable, quality watch you can wear to work every day.
Citizen AO9000-06B Eco-Drive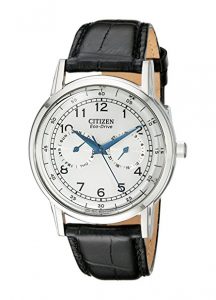 Next, let's switch gears and look at the Citizen Men's AO9000-06N Eco-Drive Stainless Steel Watch. Citizen is known for its range of urbane, refined timepieces, so it's no surprise that one of their offerings would end up on our list of best dress watches.
The Citizen brand is built on the "fusion of technology and beauty," and that philosophy of craftsmanship is evident in every detail of the AO9000. The technology on display is Eco-Drive, Citizen's industry-first solar technology. The watch can convert light from any source into energy and work for at least six months, even when stored in the dark. The movement is Japanese quartz, so while you may miss the tiny moving parts of a mechanical watch, you can rest assured you have the accurate time, all the time.
This watch has two subdials, one for the date and the other for the day of the week. Depending on your taste, you could love or hate these. You may find that the indicators sometimes get lost behind the minute and hour hands. The date hash marks in particular are pretty tiny. Also be aware that this watch has no lume, so if you're in the dark and unsure what day it is…check your phone.
Of course, what the AO9000 lacks in self-illumination, it makes up for in reliability and style. Keep the black synthetic leather band, or swap it for a different one that's more your style. Either way, you'll have a watch that looks and functions like a more expensive timepiece.
Bulova 97A123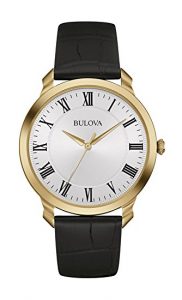 For a watch with a classic feel, search no further than the Bulova Men's 97A123 stainless steel dress watch. No bells and whistles here—just timeless good looks and superior workmanship. Sometimes less really is more.
This is a gold-tone watch with a 41 mm stainless steel case. It's a decent size, but it won't dwarf your wrist. Plus, the case has a slim profile, so you don't have to worry about it bulging from your shirtsleeve.
Beneath the flat mineral window is a clean, uncluttered face with a subtle silver-gray finish. Roman numerals emphasize the classical feel of this timepiece, and the minutes in between are marked with stick indices. The edge of the dial is ridged with fine crenellations that add just a touch of refinement. If you're used to having a date display on your watch, you won't find one here, so keep that in mind as you decide on a watch.
The 97A123 comes with an alligator-embossed leather band with a buckle closure. It may take a little working in, but with some wear, you'll find the strap comfortable. Matched with the right shoes or belt, this watch will complete a sophisticated and tasteful look for any formal occasion.
Bulova Precisionist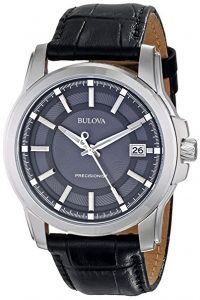 If you liked the 97A123, then you're sure to appreciate our next watch, the Bulova Precisionist. Since the company's beginnings in the 19th century, Bulova has prided itself on innovation. The signature feature of this watch is its advanced movement technology.
The core of a Precisionist watch is its torsional resonator movement, which uses a three-prong quartz crystal. This crystal vibrates at a frequency far higher than those in other watches. The result is incredibly accurate timekeeping—three times more accurate than standard quartz—and a watch that will gain or lose only seconds per year.
Although this watch has a quartz movement, the second hand moves with a continuously sweeping motion—an elegant feature you may be accustomed to seeing only in mechanical watches. The watch face has a solid, masculine appearance, blue-grey, with bulky, chrome-accented hour markers.
One Bulova hallmark absent from this watch is the old tuning fork logo, traditionally found at the 12 o' clock position. Due to a recent redesign, this no longer appears on the face of Bulova watches, but it can still be found on the caseback. The Bulova name also appears on the underside of the genuine leather strap.
Orient ER27007W Classic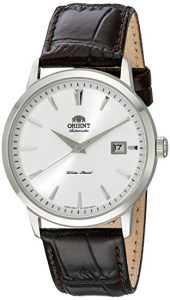 The final watch on our list is the Orient Men's ER27007W. Orient is one of the top Japanese watchmakers, and yet they say they may be "the biggest watch brand you've never heard of." So perhaps it's time to get acquainted.
Like Bulova, Orient markets the out-of-the-box reliability of its watches. Orient is one of few watch companies who produce their movements in-house, so they can ensure the highest quality and dependability.
The ER27007W is an automatic watch with a 40-hour power reserve. The case is 41 mm stainless steel with a mineral dial window and see-through caseback. At 12 mm thick, it's a bit more substantial than some of the other watches on our list, but neither is it massive or unwieldy.
The watch face is simplicity itself, a monochromatic silver-gray with applied silver-tone indices and a date window. The watch is also rated water-resistant to 30 meters, but we don't recommend swimming with this watch. If you spill a little champagne on it while delivering a best-man toast, you should be fine.
Nobody is going to mistake this watch for a really expensive one, but if you're building a watch collection and need a good entry-level dress watch, this offering from Orient is an excellent balance of economy and quality.
Choosing Your Dress Watch
It's difficult to go wrong when you choose from a reputable brand like the ones featured here. Each one has a long history of innovation and quality. And, as you can see, you don't have to spend a fortune to look like a million bucks.
It may seem counterintuitive, but a fancy occasion calls for a simple, conservative watch. Avoid the "bling" factor and look for a piece with clean lines, an uncluttered dial, and a slim case.
Color coordination is a tiny but telling detail. Fortunately, it's not complicated. Brown belt? Brown watch strap. Silver tie clip? Silver-tone watch case. Blue suit? Blue watch dial. Of course, some pairings are a little less straightforward. If you're picky about straps, for instance, you'll want to consider which type of strap best matches your watch. Generally, white metal goes with black bands, while rose gold pairs with a rich brown. Yellow gold, on the other hand, pairs nicely with either.
Finally, your dress watch should be a carefully-considered accessory you take pride in wearing. It's not something to pair with jeans and a graphic tee. A formal watch is a statement piece. What do you want your watch to say about you?