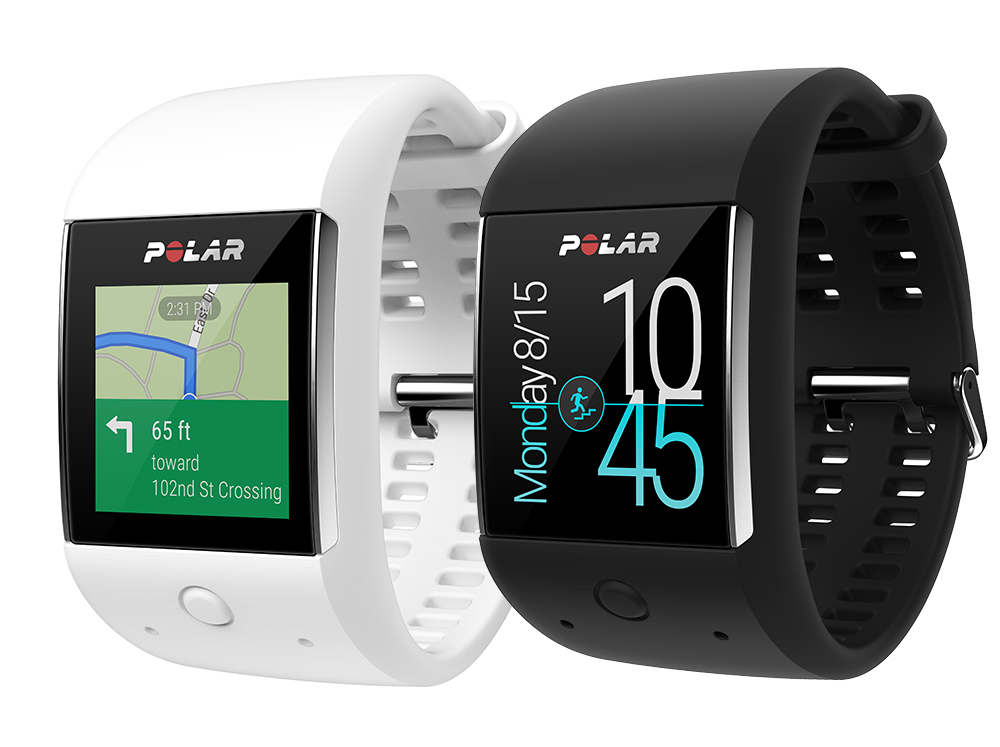 So, you want a watch that can help you work out? But you´re confused by all the options? You´ve come to the right place. This time, we´re going to look at 5 watches by Polar, the leading brand in calorie-counting, sports watches. Whether you´re a runner, gym freak or simply want to take a few more steps a day, we´ve found options that will count the calories you burn… and help you burn a few more too.
All the models featured here can be connected to your phone or computer via Bluetooth, where your data can then be uploaded into Polar Link. (Polar Link deserves its own article and we simply have no space, but it´s a clever piece of software that uses your data to track your progress and find patterns that you never knew existed, in order to help you schedule workouts and set goals that will help you reach your aim.) They also all provide a daily calorie counter. So, what sets them apart?
Step counter
Distance tracker
GPS
Inactivity alarm
Heart-rate monitor (wrist or chest strap)
Heart-rate target
Sleep monitor
Gymlink
V02Max test
MP3 player
Watch
Advanced Features
Sleep Tracker
Size
Price
Polar A300

Check Price
Vibrating alerts
Customisable
Yes
Large
$$
Polar M400

Check Price
Compatible with H7
GPS
Yes
Large
$$
Polar FT7

Check Price
Energy pointer
Gym link
No
Medium
$
Polar FT60

Check Price
Smart coaching
Fabric transmitter strap
No
Medium
$
Polar M600

Check Price
GPS
Waterproof fitness tracker
Android ecosystem
No
Medium
$$$
1. A300 Fitness Tracker and Activity Monitor Watch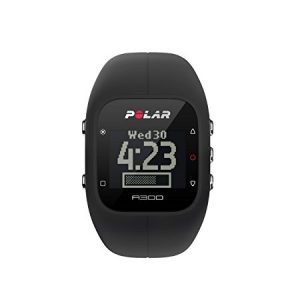 First up, we have the Polar A300 Fitness Tracker and Activity Monitor Watch. If you´re looking for a way to monitor your daily activity and step up your daily routine, then the Polar A300 is a good entry-level fitness tracker.
It´s possible to use this watch like a Fitbit, or other well-known fitness-tracking watches. However, if you want to up your game then it´s also possible to pair this with the Polar H7 or H1 heart straps- although you would have to purchase these separately. If you do not, then the watch will give you an estimated calorie counter, based upon the personal data that you input along with the figures from the daily steps, estimated distance, sleep and workout trackers. If you do, then the watch will also factor in your heart rate: there is no built-in wrist heart-rate monitor.
For someone who´s trying to get off the couch a bit more, or looking to take steps to make their daily routine more active, then the Polar A300 is a decent choice. It doesn´t have all of the complicated features of the more expensive Polar watches, but it does have targeted features such as a "Time to Move" vibrate alarm that alerts you if you have spent too much time without moving, and a step tracker – most of the more expensive models do not. Although it doesn´t have a built-in heart-rate monitor, you can pick up a second-hand Polar heart-rate strap monitor quite easily if you decide that you want to measure your workouts more seriously- and then the watch can also be used to do the Polar OwnIndex Fitness Test (a form of V02 test.) Even then, though, the heart-rate monitor not only has to be strapped onto the chest, but also to be set to an activity- so it will then include beeps and alerts and isn´t suitable for 24/7 heart-rate tracking. It is, however, waterproof.
If you know that you want to focus on your workouts, then we would advise you to look at the FT7 (number 3 on our list.) But, the Polar A300 is ideal if you want to begin by making small changes to your daily life, but then want the option to be able to upgrade your fitness tracker into something capable of monitoring the heart-rate impact of your workouts. It is also smaller than some of the other options, so it´s easier to wear on a daily basis. Best for the novice, or gym-curious.
2. M400 GPS Smart Sports Watch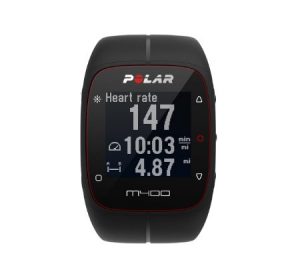 Moving on, and the Polar M400 is a variant of the A300 that has been adapted for runners. It´s no longer waterproof, but it does come with some additional features that make up for it.
The headline addition is the GPS. If you run or cycle, and want to measure the distance that you´ve travelled, then the GPS feature allows you to accurately track your route afterwards online. Great if you like the freedom to follow different routes every day, or if your favorite routes take you away from the regular roads and paths that can easily be calculated online.
It also has a step counter, and the distance monitor is more accurate for those periods that the GPS is enabled. For those who are training for a race, or who need some competition in their workout, it also has a pace monitor- telling you how fast you need to run to finish the race by a given time, and what your current pace is. Using Polar Flow, it´s also possible to create individualized training targets.
Like the A300, this does need to be worn with a chest heart-rate monitor in order to get data on your heart rate. However, this model is generally sold with one included, so you do not need to purchase one separately.
3. FT7 Heart Rate Monitor Watch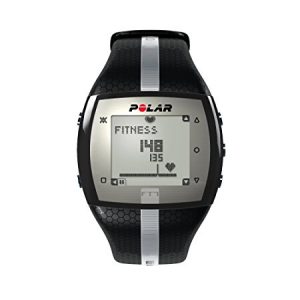 If you´re more of a gym guy or girl, or if you want a watch that can also measure your heart rate during your daily life, then the Polar FT7 may be more your style.
It still has a calorie counter, and it is water resistant, although it will not measure your heart rate that accurately in highly-chlorinated or salt-water pools.
The main selling points of the FT7 are its gym and sports features. First up is Gymlink, where the watch connects to Polar gym equipment, and registers all your settings, speed and other information directly from the machine. Not all gyms have Polar-compatible gym equipment, so do check this first before you buy, but if your local gym does then this is a great feature that allows you to really keep tabs on your workouts. Moving on, the watch also uses its wrist-based or chest heart monitor to give you a targeted heart rate graph- and it lets you know how much of your time was spent in and out of the estimated fat-burning and cardio zones for your build. Using Polar link, it is also possible to use your current data to calculate a better training plan, or to create targets.
Probably to encourage buyers to upgrade to the FT60, the watch doesn´t measure your V02. It also doesn´t have GPS or track distances or steps, like the A300 or M400, so it is not a daily activity tracker nor that useful for runners.
If you´re looking for a sports watch to wear when working out at the gym, then the FT7 is a good bet. The choice between using the wrist-based or chest heart monitor is nice, as it´s not always convenient to use the chest strap but it´s more accurate when possible. The heart-rate records are useful, and are a good motivation when you´re working out with machines and need a visible goal to keep focused.
4. FT60 Heart Rate Monitor Watch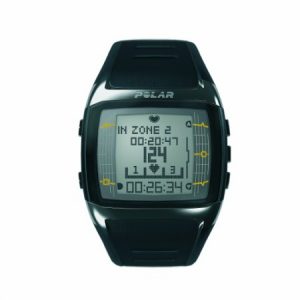 If you´re interested in the FT7 but you´ve got a little more cash to splash, then the FT60 may be worth considering. It´s designed for the same market, but it´s been packed with a few extra features that may or may not be worth those extra dollars.
The main additional feature is the V02 test, which gives you an indicator of heart health. The other key feature is the STAR training program, which gives recommendations and goals for improving your fitness program that are more targeted than those of the FT7. Aside from this, the watch has a bigger screen and the other features have been expanded. For example, it not only calculates the amount of time exercising in each heart-rate zone that you need per week to achieve your goal (improved fitness, max fitness, weight loss,) but it also graphs them for you on the watch so that you can see where you are and what you need to do to stay on track. It can track your weight too, and use that to alter your goals in line with any weight-gain or loss plans.
To use it properly, you need to use the chest band that is included (it does not have a wrist-based heart-rate monitor.) It also does not track steps or distances, or have GPS so it is not that useful as a daily-activity tracker or for runners or cyclists.
This watch is essentially a bulked-up version of the FT7. If you think that the extra features may be worth the extra bulk and cost then we advise you to take a look yourself- there are too many subtle differences to list them all here as it varies by your goal, sports and workouts and interests. If you´re training towards a specific goal, and have the time to look at all the charts and data, then go for it. Likewise, if you´re set on losing weight or improving your fitness for health reasons, then the V02 Max test is also a big plus. However, if you´re just looking for a watch that can guide you in the gym, and tracks your general progress, then the FT 7 may be a better option.
5. M600 Sports Smart Watch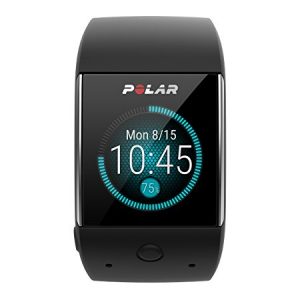 Finally, if you´re looking for something different then there´s the M600. As opposed to the other Polar watches we´ve just reviewed, this is more of an Android-powered smart watch than a sports watch.
Firstly, the sporting plus points. There is a wrist based heart monitor, although the watch can also be synced with the H7 chest strap. This means that you can easily keep track of your daily heart rate fluctuations and sleep patterns whilst being able to improve the accuracy of the reading with the chest strap when you work out. It also has a daily-activity tracker, so you can see your steps, distance and calories burnt. Beyond this, though, the M600 does not offer as many features as the other watches we listed. Whilst it´s possible to use Polar´s Smart Coaching app or the Polar website to see trends and to get activity and heart rate targets, none of this features on the watch itself so it´s harder to keep focused when you work out.
The main features, if we´re honest, are on the non-sporting side. The watch comes with 4GB music storage offline, and it can stream an unlimited quantity of music via a connected android mobile phone. More importantly, it´s compatible with Bluetooth headphones, so it´s possible to use this watch to play music like an MP3 player or mobile phone, without having to carry either or deal with any cables. It also has a navigation app, complete with directions, so you can use it to find your way back after a long run, too. The voice commands option doesn´t really appeal to us, but it may be useful if you work out on your own somewhere quiet.
Overall, this is best if you´re looking for a smart watch that can replace your mp3 player and remove the need to take your phone with you for fear of getting lost (although for safety reasons, we would not recommend that any readers do this if they go running or exercising outside alone.)
It´s a nice idea, and we think that in a few years' time it´ll be a great option. The only real problem is that it´s currently been weighed down by various reports of bugs. This will most likely be fixed by the next few firmware updates, but in the meantime, we´d advise anyone interested to wait for 6 months.
Our Thoughts
How you work out is a personal choice, and so it´s been hard to single it down to just 5 options. We hope that you feel as excited as we do about the watches we´ve picked though. Whether you´re just trying to get a little bit more active, addicted to the gym or training for a marathon, we think that there´s something here for everyone once you get past all the jargon and focus on the main features and differences.