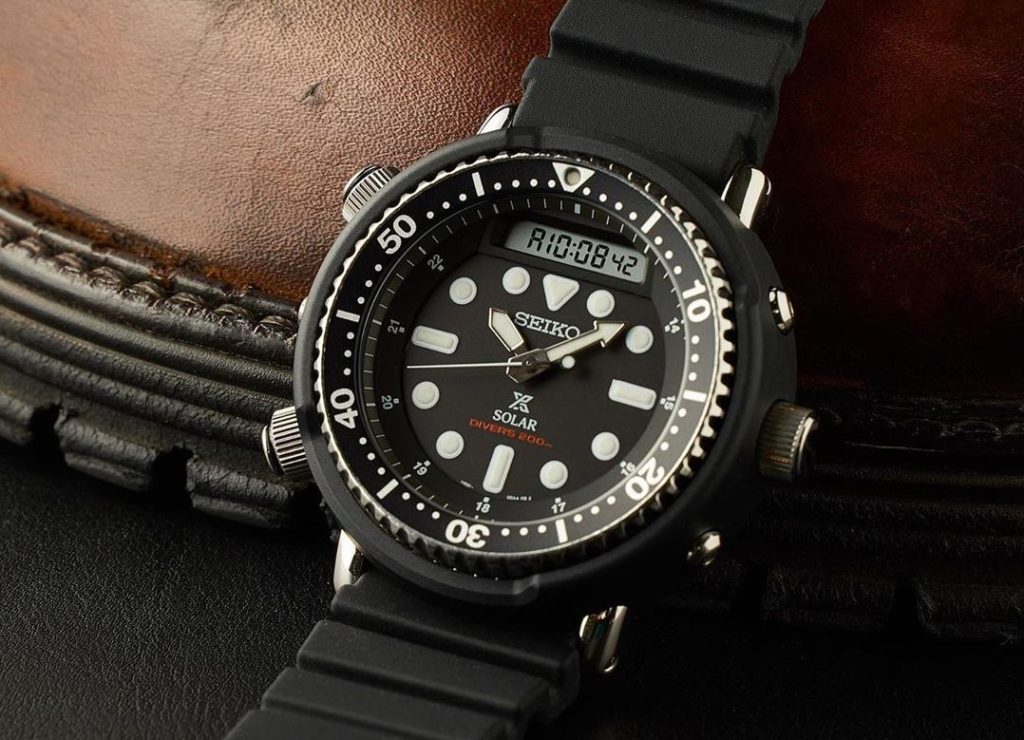 In recent years, Seiko has been following the industry-wide trend of producing limited-edition re-release versions of classic watches. I've reviewed plenty of re-release watches in the past, but this time I wanted to focus on Seiko watches in particular.
Now, limited-edition watches can range into the thousands of dollars, depending on the features, how hard they are to find, and how much demand there is. Since we are focusing on collectible Seiko watches, this time we are in luck, as these are generally priced in the hundreds rather than the thousands.
Quick Compare
Watch
Collectibility
Size
Movement
Price
Seiko SNJ025-028
Check Price
Extremely
48 mm
Solar Quartz
$$$$$
Seiko Alpinist
Check Price
Moderately
39.5 mm
Automatic
$$$$
Seiko Monster SZSC003
Check Price
Very
42.4 mm
Automatic
$$$$
Seiko Prospex SRPC91
Check Price
Moderately
45 mm
Automatic
$$$
Seiko Prospex SNE499
Check Price

Moderately
43.8 mm
Solar Quartz
$$
If you're looking for an iconic watch, it's tough to do better than Seiko's Arnie. This watch is named after the man himself, Arnold Schwarzenegger, who wore it onscreen in Predator and Commando. While the original has been out of production since the 1980s, the re-release is available in three colors, and looks identical to the original, while adding some modern features that today's watch owner will appreciate.
While analog/digital hybrid watches existed before the Arnie, this is the one that really put the style on the map. It provides a great balance between the traditional look of an analog dial and the precision accuracy of a digital display. And the digital display is relatively small and discreet, although it's still tall enough to be easily readable.
This watch is upgraded with a modern solar-powered technology. The battery holds a charge for up to six months, even in the dark, which makes it a great choice as a collector's item, since it's liable to spend less time on your wrist than it does in your house.
That said, if you wanted to use the Arnie as your daily driver, it's a solid choice. The case is chunky, at 47.8mm in diameter, so you'll appreciate it if you prefer a big, heavy watch. It's also serviceable for diving, with 200 meters of water resistance and a screw-down crown that won't accidentally pull out when it snags. The pushers are located on the left side of the watch face, providing a balance to the crown.
The watch face itself is highly visible, with a deep black dial and large dots at the 5-minute marks. The hands are also easy to see, with a wide profile and a bright lume finish.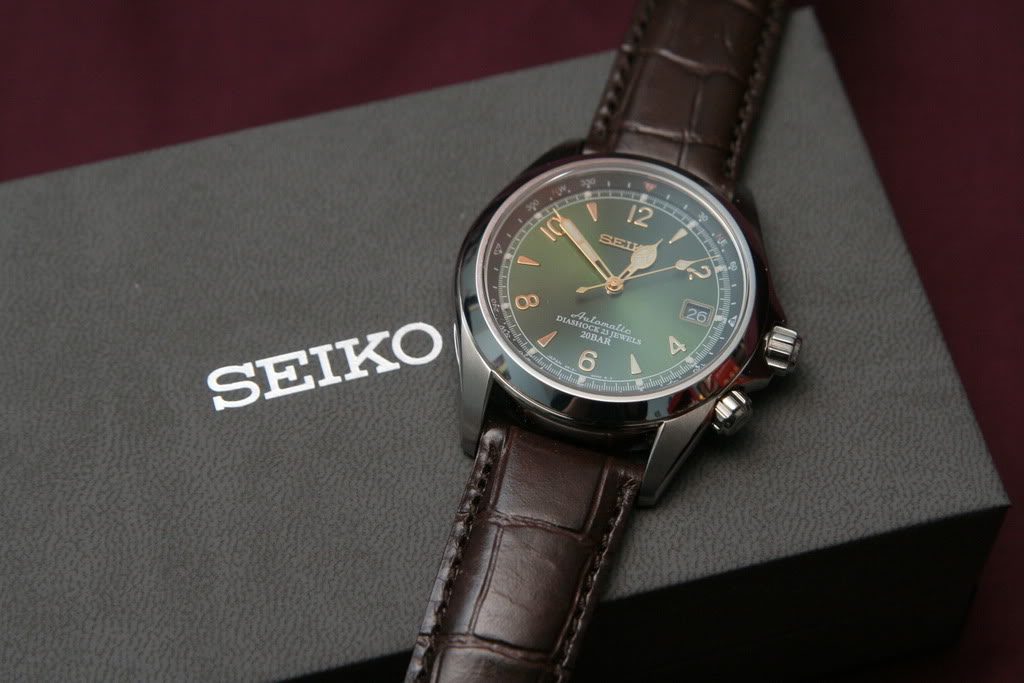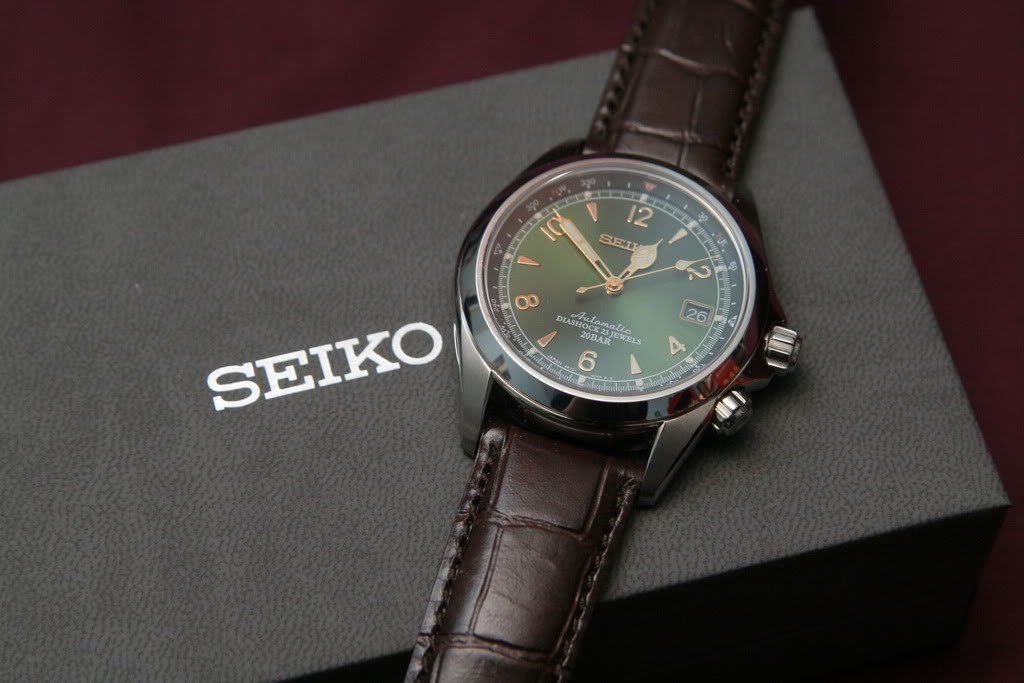 The Seiko Alpinist isn't a re-release, but it is a venerable watch. Several versions have been released since 1961, with various small upgrades along the way. The 2006 release is the latest version, and it's the one I'm reviewing here. Note that some of the earlier versions were very different. Some had cyclops lenses or a titanium case, and others have a quartz movement. Keep that in mind, since not everything I say applies to those models.
The latest version is understated, with a clean, forest green face with no subdials to confuse things. There's a simple date window at the 3 o'clock position, and that's it. There are no minute scala, but there are gold triangles at odd-numbered positions, and easy-to-read numerals at the even-numbered positions. Both the hour and the minute hand are wide, and coated with a lume finish for easy night visibility. The strap is constructed from durable, attractive crocodile leather.
On the outer edge of the dial, you'll find a free-floating compass ring. While this is by no means a survival watch – it's far too classy to take out hiking – it's a nice touch that's very attractive. And it's fully internal, so you won't get dust and grit in the ring, as you would with an external compass ring.
The stainless steel case itself is sturdy, and it's about average in size at 39.5mm in diameter. It features a crown at 3 o'clock, and single pusher at 4 o'clock. In terms of battery life, it's about average, with a 40-hour reserve when not exposed to the sun.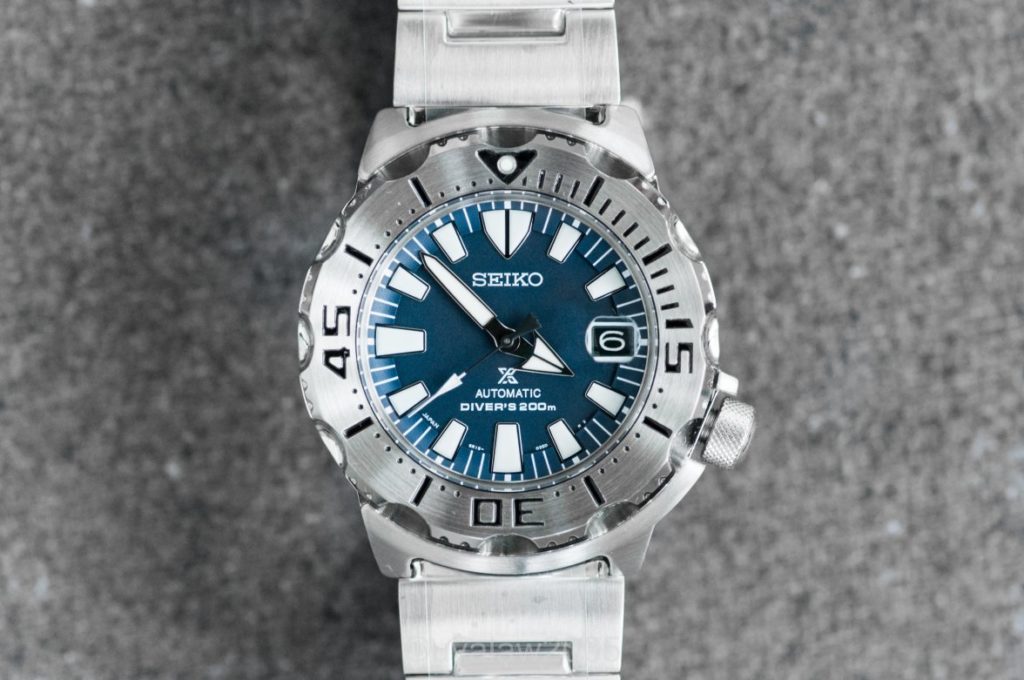 The Seiko Monster SZSC003 is an updated version of the original Monster. This new version features a 6R15 23J automatic movement, which is accurate to +25/-15 seconds per day. While that's not incredibly impressive, it's reasonably accurate for a collector's item. It also offers two features features that weren't available on the original Monster action: it's hacking, and it's windable. With a 50-hour battery, you won't need to wind it if it's your everyday watch. But since it's a collector's piece, it's nice to know you can wind it up if it's been in a case for a few weeks.
The dial is as easy to read as the original, with big, beefy scala at the 5-minute marks, and smaller hashes at 1-minute intervals. The hands are easy to read, with a tapered minute hand and a short, fat hour hand. The second hand is very slender, with a white arrow at the tip that's tough to spot at first glance when it's standing still, but easy to follow as it flicks around the dial. The hands and the scala both have a lume finish for easy night visibility, and a small date window at 3 o'clock completes the dial.
The case itself is very rugged. It's constructed from stainless steel, with a thick bezel that's engraved with 60-minute markers. It comes with a scratch-resistant hardlex crystal, and measures 42.3mm in diameter. The total weight is 6.56 ounces, making it medium-light when it comes to weight. It's also designed for diving, with a screw-down crown that's water resistant down to 200 meters, although I still wouldn't take such a fine collectible scuba diving.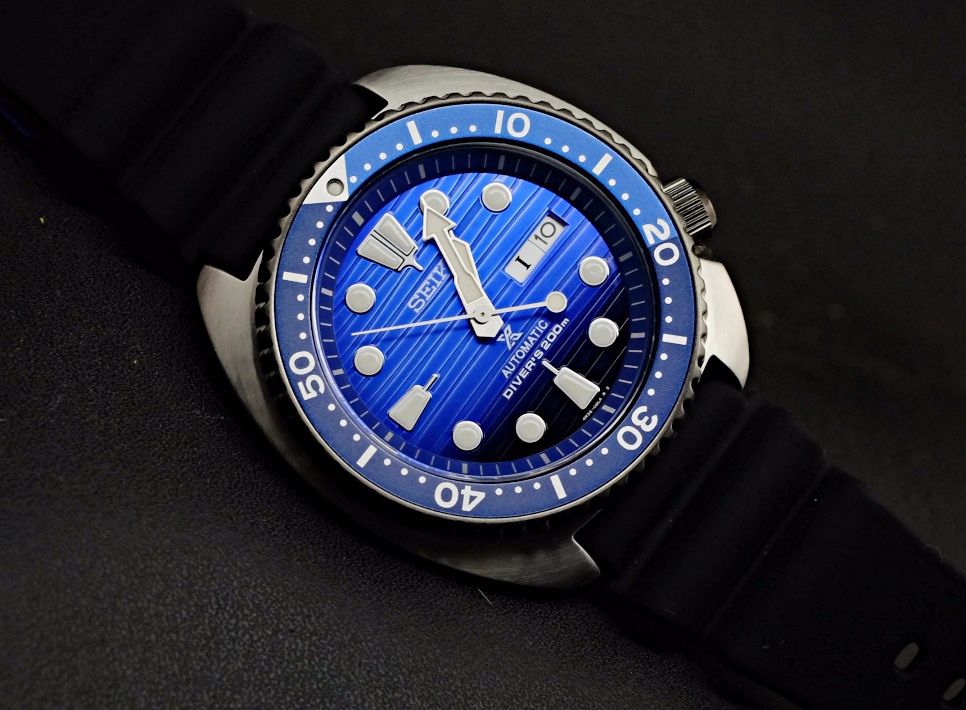 The original Turtle was manufactured in the 70s and 80s. While it wasn't technically called the "Turtle", it had the ungainly designation of SRP6309. But Seiko fans love their nicknames, and the word "Turtle" stuck. So when Seiko re-released the SRP series in 2016, they kept the Turtle name. They've released a number of variants worldwide, including versions that are specific to particular countries.
The Save the Ocean Turtle isn't just a sharp-looking watch. It also does just what its name implies; a portion of the profits go to Fabien Cousteau's Ocean Learning Center, which works to save all marine animals, including the sea turtle.
Of course, I wouldn't be writing about this watch if it weren't also a well-designed piece of equipment. The dial is a gorgeous sea-blue, with alternating dark and pale stripes that fade to a black portion at the bottom. The only complication is a day and date window at 3 o'clock, although there's still not a lot of blank space on the dial. It features large round dots at 5-minute marks, and I do mean "large". You won't be able to miss them even in the worst lighting conditions, especially considering the bright lume finish. Wide minute and hour hands and a needle-like second hand round out the package.
The case measures 44.3mm in diameter and a fat, 14mm thick. Considering the size, I expected it to be fairly heavy, but it only weighs 8 ounces. This is probably due to the simple motion. It's a relatively basic Seiko 4R36, which isn't one of the market's top performers but is perfectly serviceable for most purposes. The watch is water-resistant to 200 meters, and features a screw-down crown, which is a much-appreciated feature on a watch that wasn't even designed to be a dive watch.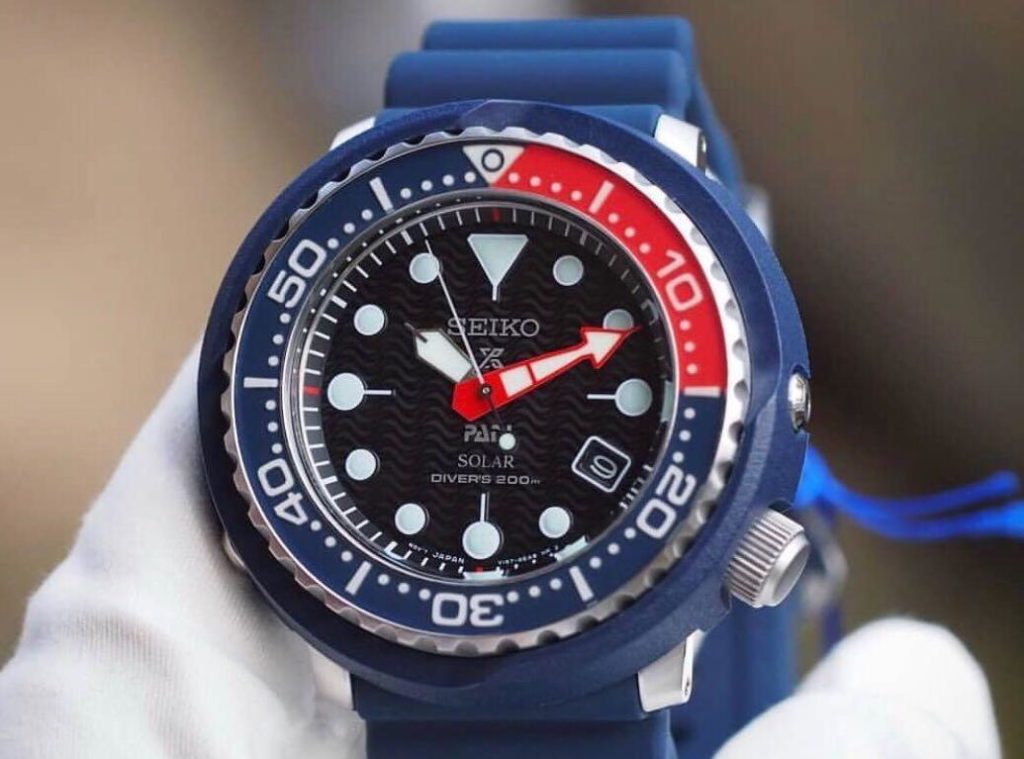 The Prospex is a well-known Seiko line with many variants. But one of the most coveted variants is the Prospex S23626 1000M Limited Edition. This watch cost well over $2,000, and it's only gone up in value since it's now a collector's item. It was a tribute to Seiko's 7549 Golden Tuna, which was first released in 1978.
Later in 2018, Seiko quietly released the SNE499, which quickly gained the nickname "Super Tuna". This is a miniature version of their S23626, and it costs a fraction of a price. Now, I should mention up front the movement is quartz, but the Caliber V157 is much more accurate than you'd typically expect from a quartz movement, even a solar-powered one. It's accurate to +/- 15 seconds a day, which isn't going to break any world records, but is reasonable for a watch in this price range. It also offers a 10-month power reserve, which is impressive on any watch.
The Solar Tuna's case may be sized down from the original, but it's by no means a small watch. It measures 43.8mm in diameter, so it's already on the large side in its own right. Then again, the original was a hefty 47mm in diameter, so the Solar Tuna is still significantly more compact. It measures 12.4mm in diameter, which is about average for the size, and features a Hardlex crystal that's both glare and scratch-resistant.
This watch is water rated for 200 meters of depth. It has a high-visibility face, with large dots instead of numerals and a date window at 4 o'clock. The bezel features an attractive blue and red design, with 60-minute scala and numerals printed on it.