Titanium watches have been popular for years, and they have some truly unique qualities that lend to their popularity. Titanium is much lighter than its Stainless-Steel counterpart, and although not entirely scratch resistant, this metal holds up exceptionally well to scratches and dents.
You can find watches that only have titanium bracelets and then you can find ones that are titanium from the casing and bezel as well as the bracelet. If you are looking for a lightweight timepiece that won't break your bank account, is durable and reliable as well, then we have the Top 8 Best Titanium Watches under $500. We have scoured the internet and found the best of the best. There is something for everyone, whether you are looking for a modern stand out watch, or a more subdued piece that you can wear anywhere and anytime.
Comparison Chart
Watch
Size
Movement
Water Resistance
Price Point
Citizen AT4010

Check Price
42mm
Japanese quartz
660 Feet
$$$$
German GPW

Check Price
42.5
Swiss quartz
656 Feet
$$
Victorinox 241261

Check Price
45mm
Quartz
330 feet
$$$
Seiko SBDN015

Check Price
37mm
Solar
656 Feet
$$$
Tissot PR 100

Check Price
38mm
Swiss quartz
330 Feet
$$
Citizen CA0265-59E

Check Price
43mm
Japanese quartz
330 Feet
$$
Seiko SSC393

Check Price
42.5mm
Japanese quartz
330 Feet
$$$
Seiko SGG709

Check Price
37mm
Japanese quartz
165 Feet
$
Citizen Eco-Drive Men's AT4010 Watch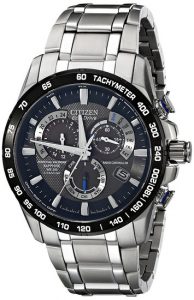 This silver tone watch with a black tachymeter top ring is both functional and eye candy. The guilloche black dial has an impressive pattern and includes three chronograph sub-dials. With a 1sec chronograph to 60 minutes, a 12/24-hour option, and a perpetual auto adjust calendar; you'll be able to keep track of every moment in any situation. The Japanese quartz movement is paired with an anti-reflective sapphire dial window that keeps scratches at bay so you can enjoy this watch for years to come. The titanium link bracelet is lightweight and comes with a fold over clasp and hidden double push button closure for added security.
Luminous hands give you the ability to check the time in the dark and the radio controlled 5-time zone feature, sets your watch in accordance to where you are located, so no more need to reset when you land! There is a power reserve indicator perfect for reminding you to charge your watch in either natural or artificial light, so no more batteries. The Citizen Men's AT4010-50W is rated for water resistance to a depth of 200m/660ft, so most of your water activities are covered except for diving. With a 5-year manufacturers warranty, you will be covered if anything goes wrong. The only downside we found on this watch was that the bracelet is a little on the insubstantial side and isn't easy to self-size.
German Military – GPW Automatic Watch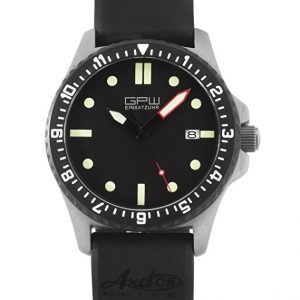 If you are looking for a military-inspired watch, the German Military GPW Titanium Automatic Watch is an excellent choice. This sleek design offers a solid titanium case that is 42.5mm in diameter and 12.5mm thick and comes with a screw down crown to prevent water damage. The 24-jewel automatic movement makes keeping time as easy as moving your wrist, and the anti-reflective sapphire crystal dial window enables you to maintain a transparent surface without scratches or dings. With the use of non-radioactive luminescence, you can see the hands of time at any given hour of the day.
If you are not a fan of the bracelet style wristband, this watch is perfect. It comes with a rubber adjustable band with a buckle clasp for comfortable wear and no more hair pulling! With a water resistant rating of 200m/660ft, you can wear the German Military GPW comfortably in water with no worries. This watch is shock resistant and comes with a relatively easy to read date calendar, but the crown is a little finicky when trying to set the date. Overall the German Military GPW Titanium Automatic Watch is a solid performer only losing about 60 seconds per month.
Victorinox Swiss Army Men's 241261 Watch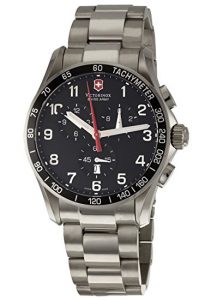 This Swiss quartz movement analog watch is both functional and stylish. With a 45mm titanium case dial that is 14.45mm thick, the Victorinox 241262 is large enough to make a statement but light enough to wear daily. It comes with an anti-reflective sapphire crystal dial window that gives the watch some serious longevity. The bezel tachymeter and chronograph functions are easy to use and the hour hand can be adjusted without moving the minute marker.
If you need to see the time at night, the luminous hands have a soft glow that is easy to see.
With a link bracelet made of titanium, the overall feel of the Victorinox Swiss Army Men's 241261 watch is featherweight. The bracelet comes with a deployment clasp with push-button safety feature, and the links are reasonably easy to remove to adjust to your wrist size. You can wear the 241261 to depths of approximately 100m/330ft, so it is not a divers watch but works well in most marine settings. With a 2-year warranty, you are covered if you have any issues. This watch is a good choice for anyone looking for design and performance.
Seiko Men's SBDN015 Prospex Watch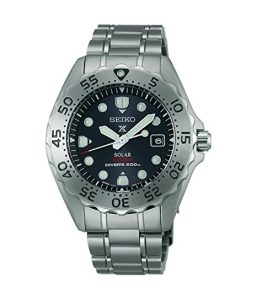 Seiko has been providing watch lovers well-made timepieces for decades, and the Prospex series is no exception. This watch comes with a titanium case and a Hardlex dial window. If you are not familiar with Hardlex, it is material that is shatter-resistant. Almost as hard as sapphire, the Hardlex dial window is strong, especially when positioned under the bezel as the SBDN015 is. With a stainless-steel band, this watch is not as lightweight as others but still, boasts comfort.
The luminous hands and hour markers pair nicely with the black face of the Seiko Men's SBDN015 Prospex Watch, and although the dial is smaller than most on the list, it still has a bold design. There are a date calendar and rotating bezel on this analog watch, and it is also magnetic resistant which allows the watch more accurate time +/- 15 seconds per month. It is water resistant to 200m/660ft for any of you that play water sports and will charge to your movement, so you never have to worry about batteries again. If you are looking for a reliable watch that is subtler than others on the market, the Seiko Men's SBDN015 Prospex Watch is an excellent choice.
Tissot Men's 70494104405100 PR 100 Watch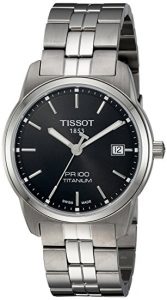 Although there are movement and solar watches on the market, sometimes a battery-operated watch can still outperform! The Tissot Men's PR100 watch has all the features you need in a classic timepiece, and it has a modern design that is perfect for both work and play. With Swiss quartz movement and an anti-reflective sapphire dial window, the Tissot is both a reliable timekeeper and durable too. The watch is comprised of a titanium case and bracelet, giving it a very lightweight feel that is effortless to wear. The case is 38mm in diameter and 9mm thick giving you an unobtrusive timepiece that is still fashionable and dependable.
The luminous hands and index hour markers are easy to see in the dark, and the date calendar is well placed for trouble-free viewing. Although the Tissot PR100 is not a diving watch, it is still water resistant up to 100m/330ft, so water sports are not a problem when wearing this watch. The deployment clasp on the titanium wristband gives added security and the black dial provides a high contrast to the titanium. Overall, this watch performs with ease and is a real head turner.
Citizen Men's CA0265-59E Eco-Drive Watch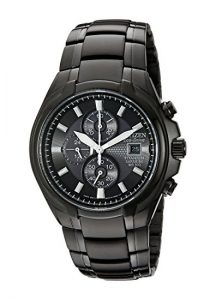 The Citizen Men's CA0265-59E Eco-Drive Titanium Watch is one of the best on the list. With a price point that is reasonable and a design that is unique, this watch brings you everything you need in a titanium watch. The honeycomb pattern center dial with three chronograph sub-dials is elegant and trend-setting and includes luminous details on the hands and hour markers. With a titanium link bracelet with fold over clasp and push button safety feature, the watch is lightweight and comfortable. The case measures 43mm in diameter, so the profile is substantial.
The bezel is stationary but adds design to the Citizen Men's CA265-59E Eco-Drive Titanium Watch, and the dial features an anti-reflective sapphire window and date calendar. The three Chronograph sub-dials feature a 60min, seconds and am/pm design and the Eco Drive makes it easy to keep this watch running smoothly. The only downside on the Citizen CA265-59E is that the calendar feature does not auto adjust to months that aren't 31 days long. A small price to pay for an overall robust watch with great functionality.
Seiko Men's SSC393 Solar Watch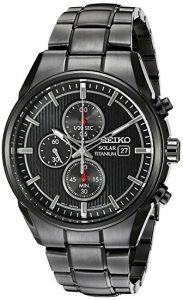 The Seiko Men's SSC393 Titanium Solar Watch has a substantial feel without the extra weight of stainless steel. With a 42.5mm case and a 3-link titanium band that comes with a push button clasp, this watch is a great choice for anyone wanting a very masculine watch. The gunmetal tone accents the black ribbed dial for a sleek overall design and with three chronograph sub-dials and a date window, you will be able to keep track of time on any given day. There are color pop hands that nicely contrast against the black dial, and the stainless steel stationary bezel adds an interesting detail.
This watch has a Hardlex dial window that gives the timepiece extra strength and scratch resistance. Hardlex is not as strong as sapphire, but it does not shatter so can really take a beating. The Japanese movement tells accurate time, and the watch can easily be recharged in both natural and artificial light. With a rating of 100m/330ft water-resistance, you can wear this watch during any water sports, but it is not advised for diving. Generally speaking, this watch is a good buy for the price tag and works efficiently at keeping time.
Seiko Men's SGG709 Watch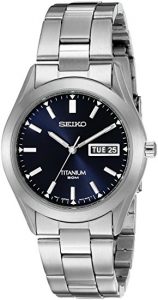 If your taste in watches leans more to the classic side without the bells and whistles of chronograph sub-dials and large cases, the Seiko Men's SGG709 Titanium Watch is or number one pick. The sleek design features a titanium case with a dark blue dial and stationary bezel. You will find a day/date window that is easy to read and reads in both Spanish and English. The three link bracelet with fold over clasp is easy to size and is lightweight on the wrist. There have been a few issues that the clasp is not as strong as it should be, but this is not an ongoing complaint.
With the Japanese movement and Hardlex dial window, the durability of the Seiko SGG709 is above standard, and you will not have to worry about dings and scratches on the dial window. Although the tick of the watch is a little louder than some, (probably due to it being battery operated) the overall look, feel and competence of the Seiko Men's SGG709 Titanium Watch is significant. This watch only has a water resistance depth of 50m/165ft, so it is suggested that you only wear it in dry conditions to not void the 3-year warranty. If you love classic and timeless design on a watch, then the Seiko Men's SGG709 Titanium Watch is ideal for you!