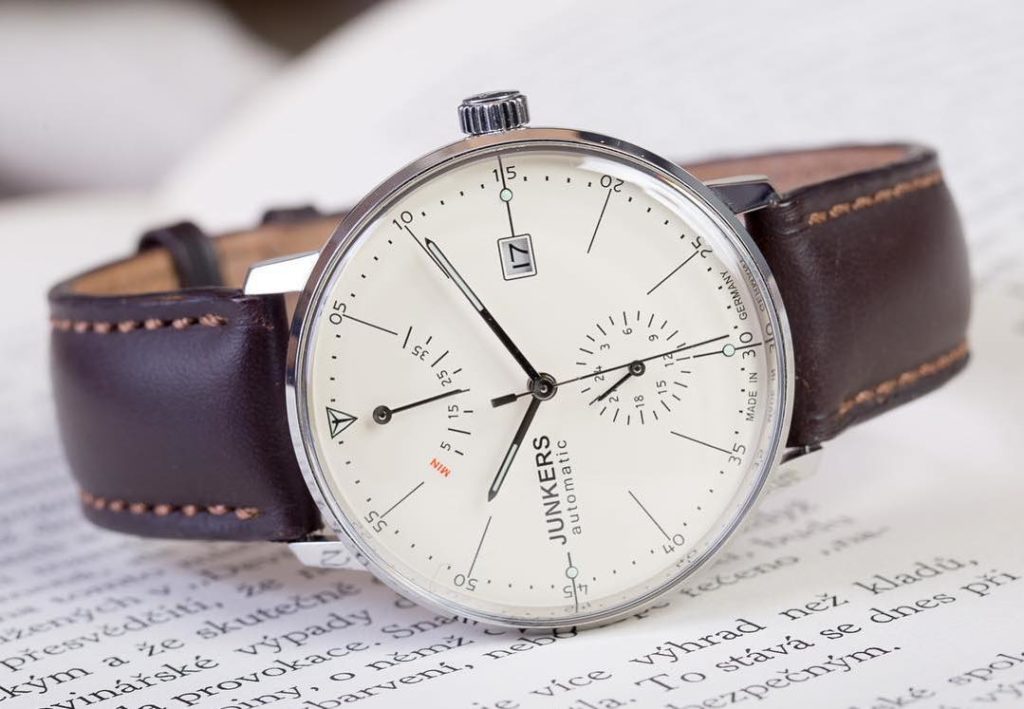 There was a time when it was a luxurious necessity to have a timepiece on the wrist. Back then, it was a sign of one's affluence, and more often than not, only those who have the finances necessary are able to have one. To be fair, it is always important to keep track of one's time.
Eventually, as cheaper versions became available in the market, it has become common for the people to have at least one that they could use as a versatile everyday watch. However, this does not mean that they are not expensive. They still were, and that is why others treat and handle their own with care. Some even pass it on as an heirloom. However, this has quickly changed through the advent of mobile phones. Slowly and surely, with its efficient time-keeping capabilities, these devices, especially smart phones, have replaced watches as the go to time telling instruments.
What these men do not know is that there are cheap watches available in the market, and in spite its price they still look good. At least, good enough for everyday use, and have functions that you can see in more luxurious pieces.
The purpose of this article is to help enlighten you as to what the best and most versatile options are available for everyday use, especially timepieces under $500.
Comparison Chart
Watch
Size
Crystal
Bracelet/Band
Price Point
Mido M005.417.11.051.00 Multifort

Check Price
42 mm
Sapphire
Metal Bracelet
$$$$$
Junkers Bauhaus

Check Price
40 mm
Hesalite
Leather Band
$$$$$
Seiko SARB033

Check Price
38.4 mm
Sapphire
Metal Bracelet
$$$$
Bulova Lunar Pilot

Check Price
45 mm
Sapphire
Leather band
$$$
Orient Neo 70s Panda

Check Price
42 mm
Hardlex
Metal Bracelet
$$$
Mido Multifort M0054171105100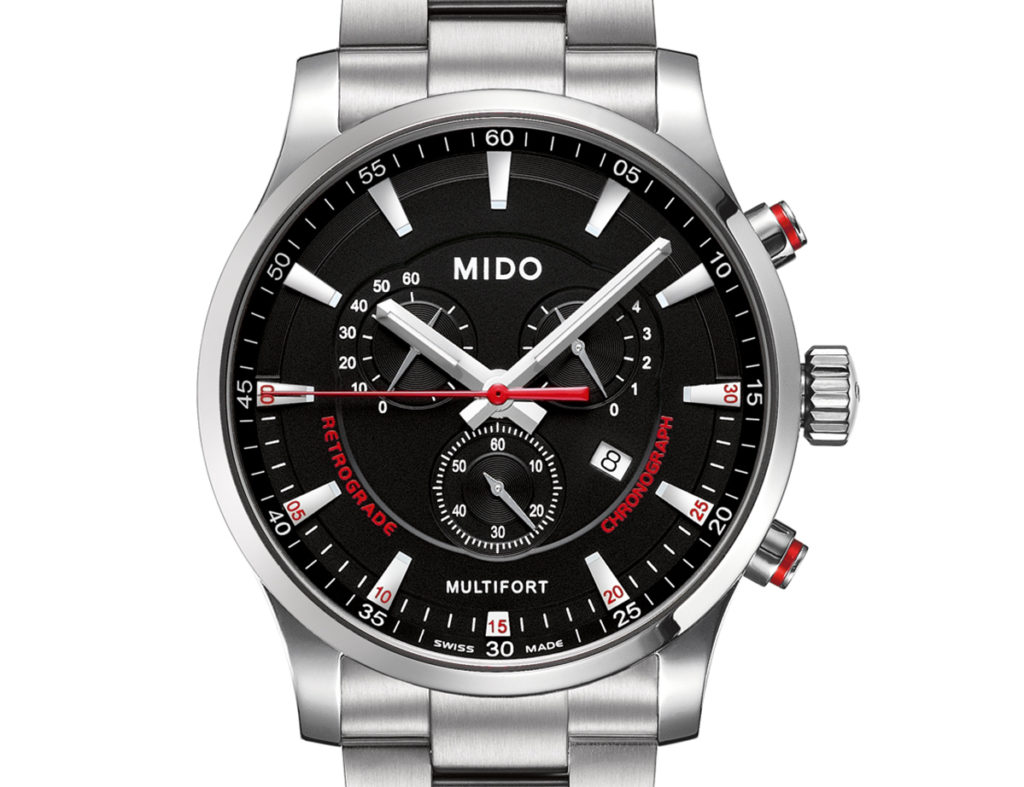 The Mido Multifort is entirely made out of stainless steel which makes it a good option for daily use. This reassures it user that it is built to last; to resist rust from developing. In addition, this also guarantees durability because stainless steel is one of the harder materials available for use.
It is designed with a black dial for its canvass which makes a good contrast to the indices that is lined around the face, while the minute markers are engraved just outside the dial, right before the bezel, which is fixed into place. This is important to highlight because this particular everyday timepiece has a 100m water resistance rating which is quite high. This specifically means that the Multifort can be used for snorkeling and water sports which may not or be activities you do every day, but this gives you a gauge on how powerful it is for a watch that is priced below $500.
Additionally, the time piece has three sub-dials and a date display at the four o'clock demarcation area which makes it an unusual design decision, but this allows it to stand out among the rest.
For the technicalities, the Multifort from Mido runs on a quartz movement meaning it runs on battery which you should keep a close eye that it does not run out.
Junkers Bauhaus Ref 6060-05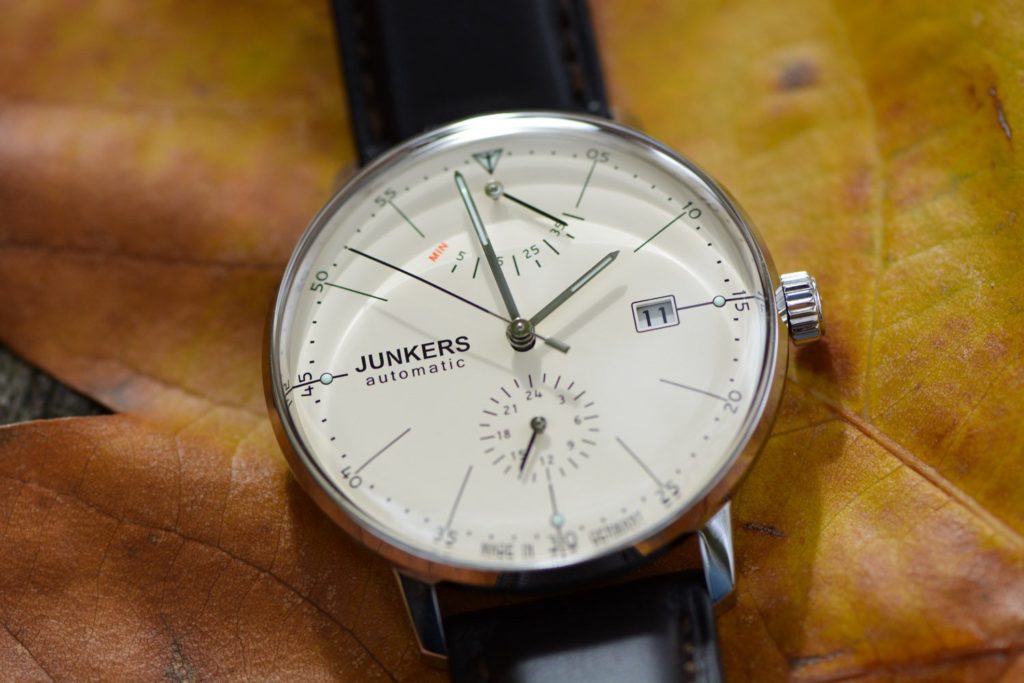 It may look ordinary, but it is nowhere close to being mundane. The Bauhaus from Junkers is powered by a Swiss Automatic movement. In view of this, the watch is powered by 26 jewels and it has been pointed to as the reason why it has an estimated power reserve time of 40 hours.
The Bauhaus is made out of stainless steel ensuring high quality and durability. On the other hand, the dial stands out because the strap is made out of leather further highlighting the white dial that sits in the middle. Every five minutes, the time is highlighted with elongated indices that stretch to the middle and a minute marker just before the end of the dial.
Our only gripe with the design is the awkwardly long indices, as mentioned above, and the second complication found on top where the sign MIN is. It is just awkward to look at. Regardless, this is one of two sub-dials that the Bauhaus has in its design. Also, a date window can be seen at the three o'clock demarcation.
The dial window on the other hand is made out of mineral glass. This is at a lesser grade compared to the material used in the previous watch. However, for a watch only to be used casually every day, this material is good enough.
In addition, the Bauhaus is also rated with a 30m water resistance which allows for water splashes and a light downpour of rain.
Seiko SARB033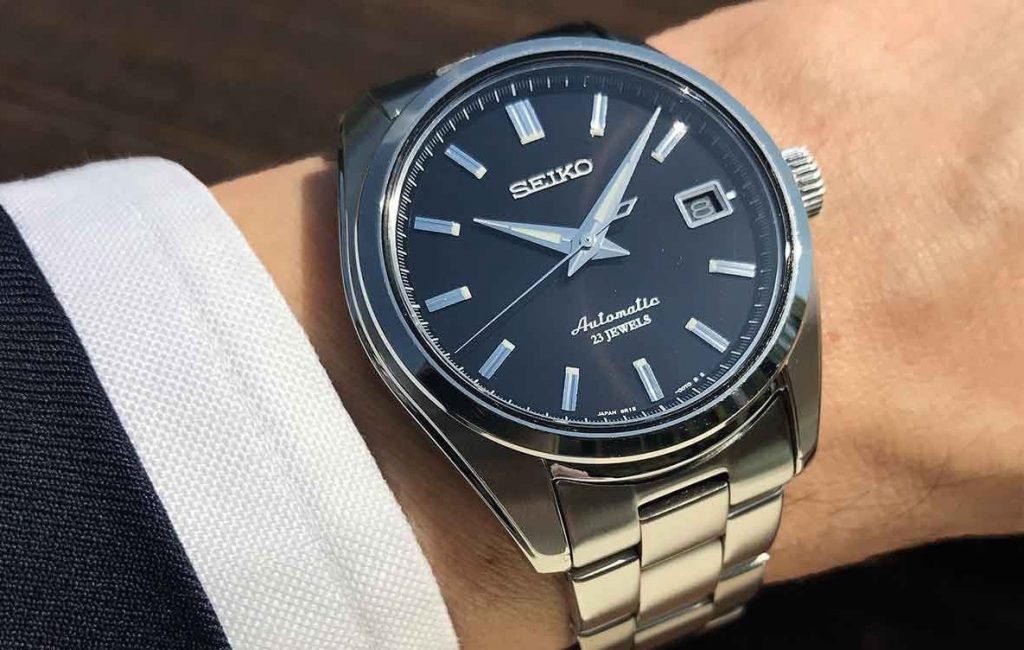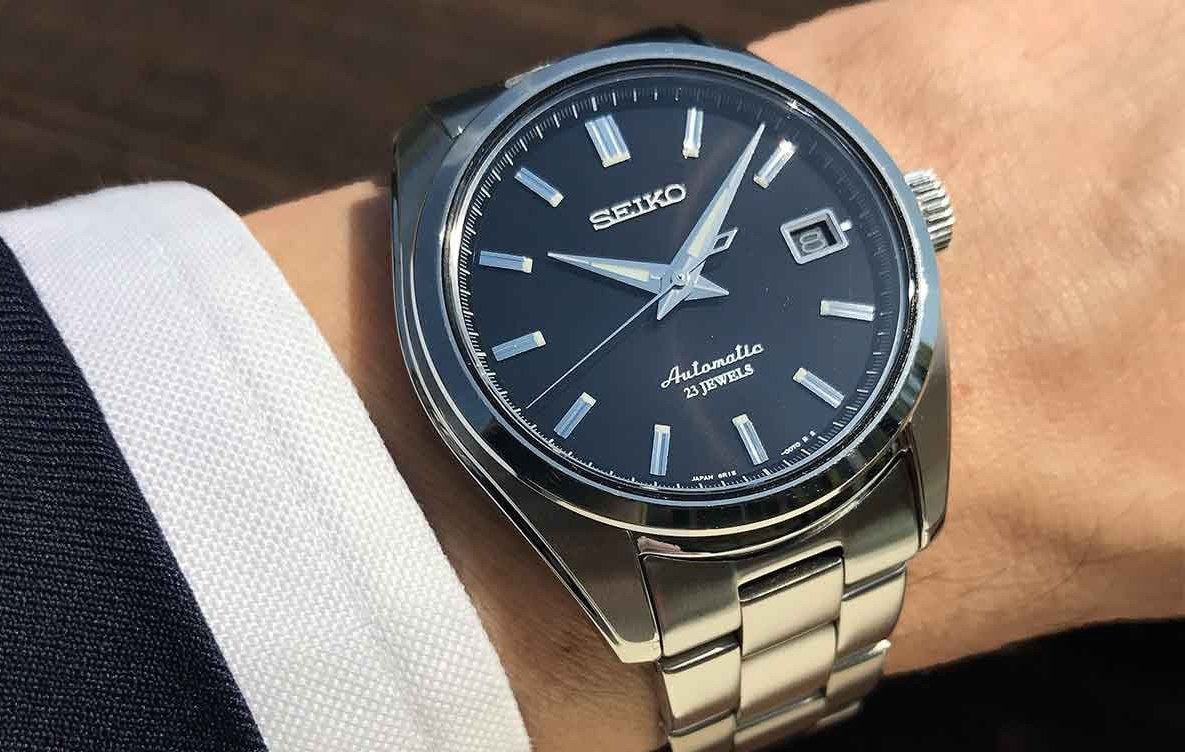 This timepiece model from Seiko is powered by an automatic movement. That is why, when fully wound, it is estimated to be capable of running for 50 hours. In addition, it has been designed with the aim to withstand water caused by swimming or snorkeling. Basically, more than your everyday water splashes. However, deeper than that and it might give out.
From the aesthetics perspective, the SARB033 has a classic look. Its entire body is made out of stainless-steel reassuring its user that it can last as long as possible if taken cared of well. This material also allows it prevent rust from forming. Additionally, the black dial gives off a feeling of class. It continues its clean look by placing the indices in a way that does not disturb the middle of the watch and having them in appropriate lengths help.
Moreover, this Seiko timepiece only have one complication which is the date display found at the three o'clock demarcation.
Bulova Lunar Pilot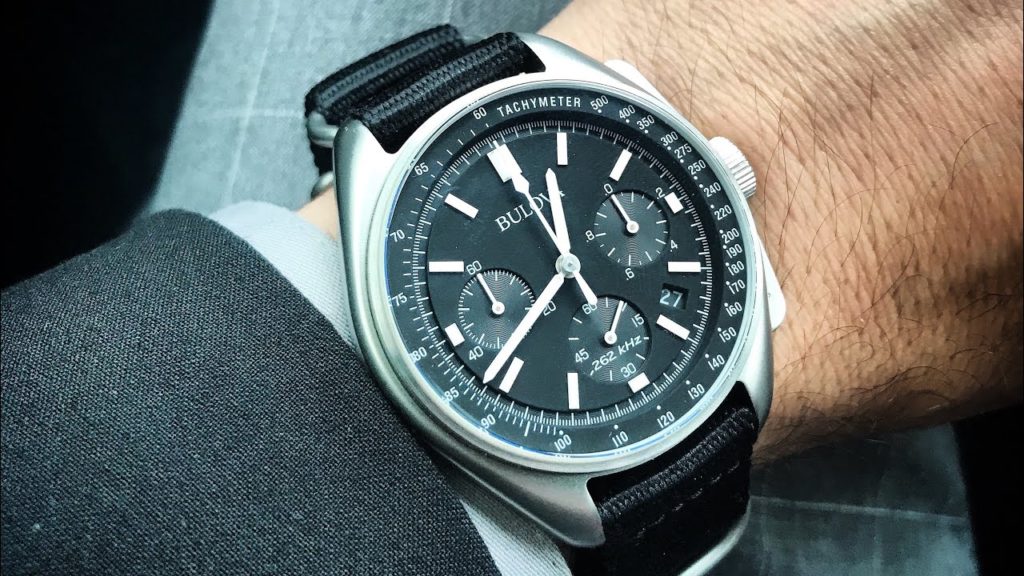 The Bulova Lunar Pilot was created with the combination of stainless steel for its casing, and leather for its strap. This creates the illusion of the night sky where the case is the moon, and the strap as the night sky – just us making a connection to the name, but it does make sense.
In view of the lunar theme, the designers end up using black as the color of its dial. All the print on it are white, or silver, for clarity, and in spite the many complications placed into the design with three sub-dials for the chronograph, they are neatly placed into the design that it does not look crowded. In addition, it also tells the date which you can find in between the four o'clock and five o'clock demarcation indices.
There are two things that make this timepiece unique from all the rest that have been mention so far. First is the display window which is made out of sapphire. What makes this feature unique is the antireflective properties making the dial clear in spite a very sunny day outside preventing any glare.
The second one is the tachymeter. It is a feature that allows the user to roughly estimate the speed of a moving object. This works hand-in-hand with the chronograph which is a useful feature overall.
On the other hand, it only has a 50m water resistance rating which is lower than most of the timepieces mentioned above. However, that should be well enough for a timepiece used every day.
Orient Neo 70's Panda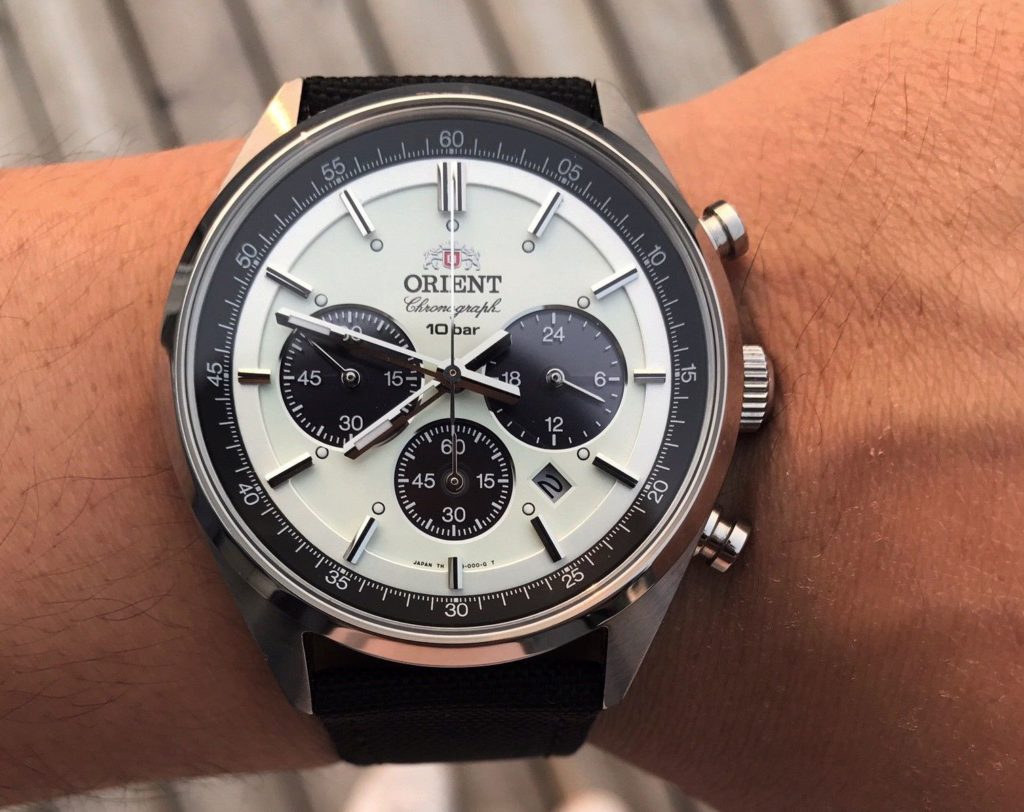 This timepiece from Orient exudes elegance in spite being suitable for a day-to-day watch. It is made out of stainless steel from the case to its strap. The only hint of another color in its design is the black in the outer parts of the dial where the indices are displayed alongside the minute-demarcations which is reflected to go by fives. Other than that, everything else is white, which maybe the reason why it looks very class. Also, this makes it unique from all those made out of pure stainless steel because the others keep its original color. Orient made sure that this time piece stands out among all those experts believe are best suited for everyday use, and to be under $500, that is a bargain.
Although, shops do not have enough details to tell us more, further research shows that Orient claims that the timepiece is powered by the sun. This solar power is a welcomed change in the industry. It also means that it is fully capable of starting itself as soon as it is exposed to the sun. In addition, Orient claims that it has a reserve of six months, meaning it has one of the longest reserves currently available in the market.
Looking at the timepieces that were mentioned, and taking the features and capabilities that they pack, it seems like they cost more than $500, but trust us, all these are less than that making them one of the best prices currently available, and making it worth every buck.
Again, there was a time when each person had a watch on them, and it was once a necessity, now, it has reverted back to the ways when only the rich necessarily want them. However, with a price range of below $500 but packed with many capabilities and features that you might only see in high-end watches, maybe this could change your mind.