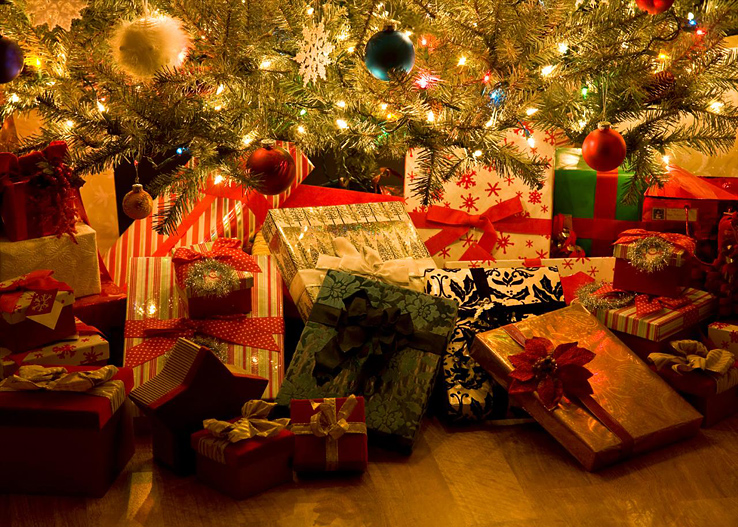 A watch is the ideal Christmas present for someone that you want to treat this Yuletide. Not only are watches attractive to look at, but if you pick the right one then you know you´ll see your gift on their wrist for years to come.
We´ve rounded up a selection of watches that will light up the face of your guy or girl under the Christmas tree this December 2019. Old or young, we´ve got something for them (or for you: self-love is important!)
Our aim this time is to showcase some distinctive and stylish watches that will be welcome in any watch collection. We know that watches don´t all break at Christmas, and so we´ve been focusing on some original styles that will make a perfect gift regardless of whether your partner already has a timepiece, or if they´re new to the world of watches. Prices vary a lot leading up to Christmas, but the watches here all retail (at time of writing) at a very affordable price, so they make great gifts without breaking the bank.
If you´re looking for something more traditional then feel free to check some of our individual watch reviews or top 5 countdowns, but take a look at these first- you might be pleasantly surprised.
Our Top Picks
Watch
Size
Style
Water Resistance
Price Range
Seiko Prospex Men's SUN023 Kinetic GMT

Check Price
Large
Casual/Outdoors
656 Feet
$$$
Juicy Couture Women's 1901142 Jetsetter

Check Price
Medium
Casual/Fashion
99 Feet
$
Seiko Women's SUT124 Coutura

Check Price
Extra Small
Smart/Casual
330 Feet
$$
Casio Men's G-Shock ga110tr-7a

Check Price
Extra Large
Sports/Casual
656 Feet
$
Bulova Men's 98B227 Precisionist

Check Price
Extra Large
Smart/Casual
984 Feet
$$$
If you would like to check out our mini-reviews on each model keep reading below!
Seiko Prospex SUN023 Kinetic Diver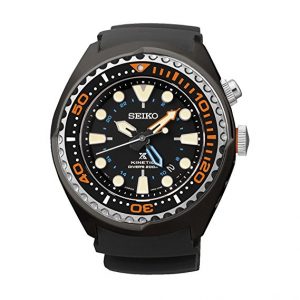 For the action man in your life, consider the Seiko Prospex SUN023 Kinetic GMT Diver watch. Coming in a deep shade of black, with orange, white and blue detail on the dial, this watch looks overwhelmingly masculine and its technical credentials don´t disappoint either.
The watch is certified for depths of up to 200 m which makes it a perfect buy for divers and sports enthusiasts who want a watch that can keep up with them during a weekend of swimming or kayaking. Whilst up a figure of to 300m would have been even better, this difference won´t be noticeable to most, even if they dive regularly. The kinetic quartz movement is also reliable, and means that there are no batteries to replace, although casual users may have to wind the watch up if they do not use it regularly.
The rubber band is thick and comfortable and the dial, coming in the famous Seiko "tuna fish" design, is easy to read. There is no chronographic (timer) function, but that isn´t going to be a problem for most users, and it means that there are no additional dials clogging up the watch face.
In short: Ideal for the (occasional) adventurer of all ages, and would make an excellent timepiece gift for this Christmas 2016.
Click here for specs, reviews, and current pricing.
Juicy Couture Women's Jetsetter
Meanwhile, if it´s a princess you´re out to impress then the Juicy Couture Women's 1901142 Jetsetter Watch may be just what you´re looking for. With a gold-outlined diamante crown embedded in the dial, this watch is going to turn heads.
Although it is fitted with a reliable quartz movement, a resilient silicon band and has up to 100 m water resistance, the main attraction of this watch is its appearance. Aside from the unmissable diamante crown, the inside of the band is decorated with a cute striped design and the winding stem is topped with a purple crystal. Luckily, the solid-black band and dial bring back some balance and keep the watch looking adult, and the gold-colored casing is surprisingly subtle.
Overall, this watch is fun and playful, and designed for giving to a special girl in your life who likes to be treated like a princess. Emblazoned with the Juicy Couture logo, it is not going to win over many grandmas, but it makes a distinctive present for fashion lovers who want a watch that will act as statement jewelry. The band is on the small side for a woman´s watch (19mm) so be aware of this before you buy, although this shouldn´t be a problem for most young recipients.
Click here for specs, reviews, and current pricing.
Seiko Women's SUT124 Coutura Solar
When your princess has become a queen, then the Seiko Women's SUT124 Coutura may be more appreciated. The shiny gold and silver stainless-steel band and the mother-of-pearl dial are not designed for wallflowers, but if your chosen lady likes a bit of sparkle in her style then Seiko´s Two Tone watch is an elegant gift that can be worn both day and night.
This watch contains one of Seiko´s solar-powered Japanese quartz functions, so time-keeping is a breeze as there´s no battery to replace or wind-up. Given Seiko´s reputation for reliable, long-lasting components, this can be trusted to last for years and years, too. It´s waterproof to 100m as well, so whilst it isn´t designed for taking swimming regularly, it should survive an accidental splash.
As before, the big selling point of this watch is its design. Firstly, it´s practical. The dial is easy to read, even without glasses, and it comes with an embedded date window– perfect for a career woman or a lady who´s always got a full diary to keep track of. Secondly, there aren´t many girls that would say no to a diamond or two. Embedded in the casing are real diamonds, and although they might be small, there is something special about knowing that you someone you treasure is literally walking around with treasure on their wrist.
This watch is an ideal gift for women of any age, and it´s the perfect present for someone that you want to kiss on Christmas morning for many years to come. Even better, it is currently being sold off for 1/3 of its RRP through suppliers such as Amazon so there´s never been a better time to buy a timeless watch.
Click here for specs, reviews, and current pricing.
Casio G-Shock ga110tr-7a Maritime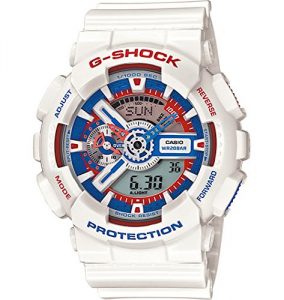 Now that the ladies are sorted it´s time to get back to the gentlemen, and the Casio G-Shock ga110tr-7a Tricolor Maritime Series is a reminder that it´s not just women who can look forward to a stand-out design this Christmas. It´s rare to see a men´s watch in glossy white, and the red and blue details give this watch an added military air that is strengthened by the cog-shaped bezel.
The watch doesn´t just look the part. In fact, it comes with enough functions to keep even the most curious teenager happy: up to four different alarms, one alarm with snooze function, an hourly time signal and a 1/1000 second stopwatch, as well as being water-safe for up to 200m.
The analog display can be a bit difficult to read due to all of these different options. However, most people do not need this many options on their watch if they own a mobile phone, and this display is designed for looks ahead of use.
Whilst it is not designed for the boardroom (unless you really want to make a statement,) this watch is perfect as a first adult watch for a young man or teenage boy. It is attractive but macho, and full of functions and dials to play around with. Even better, Casio are known for making reliable and durable watches (this one has a thick plastic band and is shock resistant, magnet resistant, and water resistant up to 200m) so it should survive any teenage scrapes too.
If you have a teenage boy to buy for, or if you have a man in your life who likes to make a colorful statement with his accessories, then the Casio G-Shock ga110tr-7a is an ideal gift and a great reminder that lower-cost men´s watches do not have to be ugly or flimsy. Other color combinations are available too, look up the base model, Casio G-Shock GA110, for more details. We think this red, white and blue version looks best though.
Click here for specs, reviews, and current pricing.
Bulova 98B227 Precisionist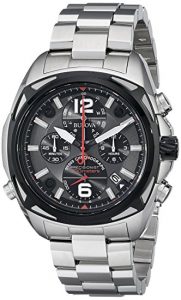 Moving on to our last men´s watch, we know what you´re wondering: what do you get for a man who´s more likely to be seen in a suit than a wetsuit? Business doesn´t mean boring, and the Bulova Men's 98B227 Precisionist Watch is an ideal example of a stylish watch that is as much at home in the boardroom as it is in outer space (yes, Bulova are the company behind the Accutron watches used in various NASA missions.)
Bulova´s Precisionist watches are known for being some of the most accurate wrist watches in the world (losing only a few seconds per year) due to their precisionist-class torsional resonator movement. This heavy watch feels luxurious too due to the attention to small details: the scratch-protecting crystal screen, sweeping second hand, silent ticking and fold-over safety-lock clasp all set this watch apart from its near rivals. Even better, unlike many headline, but somewhat irrelevant, features they will become more valuable the more times you wear the watch.
If you do want to take this watch on your travels then rest assured, it´s prepared. The 98B227 has a screw-down crown, making it much more reliably water resistant than many of its cheaper rivals, and it is resistant up to 300m underwater too. Its solid build was designed to be durable too, and it has a quadruple chronograph function too, should you ever need to judge any racing.
The main attraction of this watch, though, is its appearance. Whether or not your lucky man wants to go on adventures or to pace the concrete jungle, this watch´s black and silver ion-plated finish and the silver, black and red color scheme are unmistakably attractive on any wrist.
Click here for specs, reviews, and current pricing.
Which One Should You Choose?
If your looking to impress a friend, family member or lover this Christmas 2019 with a brand new timepiece, any watch on our top 5 list will do the job! Try to choose one that suits the gift receivers style. Perhaps they like fancy watches, or maybe pieces that don't stand out much but are still classy and elegant, either way you should be able to find a nice fit for them. One thing you should be prepared for is resizing. It's quite common for the watch to not fit the wrist straight out of the box, but you can easily get the strap resized. Happy shopping and a merry Xmas to you!