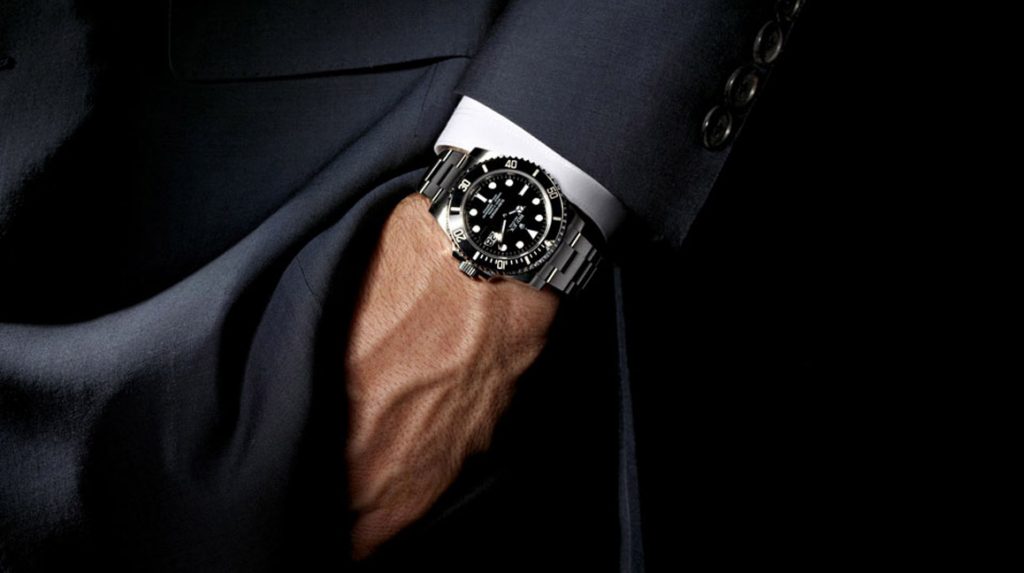 In today's world, being a young professional is increasingly impressive. With the job market declining, there are fewer and fewer opportunities for young people to excel, and establish themselves on the career ladder. However, that does not make it impossible, and many are developing a stable future for themselves, and showing great promise. In order to be respected in a professional sense, looks are highly important.
One of the key things in dressing appropriately, is accessories, and in this case we are talking about a timepiece. A watch is an excellent way to tie together an outfit without overdoing it. It can elevate an outfit, make one look more professional, and give an air of sophistication. For many young white collar workers or businessmen, looking good is high on their agendas even without prompt. Watches are a key piece, and can be an important aspect that allows you to stand out whilst also keeping a uniformed look.
Important things to consider when shopping for a watch, are functionality and appearance. A sleek, clean appearance is extremely important, as it is the deciding factor on whether a watch is suitable for a work environment. A piece with an overly designed strap and face is sure to turn heads, but for all the wrong reasons. Simplicity is key, and this will dictate whether the watch is appropriate for a young professional trying to make a good impression. The other most important piece of criteria, is functionality. A watch which is hard to read is no use, even if it looks attractive. Watches serve a purpose, and if they are incredibly difficult to read there is little point in wearing one.
Here are 6 examples of men's & women's watches which fit the bill, and are sure to draw attention and serve their purpose in a practical sense.
Top Picks
Watch
Size
Strap
Professionalism
Price Point
SEIKO Mechanical SARB065 Men's Watch

Check Price
40 mm
Calfskin
Very
$$$
Skagen Women's 355SMM1 Watch

Check Price
26 mm
Stainless steel
Moderate
$
Citizen Men's BM7100-59E Corso Watch

Check Price
41 mm
Stainless steel
Very
$$
Hamilton Men's H38511143 Jazzmaster Watch

Check Price
42 mm
Stainless steel
Moderate
$$$
Orient EV0S004B Men's Union Automatic Watch

Check Price
40 mm
Alligator leather
Average
$$
Tissot Women's TIST0332101105300 Dream Watch

Check Price
28 mm
Stainless steel
Moderate
$$
SEIKO Mechanical SARB065 Automatic Men's Watch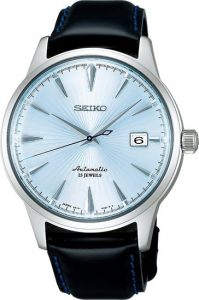 This watch is incredibly suited to young male professionals with a flair for fashion, who also love their watches to be highly practical. The SARB065 is incredibly mature, with a modern twist on the classic analog face. It's metallic design makes it sleek and attractive, and also gives an illusion of dominance. The black leather strap makes for comfortable wear, and keeps in line with the elegant, elevated look. The blue stitching on the strap adds a pop of individuality, which will make this watch noticeable, whilst keeping your look safe for work. A nice feature of the SARB065 is the date counter, which operates automatically. It is also waterproof, which makes it a very practical choice. It's perfect for a qualified man who wants to uphold a manner of importance, as it carries connotations of power and indestructability.
Click here for specs, reviews, and current pricing.
Skagen Women's 355SMM1 Analog Display Quartz Watch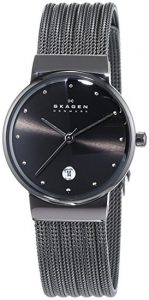 This watch is perfect for the minimalist businesswoman, with it's low-key design and sleek, professional look. It has a particularly unique strap and face design, sure to turn heads and attract compliments from co-workers. It's minimalist look makes it a classic piece, as it can last through every fashion trend. It is a piece which will make the owner appear elegant and classy, whilst adding a flair to any outfit. The strap design is incredibly unique, with it's stainless steel striped mesh band. This gives the 355SMM1 a fashionable flair, and strays from the average watch designs. It's face is black, with chrome dot indicators, and an automatic date counter. It is incredibly minimalist and attractive, yet easy to read and very functional. The Skagen 355SMM1 combines fashion and professionalism in an effortless way, and this makes it incredibly unique. Any young actively working lady with a thing for minimalist designs will love this watch, and appreciate it's simplicity.
Click here for specs, reviews, and current pricing.
Citizen Men's BM7100-59E Corso Dress Watch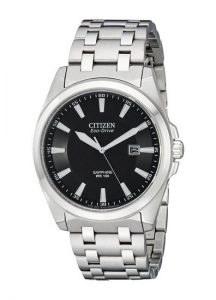 This watch is for the businessman with a need for functionality and sturdiness. It is fashionable whilst still upholding a very masculine appearance, and this is not a watch to be messed with. It's design makes it a statement piece, which will surely stand out amongst the crowd. It is designed to be practical yet attractive, and this is one of the key features that makes it perfect for any young businessmen. The strap is incredibly robust, and perfect for the active businessman. Not only is the Citizen BM7100-59E ideal for the office, but it can also be used in the gym, and throughout other day to day activities. The face of the BM7100-59E is incredibly easy to read at a glance, and it's clarity ensures that time won't be wasted trying to read a complex watch face. One of its key features is the Eco-Drive technology it operates on. This means that the watch never needs a battery, as it operates by solar power. This timepiece is also waterproof up to 330 feet, making it suitable for snorkelling! Overall, it's a perfect choice for the practical man, who enjoys looking stylish whilst also having the diverse functionality of the watch.
Click here for specs, reviews, and current pricing.
Hamilton Men's H38511143 Jazzmaster Thinline Watch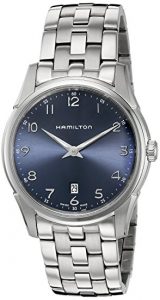 This is another watch that suits the practical yet fashionable businessmen. It's strap is stainless steel chain links, which allows flexibility without fear of it snapping or staining like some leather straps. It is incredibly functional, with an attractive face and the classic strap. The dial of the Hamilton Jazzmaster is different because of the full number display, which allows for easy reading and clarity in the office. It also has a date display at the 6 o'clock position, allowing the owner easy access without having to look at a mobile phone in professional situations. This clean, attractive design is perfect for young businessmen who work in professions that require them to be in a sterile environment, as it can be cleaned easily and will not carry any material fibres along with it. It is incredibly attractive, and could also make for a perfect gift.
Click here for specs, reviews, and current pricing.
Orient EV0S004B Men's Union Automatic Watch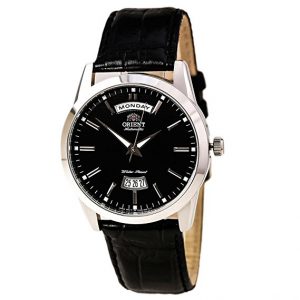 This is an incredibly unique watch, which is sure to turn heads. This is definitely for the more daring men when it comes to their fashion, with it's textured strap and intricate face. Although there is no particular design to the face, it's small size makes things much closer together, so it may appear that there is more to this watch than there really is. It is analogue faced, and it features a full date window, including the month and year. This is a significant feature of the Orient EV0S004B, as most watches only have the day of the month. At the top of the face, there is also a window showing the day of the week, making this a very original piece. The strap of the EV0S04B is another notable feature, as most men's watches have incredibly plain straps. The textured nature of this leather strap adds a certain flair and gives a particular uniqueness. It is still highly professional, whilst also being a fashionable statement piece for an outfit.
Click here for specs, reviews, and current pricing.
Tissot Women's TIST0332101105300 Dream Watch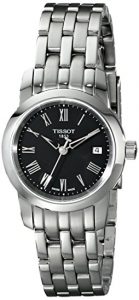 Men aren't the only ones who deserve a classic metallic watch. This watch is tailored specifically for women, as it won't look clunky and unsightly on a smaller wrist. The chain link stainless steel band gives off a dominant aura, and nobody will mess with a woman wearing the Tissot TIST0332101105300. It is incredibly smart, and will not cause any disruption in a professional environment. The strap is the main focus of this watch, and it will definitely be the statement piece of an outfit. This is another timeless piece, that will continue to be attractive throughout every fashion trend. A woman can be confident that this Tissot model will be flattering, as it has been deigned for a smaller wrist, so will not look chunky and displaced. Not only this, but it is also very professional and clean, making it a brilliant fit for a young businesswoman. The face of this watch is also incredibly attractive, with it's Roman Numeral design. This makes it stand out from other watches, and adds a touch of class.
Click here for specs, reviews, and current pricing.
Overview
These 6 examples are all perfect for young entrepreneurs and professionals looking to be fashionable and sleek, whilst also sticking to the rules of the office. Anyone will be taken seriously with these highly esteemed designs, as they offer a particular flair. Each of these watches has a uniqueness that makes them worth the money and time.