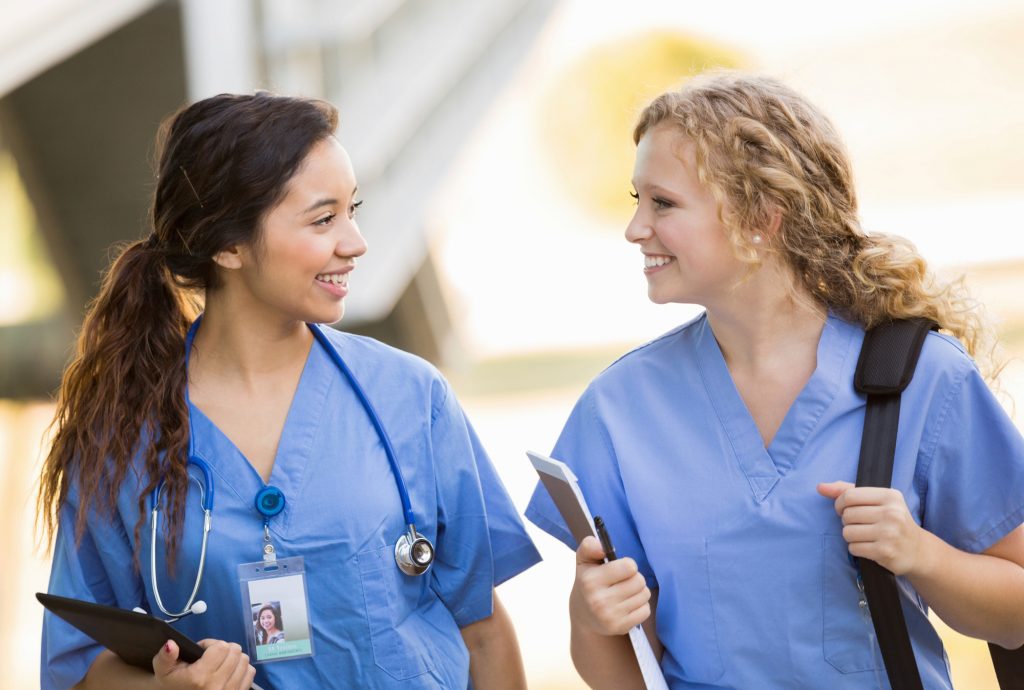 Starting a new career is always exciting, but training as a nursing student in a busy hospital is something special. One thing that's easy to forget is to get your new watch ready. From the first time that you take a pulse, to the day you retire, a watch is an overlooked but vital piece of equipment for every training and qualified nurse. Not any watch will do though, and today we´re going to check out 5 watches that make the cut but are still affordable on a student budget.
So, what makes a nursing watch special? Firstly, it's got to be white so you can see when it´s dirty. It´s got to be water resistant and clean up well too – you don´t want to think about where that watch is going to go. Beyond that, it needs to be easy to read, not catch on clothing, and to have a second hand that you can use when you´re measuring pulses. Oh, and it should be fairly inexpensive, as these watches are going to suffer all sorts of bad treatment. Still following? To make it easier, we´ve got a list of factors to take into consideration.
White
Water resistance
Easy to clean
Comfort
Case size
Easy to read
Second hand
Illumination

Male or Female bbandwidth

Battery powered
We´ve already ensured that all our choices are battery powered because the last thing any trainee nurse needs is to realize on Monday morning that his or her watch needs to be wound up and reset, just when that pulse needs to be checked. They also all have a second hand and come in white, but we´ve left these on the list so that you can compare our picks to anything else that you might have seen around. Ready? It´s time to check out our top picks…
Top 5 Quick Comparison
Watch
Band
Water Resistance
Illumination
Price Point
Prestige Medical Nurse

Check Price
Rubber
Yes
No
$
Prestige Medical Braided

Check Price
Braided Silicone
Yes
No
$
Scrub Stuff Silicon

Check Price
Braided Silicone
Splashes only
No
$$
Timex T2H391

Check Price
Genuine Leather
99 Feet
Yes
$$$
Nurse Mates NM-8690

Check Price
Faux Leather
Yes
No
$$
1. Prestige Medical Nurse White Scrub Watch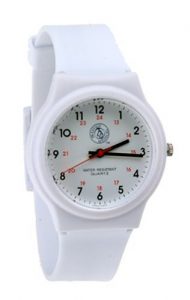 First up is the Prestige´s 1778 Medical Nurse White Scrub Watch. The simple white design looks clean and clinical, and, like all of our picks, it´s easy to see if it´s dirty.
The bright red second hand and the military timing markers are useful, and the lightweight build stops this watch from feeling annoyingly heavy on a long shift. It´s got a basic level of water resistance, so it´ll survive being splashed or regularly getting wet – although the dial may temporarily cloud up. The dial itself is clean and easy to read, and the numbers are large and still easy to read in dim lighting.
However, the loud ticking can be distracting, especially when taking a pulse. The watch also feels cheaply made and the plastic components look easy to scratch or damage. Maybe most fundamentally, the band does stain quite easily so you may have to replace it if the watch encounters a particularly messy situation or if you smoke regularly. Overall, this is a fair buy for students who are going on their first placement or rotation, or who need to train in class. It´s not the best quality, but the ease with which it stains is a good motivation to clean it up as soon as possible, and to deep clean and disinfect it regularly.
2. Prestige Medical Braided Band Watch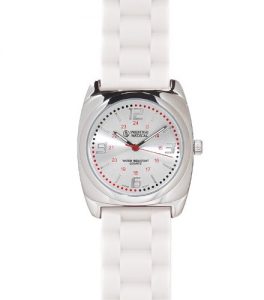 Sticking with Prestige, the next model is a slightly more fashionable upgrade. The ticker is still loud, the red second hand is still useful, and the splash resistance and military timings are unchanged.
There are three main changes. Firstly, the plastic band has been swapped for a braided silicone band. Not only does this look more fashionable, but it is less likely to stain or get discolored. Secondly, the dial now contains 15-second dividers, making it easier to time your patients. Finally, the hands now have a luminescent coating, so it's easier to tell the time in the dark.
Although the band may be stylish and have better stain protection, it is also bulkier and harder to clean properly. The luminescent hands are useful, although not essential, as are the 15-second markers. In all honesty, whilst this watch may appear to be an upgrade on the previous Prestige watch, they both target the same audience- new student nurses- and the main difference is personal taste and your willingness to spend more time on cleaning your watch.
3. Scrub Stuff Silicon Nursing Watch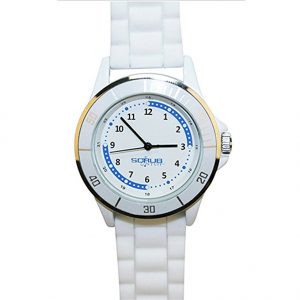 Next up is the Scrub Stuff silicone nursing watch. Whilst the blue and white color scheme of the dial is attractive without compromising on usability, the main selling point of this watch is that it´s unisex. The band is designed to fit all but the largest of men´s wrists, making it an ideal choice for any male nurses who feel sidelined by all the female-orientated products on the market.
Aside from the unisex band, this watch comes with a lightweight silicone band which is comfortable to wear, and textured to avoid it slipping. As before, the woven design does render it harder to clean, however. The 15-second markings may be useful to some trainees, as may be the 60-second countdown markings on the bezel, but neither are fundamental. Whilst the dial is clear, the numbers could be larger.
In all honesty, the main selling point of this watch is that it´s got a band long enough to fit a male nurse. Guys, this one's for you.
4. Timex T2H391 Women's Easy Reader Watch

If a silicon strap does not appeal, then the Timex T2H391 may be more up your street.
Like the previous models, the loud ticking may frustrate some students, especially when they are trying to measure a patient´s pulse. The 30-meter water resistance is somewhat better than the splash-proof options, but this watch is still best not submerged for long periods of time
However, the leather band is classy and some trainees may find it more comfortable than an artificial material. The date window at the 3 o´clock position is a useful addition for anyone who regularly fills out paperwork, and the indiglo illumination leaves this watch the easiest to read in the dark. The 25mm case is small, but the large-print markers are easy to read, and this size combined with the smooth shape stop the watch from getting caught in equipment or clothing.
If you want a timeless and discrete nursing watch then the Timex T2H391 is for you. Its technical details are the best featured, and it´s worth the extra price if you can afford to spend approximately 30-40$ on a potentially-disposable watch. Best for any woman who wants to plan ahead for a long-term future in nursing.
5. Nurse Mates NM-8690 Chrome Basic Military Dial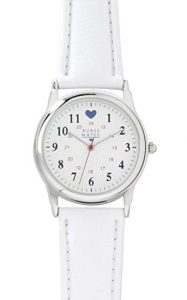 Finally, we have the Nurse Mates NM-8690. This design looks similar to the Timex model, but as we´ll see, there are some significant differences and cut corners.
The strap is false leather instead of leather, and the 32mm case is significantly larger than that of the 35mm Timex model. The watch does have military time, but the hands are ridiculously thin for unknown reasons, leaving it harder to read than any of the other options. The size of the number markings is better but could be better when the case is this large.
So, what is this watch doing on this list? To be completely honest, it´s just cute. The small blue heart is a nice detail, and the false-leather strap is stylish without the cost of the real material. If you´re at the beginning of your training or do not yet have daily duties, then this watch is a pretty choice that looks wearable in daily life but that remains usable in hospital.
Our Thoughts
We´ll be honest- there´s not that much variety to be found when you´re looking for easy-to-clean, white watches with a second hand that are affordable on a student budget. Still, we hope that we´ve demonstrated to you that, regardless of how boring a nursing watch may sound, there are still a range of options and it´s still possible to find a watch that encompasses your personal style, without losing its functionality. Whether you´re just taking your first class, or if you´re in your final year of training, all our choices have everything that you need to help you keep your nursing shifts on track.
If we´re honest though, the Timex T2H391 stands out as the best option for anyone who can afford to wear and replace it. It may not be the most stylish, but the date window, 30-m water resistance and the reputation of Timex would make this our top pick. There´s nothing wrong with the other options, and men have no real choice (sorry!) but we´d be inclined to rate functionality over design when making our final choice. It´s up to you though – you´re the one who has to look at it every day!