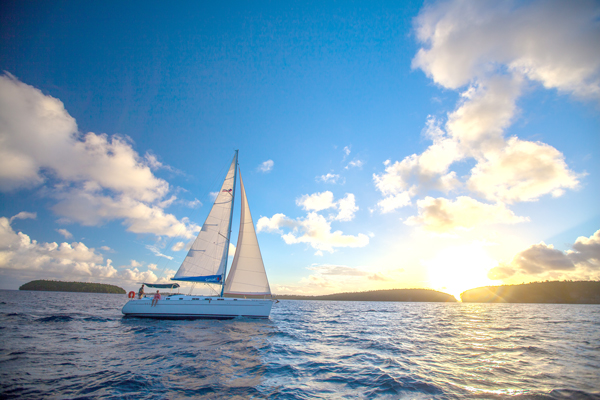 Whether you prefer to race through the waves as the clock counts down, or if you like to spend a relaxing afternoon gently bobbing down the river, time on the water is a nice way to spend the weekend. It´s also a danger zone for watches: water on all sides to get submerged in, equipment to catch on, and depths to fall into. But, that doesn´t mean that watches and boats don´t get along together- far from it. With the right choice, it´s possible not only to find a watch up for the challenge, but even one that can help you raise your sailing game.
We´re trying to cater for everyone this time, from yacht racers to leisure boaters, and everything in-between. To make this easier, we´ve also got a list of features to help you work out what you really want from your sailing timepiece.
Smooth, non-catching design
Case size
Band material
Countdown timer
Stopwatch
Race timer
Tide predictor
Water resistance
Night-time illumination
Catch type
Easy readability
Looks
Once you´ve figured out which of these features sounds useful, and which of these sound like a waste of money, then it´s time to take a look at the watches! Be aware that most of these are men´s watches – but we´re keen to hear if you´re a boating woman who would like us to take a closer look at the ladies´options.
Our Top Picks
Watch
Band
Size
Water Resistance
Price Point
Freestyle FS85012 "Mariner Sailing"

Check Price
Polyurethane
47 mm
330 Feet
$$
Tissot 0564202705101 Sailing

Check Price
Rubber
45 mm
330 Feet
$$$$
Timex TW2P44500DH Yacht Racer

Check Price
Silicone
46 mm
330 Feet
$$$
Vestal Men's YATCM01 Yacht

Check Price
Stainless steel
45 mm
330 Feet
$$$
SO&CO New York 5018B.1 Yacht Club

Check Price
Stainless steel
42 mm
330 Feet
$$
Invicta 6983 Pro Diver Chronograph

Check Price
Polyurethane
48 mm
330 Feet
$$
Keep reading for a mini review on each model!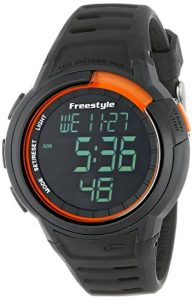 First on our list is Freestyle´s FS85012 "Mariner Sailing" men´s sports watch.
The main selling point of this watch is that it t comes with a race timer ( a countdown timer followed by an automatic switch into a regular time) which can be updated to match the timings of any subsequent race horns.
The watch has also been designed with smooth edges to avoid catching on equipment, and the polyurethane band is textured for better grip, leaving it suitable for racing in all conditions. It´s supposedly water resistant to 100 meters, but we would describe it as splash resistant – we´ve heard various reports that it´s actually quite easy to fog up the display. Still, as long as you keep it on deck, this shouldn´t be a big problem. The watch also comes with a night vision mode, where the entire watch face illuminates. It´s not the strongest illumination going, but it´s readable – and as we´ll see, this is a problem that lot of sailing watches seem to have.
Unfortunately, the dial is not well protected, and scratches easily. The band itself is okay, but the connection to the bezel is not great and so we don´t give it a long life prediction: 1 or 2 years maybe.
If you´re a recreational sailor and looking for a budget buy that includes a race timer and large-print display, then this is a fair buy. The nighttime weakness is a common problem across the board, and the scratching can be dealt with through anti-scratch treatments so they´re not ideal but also not awful issues. It´s also a good buy if you are curious to try out racing or a watch with a race timer, but don´t want to splurge on anything too expensive until you know if it works for you.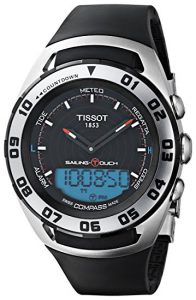 The Tissot 0564202705101 Touch Sailing watch is above all designed for boat racers or those who sail regularly. Its design is a strong departure from the other Tissot Touch watches, and it is above all functional (no sharp edges that could catch on equipment) rather than stylish.
Its most-advertised feature is the so-called "Regatta function" –a countdown timer ranging from 0 to 10 minutes that can be used to time the departure stage of a regatta or race, and which automatically turns into a regular racing timer afterwards. There is also a temperature feature (named metro) and a compass with adjustable east-west declination, a tide predictor and a barometer histogram that allows you to predict upcoming bad weather. Notably, however, all these features utilize the central dial, so you cannot track two features simultaneously. The touch-screen functionality makes it easy to switch modes at a glance though, if you aren´t racing.
Moving onto the material features, the ETA E48.301 Swiss quartz movement is well-known and reliable, and the 200-meter water resistance is likewise so. The anti-reflective sapphire crystal is a nice addition, and there is also an alarm, tachymeter bezel, low-battery-warning indicator and perpetual calendar. Sadly, the luminescent hands are not very luminescent in the dark though, which is a pain for night racers or boaters. Finally, the watch comes with a fold-over clasp that leaves it very securely attached – so you´re unlikely to lose this one in the water (as you´d hope at this price!)
If you like to boat or yacht in a variety of weather conditions, or if you race regularly or occasionally at an amateur or semi-professional level, then this is a good buy. Practicality has been chosen ahead of looks, so recreational sailors may prefer to find an attractive water-resistant watch and let their boat dials do the work. As ever, for any sailing watch, details are best double-checked with the boat´s own dials if you are boating in dangerous or difficult conditions, but it offers a good instant check-in and racing mode that many will benefit from.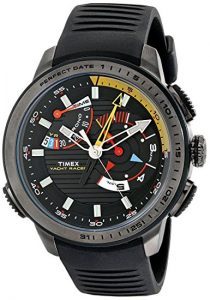 Another yacht-racing watch, but the Timex TW2P44500DH couldn´t look more different from the Tissot 0564202705101. The Timex TW2P44500DH also comes in a bright-yellow, ribbed silicon band version that is instantly attention-seeking. The black one pictured above is more subdued looking, but regardless of what color you choose the multi-layered dial is crammed full of sub-dials.
As you might expect from looking at it, this watch comes with many functions. It's main function is the yacht-racing mode, which firstly counts down to the start, and then times up to 60 minutes. The countdown also comes with 3 options: 5 minutes, 3 minutes and 1 minute.
The watch also has a reliable 100-meter water resistance, useful for accidental submersion, and it´s luminous although it oddly lacks Timex´s indiglo feature. The 46mm case is large, but to be expected with this many dials, and the perpetual calendar is a nice feature as well as the texturing of the dial and the bi-directional bezel.
This watch is best for those who race, as amateurs or semi-professionally, and want to take the time to learn and use its yacht-racing mode. The dial is not intuitive or easy to use, but it works well once you get familiar with it. It looks attractive, depending on the color you choose you can possibly pull it off with a smart-casual outfit.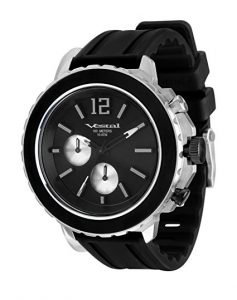 This watch immediately jumps out due to its starkly minimalist design. Staying on the topic of design, the 45mm case is somewhat large but not ridiculously over-sized, and the 2 sunken chronograph sub dials are easy to read although not highly accurate due to the absence of markings. The black silicone band is similarly plain but functional, although the pattern helps it avoid looking too bland and the inner grips help keep it firm on your wrist. The Japanese quartz movement is fine for the price too.
Don´t be fooled by the unidirectional bezel, or tachymeter. Traditionally these are found on diving watches to measure air limitations, but this watch only advertises 100-meter water resistance so it is not a diving watch. (You could use the tachymeter as a 1hr countdown timer though.) On the plus side, there is a screw-down crown, so this watch is water-resistant enough for swimming or accidental submersion.
Overall, it´s a nice design if you want something monochromatic and eye-catchingly stark. It´s not suitable if you´re using it for racing as the dials are too inaccurate and it has no additional yachting mode, but the water resistance seems solid and so it´s a decent buy if you sail or go boating casually and want something that won´t get damaged but looks good.
There is no illumination, which is a pain in low-light conditions, but many of the highly-expensive yachting watches have illumination problems too so this is a more general issue.
N.B. Be aware that the 20mm wristband is smaller than the 22mms found on some other men´s watches. If in doubt, measure your wrist or check the length of your previous band. On the plus side, this makes the watch more accessible for ladies with larger wrists.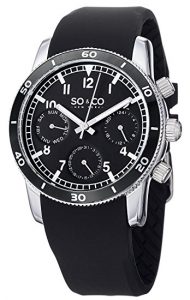 With a sleek black and silver triple-chronograph design, and a nicely-sized 42mm case, this watch looks classy and practical at first glance.
On closer inspection, however, the chronograph dials turn out to be dials displaying the weekday, date and hour; all of which have to be manually set each day. In short, they are manual date windows, masquerading as chronographs. The 24 hour one seems utterly pointless to us, though maybe someone somewhere has a use for it, as an appointment time reminder?
In any case, the watch reportedly has a 100-meter water resistance, although we are highly dubious and would consider it to be splash resistant instead. The matte rubber band comes with a buckle and fits well, and the movement seems reliable. Despite some incorrect product reports, there is no moving bezel.
Best if you want the looks of a yachting watch, but don´t actually go yachting or boating. Nothing to be ashamed off, and it´s a much cheaper way of getting the same look, but don´t be fooled into expecting a functional yachting watch from a fashion watch.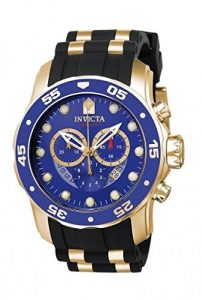 Strangely, the Invicta Men's 6983 Pro Diver Collection has more in common with the SO&CO 5018B.1 than looks would suggest.
The gold-plated (though the yellowy-look of some examples suggests this may be anodized) bezel and royal-blue dial create a striking design, that is worlds away from the minimalist SO&CO model. The promise of a Swiss-parts quartz movement is also promising, if not a Swiss movement. Even better, the three chronograph sub-dials (60 second, 30 minute and 1/10 second) all function correctly.
However, there is no screw-down crown – so this watch is far less water resistance than the name "Pro Diver" would suggest. It´s also very heavy, and the screen is protected with a weak mineral crystal that scratches easily. The markers are not easy to read at night either. The jury is out on the polyurethane band: it doesn´t looks as bad as it could do, though it´s an odd choice in combination with the elaborate face. It is less likely to catch on anything, but sadly the other buttons and edges are not very sleek, so this benefit doesn´t help much. The markers not easy to read at night either.
Overall, this watch is an attractive option if you want a water-resistant watch that you can be take on a boat or yacht without risk. However, it ultimately does not live up to its "pro diver" name, it´s heavy, and it lacks the additional yachting timers of other models… so it´s better for those who want to have the look, not the capabilities… or for leisure boaters who can rely on the boat´s own dials.
Our Thoughts
So, now we´ve given you our thoughts, it´s time for you to decide! Whether you´re looking for an attractive watch that can survive a bit of sailing action, like the Invicta Men's 6983 Pro Diver or a watch with a race timer that will help lead you to victory, like the Tissot 0564202705101 Sailing Touch, Freestyle FS85012 "Mariner Sailing" or Timex TW2P44500DH Intelligent Quartz Yacht Racer. Even if you would like the look of a boating watch, but don´t need or want to pay for the features, then we have an option for you- the SO&CO New York Men's 5018B.1 Yacht Club.