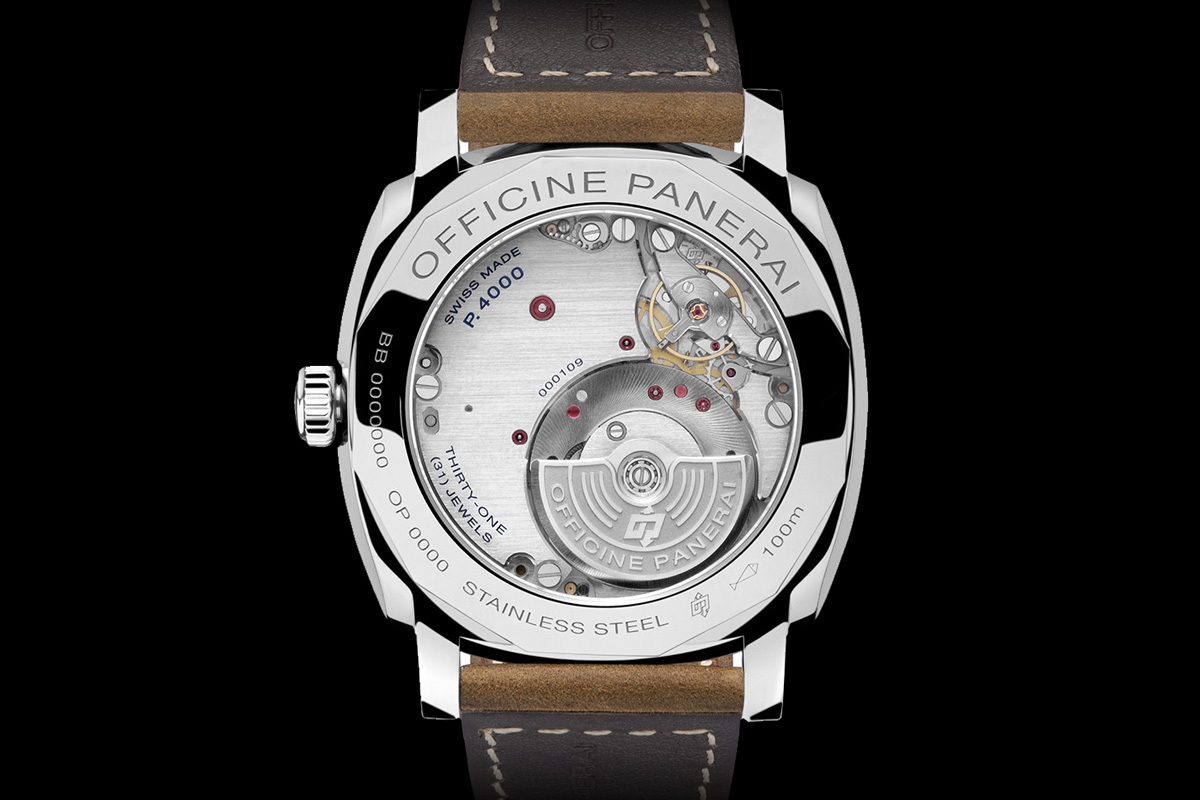 When you think about everything that goes into a mechanical watch, it's a miracle they can even exist. You're looking at a set of tiny gears, springs, and rotors that keep time within a few seconds per day. In many cases, there needs to be additional space for dial complications, date windows, and so on. Considering how precise all this tiny hardware is, even the clumsiest mechanical watch is a marvel of engineering.
One of the hardest parts of a watch to shrink is the rotor. The rotor is a mechanical weight that oscillates as the wearer moves their wrist. As the weight oscillates, it winds the mainspring. In other words, a small rotor is harder to make work, since it will have less weight behind it. To compensate for this, manufacturers have created rotors that can swing in both directions, with bi-directional ratchets that allow the weight to wind the spring both ways. This has allowed for smaller rotors than ever before.
The most compact design is called a micro-rotor. While a traditional mechanical watch rotor sits on top of the movement, a micro-rotor fits in a cutout inside the movement. This allows for a slimmer design for today's ultra-slim watches. In no particular order, I've put together a list of the top five watches with micro-rotors. Let's take a quick peek at each of them!
Panerai Radiomir PAM00655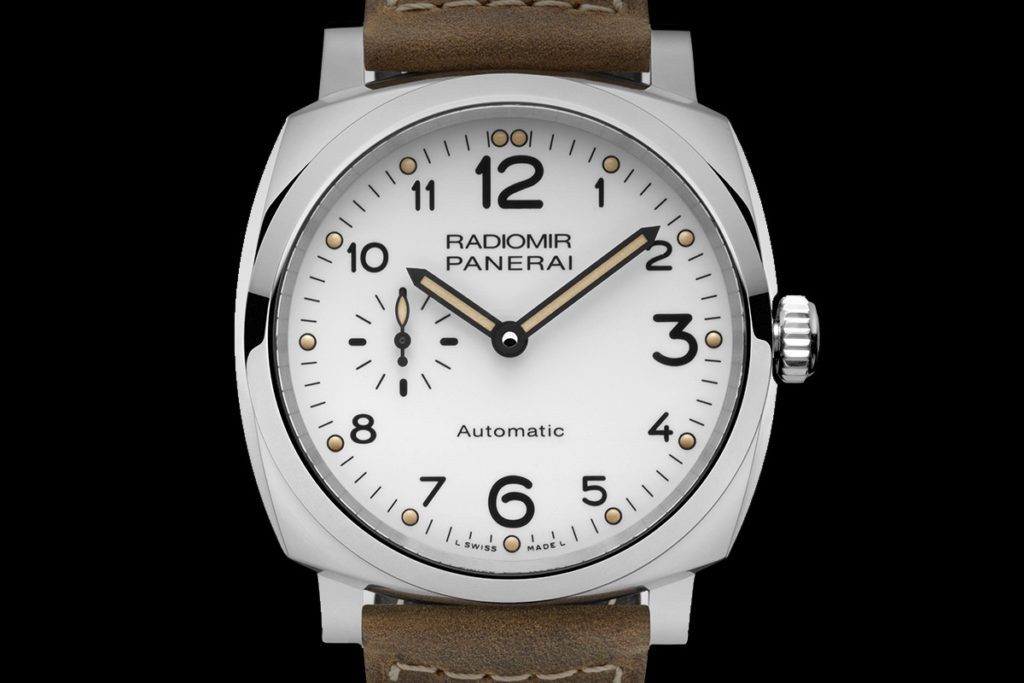 The Panerai Radiomir PAM00655 is a slim, 42mm watch with a square case. The case is constructed from stainless steel, with soft rounded corners and beveled edges for comfort. A round bezel rises from the top, with a flat sapphire crystal that's both scratch and glare-resistant. It's water-resistant to 100 meters, so taking it in the shower or even for a swim is no big deal.
The back of the watch sports a display case design, with a rounded back crystal that matches the one on the front. Inside, you'll see the in-house P.4000 movement, complete with the beautiful gold micro-rotor.
The dial has an understated white design, with simple black Arabic numerals at the hour positions. Small, fine hashes mark the individual minutes, and the hands are nice and wide. They're marked with wide lume stripes, with lume dots at the five-minute positions and a double dot at 12 o'clock. The rest of the dial is bare, with the only exception being a 24-hour subdial at the 9 o'clock position.
Piaget Altiplano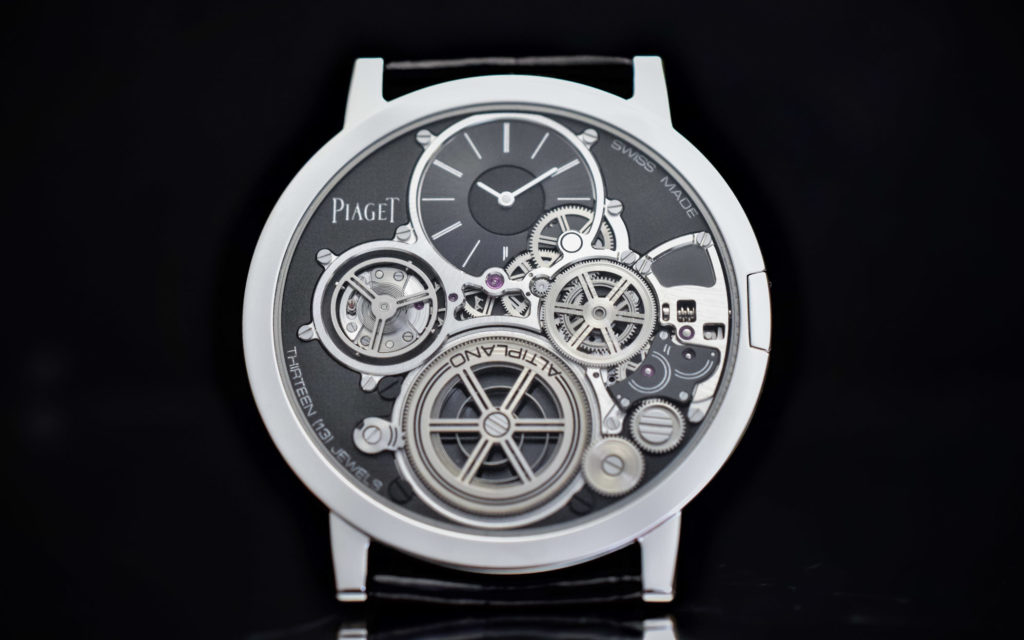 If you're looking for a micro-rotor watch, you're probably looking for a watch with a slim profile. In that regard, the Piaget Altiplano delivers in spades. At only 5.25mm in thickness, it's exceptionally slim, barely noticeable in terms of heft. This is possible thanks to the proprietary Piaget 1208p movement, which measures a miniscule 2.35mm in thickness. Like the Radiomir, the Altiplano has a sapphire case back that provides a beautiful view of the movement. It's water resistant to 100 meters, so water won't cause any trouble.
The white gold case has a diameter of 43mm, so it's big enough to read despite the slip design. The dial takes up most of that diameter, with only very narrow bezels at the edges. The dial is a pale silver in color, with a recessed central area that highlights a "Piaget Automatic" logo. The five-minute marks are indicated by long, slender hashes, with no numerals and no hashes for the individual minutes. The hour and minute hands are similarly slim, almost like needles. The only real decoration is a 60-minute subdial at the 4-o'clock position, which does have Arabic numerals. Both dials are controlled by a single crown, which has a simple push-pull design.
A. Lange & Sohne Langematik
The last two watches I looked at were designed with understated elegance in mind. The A. Lange & Sohne Langematik Perpetual Honeygold is almost exactly the opposite. It has a white dial with gold embossed Roman numerals at the five-minute positions. The hands are spear-shaped, with lume stripes in the center. There's also a gold-framed date window at the 12-o'clock position, with black Arabic numerals on the inside.
At the 3, 6, and 9 o'clock positions, you'll find three subdials. These display the month, power reserve status, and day of the week respectively. If that's not enough, there's a 24-hour sub-subdial inside the 9 o'clock subdial. There's even a sub-subdial in the 3 o'clock subdial that displays a 4-year leap year cycle. Do you need your watch to tell you what year it is? Probably not. But it completes the look of a busy, antique-style dial.
At 38.5mm in diameter and 10.2mm in thickness, the LANGEMATIK has a very small wrist presence. The honey gold case provides a perfect accent to the dial, with rounded edges that bleed right into a sloped bezel. It's also a limited edition; only 100 timepieces are available.
Patek Philippe 5327G Perpetual Calendar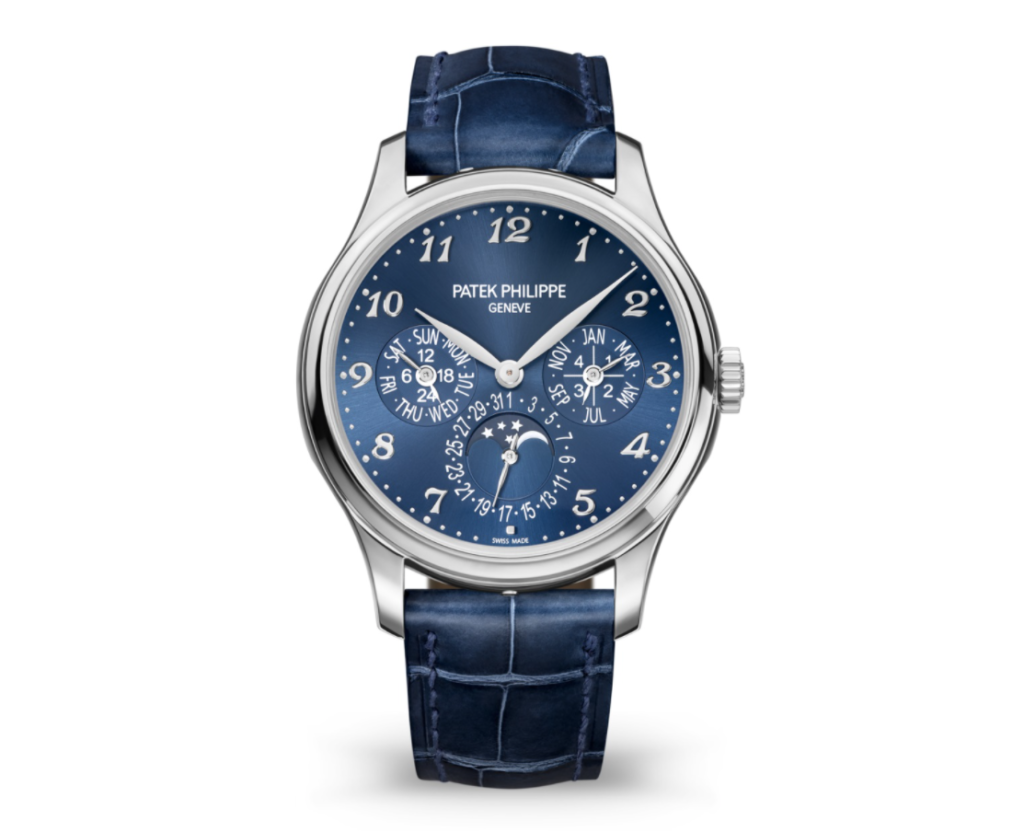 The Patek Philippe 5327G Perpetual Calendar is yet another small watch with a busy dial. As its name implies, it's a perpetual calendar watch, with a moon phase indicator, leap year indicator, month, date, day of week, and 24-hour subdial. All of this information is packed into three different subdials, which you might think would make the watch difficult to read. In fact, a high-contrast white on blue design with white gold hands makes it easy to read under just about any conditions. In other words, it's not just attractive to look at, but it's also functional.
The case has a slim design, with plenty of attention to detail, right down to the Swiss cross embossed on the tip of the crown. It has round, molded sides with a slightly arched bezel. The top crystal is scratch-resistant sapphire, and lays totally flat. There's also a back crystal that allows you to see the movement, including the yellow gold half-moon micro rotor. Water resistance is 30 meters, which isn't as good as the last few watches I listed. Regardless, it's still good enough to take in the shower, but would you want to risk a Patek?
Chopard L.U.C XP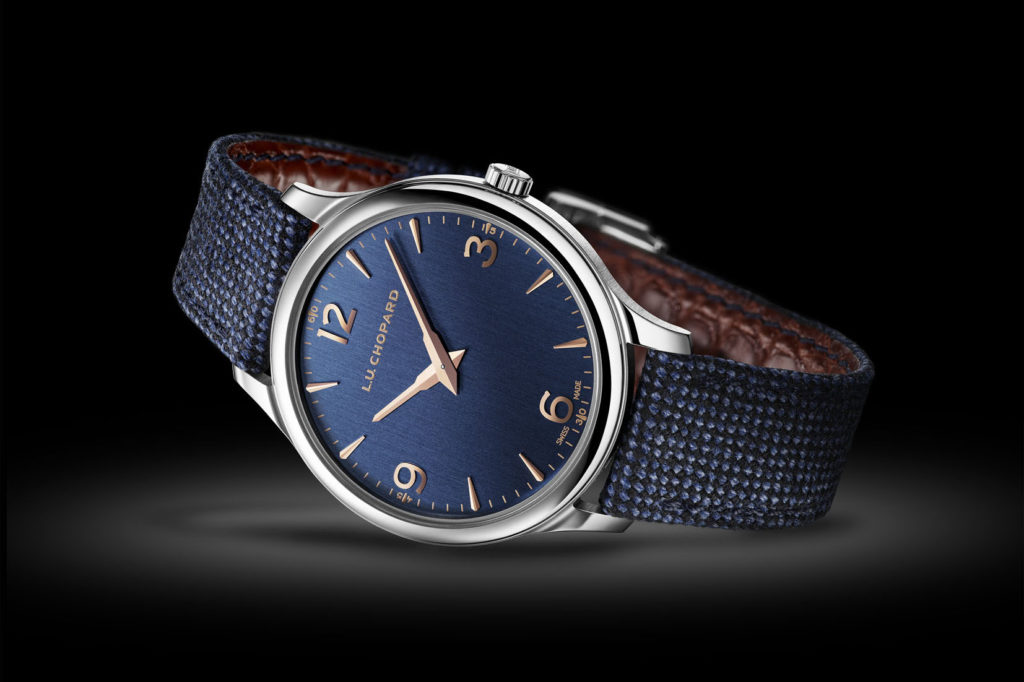 The L.U.C XP is the most minimalist watch of my five choices. At 40mm in diameter, it's not the smallest, but it actually looks the smallest. The case is brushed stainless steel. It has a modern look, with sharp edges and a raised bezel at the top. The bezel houses a flat sapphire lens, which is resistant to both scratching and glare. Like all of my other micro-rotor recommendations, it also sports a display case design. The reason for this is that a micro-rotor movement has a unique appearance, and it would be a shame not to show it off.
The dial is fairly Spartan, with a flat silver sheen that occupies most of its surface. The five-minute hashes are embossed and glossy, with tiny hashes between them at individual minutes. There are also blue Arabic numerals at the 12, 3, 6, and 9 o'clock positions. The hands are a matching blue, with a broad, spear-shaped design that's peaked at the center. The only other decoration on the dial is an understated L.U. Chopard logo at the top. It ships with a simple denim strap, completing an informal package that's suitable for work or play.