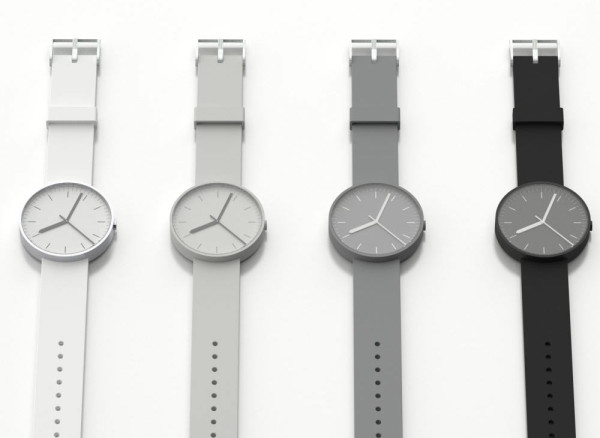 White watches are hard to come by, let alone white watches for men. They seem to be a little more common for women, but a nice elegant white watch on a man can look stunning. They come in a variety of styles shapes and sizes. Some are analog, digital, and you can even find the occasional vintage watch!
Color isn't everything. So we will take a look at some of the specifications and wearability of these top pick models that made the list.
Some feature you may want to think about when picking out a white wrist watch:
Size – The watch should not look too big, and it should not feel too big making it uncomfortable
Water resistance – Will you be going int the water with your watch? Do you play water sports? These are important questions to ask yourself.
Build quality – Is this watch going to last a long time, even if it takes some bumps, drops, and scratches while you wear it?
Style – Does the style of the timepiece suit you? Will it suit your wardrobe?
Now that you have a ballpark idea of what to look out for, let's take a look below at some of tour top pick watches for men available online.
Quick Compare
White Watch
Size
Water Resistance
Style
Price Range
Casio GA100A-7 G-Shock

Check Price
Extra Large
660 Feet
Digital
Sports
Casual
$
Armani Exchange AX1325

Check Price
Large
165 Feet
Analog
Casual
Fashion
$$
Nixon Newton

Check Price
Small-Medium
100 Feet
Analog
Casual
Fashion
$
Lacoste 2010762

Check Price
Medium
99 Feet
Analog
Casual
Fashion
$$
Swatch SUOW701 Rebel

Check Price
Medium
99 Feet
Analog
Casual
$
If you would like more detailed information, keep reading! We cover each model below with an in-depth mini review to help you find the perfect white watch.
#1
Casio Men's GA100A-7 G-Shock X-Large Watch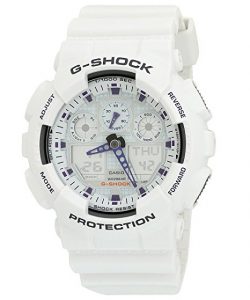 You may be familiar with the G-Shock series. If not, il give a quick overview of this model. The G-shock series is one of the best selling lines coming from Casio. They are very popular and trendy sports watches with a fashionable twist.
These watches are built like tanks, and can withstand some serious punishment and keep ticking. They come in both analog and digital, and some hybrid mixes like this one.
The GA100A-7 G-Shock is packed with features, as you can probably tell by looking at the display and bezel. This specific model comes in a nice bright white color, thus making our best white watches for men list.
Click here for specs, reviews, and current pricing.
#2
Armani Exchange Unisex AX1325 Watch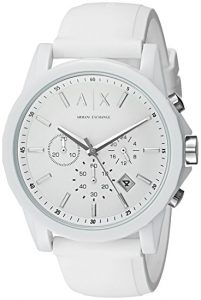 The AX1325 is Labelled as unisex but in my opinion is more masculine than feminine, especially with It's large case coming in at 44 mm. This analog display watch is all white with chrome accents on the hands, markers and buttons. This is a very modest and simple looking watch with a slim profile, it's quite easy to pair with a nice outfit.
Armani Exchange makes some very high quality and stylish products, and this is shown in the design of this piece. The white silicone band connects seamlessly to the timepiece to give off a very professional classy look, while also staying very stable and comfortable on the wrist.
Click here for specs, reviews, and current pricing.
#3
Nixon Newton Watch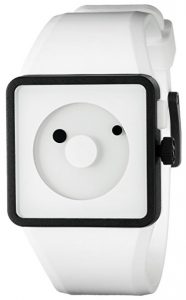 Looking for something a little bit unique? Look no further than the Nixon Newton Watch! The display is very cool with a 1980s throwback style. The Newton is also quite versatile, and can be used for sports, under water, and can also be paired with a suit and still come off as very classy.
The square face combined with the silicone construction, and soft flexible band, makes this watch also very comfortable to wear. From afar it can resembled the apple watch because of its minimalist profile and white color, which can bring on some inquisitive questions regarding your Nixon Newton.
One small complaint some buyers had was that this watch may show a little bit of lint on the strap, since silicone attracts lint this is actually quite common with a lot of watches but is a little more visible on this one since its white. If that doesn't bother you than this could be a perfect timepiece for you!
Click here for specs, reviews, and current pricing.
#4
Lacoste Men's 2010762 Lacoste.12.12 Watch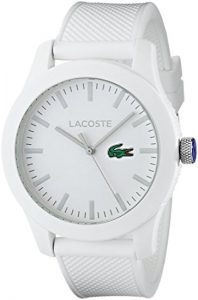 This one has got to be one of my personal favourite's one the list. The look of this watch is the definition of class, its very minimalist and sexy in appearance. The watch face, bezel, dial and strap all go together seamlessly.
The silicone band on this Lacoste watch is textured and also soft, giving it an exceptionally solid feeling when on the wrist.
You may know Lacoste more for making fashionable clothes, with a very simple style. You can clearly see how this design mentality reflects into their timepiece range, and I find this 2010762 reflects it best.
Specifications for the 2010762:
Designed in year 2014
The display in analog
The dial window is mineral
It's built with a durable 43mm resin case
The band is 20mm wide with a buckle closure
Runs on reliable Japanese quartz movement
Click here for specs, reviews, and current pricing.
#5
Swatch SUOW701 Rebel Watch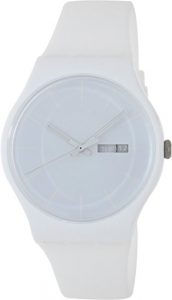 This Swatch SUOW701 may be the whitest watch of them all, but is it the best?
The Rebel is built from a strong type of plastic and silicone. The color scheme of this timepiece is monochrome, and it fits into our list perfectly. You may think that this would make it difficult to read the time, but oddly enough it's actually quite easy on the eyes even at a distance because of the textured hands and markers.
Like most of these watches on this list, this swatch model is very minimalist and clean in appearance, although may draw in a bit more attention from onlookers as it's quite bright, almost bleach white in appearance.
It has a quartz movement and is very slim in design, with a case thickness of 11mm. The Rebel is also very lightweight, and its easy to forget you even have it on your wrist sometimes! If your into water sports you shouldn't have any issues either as it's water resistant up to 30 meters.
Click here for specs, reviews, and current pricing.