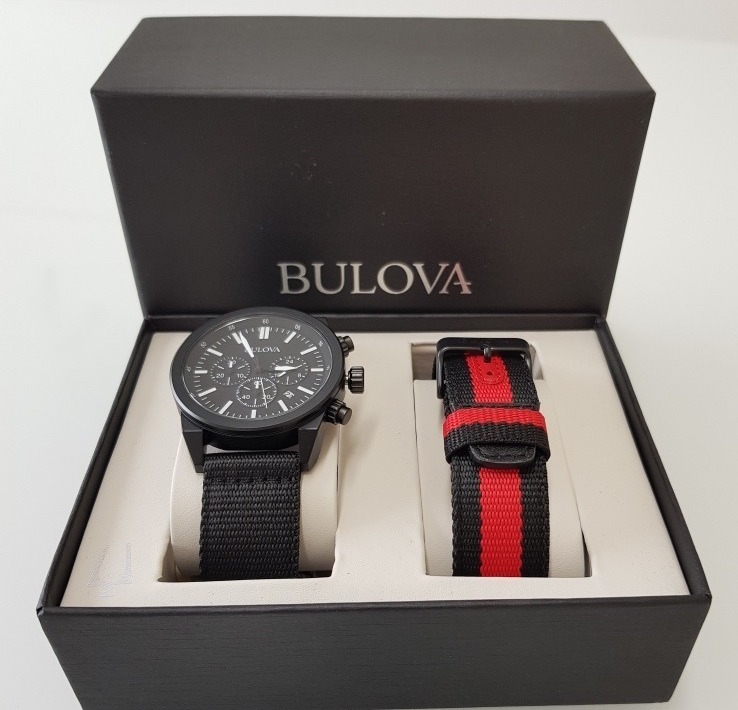 Bulova's newest watch is a classic timepiece that features a black color scheme with a fixed ion-plated bezel and a standard analog display with complete chronograph functionality. The Bulova 98B280 men's black IP chronograph watch looks and feels great, and it also has a black nylon band instead of the metal links or leather bands that we're used to on many watches. This watch is more geared towards an active lifestyle, as it also features a water-resistant depth of up to 30 meters.
> > > Click here to see ratings, reviews, specifications and prices on Amazon < < <
98B280 Design Details
The overall look of the 98B280 is great. It's sturdy while not being too heavy or clunky, and the black nylon band feels great on your wrist. The nylon band itself feels extremely well-made and capable of enduring any strenuous physical activity that you might engage in. It's apparently a military fabric band, and it certainly holds up to the name while also looking slick.
The case on this watch features a fixed ion-plated bezel with a diameter of 43mm and a thickness of 10mm. The analog display is standard and features a black dial color with white hands and numbers. This simple color contrast makes it easy to read the dials at any angle on your hand, and this is particularly useful if you're in the middle of working on something or doing a physical activity.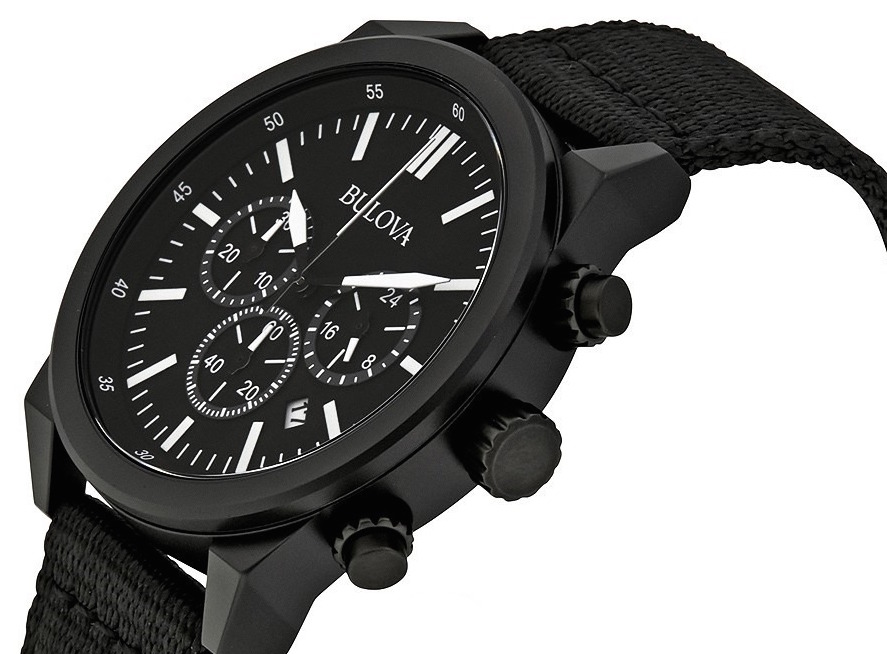 Along with the nylon band, the Bulova 98B280 watch has a 30 meter water resistant depth, so it's obviously geared towards those with an active lifestyle. While it's not a specifically-designed diving watch, it will certainly be able to handle casual swimming, diving, and other water-based activities without any issue. This watch is sturdy and durable, so don't be scared to take it with you on your outdoor adventures if you're into that sort of thing. The buckle clasp on the band is also very well-made and I don't see any potential issues with it breaking.
A Good Bargain Choice
Overall, the Bulova 98B280 men's black IP chronograph is a great watch for the price (at the time of this review), and is suitable as a standalone timepiece or an additional one for those who need a watch specifically made for when they're doing something that's physically engaging. The black and red band, white dials against a black face, and form-factor design around the round style of the analog display make this a very slick looking and appealing watch. You can get this watch as soon as January 11th if you order it through Amazon via Watchsavings.
> > > Click here to see ratings, reviews, specifications and prices on Amazon < < <