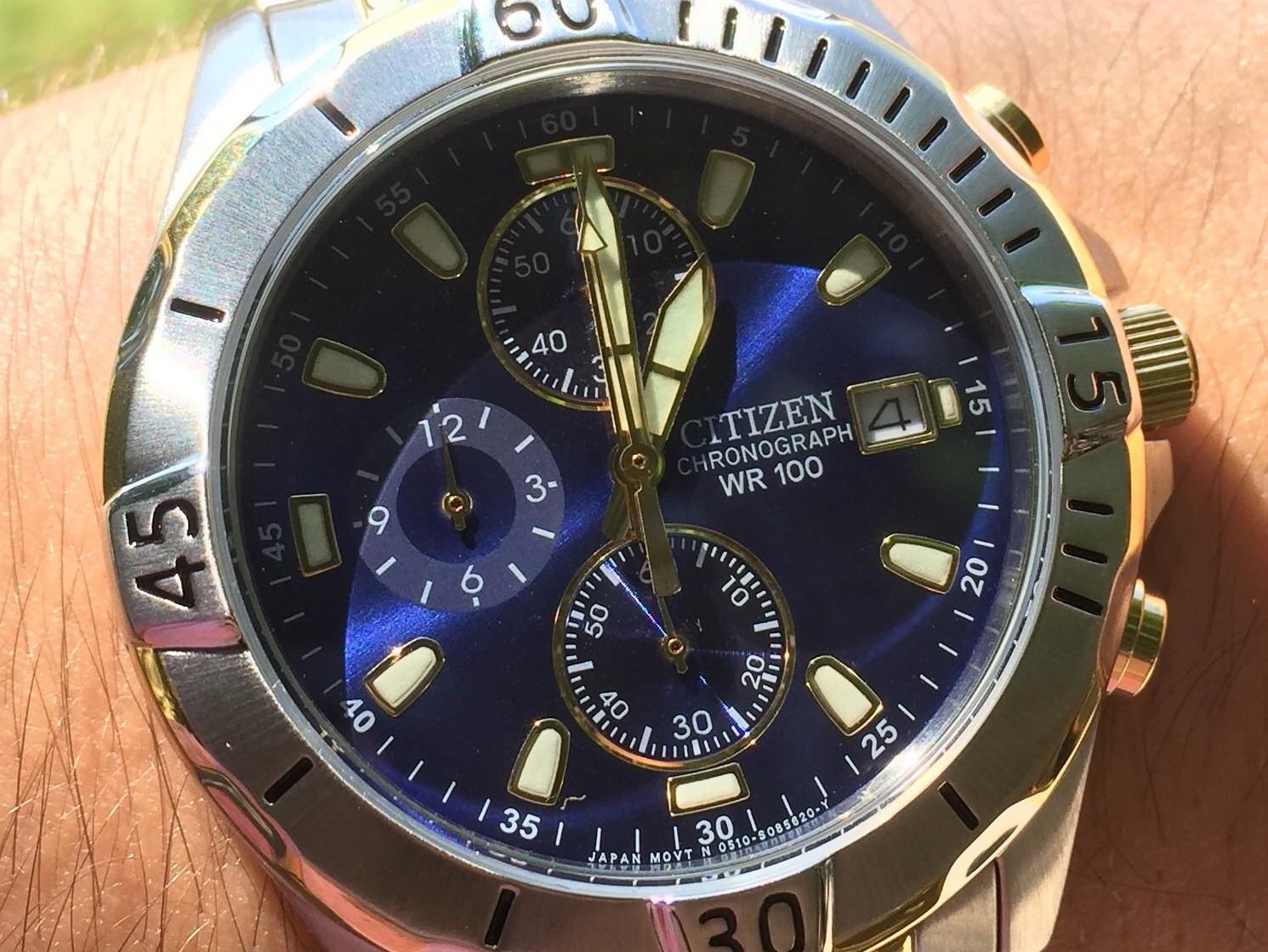 This is what happens when one of the world's best watchmakers designs a professional and luxurious looking watch. These two words sum up Citizen watches as a whole but speak volumes when it comes to the Citizen men's AN3394-59L two-tone chronograph watch. From the intricate detail on the dial to the fold over clasp on the band, Citizen have focused on producing a product with style and class with the added bonus of affordability, you won't have to worry about breaking the piggy bank for this one.
> > > Click here to see ratings, reviews, specifications and prices on Amazon < < <
AN3394-59L Style & Wearability
Mainly decorated with silver stainless steel but with the added hint of gold throughout this professionally designed watch, the AN3394-59L looks the part, and with Japanese quartz movement providing the horsepower, it certainly has the features to make it a top contender on the wish-list. The two-toned aspect featured within this timepiece gives a sense of class and would be suitable to wear with almost any outfit without losing its masculinity and style. You can grab a hold of this Citizens watch for just under $200, giving you the best of both worlds in terms of affordability and quality.
The 39mm stainless steel case has within it, a detailed and intricate design and although it has gold touch hands and hour markers, it doesn't come across as being too extravagant or "blingy" as the kids would say. It has a perfect balance and features a triple chronograph, giving even more detail on minutes and seconds. To the right of the neatly set out subdials is the subtle date box, something which we have all become custom to these days, but is still a great little feature to see.
> > > Click here to see ratings, reviews, specifications and prices on Amazon < < <
So what happens when you put a blue dial with luminous hands and enclose them in a mineral dial case? … A luxurious watch to be proud of wearing. Citizen have made this timepiece in such a manner that it appeals to your uncle, grandad and even the younger members of the family. The point is, this watch's style would suit just about anyone. If you're looking for a watch with just the right mixture of class and wow factor, then the Citizen AN3394-59L should be one for consideration.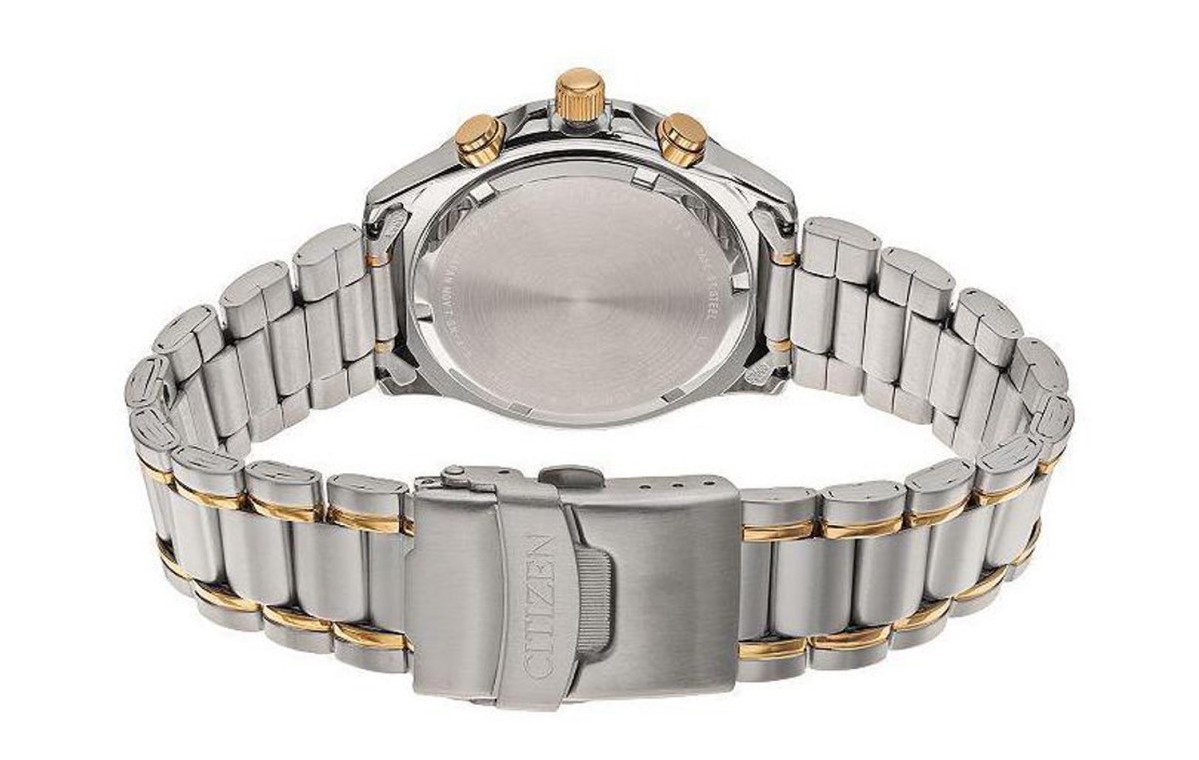 Mechanics and Features
The analog display is powered by its Japanese Quartz movement, offering a simple but powerful system. Using Japanese Quartz further boosts the sense of this being a high-quality piece and maintains detailed precision. Another great feature added in by Citizen is that this piece is very quiet. You won't hear any loud annoying ticking noises coming from this watch which is especially handy if this watch will be worn all the time.
The Citizen AN3394-59L features 3 technologically advanced sub-dials, offering precision and accuracy and overall great performance. This sums up the quality and detail given when you buy this watch.
Overview
Overall, this timepiece looks and feels stylish, modern and luxurious. From the two toned design, to the stainless steel band, offering comfort and dependability, to the water resistance feature of up to 100m or 330ft perfect for swimming. Citizen have combined all of the features of a great watch and gives the overall impression of a piece that offers style, class, structure and quality. For it's reasonable price you can be sure that you will receive comfort and dependability which is something you may not expect from other watches within the same price range.
The Citizen men's AN3394-59L two-tone chronograph watch gives everyone the chance to own a high quality timepiece which looks good and does the job you need it to do without the need to worry about the financial aspect of owning a branded watch.
> > > Click here to see ratings, reviews, specifications and prices on Amazon < < <