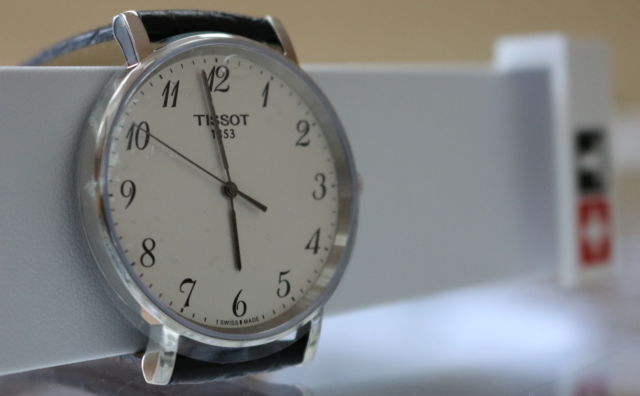 Despite the popularity of digital watches which were first introduced in 1952, analog watches have remained the timepiece of choice for watch wearers for years. In comparison to the number representation of time on a digital watch, the analog watch represents an analogy of time. The analog watch is often considered to be more formal than its digital counterpart, but the last decade has given way to designs and trends that make analog watches perfect for wearing every day. With this said, there's no denying the leverage the digital world has on us all. I personally feel though, that just because digital technology has advantages, doesn't mean it's better or easier to read. In fact, analog watches are claimed by some to be more far more accurate in keeping time than digital watches due to the utilization of high-precision movement to measure time passing.
Watches in general can be incredibly complex, even to the point of overwhelming. Whether you're on a budget seeking a well-rounded durable watch you can wear on adventures, or considering investing in a long-term piece you can may show off to friends and family, you have a challenging decision ahead of you given the vast assortment of watches to choose from. If you're considering purchasing an analog watch (which I highly recommend!), be sure that you research as many of their features as possible. First, consider the obvious features such as shape, color, design, band sizing, and water resistance. Of equal importance to your decision process in choosing the right analog watch, is the ease in readability. Not all watches are alike in terms of how easy they are to read.
The classic display of the small and large hands on analog watches are as familiar to most as the faces of friends and family. The features of analog watches have evolved dramatically over the years; they include skeleton cutouts, luminous markers, chronograph subdials, and 24-hour military time. Analog watches are even considered works of art by some. The varieties of design and features of these watches is vast, ranging from traditional to the absolute outrageous.
Choosing the right analog watch depends on personal style, but also readability. These are our top five easy to read analog watches.
Comparison Chart
Watch
Size
Band
Readability
Price Point
Orient FDB08005W "Esteem"

Check Price
42.5mm
Croc leather
Excellent
$$$
Citizen AO9030-05L Avion

Check Price
43mm
Leather calfskin
Excellent
$$$
Seiko SSC233

Check Price
45mm
Nylon
Very good
$$$
Tissot Everytime

Check Price
38mm
Synthetic leather
Excellent
$$
Timex Weekender

Check Price
38mm
Nylon
Good
$
Orient Men's "Esteem"
FDB08005W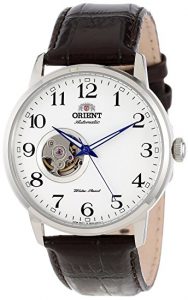 The stainless steel FDB08005W Esteem by Orient is as classic as it gets but still offers an assortment of unique and functional features. Through its semi-domed crystal, this watch displays a fresh white dial and large black numbers with Arabic markers that make it easily stand out. This watch measures at 41mm making it a good fit for a variety wrist sizes. Unlike a lot of lower end watches, the FDB08005W has bright luminous blue minute and hour hands that add touch of color and texture while also making the watch easy to read. The croco-embossed brown leather band make for an overall simplistic but handsome watch. My absolute favorite feature of this watch is the exquisite open heart dial design. It's a talking point for any conversation. On top of all these superb features, this watch has the reputation of not giving up. It operates continuously for more than 40 hours. The FDB08005W is water resistant to 165 feet (50M) making it suitable for showering and swimming, but I wouldn't recommend as water can shorten the lifespan of the leather band. If you're looking for a classy and function watch that's easy to read, you can't go wrong with the Orient FDB08005W Esteem. I'm confident, this watch will never go out of style.
Citizen Eco-Drive AO9030-05L Avion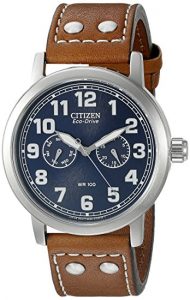 If you prefer a watch that has a more robust look, look no further than the Citizen Eco-Drive AO9030-05L Avion. This watch is said to have been inspired by the first transatlantic flight. It totes a variety of features that in my opinion, make it one of the nicest looking and easiest to read watches on our list. While the overall construction of this watch is sturdy, it doesn't appear bulky and is appropriate for every-day use. This functional watch has a 43mm stainless steel case and features a large, subtly textured blue face with weekday and month subdials. The alluring blue face with luminous Arabic markers make this watch exceptionally easy to read in all lighting conditions. The AO9030-05L has a beautifully tailored calfskin band with a buckle closure that's perfect if you're looking for a watch band that will hold up to your hectic lifestyle. The Eco-Drive technology is an important feature of this watch if you want to eliminate concerns regarding battery life. And, with Japanese quartz movement, this watch it keeps meticulous time. The A09030-05L is water resistant to 100mm and not suitable for scuba diving. Whether you're going to the office, biking around town, or dining out, this is an attractive and useful choice of analog watches. Considering the functionality and diverse features of the AO9030-05 and its affordability, you simply can't be disappointed with your purchase.
Seiko SSC233 Solar Sport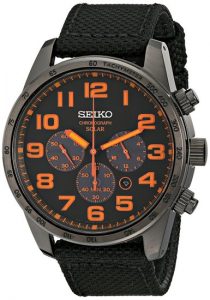 Next on the list is the ultra-sporty SSC233 by non-other than Seiko of Japan. Known mainly for its wrist watches, the company got its start selling and repairing clocks. The word "seiko" in Japanese means "exquisite," or "success." Since 1881, the Seiko brand has enjoyed a reputation for state-of-the-art technology, superior quality and refined design. Without a doubt, this holds true with respect to the SSC233. It's one of the most distinctive looking sports watches we've seen recently. The solar powered SSC233 has a 45mm brown-tone brushed stainless steel case and Hardlex dial window but is surprisingly light. The black band is made from nylon with a buckle closure and blends well with the overall industrial look of the watch. The unmistakably large and blazing orange numbers set against a dark dial sets this Seiko apart from other analog sports watches. An impressive feature of this watch is the uniquely techno subdials that add function and flare, but could arguably be challenging to read for some. Scuba diving is out of the range for this watch, but water resistance of 100 m (330 ft) makes it suitable for swimming and snorkeling. If you're in the market for a tough and sporty analog watch that will stand up to an intense activity level, this is the right watch for you.
Tissot T-Classic Everytime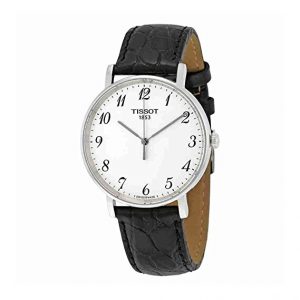 Credentials are everything. Founded in 1853 by the Tissot father and son duo, the Swiss watch maker is the official timekeeper for the world championships in cycling, motorcycling, fencing and ice hockey. Notable for high-tech watches, Tissot more recently is known for its sponsorship of racers like NASCAR's Danica Patrick. Tissot watches are sold world-wide in more than 160 countries on five continents. This is a watch maker you can trust.
This Tissot T-Classic timepiece embodies everything simplistic while still being elegant for more formal affairs. This watch has a classic 38mm stainless steel case and fixed bezel. The black-toned hands against the soft white dial and black Arabic numbers and minute markers make this an easy to read watch for any wearer. The classic black leather band is durable but also comfortable for every day wear. The T-Classic has a sapphire crystal dial that will ward off scratches from every day use. This watch withstands rain and splashes only. It is water resistant to 30 meters. This watch is truly timeless (yes, I had to). If you're looking for a watch that's uncomplicated, but stylish and easy to read, the Tissot T-Classic is the perfect watch for you.
Timex Weekender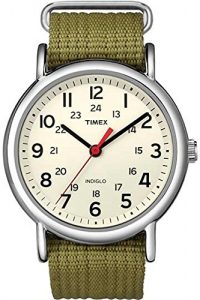 You'd be hard pressed to find anyone who didn't recognize this watchmaker's name: Timex. Founded in 1854, the brand initially traded under the name "The Waterbury Clock Company" when they were manufacturing clocks with brass. It's not surprising their Timex Weekender watch is a top seller. Besides being especially affordable, it carries features that watches three times the cost have. The T2N651 is a pleasingly styled watch with an attractive polished silver-tone 38mm case. The cream dial on this watch is clean looking and not so large it dominates your wrist. The black Arabic numbers and 24-hour clock markings on the dial are easy on the eyes and make this watch effortless to read. The T2N651 features an enticing Indiglo dial, making the watch especially easy to read at night. Once you experience the Indiglo feature, you won't want to do without it!
The T2N651 has an olive colored nylon slip-thru strap that has a comfortable, silky-like feel to it. And, the strap can easily be changed out with a plethora of other colored straps to suit your changing mood. The available strap options for this watch seem endless! There's even a video that shows you how to do a quick strap change. Did I mention, the T2N651 is also a unisex watch? The T2N651 is sporty but not recommended for swimming or bathing. It's water resistant to 30mm. If you decide the T2N651 is the right analog watch for you, you can be confident it will stand up to an abundance of activities.