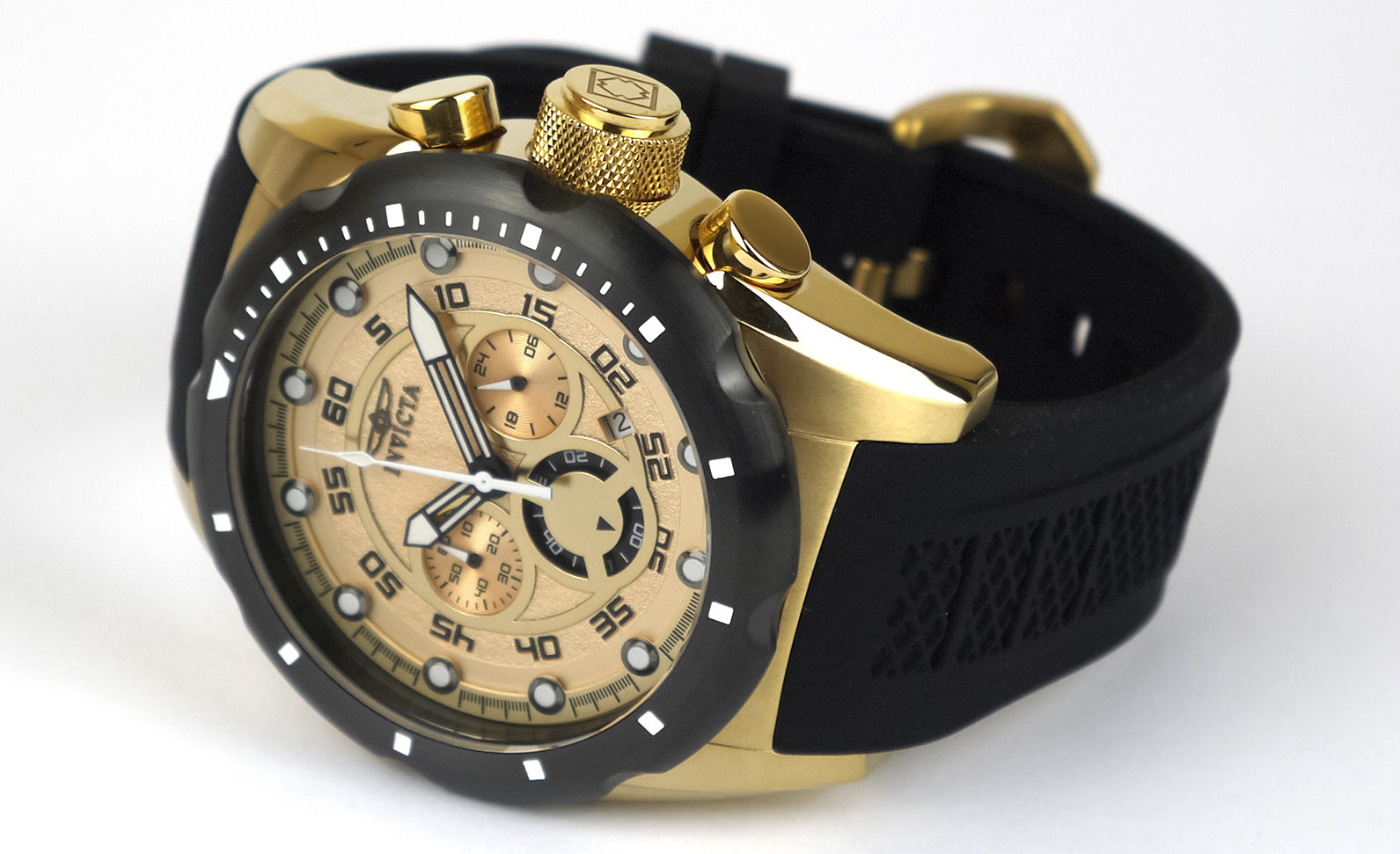 Do you live an active lifestyle but still want to look stylish? Are you looking for a whole lot of practicality when racing, biking, or yachting but don't want too come off as too gruff? Would you like to include a little bit of class, elegance, and tech-savvy in your outdoor or sporting activities? Even if you aren't very big on the Great Outdoors or into sports, do you still want to create the impression that you are a take charge kind of person?
If any of the above applies to your situation, the Invicta Men's 20306 Speedway Watch might just be right up your alley. This activewear watch, it is after all called a 'Speedway watch,' is a timepiece designed for people who are on the go and who have a lot of dynamism. If anything, it projects these values. So whether you are at a friendly get together, trying to meet someone new at a local watering hole, or out racing, biking or camping, this watch has a lot to offer you.
> > > Click here to see ratings, reviews, specifications and prices on Amazon < < <
20306 Sporty Design
Sporting a round look with the corrugated black plated bezel made of stainless steel, this watch looks every bit the part of a serious sportsman's watch. With its luminous hands to keep you properly informed of the time despite the cover of night, its trio of chronographs, extra large data display, and textured crown, the 20306 takes care of the basics of a typical outdoor watch.
What makes this timepiece's design worth writing home about is that it puts a lot of effort in pushing the envelope between being an activewear watch and a more versatile indoor activity watch. On this point, the 20306 deserves honorable mention. It might not be the best 'hybrid' model but given its price point and its other features (textured crown, 18k gold plating, and sapphire dial window), it does a decent job.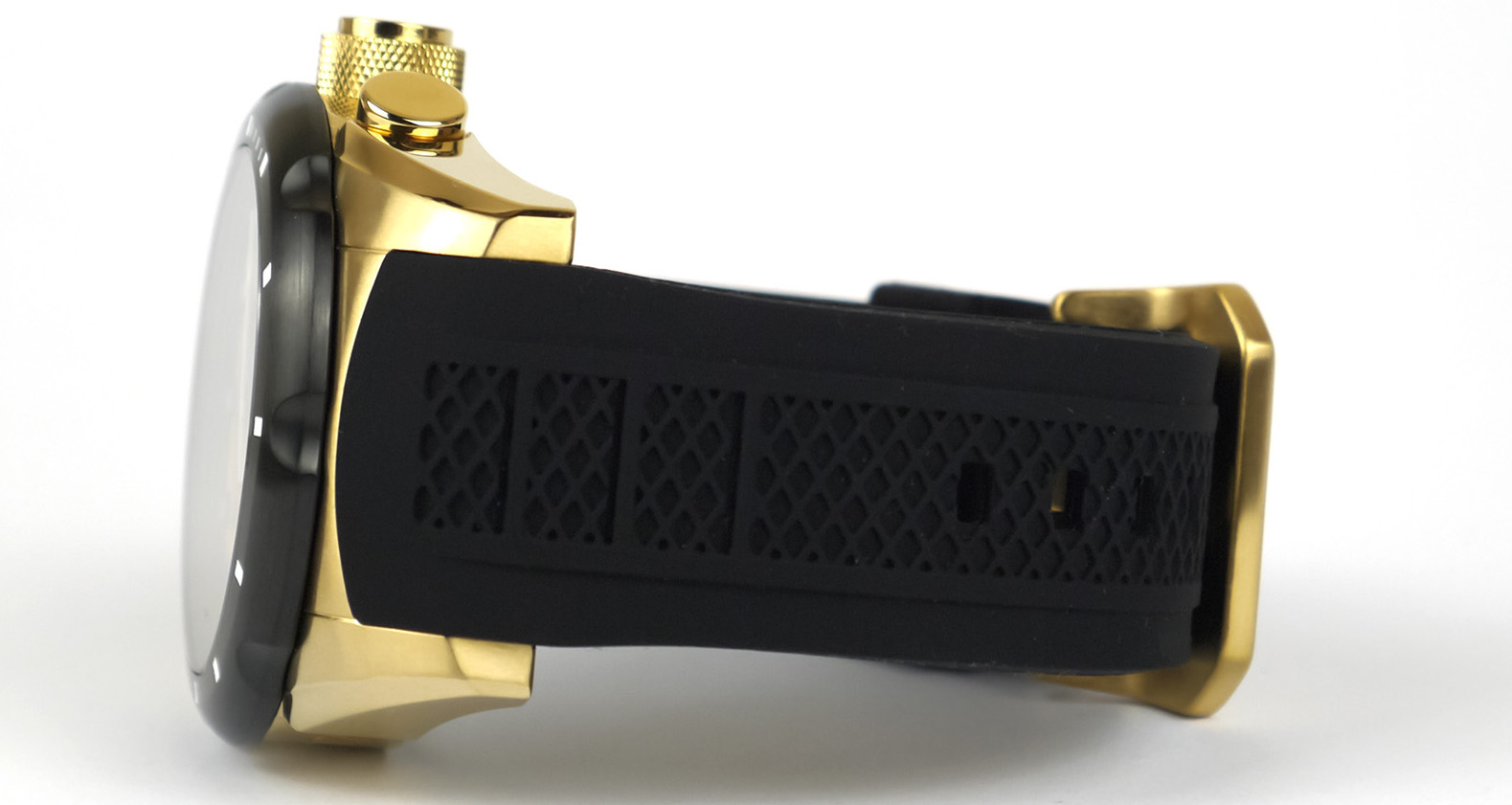 Type: Japanese quartz
Of course, you can tell whether a watch is a true luxury watch based on its movement. While this timepiece does try to imitate that it is one of those 'luxury' activewear watches on the market (thanks to its gold-plated case), its quartz movement gives it away. Don't get me wrong. This isn't a bad thing. After all, there's no shortage of expensive $300 plus activewear watches on the market.
The 20306 is able to cut a more 'economically democratic' profile with its easily attainable price point thanks to the inclusion of Japanese quartz in it's design. When it comes to reliability, solid manufacturing technology, and reliability, Japanese quartz technology has made a name for itself and Invicta's choice of this technology is definitely more than welcome. Don't let the phrase 'quartz movement' turn you off. There is low-quality quartz technology and there are the Swiss and Japanese versions of it. The Japanese quartz movement for this unit definitely lives up to quality standards.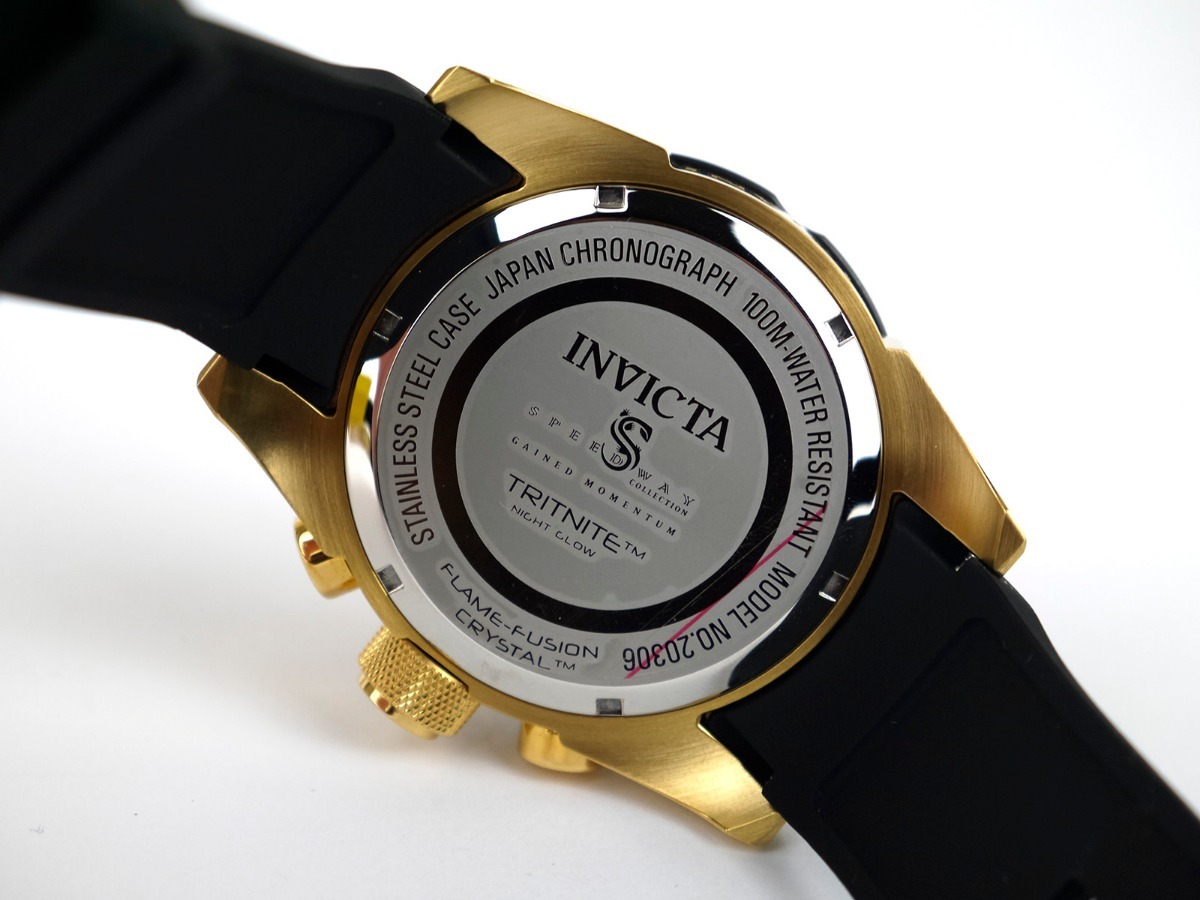 > > > Click here to see ratings, reviews, specifications and prices on Amazon < < <
Water resistance to 100 meters
Usually, activewear chronographs tend to focus primarily on looking good and functioning well on land. While all this is well and good, if you are rolling out an activewear watch, you have to make provisions for the possibility of getting into the water. At the very least, your watch should be able to handle a particularly hard downpour. Thanks to this model's water resistance up to 100 meters, it would be safe to say that the Invicta 20306 Speedway Watch can handle most outdoor settings and uses.
Let's face it, making an activewear watch look fashionable, fun, practical, and stylish can be quite a tough task. If you layer on the additional missions of wrapping all the values above in a low-priced package, you would have your work cut out for you. Thankfully, you only need to pick up a 20306 Speedway Watch to take of all these.
> > > Click here to see ratings, reviews, specifications and prices on Amazon < < <