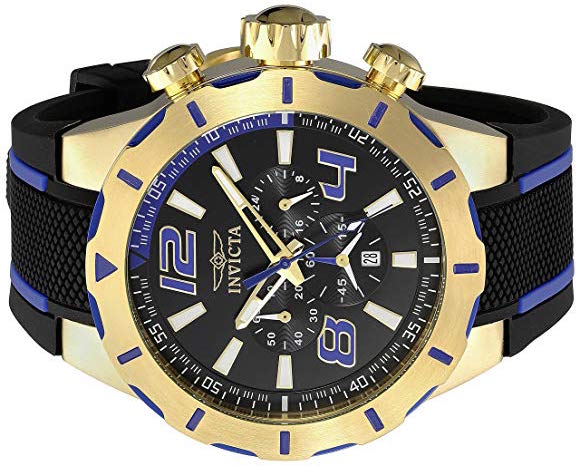 This sports-minded watch from Invicta is quite a unique-looking piece of technology that you'll either love or hate. With a blue, gold, and black color design, it's clear that Invicta wanted to make a watch that stands out and grabs attention when it's worn. The Invicta men's 20108 S1 rally stainless steel watch is equipped with a functional chronograph, a Japanese quartz movement system, a stainless steel case, and a polyurethane band with buckle closure. These features are great, but there are also some notable design flaws in the watch's construction that have to be addressed before I would recommend it to a friend.
> > > Click here to see ratings, reviews, specifications and prices on Amazon < < <
20108 S1 Eclectic Design
Firstly, the 20108 S1 is obviously designed for those who like a bit of flair strapped to their wrist. The color scheme will be extremely divisive, and I have a hard time believing there are people who look at this and don't say either "wow, this looks awesome!" or "wow, this is one of the ugliest watches I've ever seen". I think I would enjoy this rally inspired watch if it were actually blue, gold, and black and not purple, gold, and black. The blue on the 20108 S1 isn't a traditional shade of blue; it's like a blueish-purple style that I personally find extremely unsatisfying to the eye. However, this is totally up to personal preference and depends on what you're looking for in a watch, not me.
Sports Heritage & Functions
This is a very sports-minded watch, and it doesn't shy away from that fact. It outright says so in its description. As sporty as the watch is, I personally think there's way too much going on when looking at this watch. The main dial and subdials are both black with white accents; no big deal. But the hour and minute hands on the main dial are half white and half yellow, while the second hand is blue. The bottom dial has two white hands and one blue hand with a gold pin in the center to connect them. When I look down at this watch, it just feels too crowded. I enjoy watches that I can quickly glance at to get the time, not the kind that makes me squint to read it.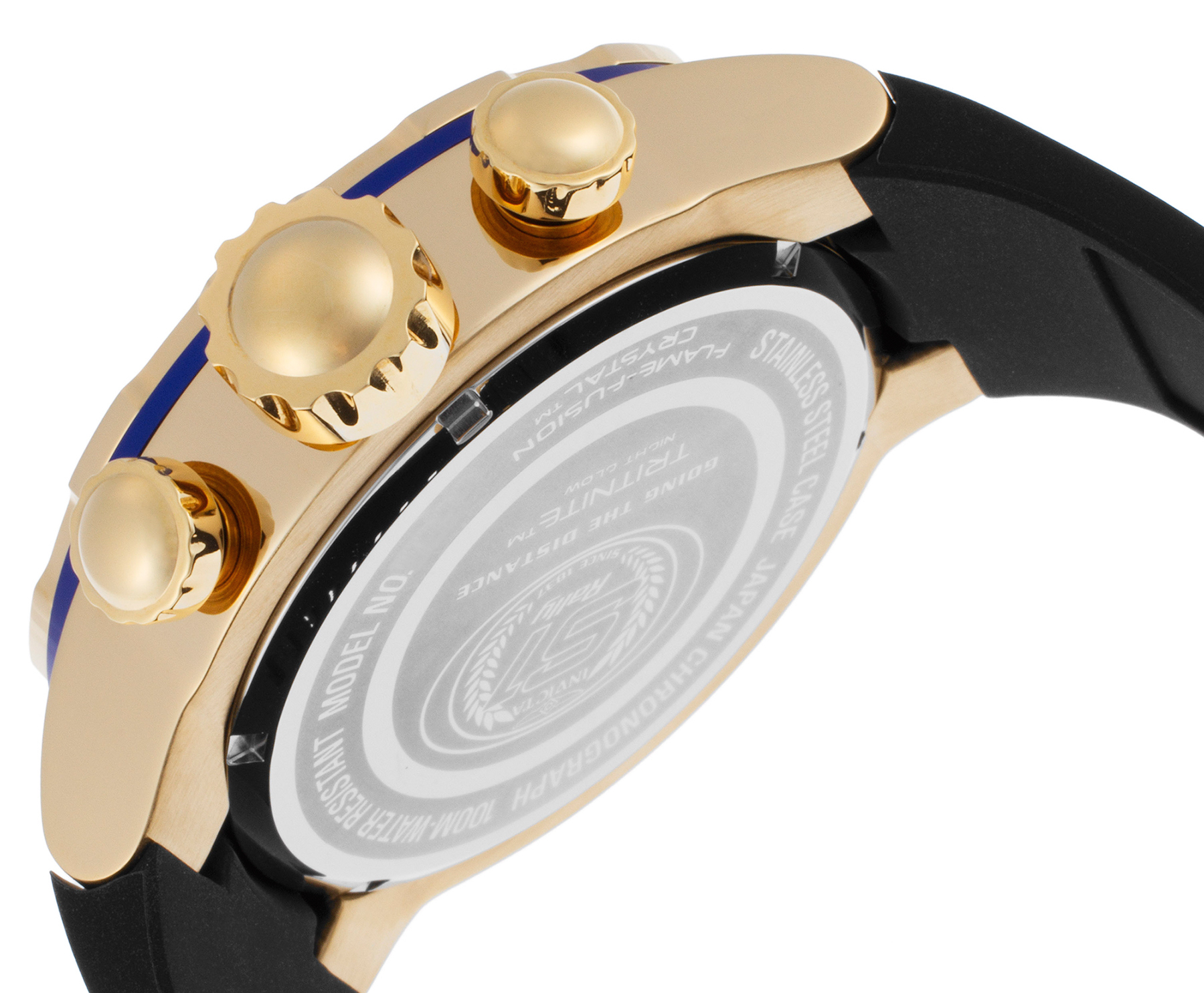 > > > Click here to see ratings, reviews, specifications and prices on Amazon < < <
In terms of functionality, the Invicta 20108 S1 is just fine. I haven't used it for a terribly long time, but it functions just as well as any other chronograph watch I've had. People have complained of the watch losing up to 10 minutes over a 2-week span, but I haven't experienced such a phenomenon. In terms of water resistance, it claims to be able to handle 330ft (100.6m) of depth. The timer is accurate even though I do think it's hard to read, and I doubt I would ever actually use it simply because of that. The crowns feel pretty sturdy and stick out well enough to be able to adjust the time in a second.
The biggest issue I have with the 20108 S1 timepiece is the polyurethane band. It feels very poorly-built when compared to similar bands on other watches. The buckle clasp also feels flimsy, which is a shame considering the watch itself (excluding the band) feels very well built. From my experience, Invicta doesn't have a ton of watches with polyurethane bands, but the ones that they do have never given me the same issue as this one.
Overview: Mixed Feelings
As I mentioned, aside from the band, the build quality on this Invicta is stellar. It features a stainless steel case, stainless steel bezel, a synthetic sapphire dial window, and well-designed crowns. It feels great to wear and it also feels like I could stuff this thing in a baseball pitching machine and shoot it off of a building without worrying about it breaking. As I said, it's just a shame that the band is so poorly built and overshadows the otherwise phenomenal build quality.
For the most part, the Invicta men's 20108 S1 really is a good watch that accomplishes what it sets out to do. Some of the problems I listed might not be problems for everyone, such as a disdain for the color-scheme and difficulty reading the dials. Aside from the flimsy band and buckle clasp, the watch feels very solid and ready to be used in a wide array of scenarios. If you like flashy watches that catch the eye, this one will certainly serve you well.
> > > Click here to see ratings, reviews, specifications and prices on Amazon < < <