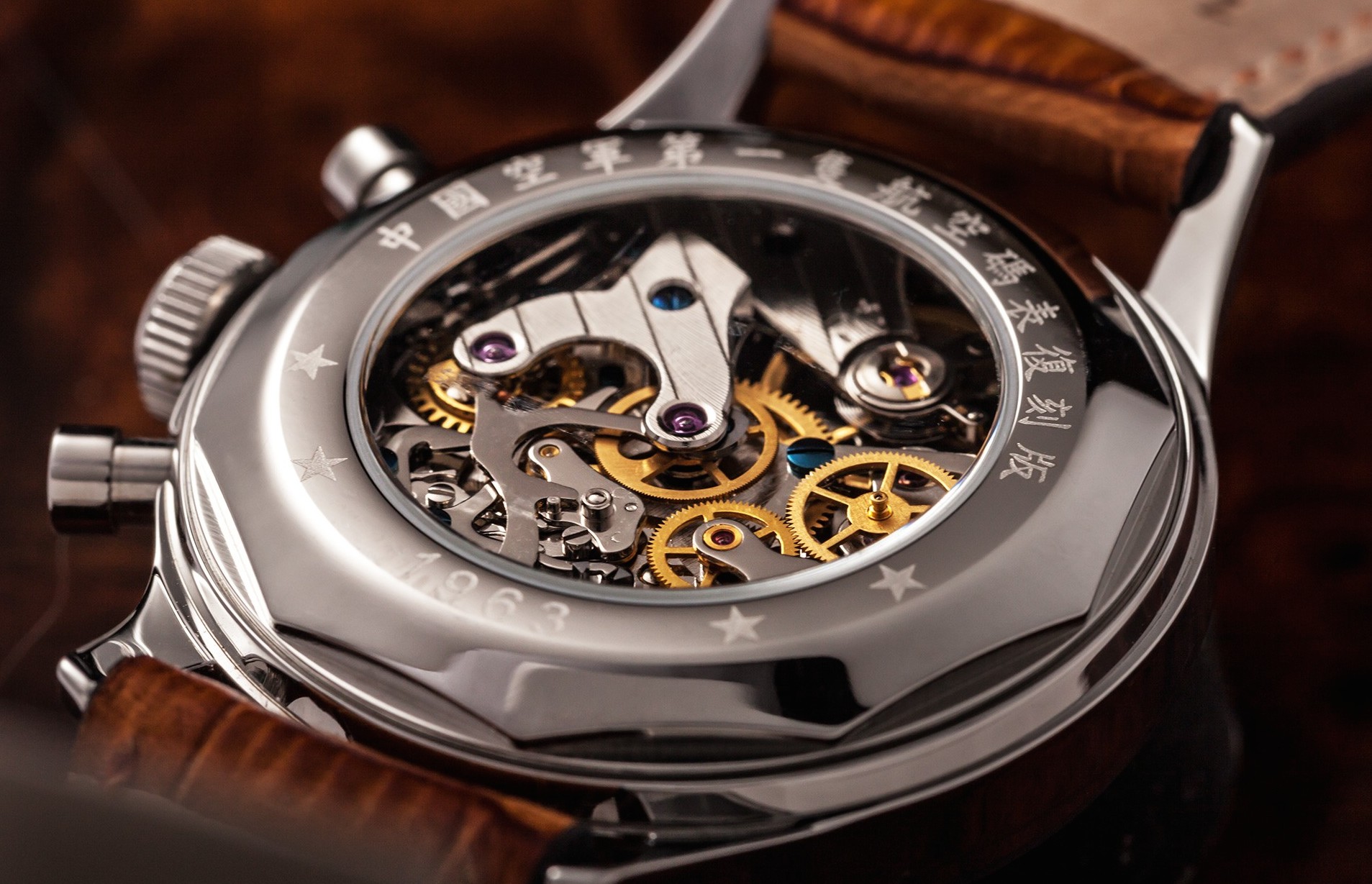 One of the most beautiful innovations of modern wristwatches is the exhibition display back. Watch movements are delicately intricate, and their craftsmanship is a sight to behold. Obviously, you can not really hold a movement in your hand. Some genius a while ago had the incredible idea of opening this majesty up to the public. Thus, the exhibition display back was born. These are the pinnacle of watch observation, letting you see the inner elements that keep your timepiece ticking, which is a fascinating experience. Best of all, the six we have picked here are all comfortably affordable. None of these will break the bank or force you to make a tough decision (the easy decision, if you love exhibition display backs, is to buy one!). We hope you enjoy.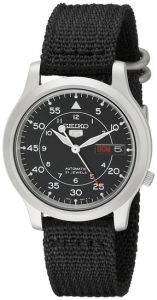 First up is the Seiko SNK809. This imported piece hovers at barely fifty dollars, a complete steal for the timekeeping majesty on show. It is, of course, round with a black dial. On the dial is an interesting array of indications. Seiko has opted to have the minute numerals as the largest, and they sit on the outside. Excluding the sixty, where a triangular marker sits, there is an Arabic numeral at every five minute interval. Between these, each singular minute has a stick marker of its own. The fifteen, too, is replaced by one half of the rectangular date box- this is, naturally, a multi function watch. The hour numerals, of course, have not gone missing. They show up on an inner circle, and are denoted in Arabic fashion except for the number three, where the remainder of the rectangular date box lies. As an added bonus, this date box can be configured to English or Spanish.
Topping the inner circle is Seiko's logo, along with a customized addition for the Five model. As in any other standard wristwatch, the center is the origin of the hands. These are designed in a rhomboid fashion, akin to a diamond, and have a grey center complementing the silver outer. The second hand, pendulum shaped, follows the color scheme of the other hands. At the bottom of the circle sits an indication of this watch's credentials, brilliant silver against the black dial face. It is a 21-jewel automatic movement, and has analog display. The dial window is made of Seiko's exclusive Hardlex. Relatively small at 36mm, the Seiko 5 case is proportional in thickness of 11mm. A nylon band, rather thin 17mm, keeps the Seiko 5 snugly on your wrist. It will, of course, be used frequently as you submit to the urge to gaze at all 21 jewels of the movement during your free time.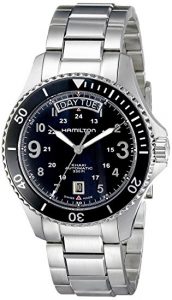 Following our strong start is the Hamilton Khaki Navy Scuba Auto. As its rather long name suggests, this is an automatic movement wristwatch designed for scuba diving. This pedigree does not come for free, as it is around nine times the price of the Seiko Five, however it also does not come empty handed. The Scuba Auto is water resistant for 100 meters, or 330 feet, so that for any and all water activities- from taking a shower to actual scuba diving- your watch safety is covered. As a product designed for sporting use, its usability and durability naturally come into question. Not to worry, as, first of all, the band is a safe bet. The stainless steel bracelet, at standard length, has a width of 20mm and a deployment buckle for ease of use and powerful grip. It will not be disappearing, with a shipping weight of two pounds, and will certainly be staying visible at 41mm wide, with moderate thickness of 14mm. In addition, the watch luminesces for dark and deep-sea visibility.
Now that literal visibility is covered, I can move on to social visibility. The Scuba Auto does have a tendency to be confused for a Rolex or Omega- which is no small feat for a timepiece costing not even five hundred dollars. It is stainless steel throughout, and the polished look is a good one. Its black dial, protected by a stunning sapphire crystal dial window, is surrounded by a rotating stainless steel beel, which happens to be eye catchingly black ion plated. The design is fresh, with ultra large three and nine numerals, in Arabic fashion along with all others excluding twelve and six. These are replaced by day and date windows, respectively. This watch, at its price, provides a beautiful view for observers and two for the wearer, both its outside aesthetic and its interior mechanics.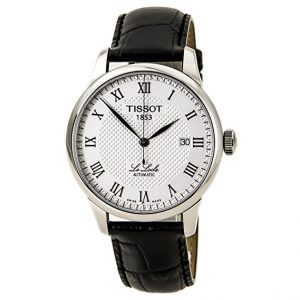 A fine watch from a fine company. Tissot's Le Locle has been around, making a statement, for about five years. It is, quite clearly, style based. It has a beautiful design that we have not seen for a while- roman numerals for hour markers and silver tone hands. These look super classy, especially when placed in the grey on cream color scheme of the watch. These are contrasted with by a stainless steel case with a fixed, stainless steel bezel. Attached to the bezel is a black leather strap so that the Le Locle fits snugly and looks fantastic doing so.
Although the aesthetic credentials of this watch are high, stylistic focus does not necessarily make it a dud. It has a litany of useful credentials, including a thirty meter, or hundred foot, water resistance, as well as date functionality. The date box is smoothly placed next to the three numeral on the guilloche dial. This luxury watch, with its pull/push crown, uses scratch resistant sapphire crystal as its dial window to display this beauty.
It contains a high-quality, swiss automatic movement. The movement loses around 6 seconds per day when new, and should be highly accurate once the movement- the true pinnacle of this watch's appearance, settles. The display back of this watch is completely transparent, revealing the swiss precision in all its glory.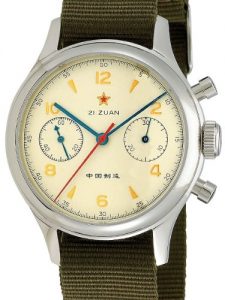 The Seagull 1963, offers a whole new design to shake things up. It is an official replica of the Chinese Airforce's standard issue 1963 chronograph, with a high level of desirability. The best part about this official version is that it comes with authentic yet subtle updates, such as a stainless steel case with a fixed bezel, a scratch-resistant synthetic sapphire dial window, and- most excitingly- an exhibition case back. The dial is a gold tinted creme, and the Arabic style numerals, as well as the stick numerals with which they alternate, are gold colored, and a gold-lined red star sits below the twelve numeral. The blue, simply straight minute hands create brilliant interplay with the bright red seconds hand- activatable when the pusher is clicked at 2:00. There are seconds markers sitting on the outer rim of the dial, Arabic numerals every five seconds, interspersed by tick-marks.
The case is a sturdy 38mm thick, and is held by an ultra-thin nylon band- just 13mm wide. The band is, of course, olive green and NATO style in keeping with the eminent design. One particularly unique element of this watches function is its power. As a watch of military design, it does, of course, carry a similar degree of durability. It is hand-wound, which creates a true feeling of authenticity and sends you back to the years it mimics. The 21 jewel movement is a Seagull ST19, again hand-wound, and has shock protection. Rest easy, as a full wind keeps the timepiece going for around 45 hours. Don't forget to watch it go!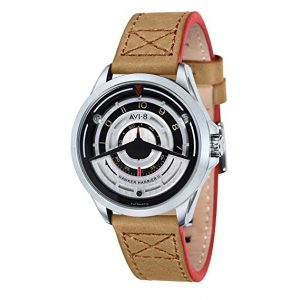 Our penultimate watch also happens to have the most exclusive design. Right off the back, one fails to miss the difference in appearance between the Hawker Harrier II and conventional timepieces. The AVI-8 functions on a Japanese made, 21 jewel, self winding automatic movement. Time is indicated in a completely abstract manner via three independent discs rotating across a hand finished, layered dial. It is extra large, with a 45mm case diameter, and is sure to make waves with any who happen to glance at your wrist. The case maintains sleekness, however, by staying thin- It has a thickness of just 13mm. Holding it on is a brown, 22mm band of standard length. This is beautifully made with calfskin.
Another air force related replica, the AVI-8 pays homage to the Hawker Harrier fighter plane. It maintains usability, with a water resistance of fifty meters, around 165 feet. This, however, limits is aquatic uses to short-term swimming, as opposed to intense watersports including snorkeling and diving. This watch's primary feature is why it makes this list. A transparent back gives way to the beautifully made Miyota movement, which is just as stunning as the outer design.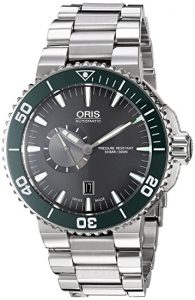 Bringing up the back of our impressive list is a contribution from Oris. This piece tops our price range by a factor of three, at around eleven hundred dollars, but this price does not come without meaning. It truly blows its competition here out of the water, first on functionality. It is a certified diver's watch, completely water and pressure resistant for up to 500 meters, or 1650 feet. This qualifies it not just for showers, but for all manner of watersports including snorkeling and even deep sea diving. Best of all, the Aquis does not require mixed gas for these functions.
Its movement is of an extremely high pedigree- Swiss automatic. This high quality engineering is fully visible through the transparent display case that is almost necessary on this beautiful a watch. It has a 38 hour power reserve, safely tucked within the massive 47mm case. The case is made entirely of stainless steel, and is a girthy 15.5 mm wide. On top of it sits a uni directional rotating bezel, of entirely the same material, save for a gorgeous green ceramic top ring. Inside the round case is an anti reflective, scratch resistant sapphire crystal dial window, from which one can view the grey, analog dial and its stick style hour markers, which are luminous. Also luminous are the hands, a long and slender minute hand followed by a shorter, fatter hour hand. The second hand is absent, replaced by a luminescent sub-dial situated at nine o'clock.
This casual style watch has date functionality, which is available in a sleek box just above the six o'clock marker. The clasp on its beautiful stainless steel band is a fold-over, and it has a double push-button safety in the event of any accidents. It, too, is made of stainless steel, and contributes to the Aquis' hefty weight of 16 ounces. The Aquis is pricey, but for a reason. The qualities and features it brings to the table are far too many to simply ignore. It stands alone in this list due to its price range, and holds its considerable weight well.
Conclusion
The most fascinating part of a watch is the sheer engineering prowess that goes into it. Although additional characteristics such as style and band material can draw the eye, none of these would have meaning without, of course, the watch movement. In addition, these watches tend to have special reason for attention or notability. One of these possibilities is the prevalence of a watch honoring something. The honoree tends to be air force related, as that is a field where timepieces have made a tremendous impact. This symbolism, coupled with the exhibitionary nature of this watch style, creates a phenomenal experience for the true enthusiast. The innovative design of exhibition display backs provides a whole new perspective for the consumer, one that is the crown jewel of a watchmaker's product. The ability to see watch movement, the very force that drives our timepieces, is wonderful. Each of these timepieces are a perfect way to do so, and all provide the opportunity at a reasonable price.