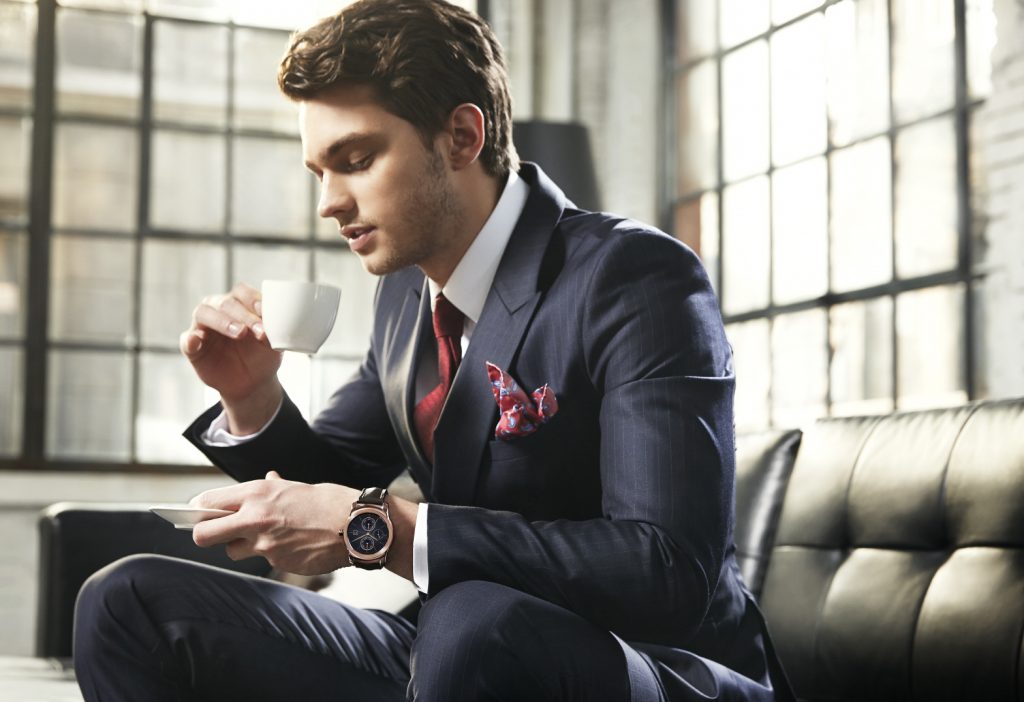 Sometimes, you just want a comfortable watch. The sort of watch that you forget that you´re wearing until you need to check the time or spot an admiring glance. With winter drawing closer, and chunky jumpers and hot chocolate at the ready, what better time to focus on bringing comfort to your wrist as well?
Comfort isn´t just about the physical feel of the watch though, it´s also about the feeling that you get from wearing it. So, we´ve tried to bring together a list of watches that not only feel comfortable, but that also come with timeless, classic looks that will never let you down. This time it´s a men's-only special, but don´t worry ladies, we have something up our sleeves for you soon!
There are lots of factors that combine together to make a watch comfortable or uncomfortable, and sometimes it only takes one stupid design feature to ruin a perfectly-good watch. We´ve already ensured that all of these watches have a reliable quartz movement (what´s more annoying than an uncomfortable watch – a watch that doesn´t work) so the only things that you need to look out for are the physical specifications.
You know what works for you – if you have small wrists then massive cases might be a problem, and if you have large ones then adjustable bracelets may be better than leather bands. However, to remind you of those little details that can make all the difference, we´ve made a quick list of features to look out for:
Case diameter
Case width
Low weight
Band material
Band Clasp
Dial display material
Water resistance
If you´ve got any other special requirements, then make a note now, because it´s time to check out our top 5 picks.
Quick Compare
Watch
Case Size
Comfort Level
Band
Price Range
Seiko SGG711 Titanium

Check Price
37 mm
9/10
Titanium
$$$
Tissot T-Classic Tradition

Check Price
44 mm
7/10
Genuine Leather
$$$
Longines L47204112 Presence

Check Price
33 mm
8/10
Genuine Leather
$$$$$
TAG Heuer WAZ1110.FT8023

Check Price
41 mm
6/10
Rubber
$$$$
Armani Exchange AX1505

Check Price
48 mm
7/10
Leather Calfskin
$$
Seiko Men's SGG711 Titanium Watch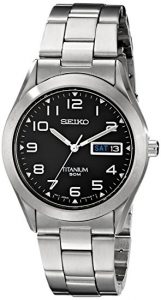 First up is Seiko´s SGG711 Titanium Watch. With an elegantly-sized 37 mm case and simple triple-link bracelet, this watch looks like it could belong anywhere.
The first thing to note is that this watch is seriously light, due to its titanium bracelet and casing. Even better, titanium has great head conduction properties, so this watch doesn´t feel too warm or too cold when you first put it on, or when you go out in the heat. If you´ve never tried a titanium band before, then this is seriously luxurious for a metal bracelet.
The triple-link bracelet may need adjusting at a jeweler, and unfortunately, there don´t seem to be guaranteed spare links in the box. However, once you´ve got it down to the right the size, the clasp does come with some extra incremental settings so you can fine-tune the fit to your wrist for a perfect fit. The safety clasp gives extra security, although it may dig slightly if you rest your wrist on your desk or keyboard regularly when typing. (Not that you shouldn't be doing that in the first place though!)
In addition, the dial is clear and easy to read, and the day of the week and date of the month windows are unobtrusive and can be adjusted separately from the time. The 50-meter water resistance is better termed "splash resistance" but it gives some peace of mind if you accidentally get it wet.
Tissot T-Classic Tissot Tradition T063.610.16.037.00 Watch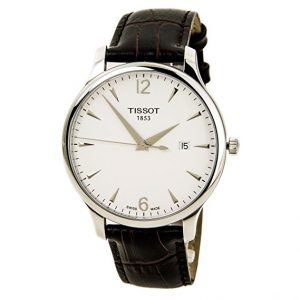 With a slightly more imposing 44mm case, the Tissot T-Classic Tissot Tradition T0636101603700 is designed to be seen, but narrowly avoids being part of the ridiculously-oversized trend.
Luckily, the slim 8mm width compensates for the case diameter and stops the case from being too heavy. The clean display also balances out any sense of the show, as does the elegant silver, white and brown color scheme. There is a small date window, but it is subtly placed at the 3 o´clock position and is barely noticeable at a glance.
The 11mm leather band is comfortable and isn´t prone to heating up or cooling down like some metal bracelets, nor becoming sweaty like some synthetic options. The deployment-buckle clasp is carefully hidden by the design and leaves the watch secure without compromising on looks. There is also 30-meter water resistance, and a sapphire glass display, so this watch should continue to look and feel good for years, as long as you don´t take it swimming regularly.
If you want a simple, classic and comfortable watch then the Tissot T-Classic Tradition T0636101603700 is a nice buy. It doesn´t have any showy special features, the case will not look over-sized and ridiculous in 10 years' time, and the smooth design stops it catching on clothing or equipment. Finally, good-quality leather is always a safe choice when it comes to comfort, although it will likely need replacing as often as the battery.
Longines Men's L47204112 Presence Collection Watch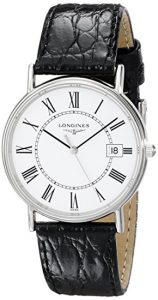 The Longines L47204112 Presence is a similar style if a classic leather watch appeals but you fancy a slightly different design.
The case is similarly smooth to the Tissot, and will not catch on clothes, whilst the 30-meter water resistance is the same, as is the position of the unobtrusive date window. However, the case is considerably smaller and thinner (33mm, 6mm) leaving this watch much lighter and less bulky to wear.
Aside from this, the black leather band is highly textured, in comparison to the smooth appearance of the Tissot offering, and comes with a buckle, not a deployment clasp. Which you prefer is a matter of taste, although the Tissot offering seems stronger.
The main difference between this watch and the Tissot T-Classic tradition is the design of the case. Aside from the size, this watch has a very stylized dial complete with thin Roman numerals that aren´t easy to read and are not luminous either. If you want a classic leather watch and like the smaller size and design, then the Longines L47204112 Presence is an equally good option.
TAG Heuer Men's WAZ1110.FT8023 Formula 1 Watch
Moving on to something slightly different, we have TAG Heuer's WAZ1110.FT8023 Formula 1 Watch.
If you want a comfortable watch that is still suitable for sport, then this may be more what you´re looking for. It´s got 200-meter water resistance and comes with a screw-down crown and case back, so it´s perfect to take swimming or for water sports. The luminous hands are a nice addition, and leave this watch ideal for anyone who likes to work or work out in the morning or evening.
The rubber band is perforated to allow moisture to evaporate, so it doesn´t become sweaty like some cheaper options do. The inside is textured to give the watch a firm grip too so it won´t slide around on your wrist either. It also won´t get cold or hot, like some metal options, so it´s suitable for all weather conditions.
If you want a classic watch that feels comfortable even when you´re working out, then this is a good option. The design is modern without being over the top, and the rubber band and water resistance leave this timepiece both looking and feeling comfortable and practical. The dial is easy to read too, so it´s great if you want to read it without glasses.
Armani Exchange Men's AX1505 Analog Watch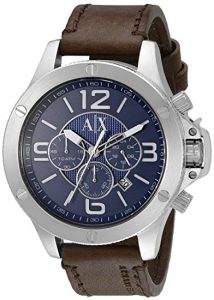 Finally, if you´re looking for something that can cope with water, but that still has the looks of a traditional watch, then check out the Armani Exchange Men's AX1505.
The leather band is comfortable, but thick enough (22mm) to leave it durable, and the 100-meter water resistance is enough for an occasional swim if not for real exercise fanatics.
The display is somewhat busier than the others we´ve featured, due to the triple chronograph function. If you need the option to use your watch as a timer, then this is a predictable compromise and it doesn´t make the watch any heavier than most of its competitors, although it does explain the rather-large 48mm case.
The thick leather band is comfortable and, like the other leather options we´ve seen, is water-resistant without becoming sweaty, and doesn´t become overly hot or cold nor have bracelet links that could rub.
If you want a chronograph function, and have large enough wrists to find an over-sized case comfortable, then the Armani Exchange Men's AX1505 is an attractive option. The textured dial looks classy, and the silver-tone markers are large and easy to read although they aren´t that luminous in the dark. The watch hands are slightly difficult to see against the busy background, but that is true of many chronographs, and that does not stop this being a comfortable but classy option.
Our Thoughts
Five attractive and comfortable watches, what more could you want? From titanium bracelets to classic leather – and even a bit of modern rubber- we´ve scoured our collections to highlight a diverse range of options that combine comfort with wearability. Not only do these watches feel good, but you´ll feel great in knowing that you´ve got one of these classic designs on your wrist. The only problem is, they´re all so good that we can´t pick 1 single favorite…