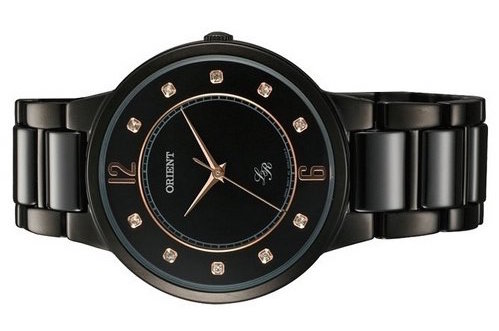 What a better way to spend your money, than to buy the newest, and one of the best affordable watches on the market. This Orient women's FUA06005B analog watch has all the classic features of a standard timepiece but with some little-added extras to turn the watch into something you can be proud to wear. Orient have brought to the market a professional and well-designed watch that not only does the job it's supposed to do, but also looks good on your wrist.
> > > Click here to see ratings, reviews, specifications and prices on Amazon < < <
FUA06005B Design and Build Quality
The all black design of the FUA06005B gives off a professional and business-like feel, although it would be well suited no matter what the occasion. Alongside the sharp design is the 30mm ion plated stainless steel case, which provides the backbone to the FUA06005B and gives peace of mind in terms of durability and sturdiness – without looking too masculine. The black toned dial continues the professional approach, with the rose gold markers standing pride of place within the case. If you're looking for a bit of bling, then Orient have covered this base too, with neat little gems dotted around the face – who says professional needs to be boring?
> > > Click here to see ratings, reviews, specifications and prices on Amazon < < <
The real deal is behind the scenes here with this watch being powered by Quartz movement, and although not the best in the world, it does provide a decent rate of accuracy in terms of time keeping and will certainly do the job of keeping you up to speed. Another interesting feature found within the Orient FUA06005B is the water resistance depth. You can use this piece to depths of 30 metres or 100 feet, which means you don't need to worry about the occasional splash of water but you should be wary of going swimming or showering with this watch on.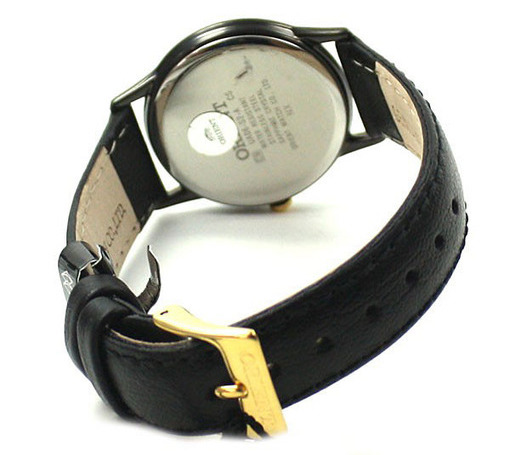 Comfort Level
If it's comfort you are interested in, then I must draw your attention to the black leather strap that keeps this watch together. The 20mm thick band is made from leather and feels great when wrapped around your wrist. I often find that leather straps can be quite irritating, but Orient have done a great job here in keeping the strap comfortable and making it look great at the same time.
Price is always an important factor when deciding on buying a watch, and I always try to avoid making price a massive deal when giving you all this information. However, at such an attractive price, this FUA06005B woman's watch is great value for money, ensuring you get great quality and design for a watch that I feel outrivals some of its higher priced competitors.
Final Impression
Overall, the Orient FUA06005B gives ladies the chance to show off and look professional wearing this all black, stylish watch. Everything works well together within this timepiece and would work well with a lot of outfits in your wardrobe, and although that may sound cliché, a watch these days is just as important as the shoes you wear on your feet.
That's why I believe that the style, quality and design on offer is great. Offering the rose gold minute markers, contrasting against the dark black background of the case and dial. The ion plated stainless steel is something that is an excellent addition and gives the durability and strength we all need from a watch these days; we need things that are dependable. With the added bonus of the 100 metre water resistance feature, you don't even have to worry about your watch in the rain, in the shower, or when your washing your hands, meaning you can keep it on all day.
Although Orient haven't gone all out on the women's FUA06005B analog watch, and it may not be the fanciest piece on the market, it does offer some great features that someone who is looking for a dependable and good looking watch, will love!
> > > Click here to see ratings, reviews, specifications and prices on Amazon < < <