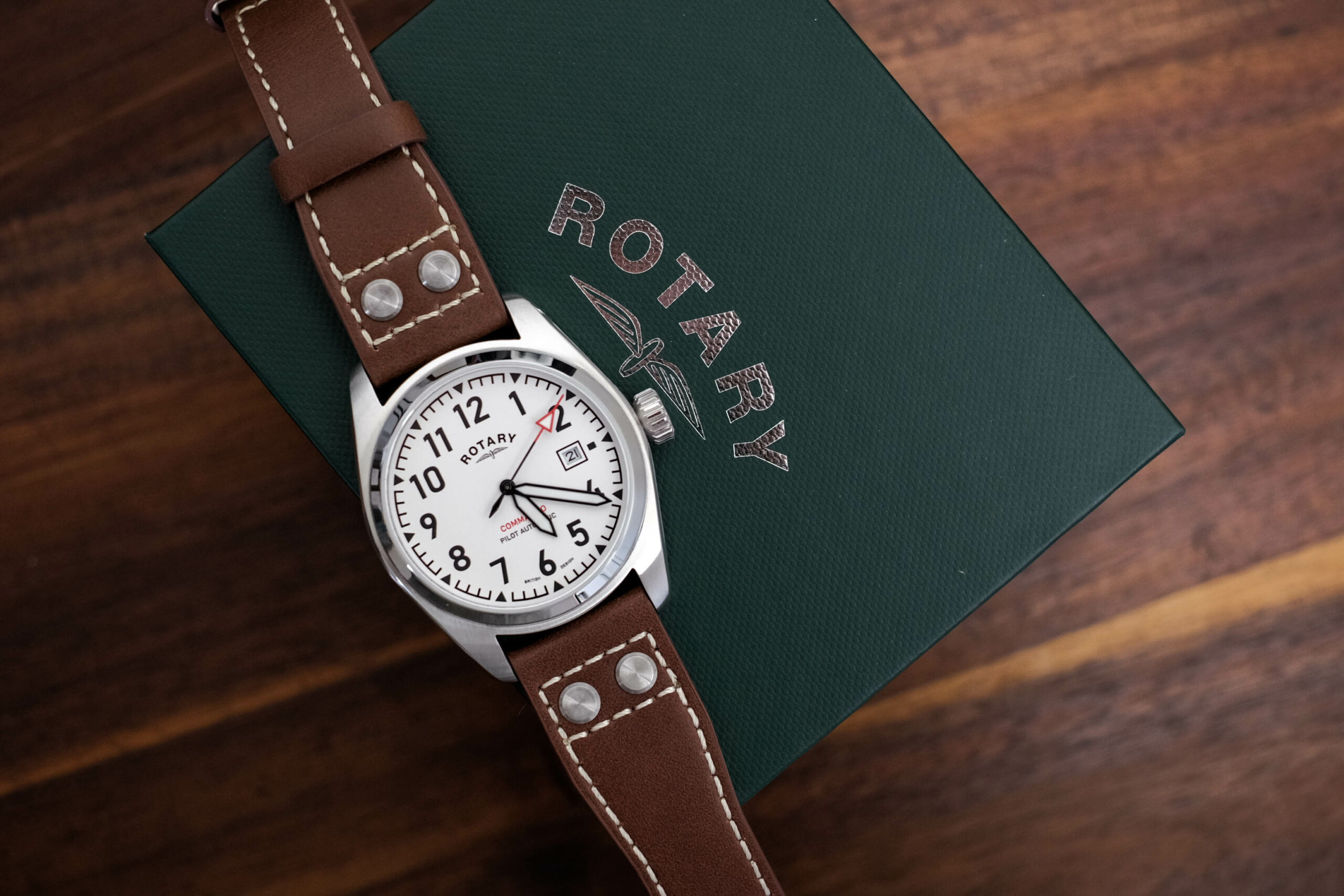 Welcome to our review of the Rotary Commando Big Pilot Watch, specifically focusing on the captivating white dial version. As avid watch collectors and enthusiasts, we understand the importance of technical details and the rich history behind a timepiece. In this article, we will not only explore the fascinating background of the Rotary brand but also provide an analysis of this new watch release. Prepare to immerse yourself in the world of horology as we discuss the intricacies of the Rotary Commando Big Pilot.
Embracing Rotary Watches' Illustrious Heritage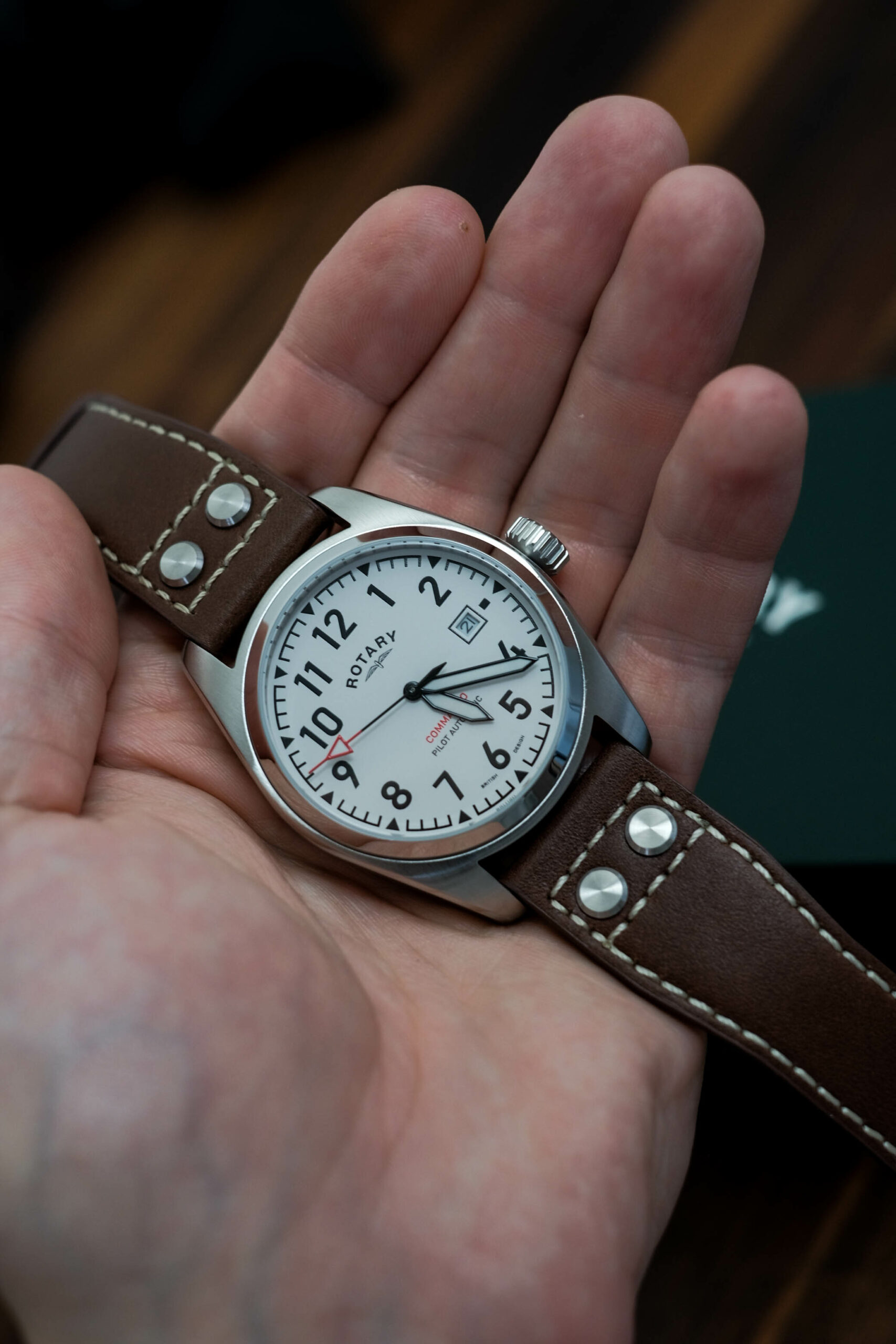 Before we delve into the details of the Watch, let us delve into the captivating background of Rotary Watches. Established in 1895, Rotary has been synonymous with reliability, precision craftsmanship, and timeless elegance. With over a century of horological expertise, the brand has garnered a loyal following among budding watch connoisseurs worldwide.
Introducing the Rotary Commando Big Pilot Watch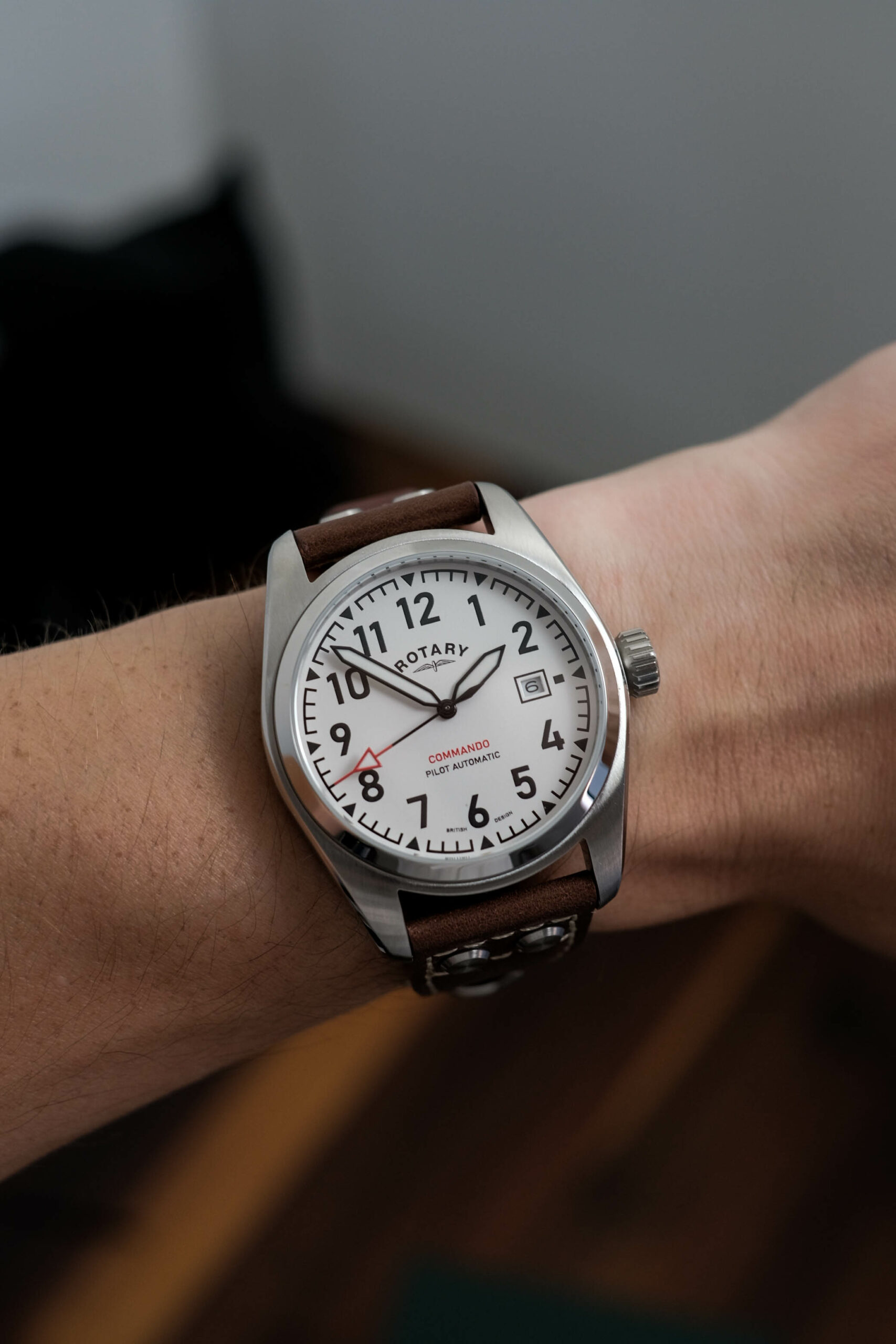 The Rotary Commando Big Pilot Watch not only impresses with its stunning design and impressive features but also comes at an incredibly affordable price. It's a timepiece that doesn't compromise on quality or craftsmanship while remaining accessible to a wide range of clientele. Rotary has truly struck a balance by offering a watch that captures the vintage-inspired charm and modern precision without costing too much. This affordability factor adds an exciting element, allowing novice collectors and enthusiasts to enjoy the remarkable experience of owning a Commando Big Pilot Watch. Now, you can indulge in the world of mechanical horology without breaking the bank.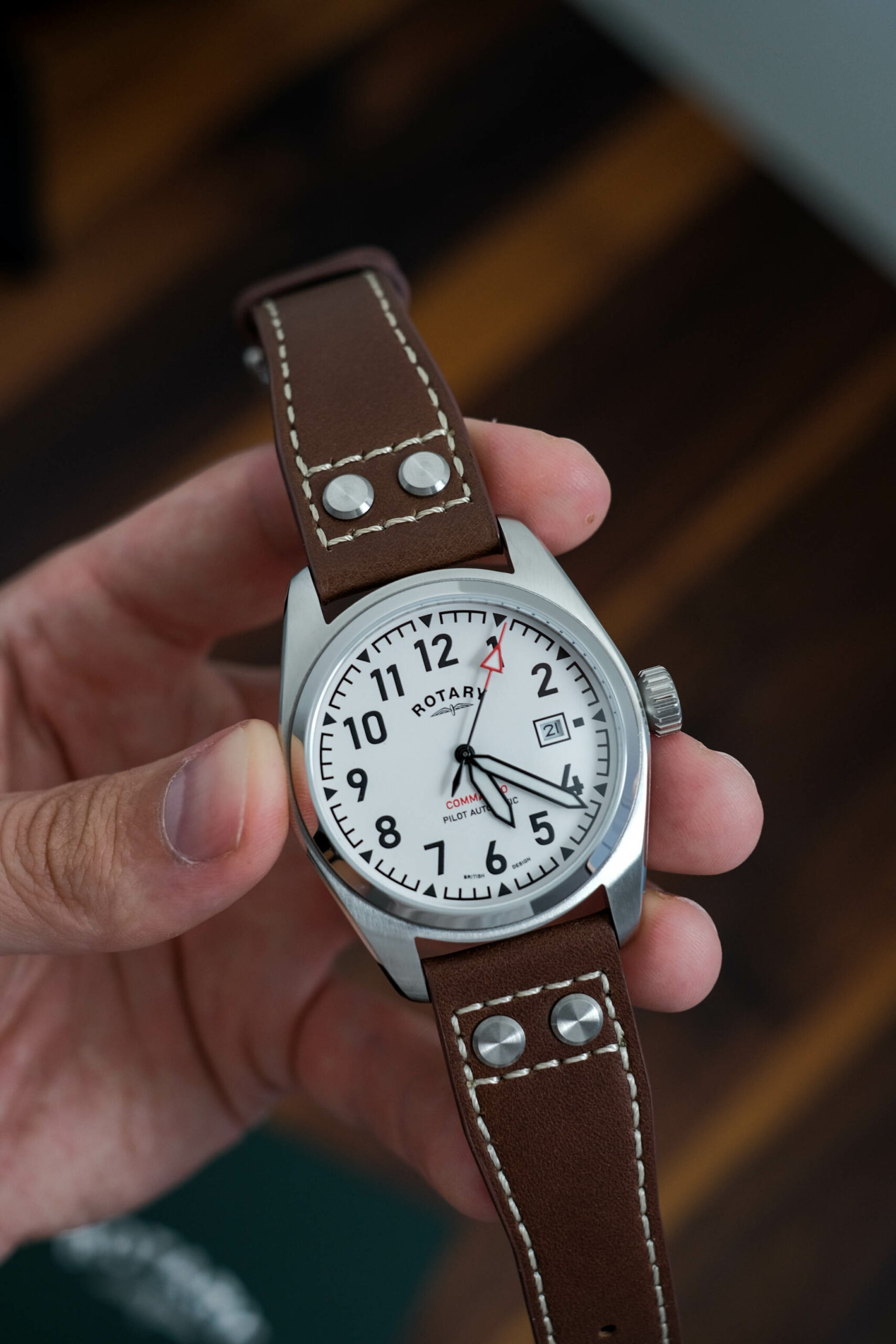 Striking Design: A Testament to Functionality
With its robust 42mm case dimension, this Watch exudes a commanding presence on the wrist. The oversized protruding screw-down crown, originally designed to facilitate easy operation while wearing gloves in freezing cockpits, adds an element of practicality that pilots can truly appreciate.
Enhanced Legibility: An Essential Feature
The utilitarian dial design of the watch ensures optimal legibility, even in challenging lighting conditions. The large hands generously coated with luminescent material, allow for effortless reading at any time. Whether you find yourself in a dimly lit cockpit or exploring the depths of a dark bar, this timepiece will guide you with ease.
Attention to Detail: A Marriage of Form and Function
The aviation leather strap of the Commando Big Pilot is not only visually appealing but also pays homage to its heritage. The inclusion of rivets ensures a secure and comfortable fit, preventing the watch from sliding or flying off the wrist during high-intensity activities. It's a small yet significant detail that showcases the watch's authentic connection to its origins.
Technical Excellence: Precision in Motion
At the heart of the Watch beats a precise Miyota 8 series automatic movement featuring hacking, guaranteeing accurate timekeeping. This timepiece is a testament to Rotary's unwavering commitment to quality and reliability, making it a trusty companion for both pilots and discerning watch enthusiasts.
Style Versatility: Elevating Your Wrist Game
The watch exudes timeless elegance and versatility. Its clean and crisp appearance allows it to effortlessly transition from casual to formal settings, adding a touch of sophistication to any ensemble. This watch truly embodies the spirit of a modern classic.
Overall
The Rotary Commando Big Pilot Watch, with its captivating white dial version, expertly captures the essence of vintage-inspired design while seamlessly integrating modern functionality. This timepiece's robust construction, oversized screw-down crown, and luminescent dial not only contribute to its captivating aesthetics but also ensure its reliability and durability. These are basic but essential specs for a watch at this price point.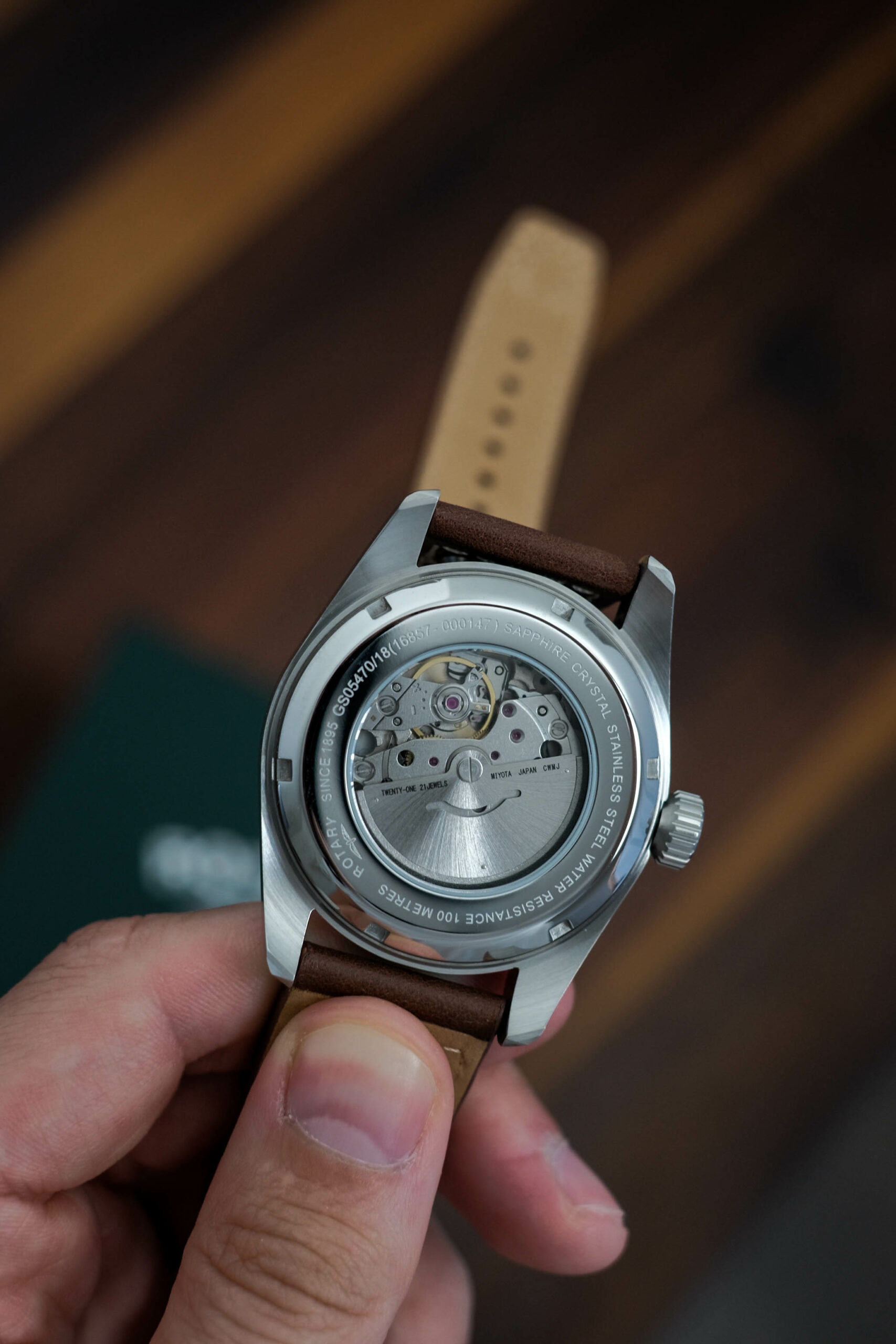 For watch collectors and enthusiasts who have a deep appreciation for the technical intricacies of timepieces, this watch is a great beginners addition to their collection. Its ability to blend vintage charm with contemporary features is sure to captivate their discerning tastes, offering a balance that is both alluring and practical.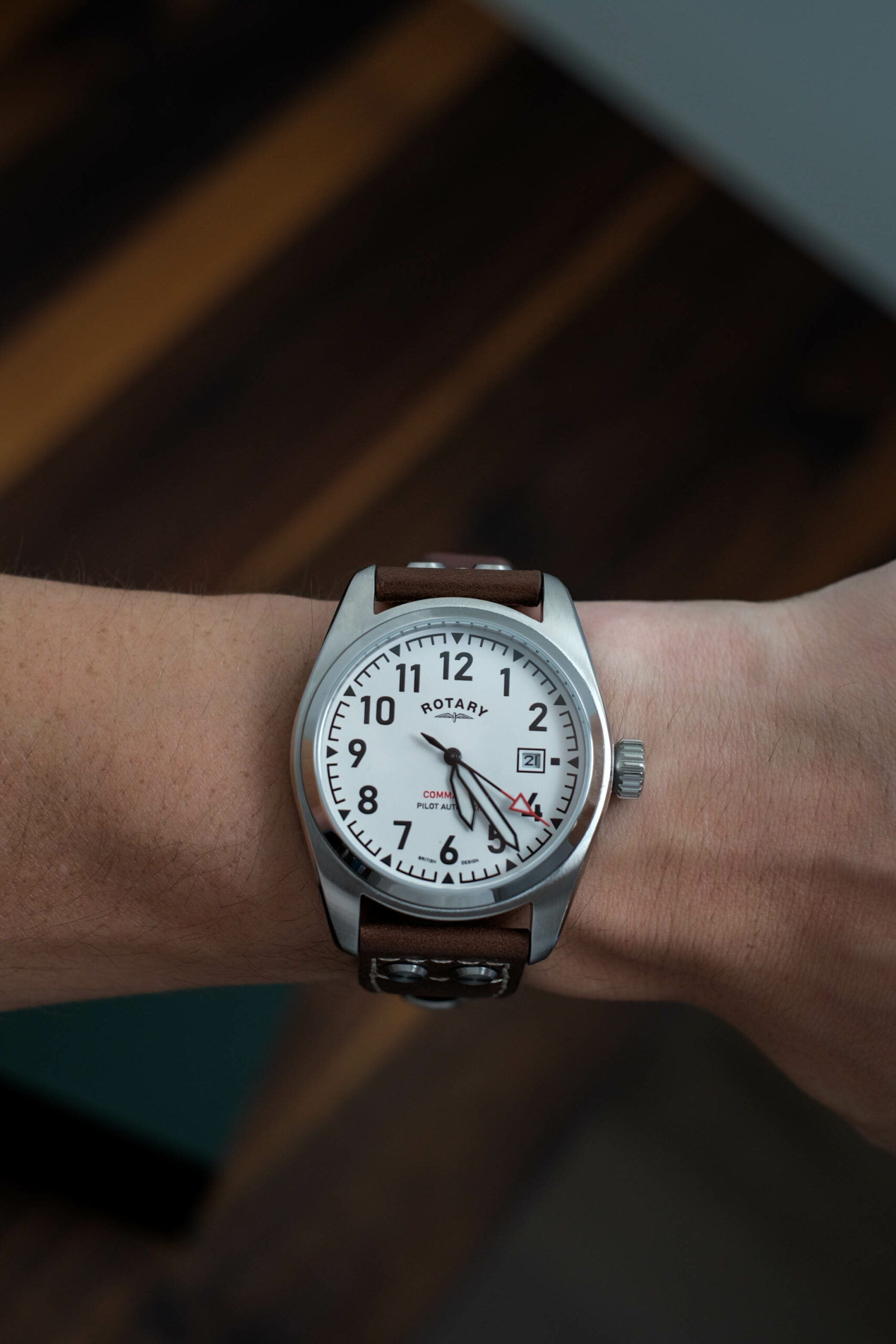 While it's important to note that Rotary is considered an affordable watch brand, this does not detract from the remarkable qualities and value that the Commando Big Pilot Watch offers. While it may not be considered a luxury marvel, it remains a timepiece that delivers on its promises, making it a reliable companion for pilots seeking dependable functionality or watch enthusiasts who appreciate the artistry and craftsmanship that goes into creating an enjoyable timepiece.
As you dive into the world of Rotary Watches, keep in mind the brand's rich history and their commitment to crafting exceptional timepieces. The Commando Big Pilot Watch stands as a testament to Rotary's legacy, reflecting their passion for creating reliable and enduring watches that cater to the needs and desires of watch aficionados around the world.
For more information you can visit the official Rotary website here.