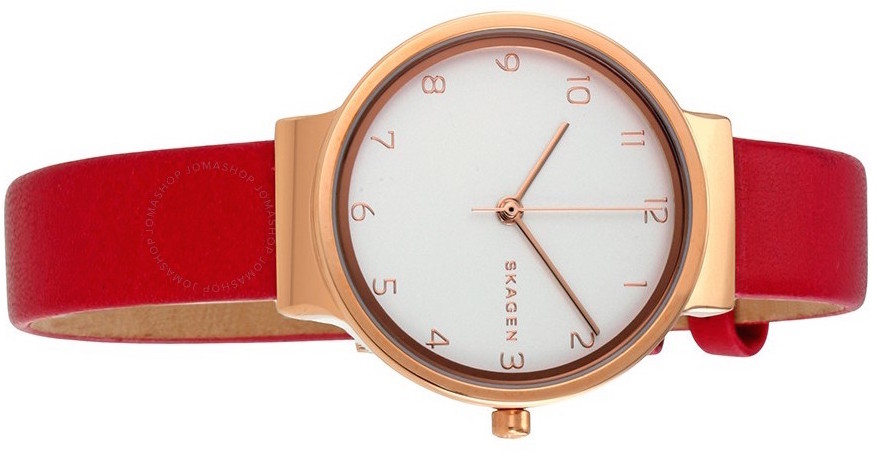 Skagen is giving women the chance to own a unique and limited edition watch. It's called the Skagen women's SKW2552, which comes in an "Ancher red" color, creating a stylish and rather intriguing design to coincide with their Chinese New Year series. The red and rose gold design has clearly been inspired by the Chinese colors and is perfect for anyone looking for a watch that no one else around you will have.
> > > Click here to see ratings, reviews, specifications and prices on Amazon < < <
SKW2552 Features and Style
The Danish named company brings this watch to the market at a very attainable price, and offer a limited lifetime warranty– something which is unusual to see for a watch of this caliber, however it's a great idea from a consumer side of things, giving peace of mind so you can enjoy the SKW2552 in all its glory.
Well, when I say glory … this design doesn't quite do it for me. I know that striking and unique pieces are all the rage these days, however, I feel that Skagen has dropped the ball with this one, leaving us with a mix-match of all things weird and wonderful. The red leather calfskin (back to the weird and wonderful) strap doesn't do the dial the justice it deserves and it looks tacky as the colors are just so far apart. Although the strap is interchangeable which gives you the chance to choose a strap which is more suiting to the impressive face.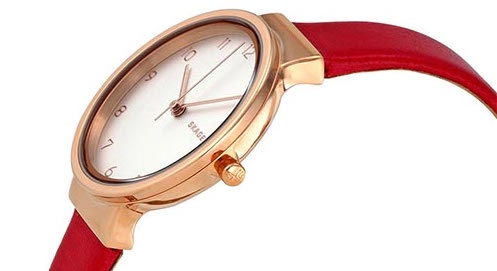 > > > Click here to see ratings, reviews, specifications and prices on Amazon < < <
The 30mm case encloses the simple yet effective sandblast dial and the rose gold color once again brings out the uniqueness in this watch. The case is enhanced by the 30-meter water resistant feature – which is a lot lower than many other watches, however, can still withstand slight splashes of water. The SKW2552 timepiece is powered by analog-quartz movement, working behind the scenes to ensure smooth clockwork on the dial. The dial itself features a second hand – giving you a detailed indication of time. The one downside of this dial comes back to its color, I believe it would be difficult to see the face once the light shines on it and if you decide to wear it often, this could become a potential pitfall.
Skagen hasn't splashed out on the features of this watch. Simplicity is one thing and bland is something else; unfortunately for me, this women's watch falls into the bland category. There is nothing that stands out and makes it noteworthy – yes it is unique, but I'm not sure if unique is good in this case. There is no date or day feature and it lacks the modern day features we are so used to seeing these days. On a positive note, the strap looks of a decent quality and can be swapped with another strap if preferred, and the watch itself looks durable and sturdy which is ideal in a piece that will be used every day.
SKW2552 Features:
Mechanics: Analog-quartz
Case Size: 30mm
Waterproof to 30 meters
Strap: Leather Calfskin
Strap Colour: Red
Face Style: Analog

Final Words
In conclusion, I won't ever be the greatest fan of this watch. I do like the rose gold colored case and its simplicity and ease of use, however, its simplicity is also its downfall with a lack of modern-day features which we all know and expect in watches. Skagen has played it safe with this design and went for the unique aspect when creating this piece for the Chinese New Year Collection. The red leather strap seems out of place and looks like someone has made a mistake putting it there. It is not the worst watch in the world, however for the price tag of around $140 (from the time of this review), I am sure I am not alone in thinking there should be more to the Skagen women's SKW2552 Ancher red Watch. I can guarantee that there will be people out there who love this design; unfortunately, I struggled to give it the love it desires.
> > > Click here to see ratings, reviews, specifications and prices on Amazon < < <