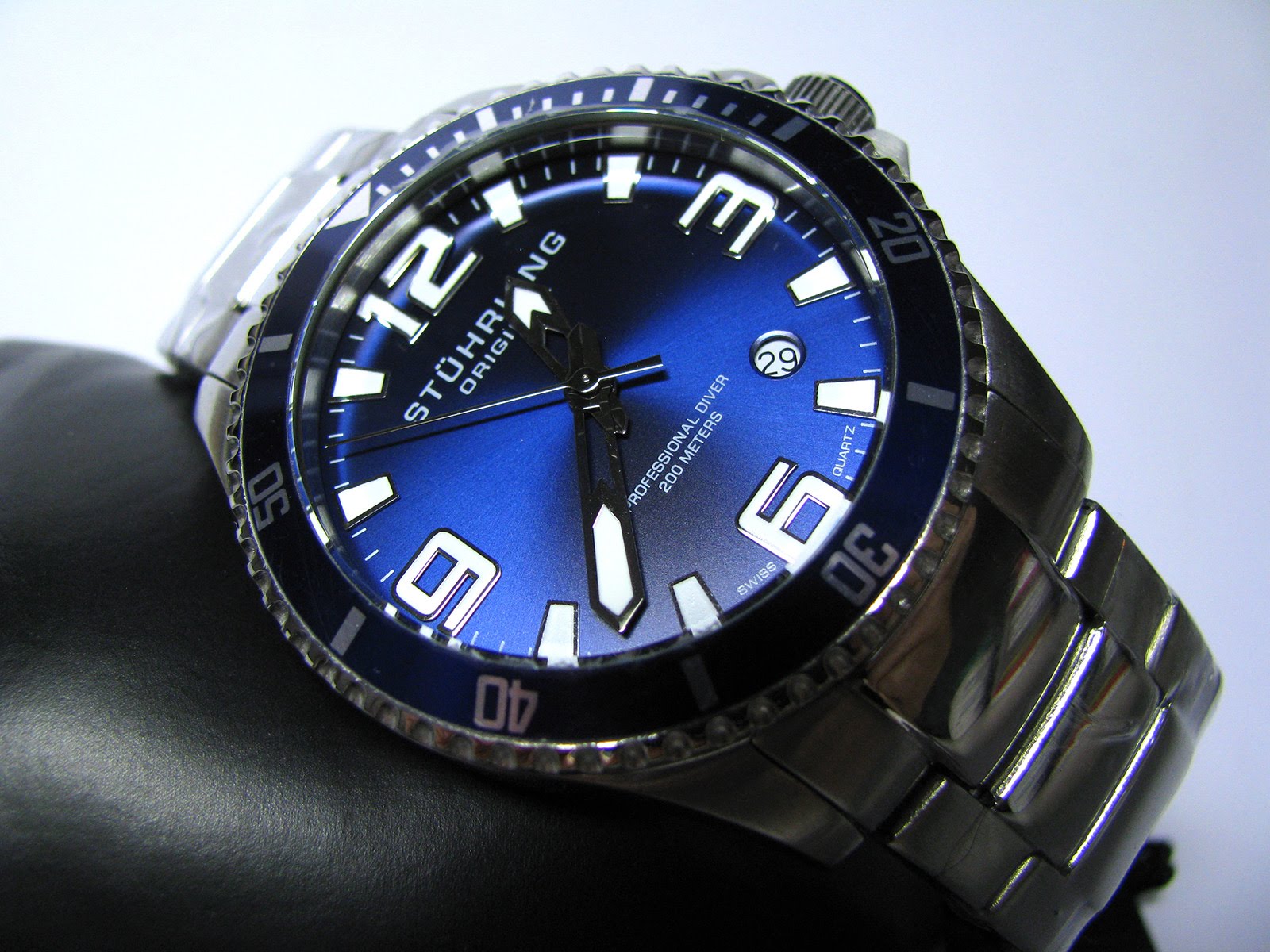 Are you looking for a marine watch but don't want to break the bank doing so? Do you wish to impress people with your sophistication, calm and quiet confidence, and understated elegance and still 'brag' a bit? Would you like a watch that can make you look good in a wide range of settings-from the outdoors to a more refined indoor space?
If you answered YES to all of the above, you might want to pay careful attention to the Stuhrling Original 395.33U16 "Aquadiver Regatta." Sure, there are lots of marine or regatta watches on the market. Some critics would say too many but what makes thes 'Aquadiver Regatta' very interesting is that it is able to deliver on many of the stylistic promises of marine-specific or marine-related 'lifestyle' watches without taking you to the poorhouse. In my book, this is quite a feat considering the fact that Stuhrling is able to do this without making its product look cheap, shoddy, or otherwise manufactured en masse.
> > > Click here to see ratings, reviews, specifications and prices on Amazon < < <
Marine watch
Pairing an active look with the understated elegance of a luxury watch, marine watches can look quite different from each other. With its blue face, ratcheting bezel, screw-down crown, and protective dial window made up of protective Krysterna crystal, this watch can't help but make you turn your head. Of course, the main reason you're turning your head is the fact that this marine watch is able to look and function like the typical Swiss marine watch (check out its triple row link bracelet) without costing an arm and a leg. True to its marine design, it can survive water to a depth of as much as 660 feet! Priced at less than $60, this marine watch looks great and functions well for its price.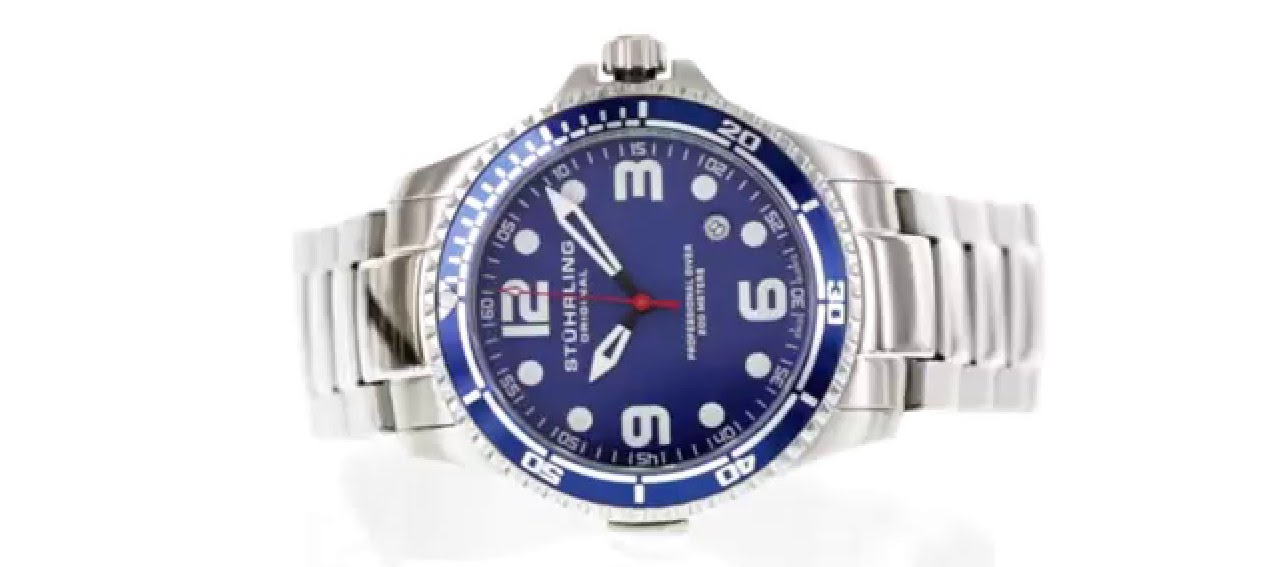 > > > Click here to see ratings, reviews, specifications and prices on Amazon < < <
Movement: Swiss Quartz
If you thought you'd have to go with a watch with generic 'quartz' movement to enjoy a decently priced watch, you haven't feasted your eyes on the Stuhrling Original Men's 395.33U16 "Aquadiver Regatta." This marine watch seems to deliver almost all the features serious watch fans would want from a watch you'd wear near the water for one low price. This is quite a feat considering that Sturhling is not a Johnny-come-lately brand. It made a name for itself in the discriminating and elite-conscious world of global timepieces for its manufacturing system noted for its precision. If there are any doubts regarding this company's Swiss bonafides, all doubts are quickly dispelled by its focus on airtight precision.
Considering the price and look of the Stuhrling Original 395.33U16, you would think that you've gotten a steal if this piece came with generic 'quartz' technology. Instead, it comes with high
precision high-quality Swiss quartz technology. Solid value.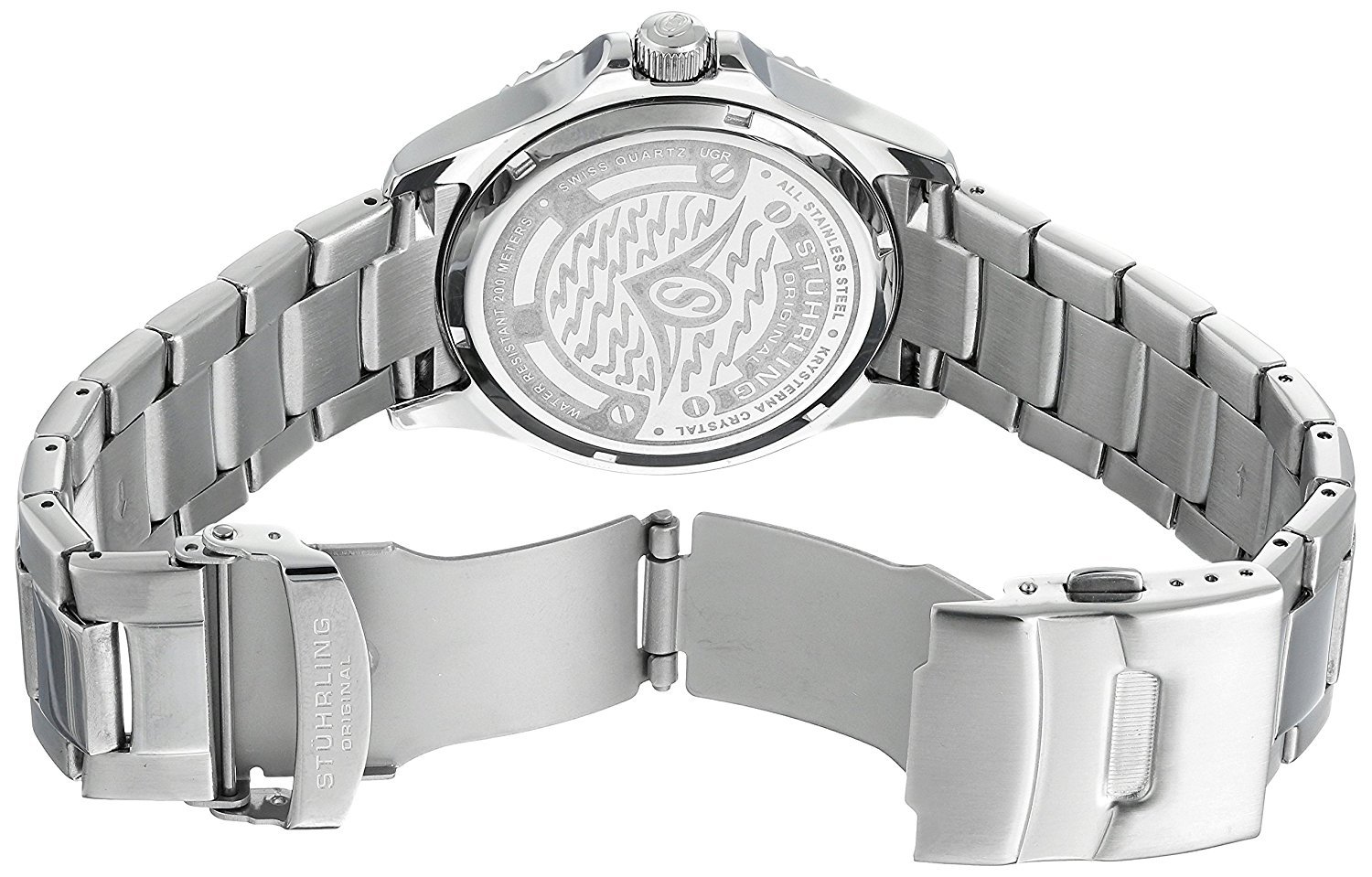 395.33U16 Useful Features: Waterproof
No real marine watch would call itself a marine watch or position itself as one without decent water depth tolerance. After all, what use would a marine watch be if you can't take it diving or snorkeling with you. Well, since the "Aquadiver Regatta" comes with a depth tolerance of 200 meters, you can rest assured that this model lives up to its marine watch designation.
In closing, there are a few watches currently on the marketplace that deliver solid value without cutting back on quality or some other make or break feature. I am delighted to report that the Stuhrling 395.33U16 "Aquadiver Regatta" watch is one of them. Whether you are looking to look good in a corporate setting, trying to impress someone over dinner, or reeling in some marlin on a Florida boating vacation, and all points in between, this model's got you covered!
> > > Click here to see ratings, reviews, specifications and prices on Amazon < < <