The first thing that may come to your mind after seeing this watch is that it emanates sheer simplicity. The traditional brown leather band coupled with an elegant stainless steel dial makes this a favorite go-to model which could be worn in almost any situation. The Stuhrling Original Men's 699.02 Aviator Quartz Watch may not attract tons of attention, but its presence on your wrist will definitely enhance your charm and charisma. You are bound to make an impact on people with this unique timepiece regardless of the type of gathering you go to.
> > > Click here to see ratings, reviews, specifications and prices on Amazon < < <
Casual Design Style
While highly priced and luxurious looking watches are mostly reserved for important events, men need some casual watches which could enhance their personality while still looking classy and professional. The Aviator is exactly the kind of casual watch which men would want to have for their daily regular use. This does not mean, however, that you cannot wear this watch in important business meetings or social gatherings. Although classed as casual, this watch has all the elegance needed to be wearable in an important social or professional setting.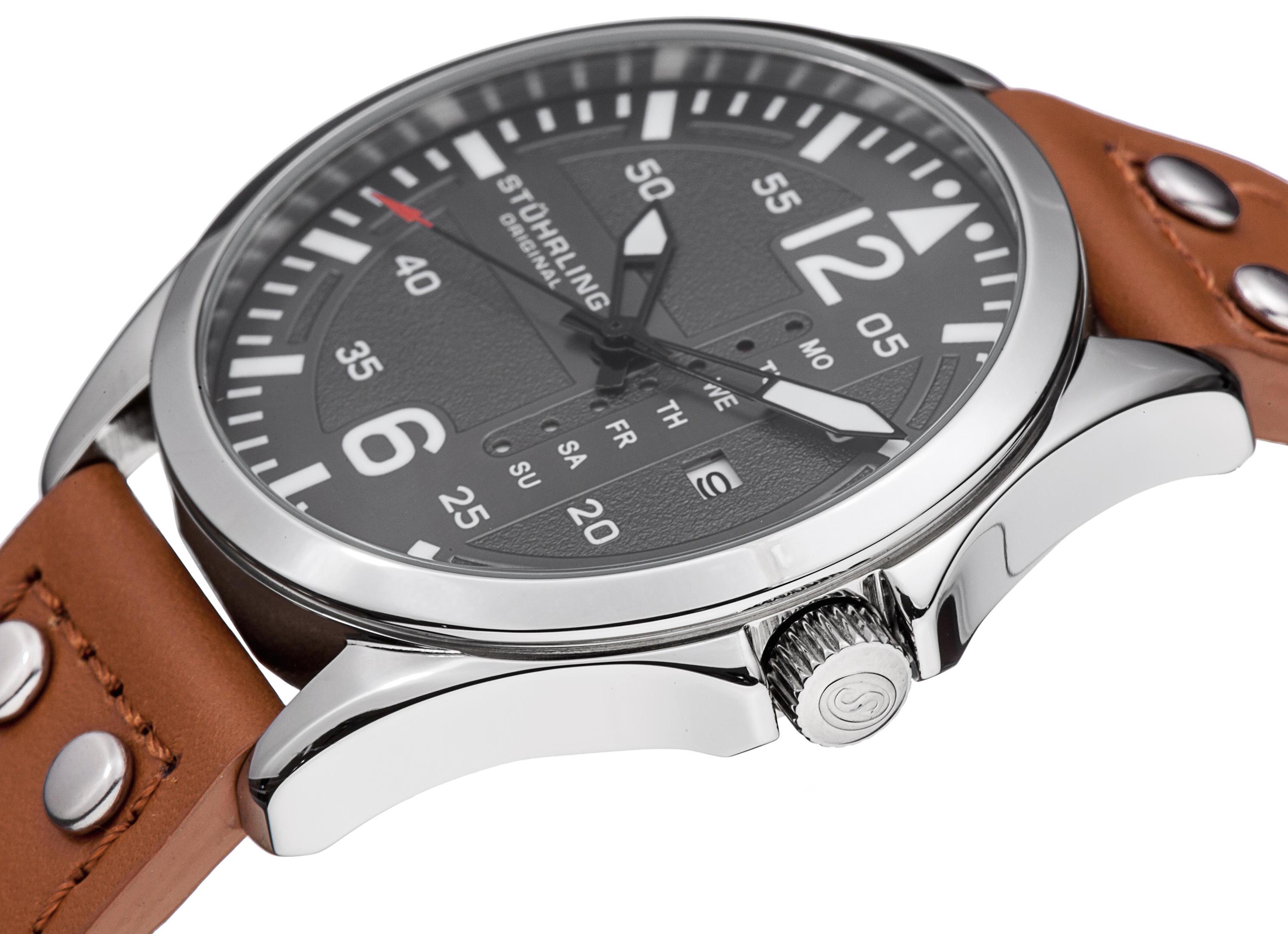 > > > Click here to see ratings, reviews, specifications and prices on Amazon < < <
The dial of the watch is quite interesting. It is a round, matt-finished dial which features skeleton hands, day and date indications and an elegant logo, all neatly fitted inside. The dial also has Arabic numerals which illuminate in the dark. With a diameter of 44 millimeters, the watch is perfect for all wrist shapes and sizes. In fact, this is the beauty of the Aviator: it has everything for everyone while also staying in an affordable range. People will get elegance, class, date/day indications and a casual look from this timepiece.
Aviator Movement Type
In order to make a watch affordable for the masses, the producers of the watch have to compromise in some areas. They can either give you good looks of a high-end watch while keep the technology basic or they can provide modern-day technology while maintaining average looks for the watch. When it comes to buying a watch, people generally focus on the looks and ignore the engineering of the watch. This is because nobody would want an expensive technology inside the case while the watch looks awful to wear. Hence Stuhrling has used the famous quartz technology to make sure that an elegant watch is within the reach of the masses. The technology is not the ordinary quartz technology though. It is a Japanese quartz movement mechanism which is bound to be better than the normal movements you will find in the market at this price point.
Specifications
Uses a very strong Krystema Crystal

Buckle clasp function
High polish stainless steel case
Genuine leather calfskin strap
Day and date display feature
Very useful second hand
Water resistant to an impressive 330 feet
Special Feature: Second Hand
Admit it or not, a second hand inside the dial of a watch does increase its value. We all know that high-end watches on the market generally have a second hand inside. Thus what makes this Stuhrling timepiece valuable is the presence of the second hand without an increase in the price. The Aviator is also water resistant so you could go swimming and even do water sports or snorkeling while wearing the watch.
The Go-To Watch
If you are looking to add value to your personality without spending too much money, then the Stuhrling Original 699.02 Aviator Quartz Watch is a must-have for you. Buy this watch, wear it during your daily routine and feel valued with this beauty on your wrist.
> > > Click here to see ratings, reviews, specifications and prices on Amazon < < <