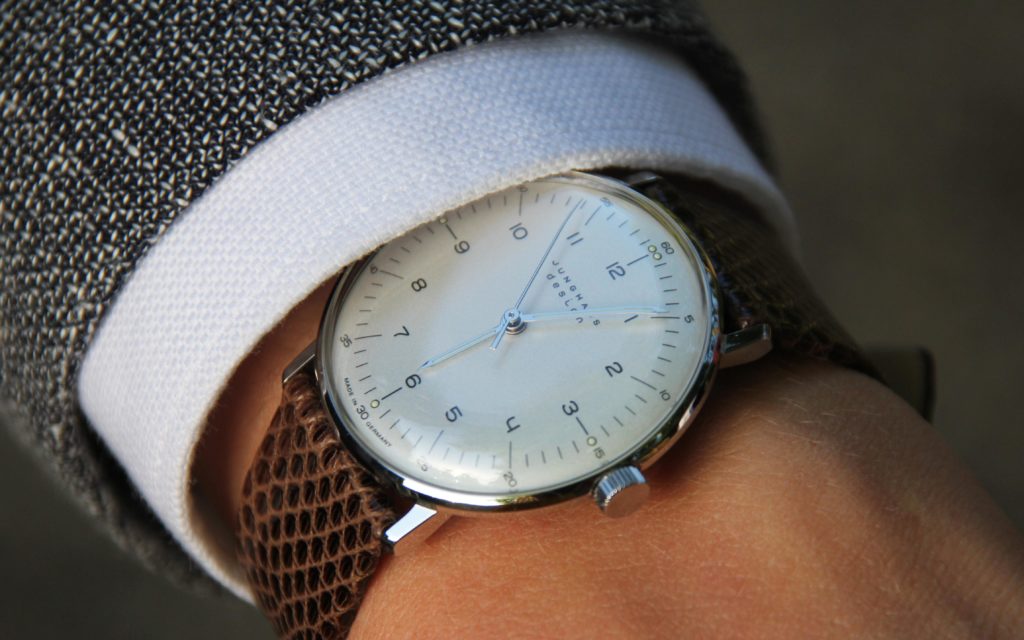 Depending on what you're looking for, a thick, chunky watch might be right up your alley. Those watches can have a certain manly appeal, and they just look rugged. But today, I'm not going to be talking about those watches.
Instead, I'm going to be talking about three of the best ultra-thin mechanical watches on the market. These watches are designed to be worn with a business suit or with any formal attire. But just because these watches make a strong fashion statement doesn't mean they're purely decorative. I've looked for watches that function well, so you're looking at reliable timepieces as well as beautiful accessories.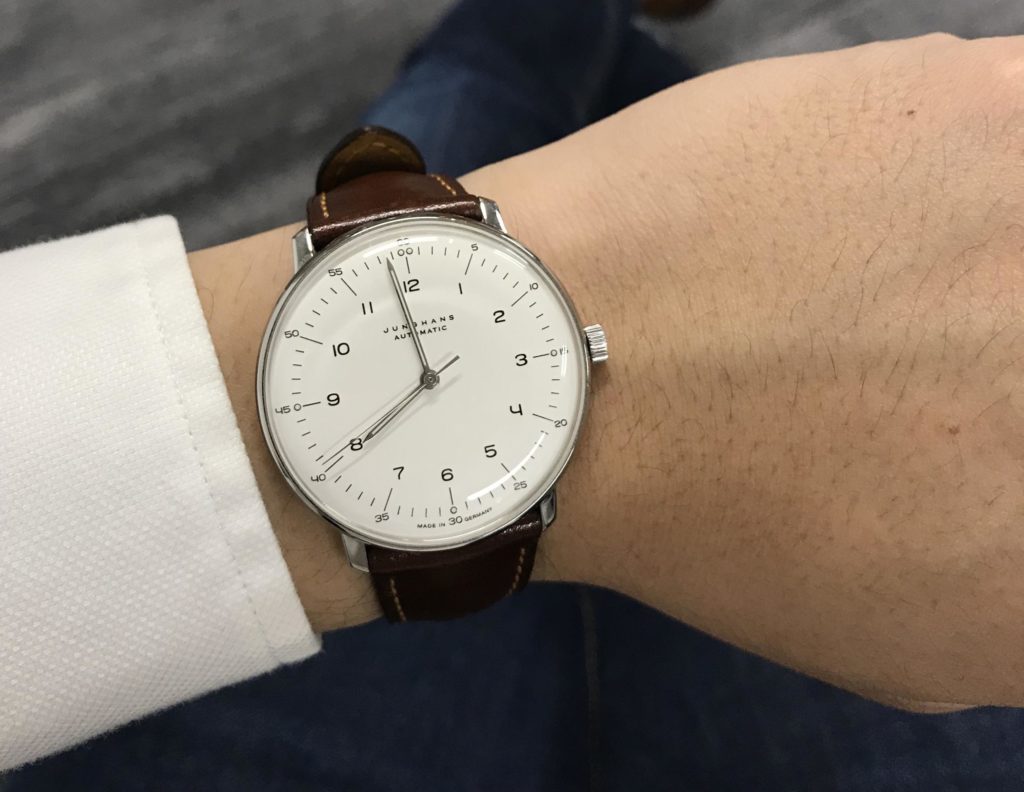 Today, I'll be starting with the 34mm Max Bill from Junghans. These watches go back to the 1960s, and have maintained their iconic design since that time. The designer and founder was a master watchmaker for Bauhaus, one of the most renowned watchmakers in the world, before he moved out to start his own manufacturing company. Today, Junghans watches are almost as well known as Bauhaus itself.
These are truly elegant watches, with a white dial and black hands and scala. There are no complications of any kind on the dial, but it's not as Spartan as you'll find on some other fashion watches. It features an inner ring of numerals that mark the hours, and an outer ring that counts off five-minute marks. Between, you'll find elegant scala, with slightly longer hashes every five minutes. All the markings are highly legible even considering their small size. The hands themselves are long and slender, with lume stripes for low-light visibility.
The case is compact, with a 34mm diameter, and a slightly longer 37mm distance from lug to lug. It's 9mm thick, and has a smooth back that lays flat against your wrist. The bezels are impressively thin, so much so that you'll wonder how the crystal manages to stay in place. Be careful about getting the Max Bill wet, though. It's only rated for 30 meters, so it's fine for the shower, but you don't want to go swimming while you're wearing it.
This watch features a hand-wound movement, which isn't something you see very often nowadays. This movement measures only 3.35mm thick, which is thin even by the standards of a hand-wound movement. But just because it's hand-wound instead of automatic doesn't mean it's lacking in quality. The movement is a caliber J805.1, which is based on the original Swiss-made ETA caliber 2801-2, and is virtually identical to the original Junghans movement that was released in the 1960s.
It's a simple movement, with no rotors or complications, which is a big reason that Junghans is able to make it so impressively thin. When wound, it offers a 42-hour power reserve, so keeping it wound is a simple, unobtrusive activity that you don't need to stress over. It also features a hacking design, so if it's ticking a few seconds fast, all you have to do is pull out the crown to stop the watch until it's accurate, then press the crown back in to resume.
While Junghans makes a big deal out of the 25-jewel movement in their advertising, but I'm not overly impressed by this particular feature. Truth is, the number of jewels is far less important than their size, quality of construction, and machining. Thankfully, all of these aspects are covered, and you're getting a very reliable movement.
The crystal is acrylic, not sapphire or glass. This material provides exceptional clarity and doesn't show dust as easily as a more traditional material. It's also not as scratch-resistant, but that's not a serious concern on a dress watch.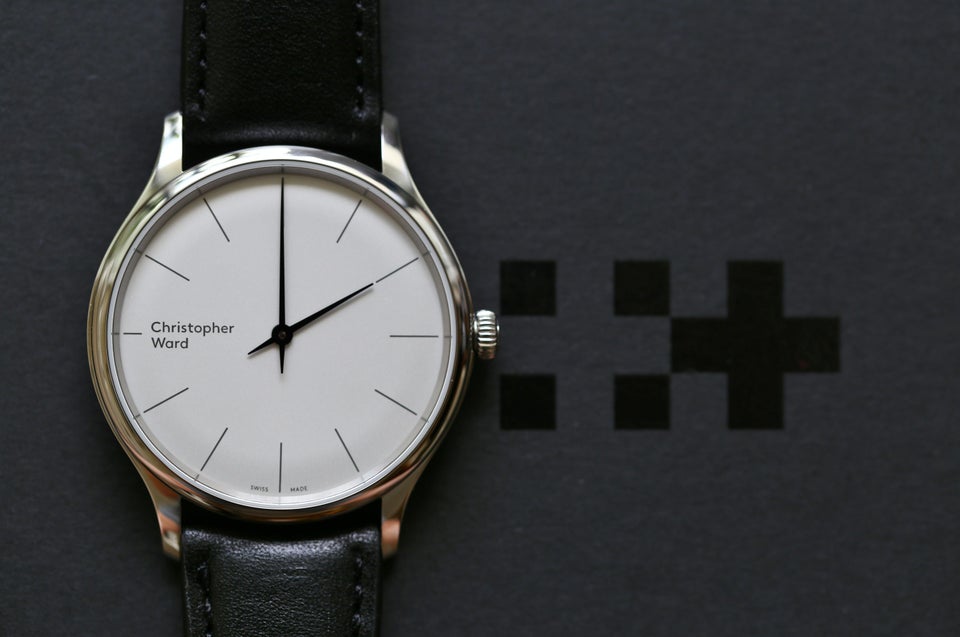 Christopher Ward is a brand that started in the UK in 2004 when three friends, including the company's namesake, discovered that Swiss luxury brands were marking up their prices as much as 34 times. That's not a typo. I didn't mean 34 percent. I meant 34 times, as in 3,400 percent. These friends also discovered that those same luxury watch components are freely available for anyone to buy on the open market.
A year later, Christopher Ward released their first watches, the C5 Malvern Automatic and the C3 Malvern Chronograph. They got a further boost when traveling lecturer and watch lover Dave Malone discovered their watches, and assumed that they were lying about offering Swiss components in such an affordable package. Determined to expose this "fraud", he bought one of their watches, intending to publish a scathing review. When he discovered how well designed they were, he ended up writing a rave review, which put Christopher Ward on the map.
Their latest offering, the C5 Malvern 595, is as minimalist as they come, truly worthy of any Swiss watchmaker or luxury brand. It was designed as part of a challenge to Christopher Ward's engineering team to develop a watch under 6mm in diameter. The C5 Malvern 595 is constructed from stainless steel, and is exceptionally thin, at 5.95mm.
For such a thin watch, the case is actually fairly large. It measures 39mm in diameter, and 46mm from lug to lug. While that doesn't exactly make it a monster, like I said, it's fairly large for the thickness. Depending on the size of your wrist, this may be a good or a bad thing, but I felt that it had a comfortable size, and the weight is just right for the size.
As with most fine watches, the 595's dial is the main attraction. The white face has an opalescent finish, with elegant black hashes at the 5-minute marks. There are no numerals or complications, and no scala to mark individual minutes. The only other marking you'll see on the dial are the words "Christopher Ward" printed at 9 o'clock. The hands are gold in color, and have a slim profile. The hour hand extends right to the end of the hashes, while the minute hand extends almost to the bezel. The bezel itself has a beautiful round profile, just about as wide as it is thick.
The crown on this watch is a simple push/pull, but without any complications, that's all you need. It's water-resistant to an impressive 300 meters, which is some of the most powerful water protection I've seen on any watch, anywhere.
Inside, you'll find an ETA 7001 movement. This movement is only 2.5mm thick, significantly thinner than ETA's more popular 2801 movement. It's slightly slower, at 21,600 beats per hour, but that's a relatively minor complaint.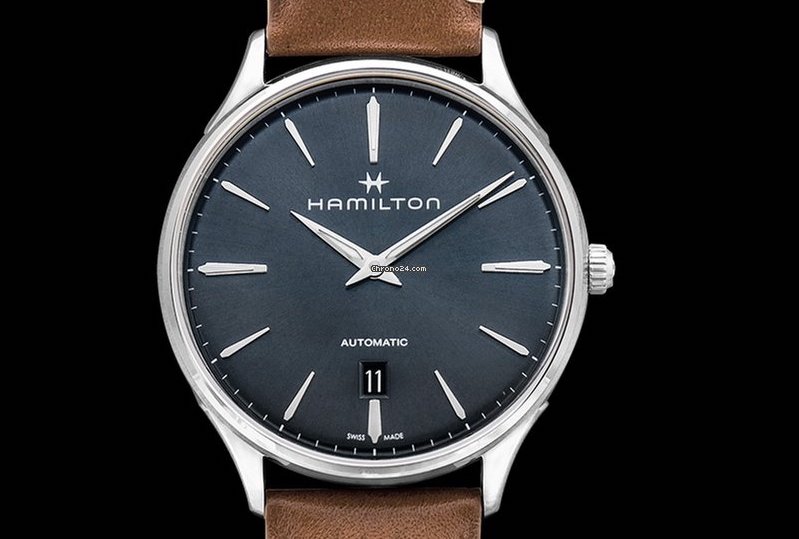 Hamilton is part of the Swatch group, which is known for American-manufactured Swiss watches. They're respected among middle-tier watchmakers, and are comparable to other Swatch brands like Tissot, Mido, and Certina.
They released the Thinline Auto earlier this year as a 40mm alternative to their 38mm Field Material and their 38 and 42mm American Classic Collection. There's also a 43mm variant of the Thinline Auto, so be careful not to get your wires crossed while you're buying it. The case itself measures 9mm in thickness, which isn't exceptionally thin, but it's slimmer than most cases, and it's slimmer than almost any case in this mid-sized diameter. The watch weighs only 1.87 ounces. If you prefer a light watch, you'll love the Thinline Auto, because you'll barely know you're wearing anything.
The dial on this watch is a brushed bronze, with just enough gold shine to match a sharp pair of cufflinks. It features long, thin hashes to mark off the hours, with wider, ridged hashes to demarcate 3, 6, 9 and 12 o'clock. A date window decorates the 6 o'clock spot, and there are no subdials or other complications to clutter up the rest of the dial. The minute hand is very long, extending most of the way to the edge, while the hour hand is short and squat. Both hands are painted with lume stripes for visibility. While the scala aren't marked, there's really no need for that on a formal watch.
The bevel on this watch is thin and rounded, providing both a wide view of the dial and an elegant profile. I particularly liked the lugs, which have a long, swooping profile. This may cause a problem if your wrist is on the small side, but I appreciated the curves, and the gaps between the top grain leather band and the top and bottom of the case provide an attractive bit of negative space without being too open.
My only complaint about this watch was the crown. It's very small, and I really had to dig in with my fingernails to pull it out. Then again, we're talking about an automatic watch. It's not as if you have to pull out the crown and wind it on a daily basis. Also, because of its flat profile, it doesn't dig into your wrist when you flex your hand.
This watch features an ETA 2892-A2 movement, which is the standard automatic movement you'll find on most Swatch watches. It ticks at 48,800 per hour, and in a quiet room you can hear it clearly, even without raising it to your ear. When you're not wearing it, the power reserve will last for 42 hours, so leaving it home for a day is not a problem.