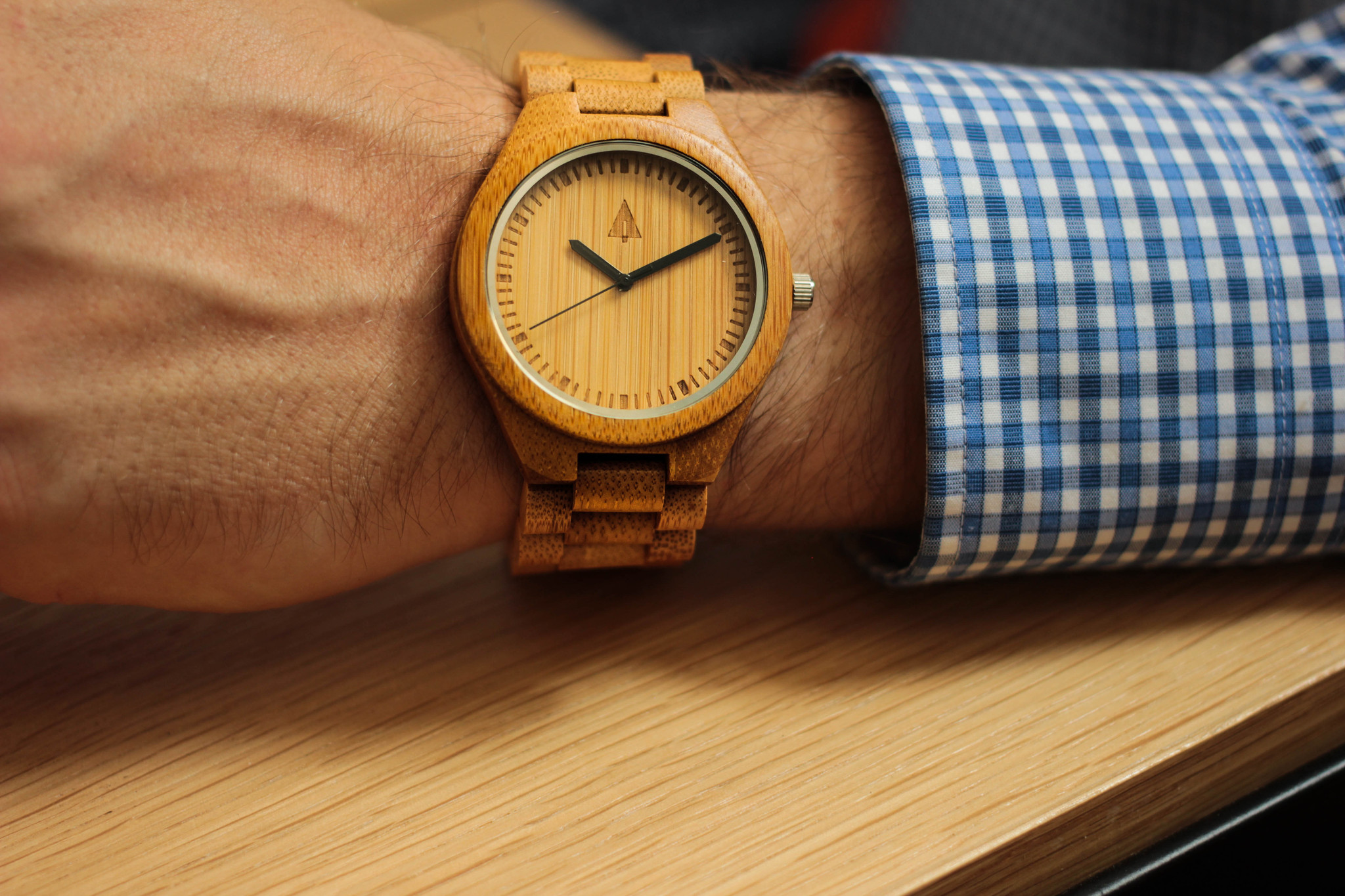 Wood is the trend of today's watches. Using wood as a watch material offers a nice balance between modernism, trendiness and craft. Although there are a lot of businesses in the marketplace from which to purchase, there are only a handful of watch crafters that truly deliver the top quality. Here is a list of the five best handcrafted wooden watch brands to keep eyes on.
Jord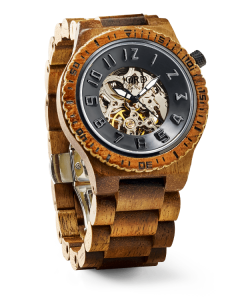 Jord was founded in 2013 with a focus on modern watches structured in sustainability and efficiency. The company's motto is that "they make watches for people who don't just have somewhere to be, they have somewhere to go." Indeed, that motto holds true as most people who experience Jord brand watches first notice that the timepieces are extremely light and durable. In addition to using sustainable source wood, Jord watches are made with sapphire glass to make them scratch resistant, beautiful and top quality. These watches are handcrafted and sold by series, meaning that each watch is a one-of-a-kind product.
The price tag for Jord watches currently ranges from $139 to $395 depending on watch design, movement and size. All watches are handcrafted and sold from their Missouri location, but shipping is offered worldwide. Additionally, the company offers a number of movements, including, Seagull, Citizen-Miyota, Ronda Normtech and Seiko. Most watches are customizable within their respective series and custom engraving and sizing is offered at additional cost.
Jord's largest value proposition is in the application of merging art, experience and journey. As the company states on their website, these watches are not just about telling time but are focused on making time truly count. As a result, new watch series are introduced on a regular basis to keep product lines fresh, interesting and unique.
Although the company is committed to quality products, a one year warranty is offered for manufacturer defects and general damage that might occur due to accidental rough use. Repairs are also offered should they be needed after the one year mark for a relatively nominal fee and is handled onsite at their repair facility.
Jord offers high quality, sustainable wood watches that are truly unique products. The price range for these timepieces is accessible for most budgets, but can vary based upon the company's broad offerings in material used and movement.
Mistura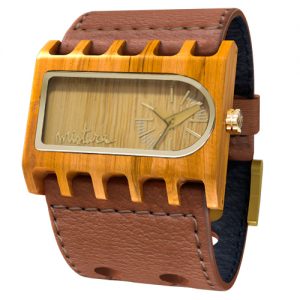 Founded in 2011 by Columbian immigrants, Mistura offers watches that are built on heritage, history and following the dream. These watches are a combination of the company's key values, which are style, elegance, quality and sustainability. At first sight, these watches take on a very modern, almost art deco appeal. Many people find benefit in Mistura in that their watches are highly customizable and come in many different product offerings.
Mistura uses five different types of wood to create their timepieces, including, Pui, Teak, Ebony, Purpleheart and Bamboo. These woods were chosen carefully since they are all highly resistant. Most Mistura watches use Japanese Quartz by Citizen for the movement; however, some higher end models include Swiss Ronda movement. Perhaps the biggest claim to fame for this brand is that some watches are even made with real flowers that are sourced from Colombia.
Today, Mistura operates out of Texas and ships their watches worldwide. Prices range widely for these timekeepers, but generally start around $189 and can go as high as $789. The reason for the large spread in price is largely driven by the model of watch selected. But, once a model is chosen, there are a large number of options for customization, which come at no additional cost.
The Mistura value is built around its founding: hard work, following the dream and focus on tradition and heritage. This blend of style uniquely positions Mistura as a high-quality brand with products that are unique and well crafted. Nevertheless, the company does offer a five- and two-year warranty depending on the date of purchase. This warranty covers general damage caused by natural reactions and manufacturer defects. All repairs are handled at the Mistura repairs facility.
Tense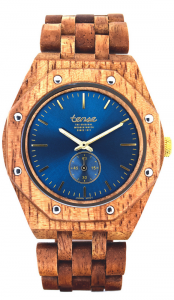 Tense was founded by Ken Lau in 1971 in Vancouver, British Columbia. Lau began his career in the watch industry first by starting as a clock designer and then moving into the wristwatch sector later in his career. Tense has over 50 years of professional, watch making experience that is highly driven by Ken Lau's continued involvement in the company.
Tense designs watches for both men and women, and uses a variety of woods, including walnut, zebrawood, rosewood and dark sandalwood. The watches typically come with a stainless-steel clasp and can either come included with a full wood or leather strap. The company primarily provides watches with Miyota watch movements or Rondo 6004D Swiss movements.
The price range for Tense watches varies significantly from design to design. Watches are priced between $180 and $1,259, depending on design. The company offers a two-year warranty that only covers manufacturer's defects that exist at purchase. However, Tense also offers repair services at their repair facility for an additional cost. Tense also offers an extensive customer service page on their website that answers a number of questions ranging from purchase, delivery and payment options.
Tense watches are built on the company's core beliefs of quality and craftsmanship. Coupled with over five decades of industry experience, these watches are high-quality and are built with 100% recycled and reclaimed wood. Sustainability is a key quality of the Tense brand.
TMBR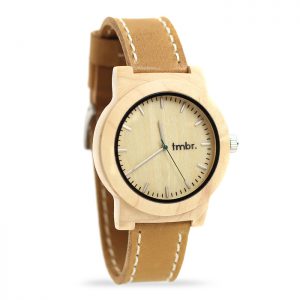 TMBR is an affordable wooden watch brand that was founded in 2011 by two brothers. The company operates primarily from its two locations in Ohio and Utah. TMBR's focus is on making a statement. This is accomplished by creating watches that are minimalist in design and are able to be worn on a daily basis.
Watches made by TMBR are made with real leather straps and scratch resistant sapphire glass. These quality materials help to capture TMBR's mission of making products that mold with different lifestyles. A wide array of wood is also used in crafting these timepieces. These woods include, rosewood, spruce, zebrawood, cherry, walnut and sandalwood. Additionally, most TMBR watches are made with Japanese Quartz movement to support the product's commitment to reliability and every day wear.
TMBR's watches are very affordable, ranging from $65 to $79. Custom engravings are also offered on all models for a nominal, additional cost. All watches come with a 90-day warranty.
Brand value for TMBR products is built around a number of vertically integrated, all wood products. Watches are the company's focus, but in addition to wooden watches, wood cases and sunglasses are also popular products that fit with the appearance and durability of their timepieces.
Original Grain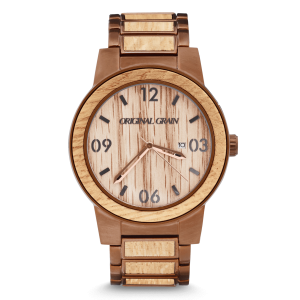 Original Grain is a company founded on values of sustainability and giving back. In fact, for every single watch sold, the company plants ten trees with a non-profit organization focused on sustainable forest practices. Founded in 2011, Original Grain operates out of its California facility and delivers a wide range of watches for both men's and women's styles. Each watch is hand crafted to be carefully unique and is sourced from special materials from around the world.
Watches made by Original Grain come in a number of different styles. All natural varieties of wood, steel and Italian leather are components used to craft these genuine timepieces. Popular wood used includes, rosewood, ebony, zebrawood, mahogany, maple and vera wood. While the company focuses on making most watches with mineral crystal glass, sapphire glass is also offered for those who want to purchase a more resistant watch. Original Grain uses Japanese Miyota Quartz movements in a majority of their watches.
A watch from Original Grain runs between $126 and $499 depending upon which watch collection is selected and any features added. The company does offer a 12-month warranty that only covers the movement of the product. The warranty does not cover damage from daily or general wear and tear.
Original Grain is a unique company that has a vision of giving back. Its unique value add is that these high-quality watches contribute to the greater mission of improving the world through sustainable foresting initiatives. These watches come in a wide variety of designs that are able to fit with anyone's preferred style.
Wooden watches offer sleek, appealing and trendy products that can add value to any wardrobe. Today's market includes a number of suppliers of these types of watches, but the five best brands are Jord, Mistura, Tense, TMBR and Original Grain. These companies are all committed to providing high-quality wooden watches but are also focused on a greater purpose. Many of these companies are committed to sustainability and heritage, which highly differentiates their products from similar wooden watch suppliers.
About The Author
This article is written by Anthony Valentine, who is a wood watch aficionado, and also runs his own wood-watch e-commerce website http://www.rusticlub.com.