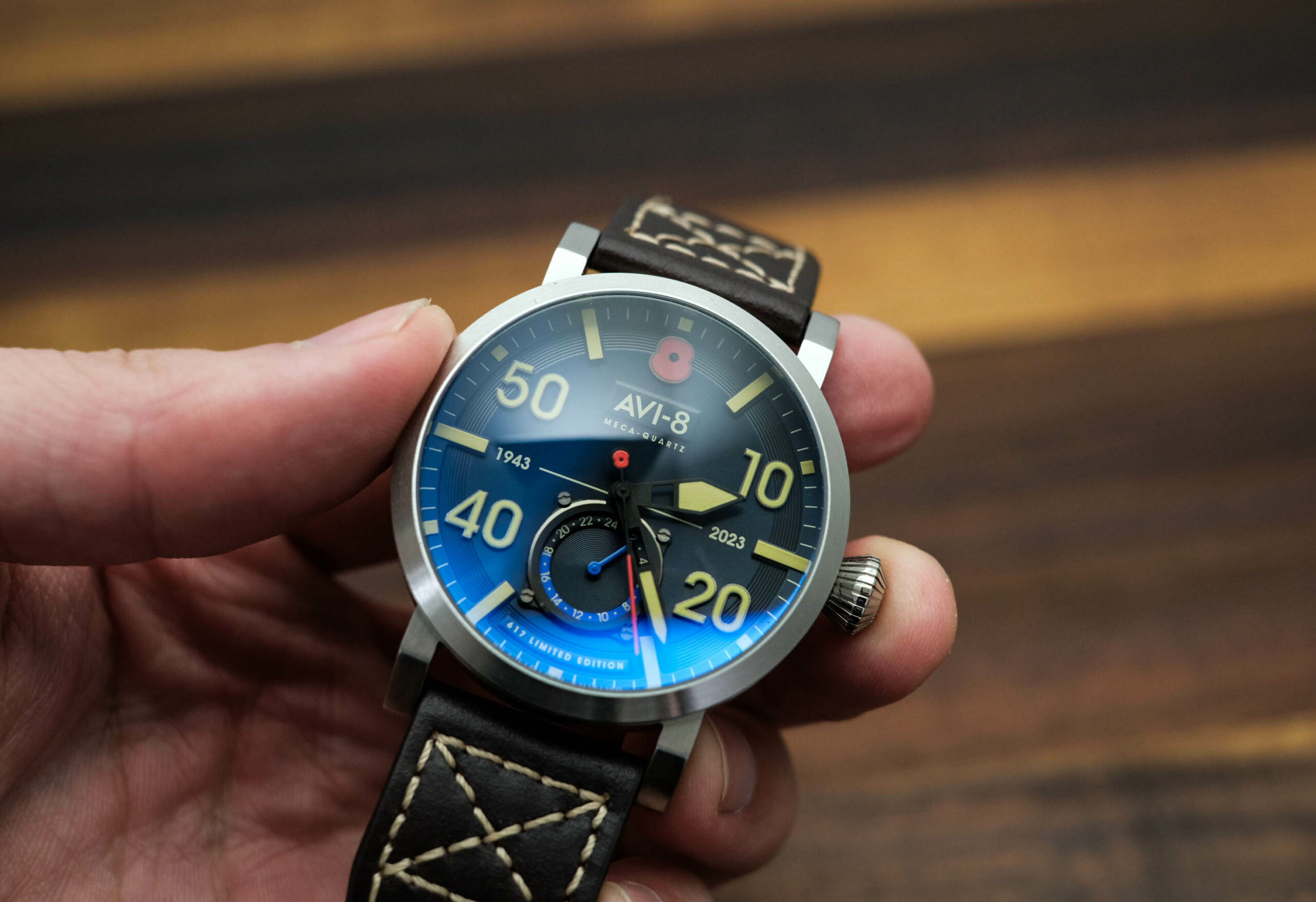 Its name doesn't exactly roll off the tongue, but the AVI-8 Dambuster 80th Anniversary Royal British Legion is a stunning field watch with decades of history behind it. And beyond this, it is nothing short of a stunning watch at a great price.
At a Glance
Case Size- 43mm.
Case Material- Stainless Steel.
Strap Material- Genuine Leather.
Movement- Meca-Quartz.
Functionality- Hours, minutes, and seconds hand with 24 Hour Subdial.
Price– £225 GBP/$380 CAD.
Availability-. Limited to 1,775 pieces.
Heritage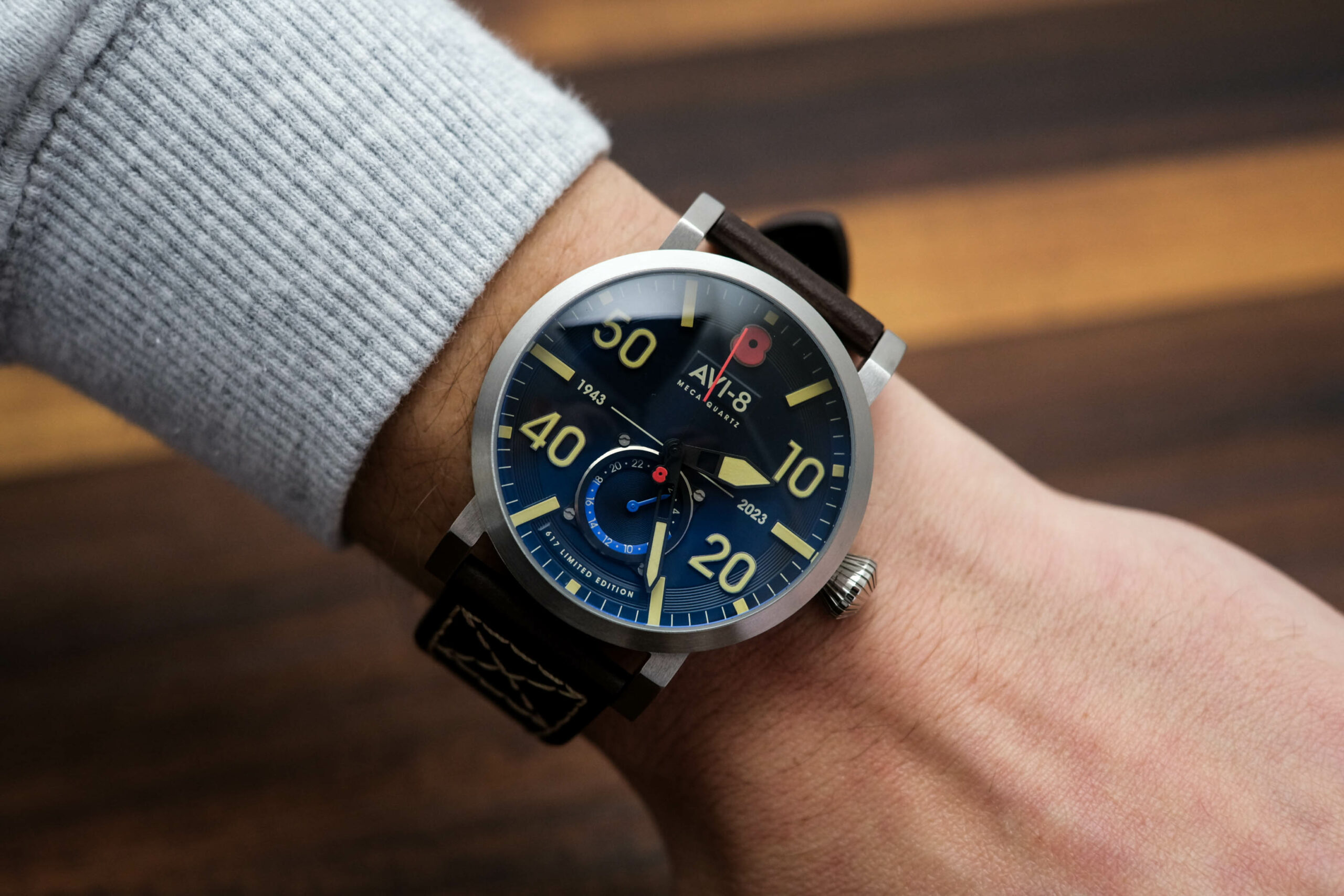 The heritage behind this timepiece is just as interesting as the watch itself and is something that we've come to expect from AVI-8 over the years.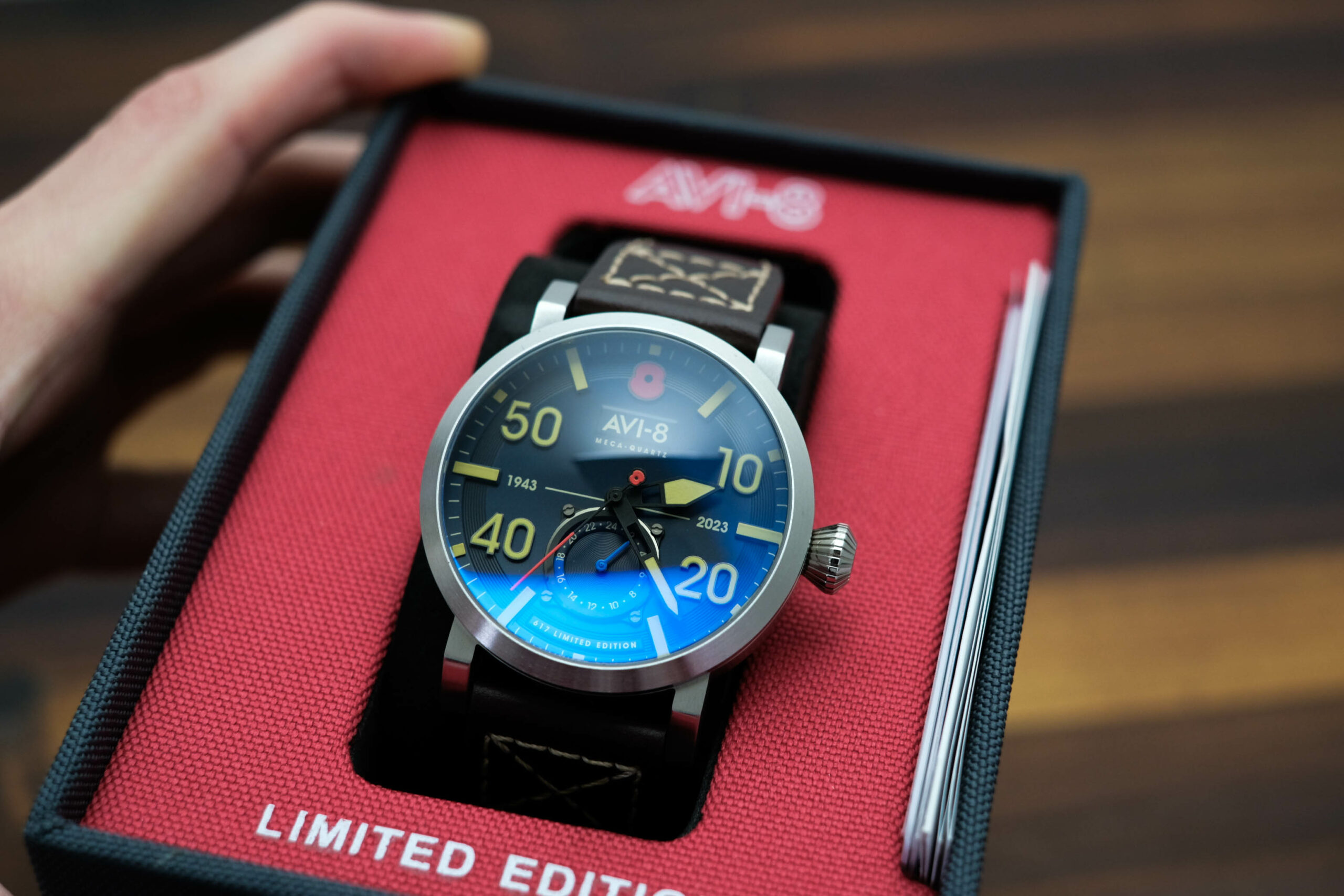 The 'Dambuster' gets its name from an operation undertaken by the British Royal Airforce in World War 2, in which a small group of pilots led by Guy Gibson undertook a mission against all the odds to strike three dams in Germany. This, in turn, destroyed two of Germany's major hydroelectric power stations.
If you're interested in learning about this in more detail AVI-8 has a really interesting section on their website.
Design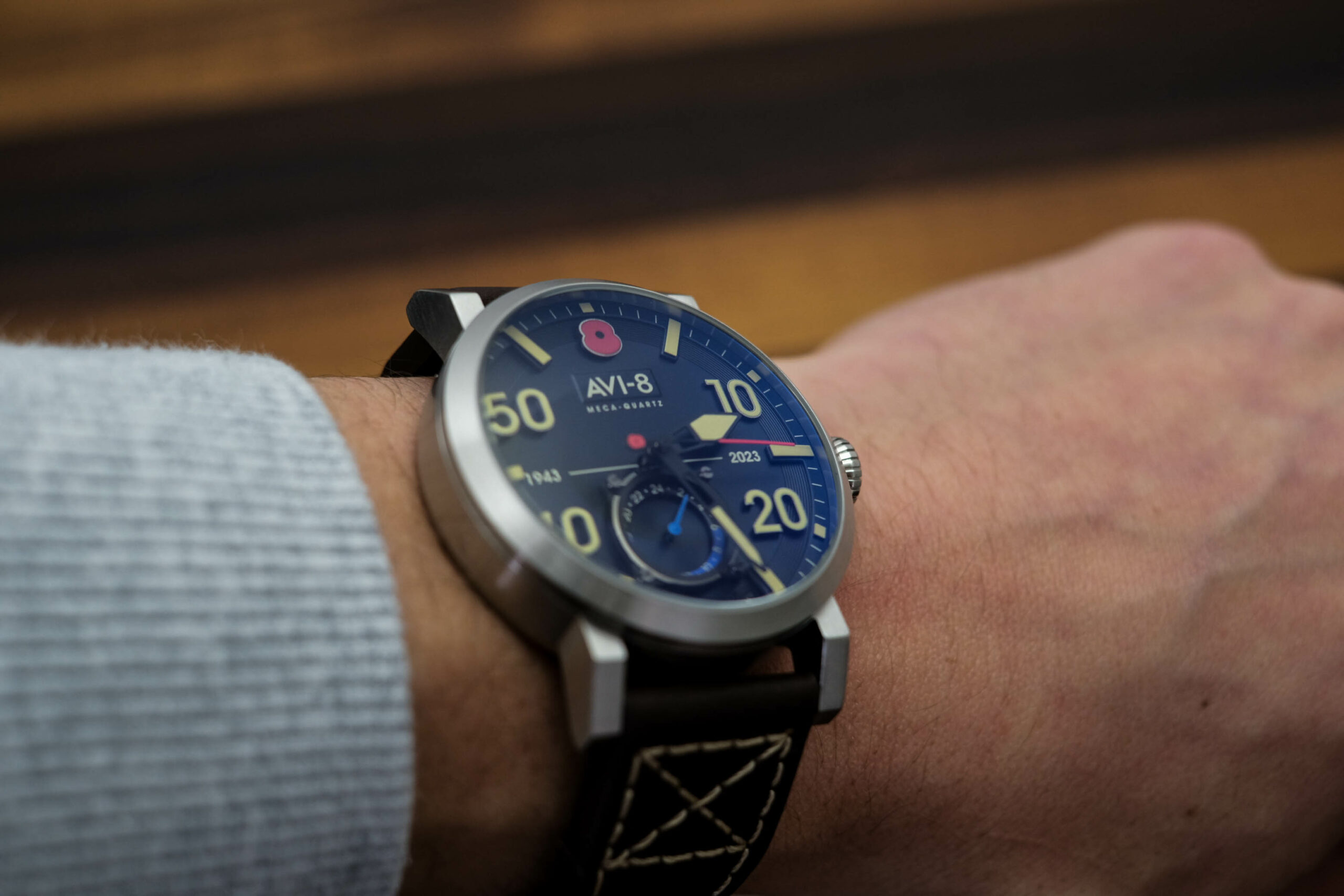 The first thing that will strike you about the design of the Dambuster is those huge Arabic numerals at 2, 4, 8, and 10 O'clock. These numerals contrast with the dial, to make for a design that's as practical as it is beautiful. The 24-hour subdial below the hands gives the Dambuser an added layer of depth, and the brown layer strap adds a touch of All-British refinement.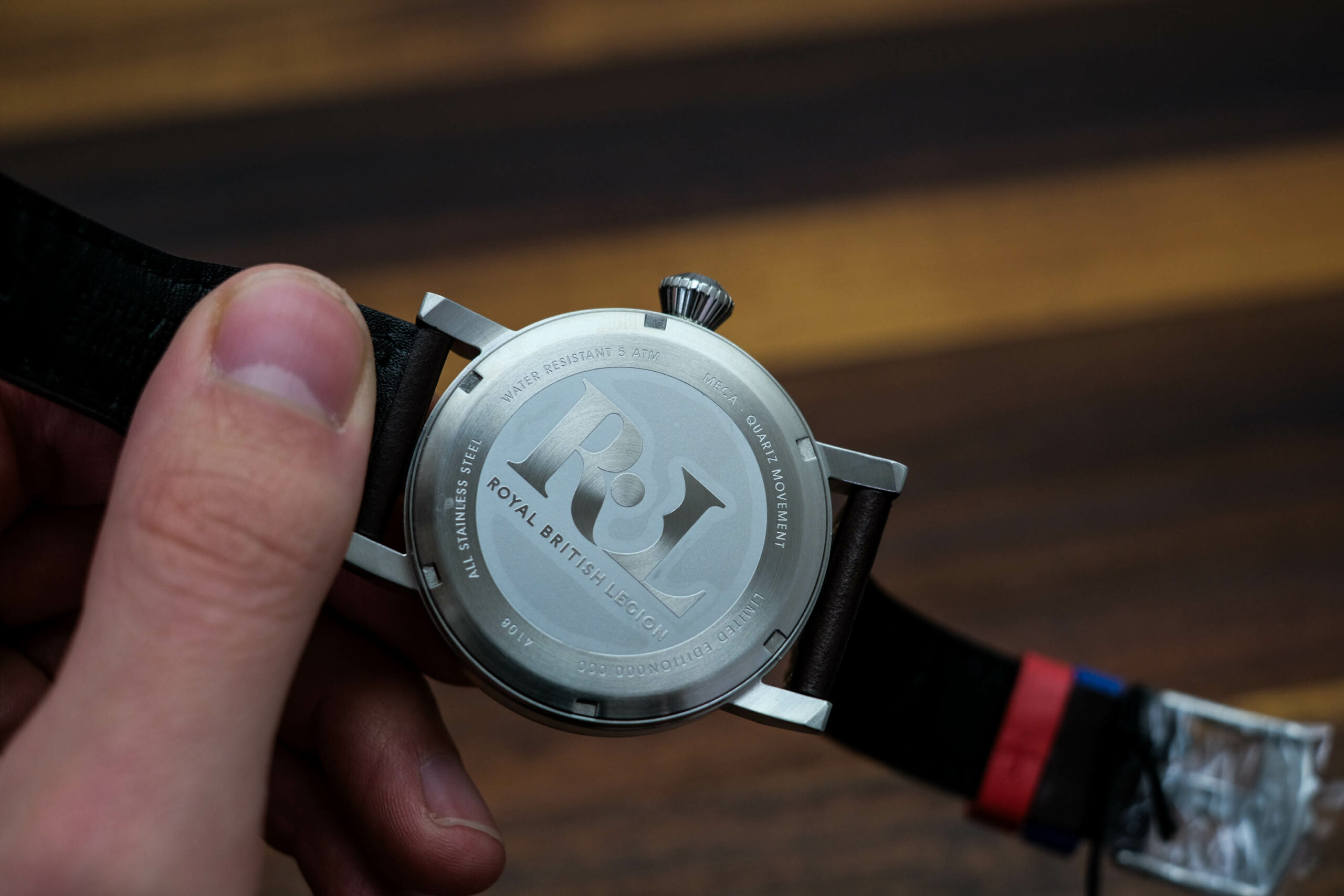 And as you look closer, you'll notice so many little design cues that point to the heritage behind this watch. For instance, at the 12 O'Clock position, on the end of the second hand, on the crown, and on the strap buckle, you'll be able to see a small poppy, which is the Commonwealth's symbol for the remembrance of fallen soldiers. There's also a tribute to the Royal British Legion engraved on the case back.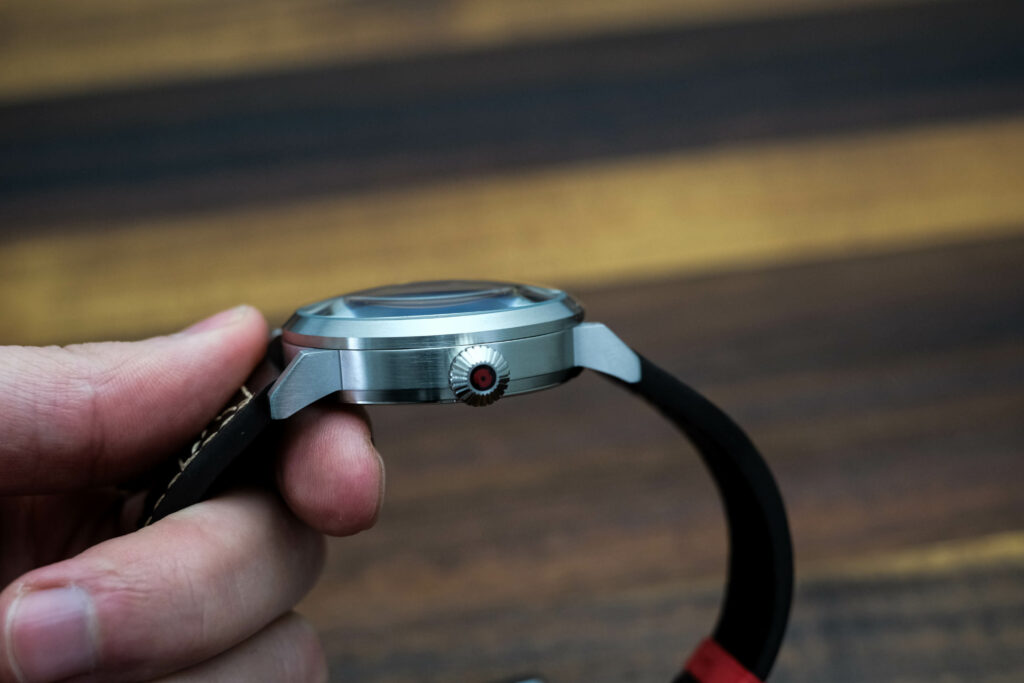 Our favorite colorway is the 'Navy Blue' option, which features a rich blue dial and contrasting yellow hands, numerals, and indices. But if the navy blue colorway doesn't take your fancy, there are four different choices to go for, including:
Merlot Red.
Midnight Blue.
Carbon Brown.
Onyx Black.
One last thing to note about the Dambuster's design is just how good the quality is. For less than 400 bucks, you're getting a stainless steel case, an anti-reflection coated mineral lens, and a high-quality leather strap, from a microbrand no less! This isn't to say that the Dambuster feels like a luxury timepiece, but it certainly feels a lot more expensive than that price tag.
Meca-Quartz Movement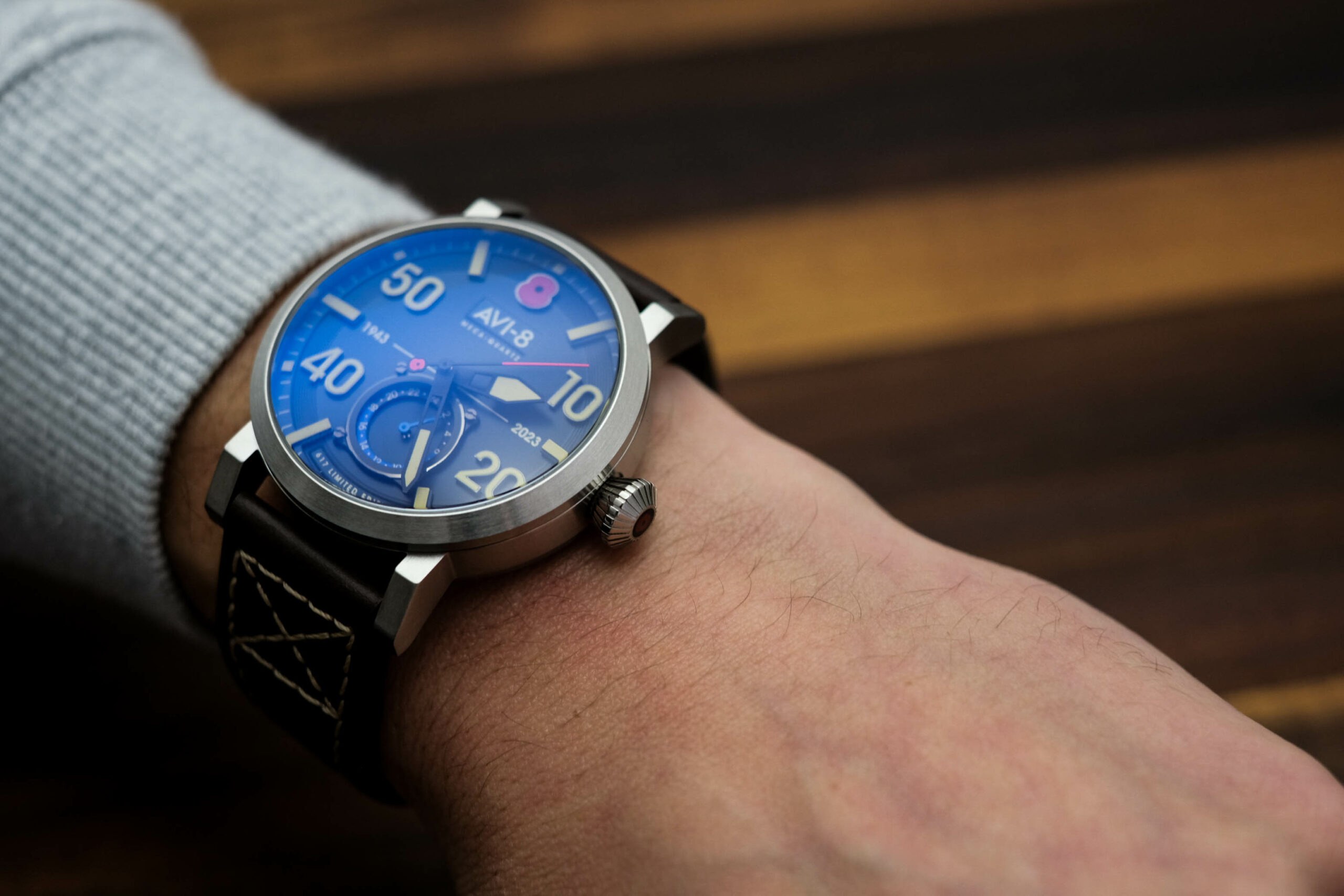 The Dambuster, like a lot of watches in AVI-8's lineup, makes use of a Japanese Meca-Quartz movement, which is essentially a hybrid movement containing a quartz module and a small portion of mechanical gears. In the Dambuster, this translates to a standard quartz movement with the inclusion of a sweeping seconds hand. And while it's not as good as a pure mechanical movement, this does represent a strong compromise between reliability, looks, and price.
AVI-8 hasn't posted any accuracy ratings with this movement, but as a meca-quartz, you shouldn't experience any noticeable fluctuations.
Price and Availability
The Dambuster is available right now on the AVI-8 website and is priced at £225/$380 CAD. As for availability, the run has been limited to 1,775 pieces.
For each watch sold, AVI-8 will also donate £17 ($29 CAD) to the Royal British Legion. The company has committed to donating to this cause since 2021 and has raised over £55,000 ($93,000 CAD) to date. It's awesome to see a microbrand giving back to the community in this way, and it's also a great avenue for watch enthusiasts to support a great cause.
Final Thoughts
Ultimately, the AVI-8 Dambister 80th Anniversary is a gorgeous watch, but it does so much more than just tell the time. It serves as a constant reminder of the struggles that our ancestors went through and would make for a fine addition to anyone's collection.
For more information visit the official AVI-8 website here.