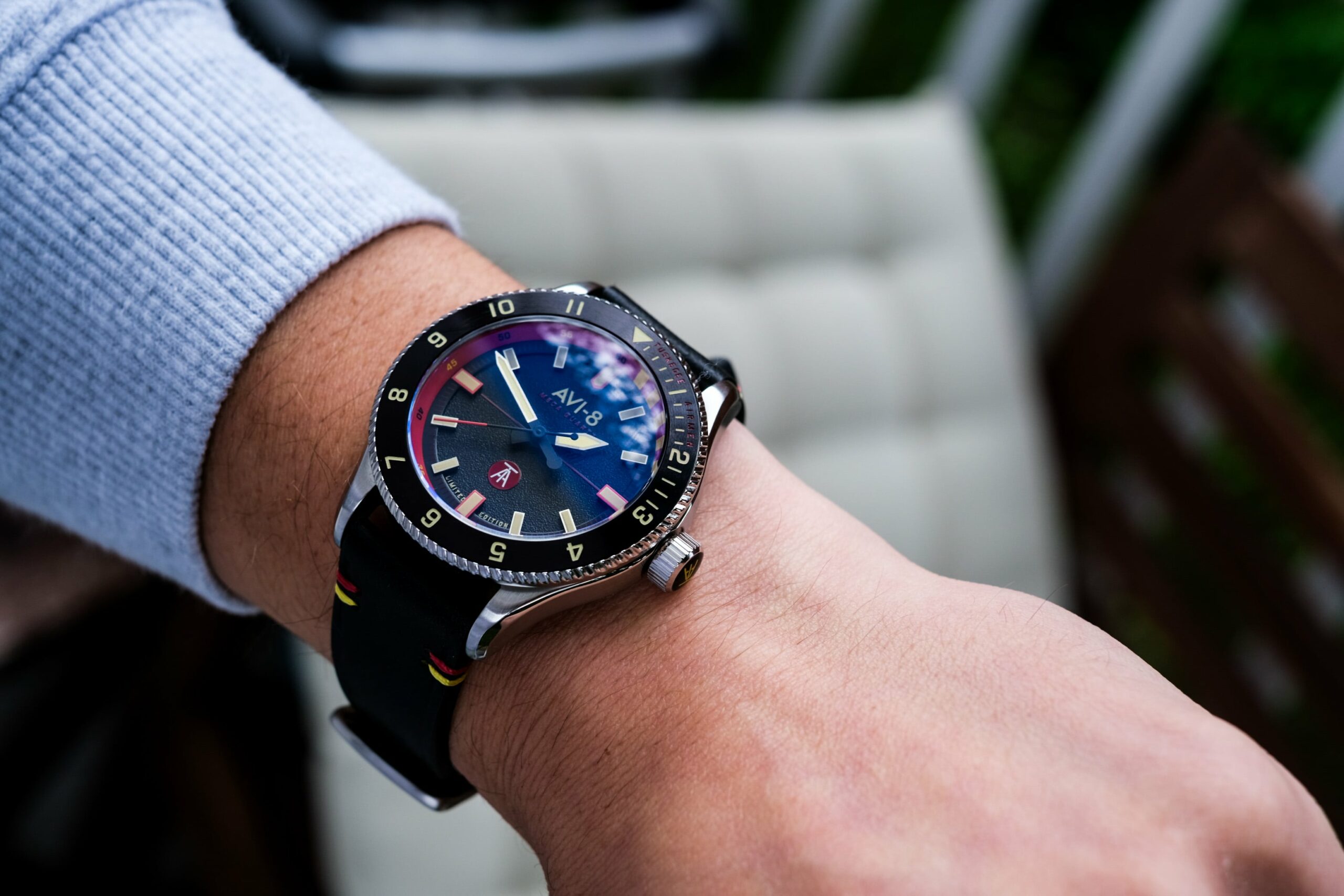 AVI-8 is an awesome microbrand offering watches that pay homage to the deep history of the aviation field. Recently, they released a limited edition model centered around the legacy of the Tuskegee Airman. For around $300, this watch offers decades of heritage, a reliable movement, and a pretty versatile set of straps. Keep reading to find out if the Tuskegee Airmen Meca-Quartz is for you.
Movement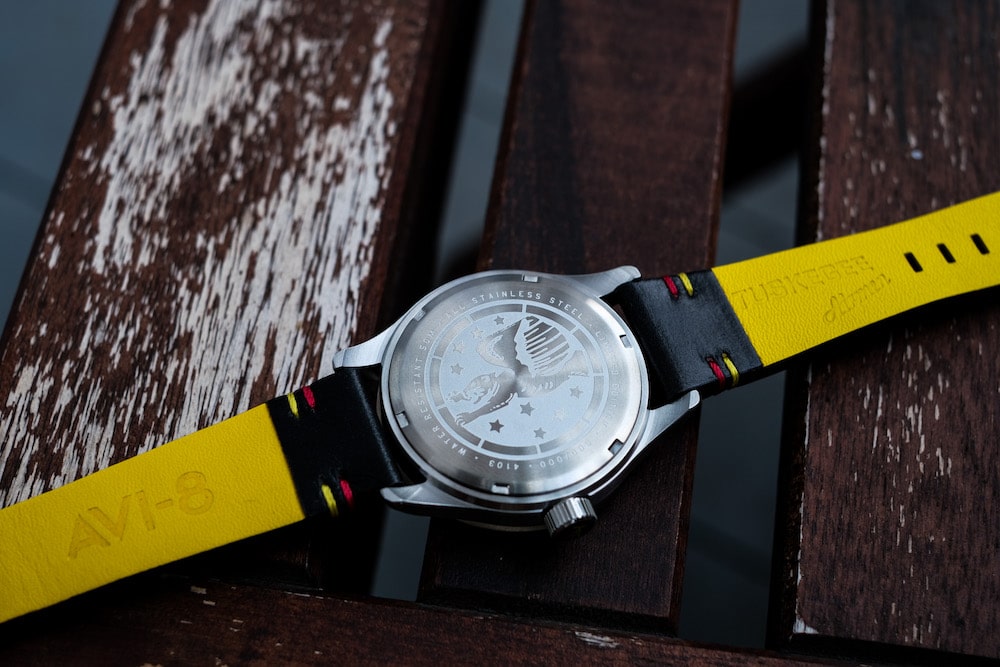 The Tuskegee Airmen is powered by a Seiko Meca-Quartz movement. Generally, quartz movements aren't as highly regarded as mechanical movements due to their slightly reduced complexity, and the movement in the Tuskegee Airmen alone may turn some views off of this watch.
However, the purpose of this watch isn't to showcase intricate engineering- it's a homage to the Tuskegee Airman and a way to raise money for the Tuskegee Airmen Inc. Furthermore, despite not being as prestigious as other mechanical options, the Seiko movement in this piece is very accurate and will keep time virtually perfectly for around two years, until the battery needs replacing. So, unless you buy a watch solely for the movement, this really shouldn't bother you on a day-to-day business.
Dial and Bezel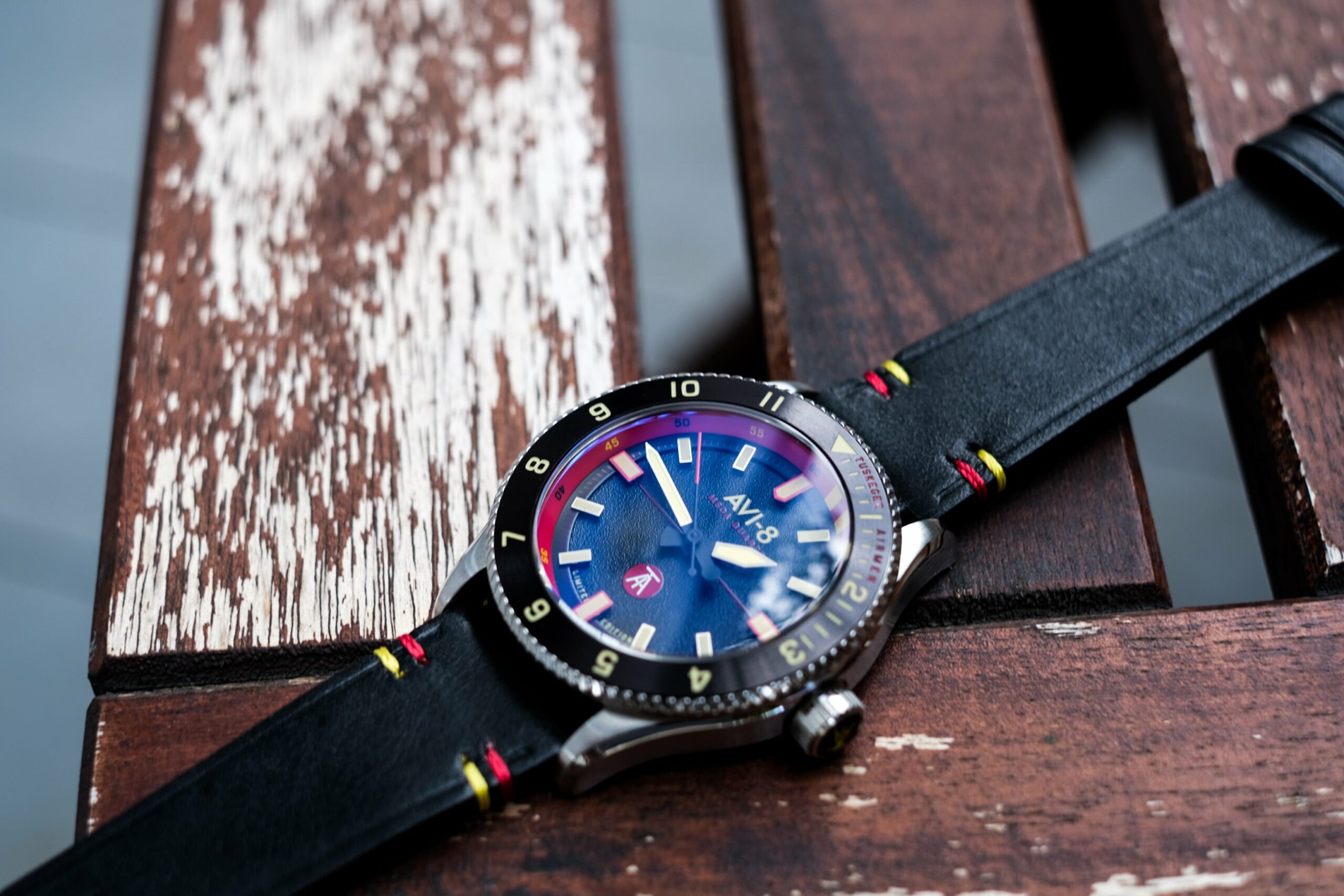 The AVI-8 Dial comes multi-layered, with a two-tone color system that varies depending on the colorway you choose. The dial also features the AVI-8 logo just above 6 O'Clock, and "the word AVI-8" below 12 O'clock. The dial overall feels very vintage and unique, and at 40mm, it'll fit most wrists with ease.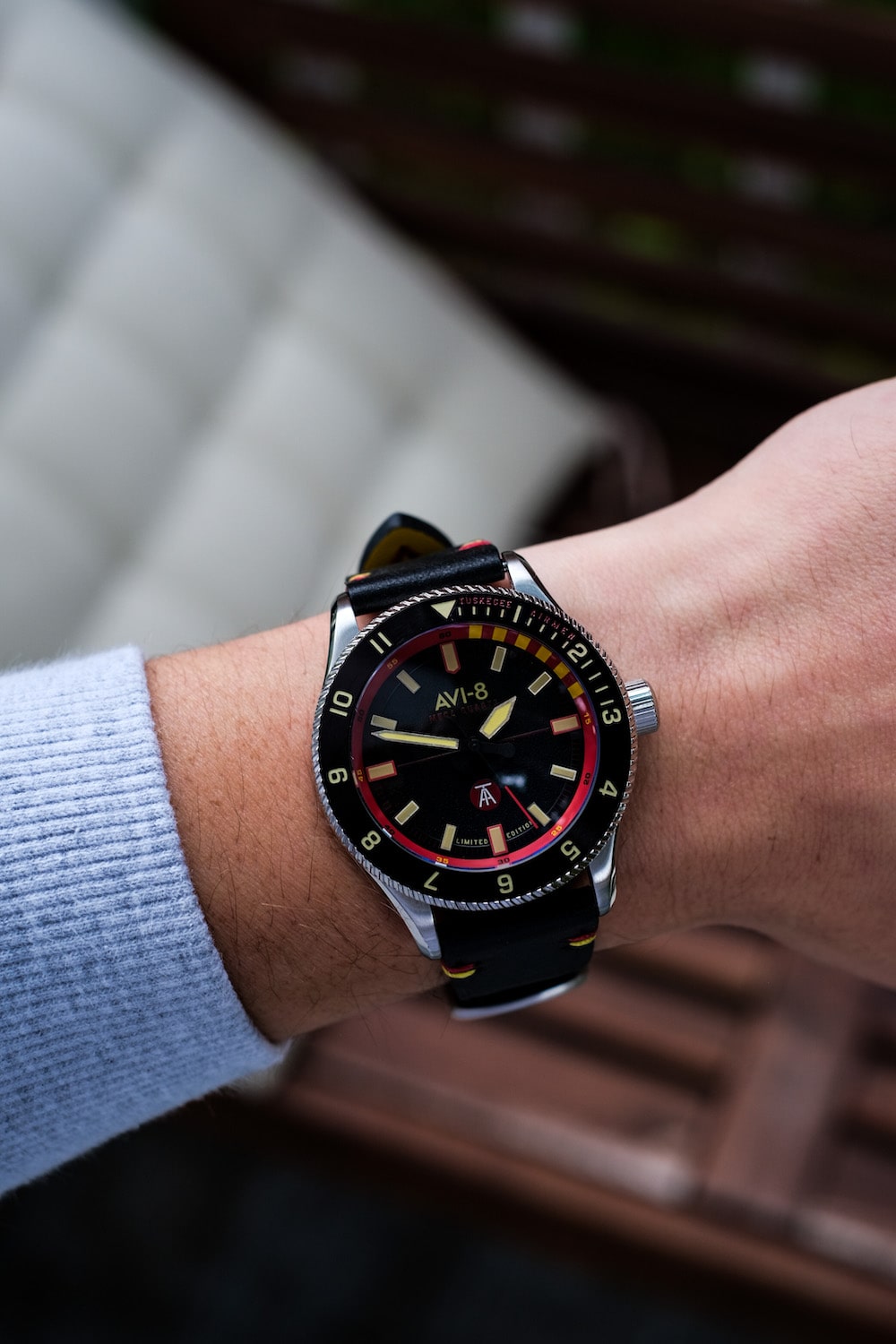 The indices and hands are chunky and easily legible, even in dark conditions thanks to a Swiss luminous coating. Another surprisingly good feature is the seconds hand, which moves in a sweeping motion- something you don't generally see in quartz watches.
Finally, the bezel is made entirely from stainless steel, giving it a sturdy and dependable feel. The bezel is fully functioning too and can turn in both directions. Pilot watches are generally used to calculate airspeed and calibrate airplane functions, so for most people, the bezel is going to act more as an aesthetic piece than a functional one.
Colorways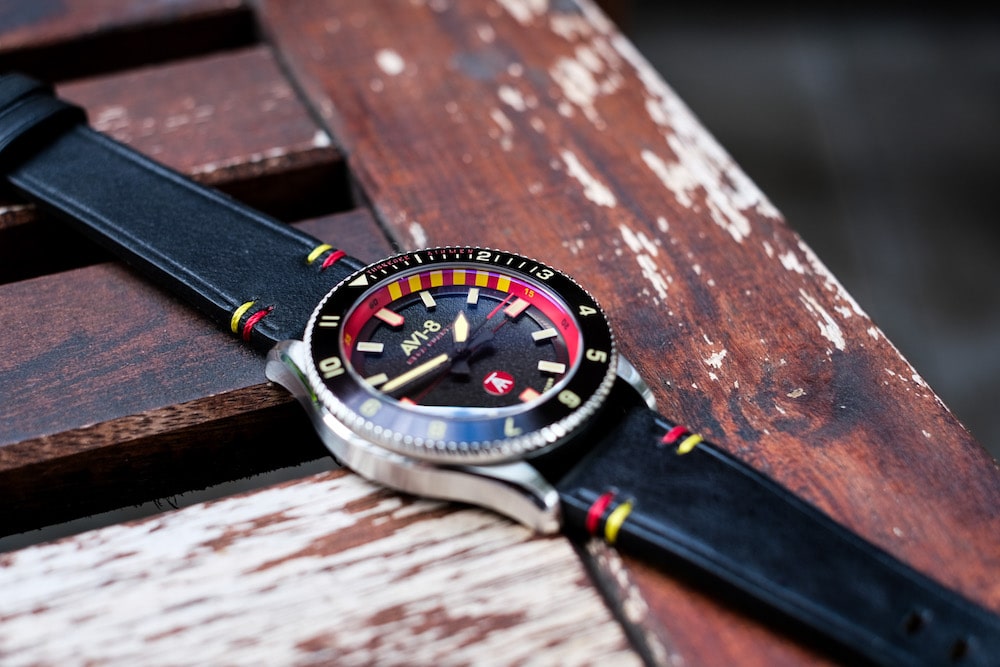 The AVI-8 Airmen comes in four different colorways, each offering something unique. These colorways are all named after a location where the Tuskegee Airmen squadrons have been based in the past, adding to the history and heritage of the model.
The colorways are as follows:
Lucera- The Lucera model sports a blue dial and bezel, with a yellow accent on the inner bezel between 12 and 3. You'll get a blue Nato strap too.
Torrento- The Torrento model keeps the same blue bezel but has a white dial, with a red accent between 12 and 3. It comes on a blue leather strap and you'll get a black Nato strap in the box.
Ramitelli- This model sports a black dial and white face with a burgundy leather strap and a black Nato strap. There's also a yellow accent between 12 and 3.
Licata- This model comes in nearly all black, with a red inner bezel. The accent between 12 and 3 features a yellow and red checkered pattern.
What's in the Box?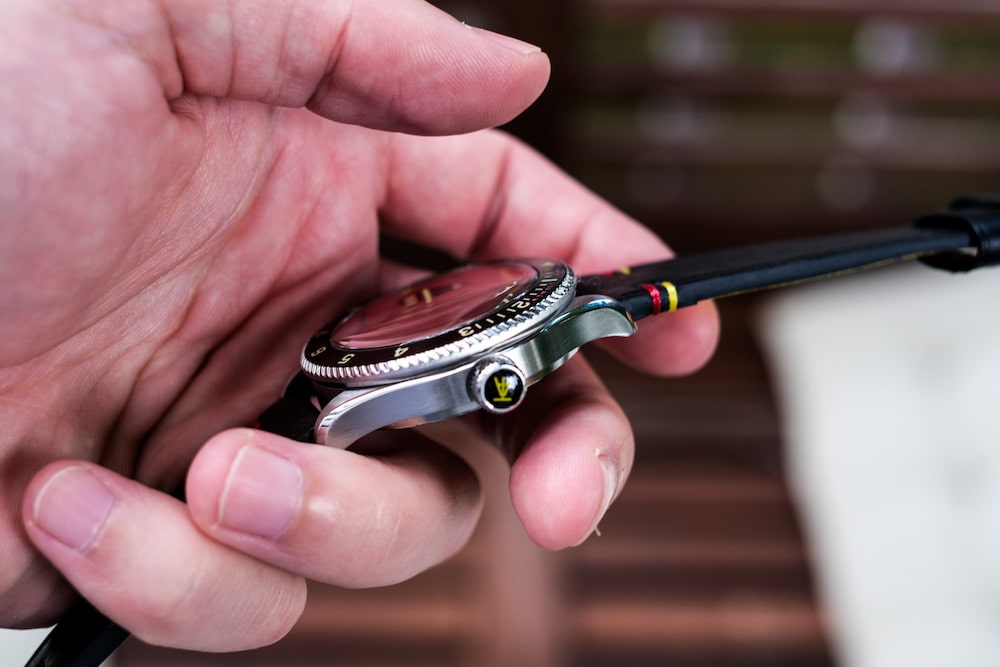 In the box, you'll of course get your watch on the stock leather strap. You'll also be given a free Nato strap, with a different color depending on the model you selected. To change the strap, AVi-8 provides a high-quality watch-changing tool, which is a very nice touch. Finally, you'll get a warranty card and an instruction manual.
The box itself is actually worth mentioning here. The inside of the box is covered with portraits of famous Tuskegee airmen from various squadrons. This gives the box a very unique look and really adds to the heritage that AVI-8 is going for with this watch. It's not made of a particularly expensive material like a Patek or Omega box, but nevertheless, it'll still make for an interesting and unique memento for your watch shelf.
Price and Availability
If you want to get your hands on one of these watches, expect to pay $290 (£310). Considering this is a limited edition piece, and the fact that you're getting two straps included, the price isn't bad here.
The Tuskegee airman is limited to 1,195 pieces, but there are still plenty in stock on AVi-8's website.
Final Thoughts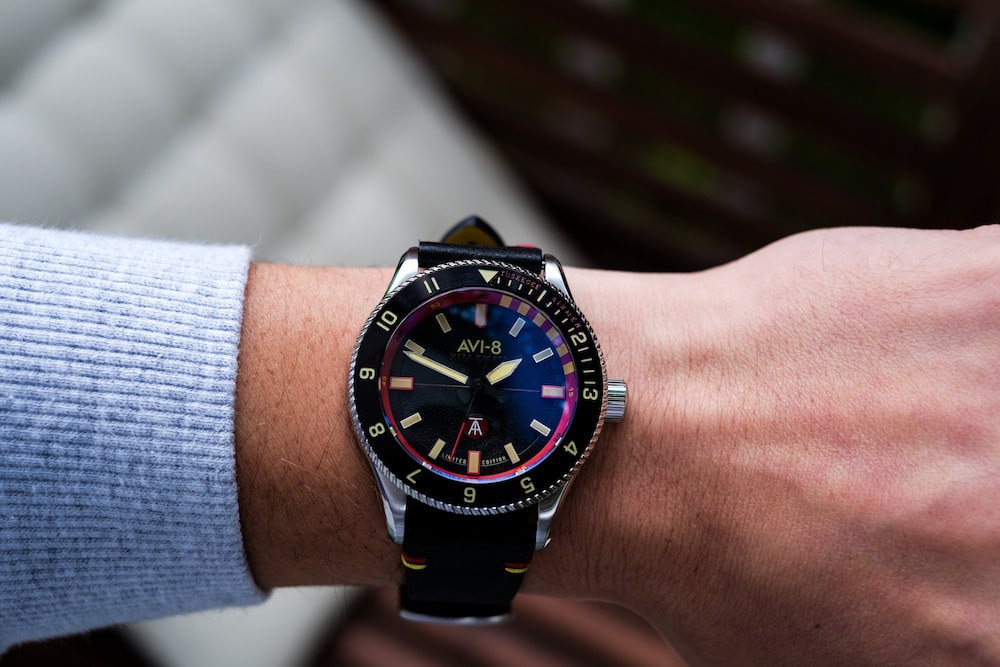 Ultimately, if you're a fan of the aviation space, particularly the legacy of the Tuskegee Airmen, this watch will make a great addition to your collection. You're not getting an automatic movement, but ultimately, you're paying for the heritage and not the watch.
However, if you have no interest in the history of the Tuskegee airmen, you're probably better off spending your money elsewhere, as there are plenty of options in this price range that give you far more 'watch' for the money.
For more information visit the official AVI-8 website here.