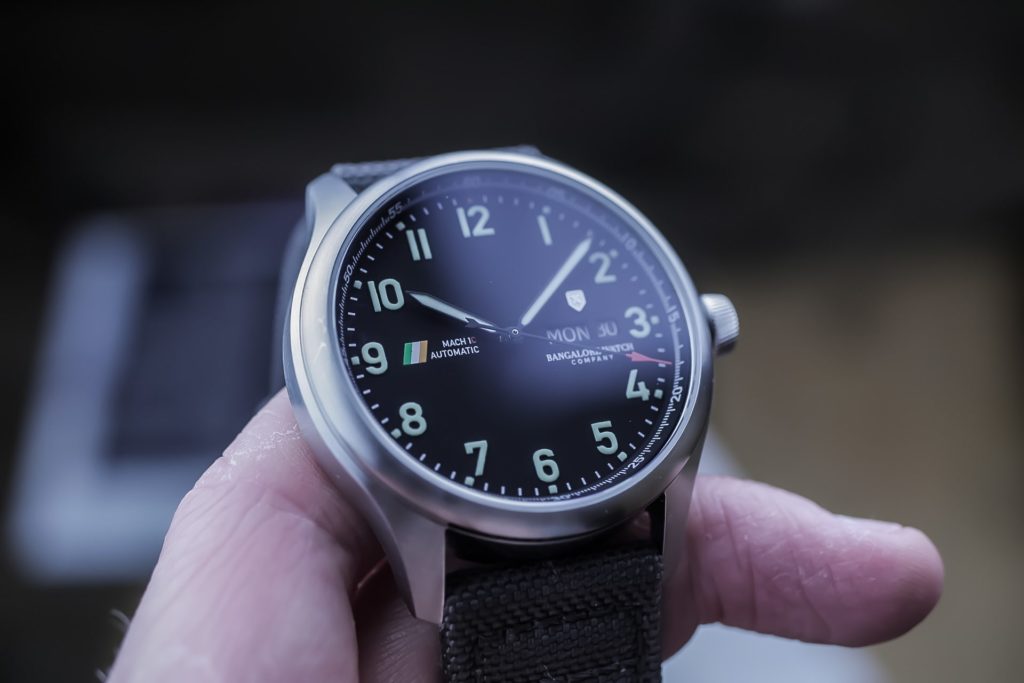 Founded in early 2017 by husband and wife team Nirupesh Joshi and Mercy Analraj, Bangalore watch company came to fruition when the team left their tech careers in Hong Kong and returned to India to follow their passion. Combining their skills that they had learned over the years they were able to quickly join the microbrand watch world. Complete industry outsiders, a fact that they are proud of, the team learnt the trade for a year, scouted for the best suppliers, design and prototyping, they launched their debut model, The Renaissance Automatic in early 2018.
What is the first thing you think of when you think of India?
For me, it's great food, beautiful vibrant colours and flavours and exotic animals.
But, in terms of Indian watchmaking, what do you think of?
For me, it's not so positive. I used to spend hours and hours trawling through eBay searching for vintage watches and one constant that kept popping up was Indian Frankenwatches.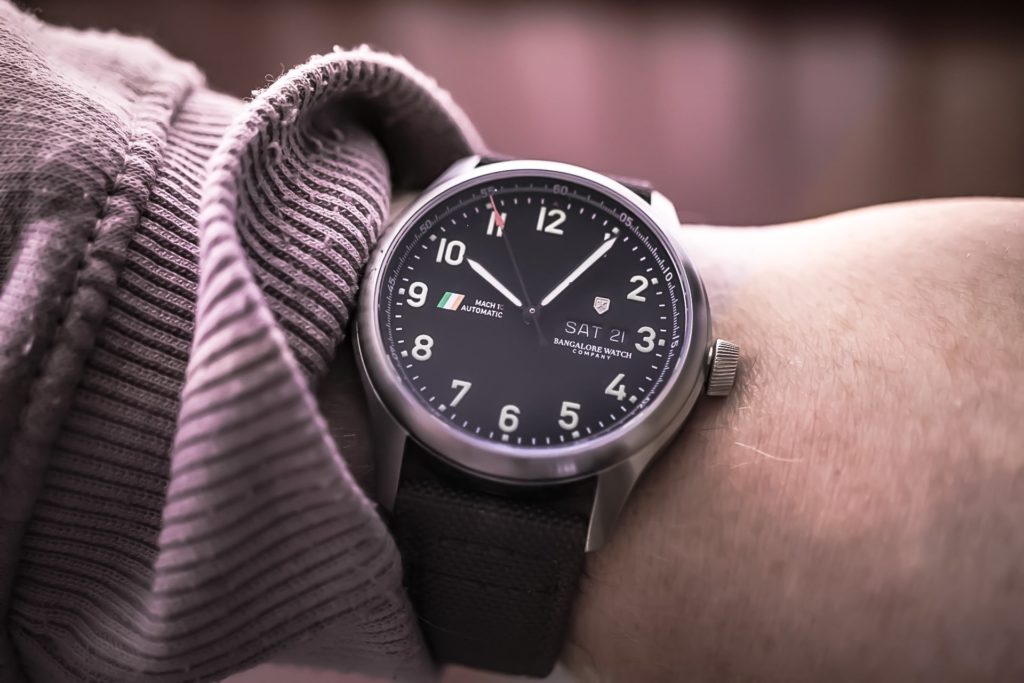 But Bangalore want to change that, they are committed to producing world-class products that tell stories inspired by their 21st-century view of India and that is of space exploration, renewable energy, advanced computing and their women flying fighter planes.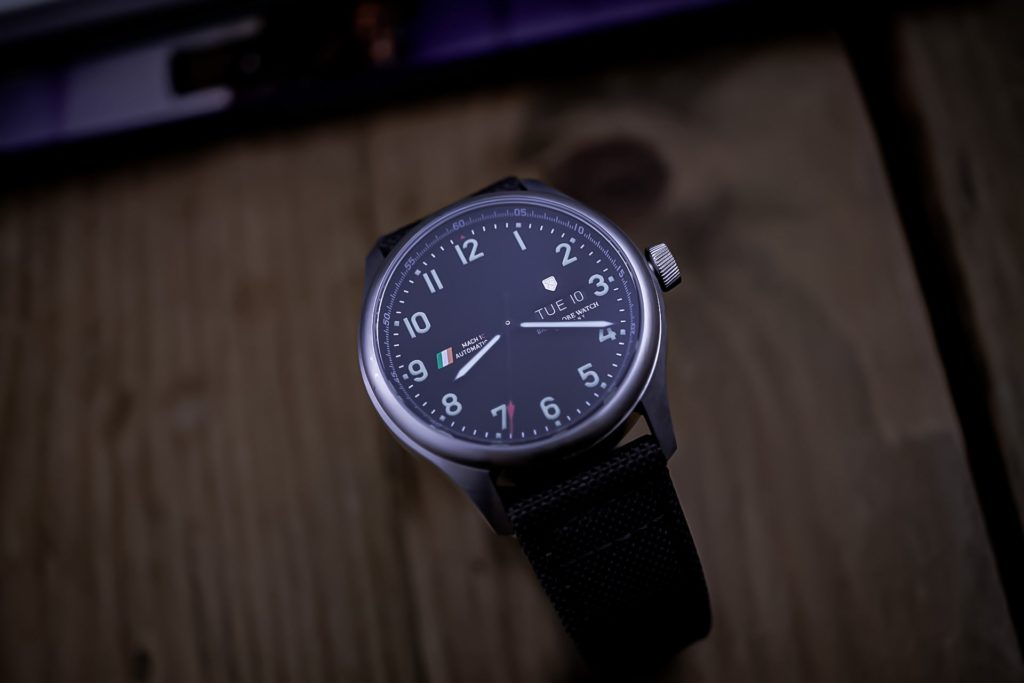 So how do they do that? With this beautiful release, the Mach 1 Civilian. The 316L stainless steel case is 42mm in diameter and 48mm lug-to-lug, which I'm absolutely amazed at. It feels like a 39mm max watch, it really does wear a lot smaller than the dimensions would have you believe, perhaps due to the compact lugs. The matte black dial is striking in its clarity and is full of contrasting colours that work together very nicely. The layout is unusual in that the defining elements are at the 3 o'clock position and the 9 o'clock position, whereas it would normally be placed at the 12 and 6 positions. At the 3 o'clock position you have the Bangalore company logo and underneath that you have a colour matched day and date window, below that it reads 'Bangalore watch company', the three elements are all neatly squashed into this space and at the 9 o'clock position it reads 'Mach1 Automatic' with a flag that bears the same colours as the Indian flag but actually looks like the Republic of Ireland flag.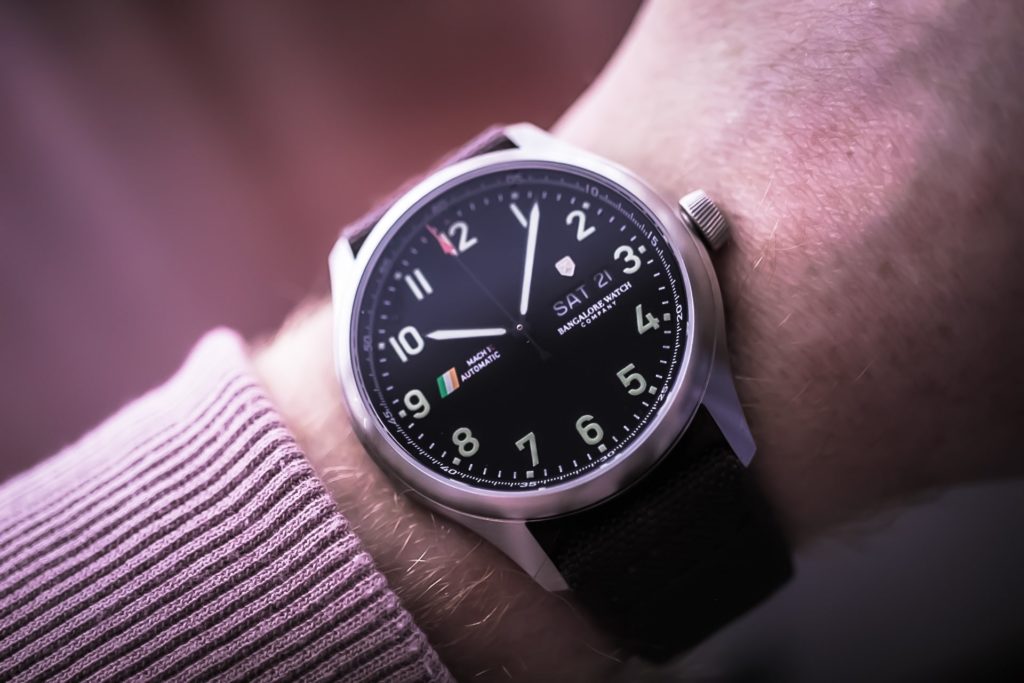 The 3D numerals are an excellent addition and give the dial some sense of depth, each one is filled with C3 Super-Luminova, and when I say filled, I really do mean filled, the lume on this watch was one of the things I enjoyed most about it.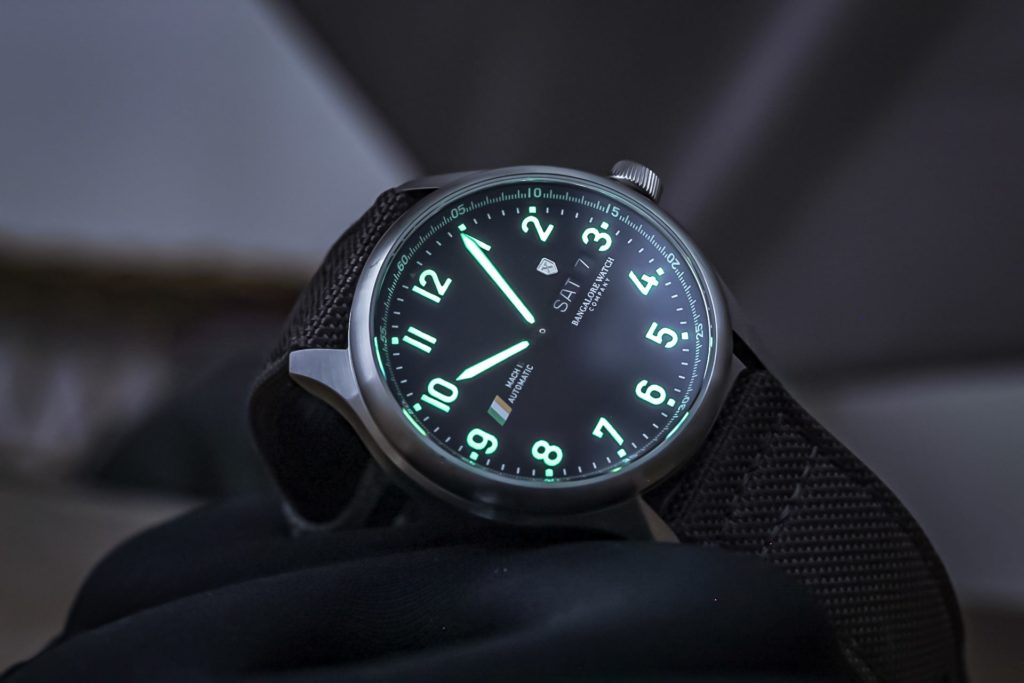 The large matte black hands are again filled with C3 Super-Luminova matching the numerals nicely. The dial is completed with a wonderful red-tipped seconds hand shaped like the MiG 21 Type 77 fighter jet that flew for the Indian Air Force and it sweeps nicely around the dial. It sweeps around in a smooth, flawless manner thanks to the movement inside this watch; the Sellita SW220-1, am alternative to the ETA 2824-2. It is a 26 jewelled movement that beats at a modern 28,800 vibrations per hour, has a power reserve of 38 hours and isn't the typical movement used in a micro brand, helping this one to stand out from the crowd. Standard accuracy ratings give this movement at anywhere between +-12-+-30 seconds per day which is very good and I found that this watch fell well within these parameters. I had no issues whatsoever with timekeeping.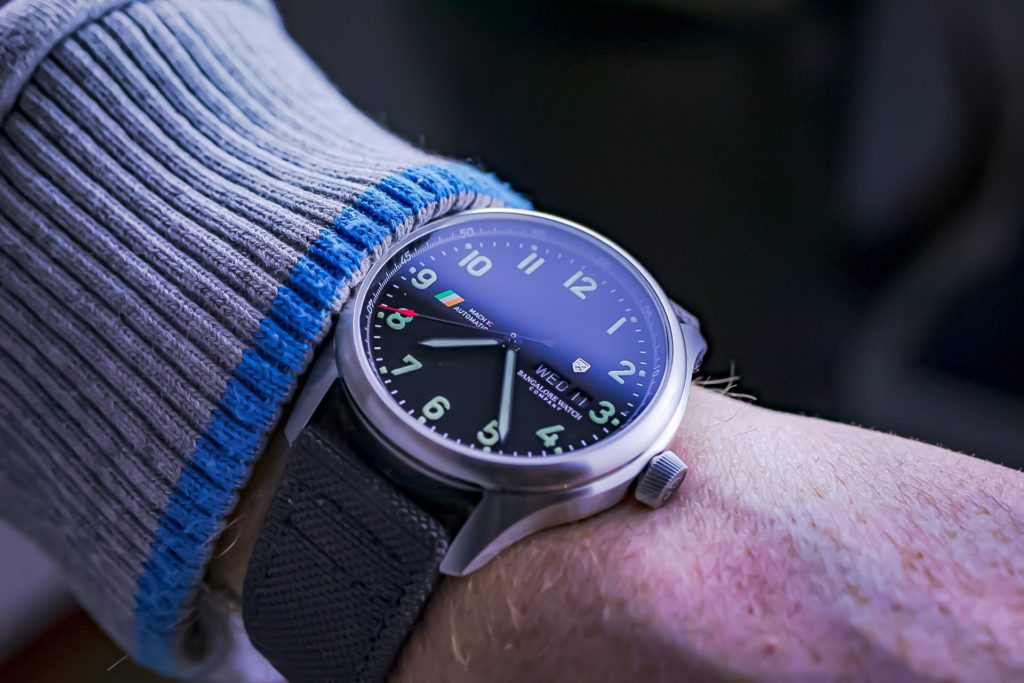 The 11mm thick case is a mix of polished and matte finishing, all done to a high standard and there is a seamless transition from the case into the lugs. The real star (from an aesthetic point of view) is the crown.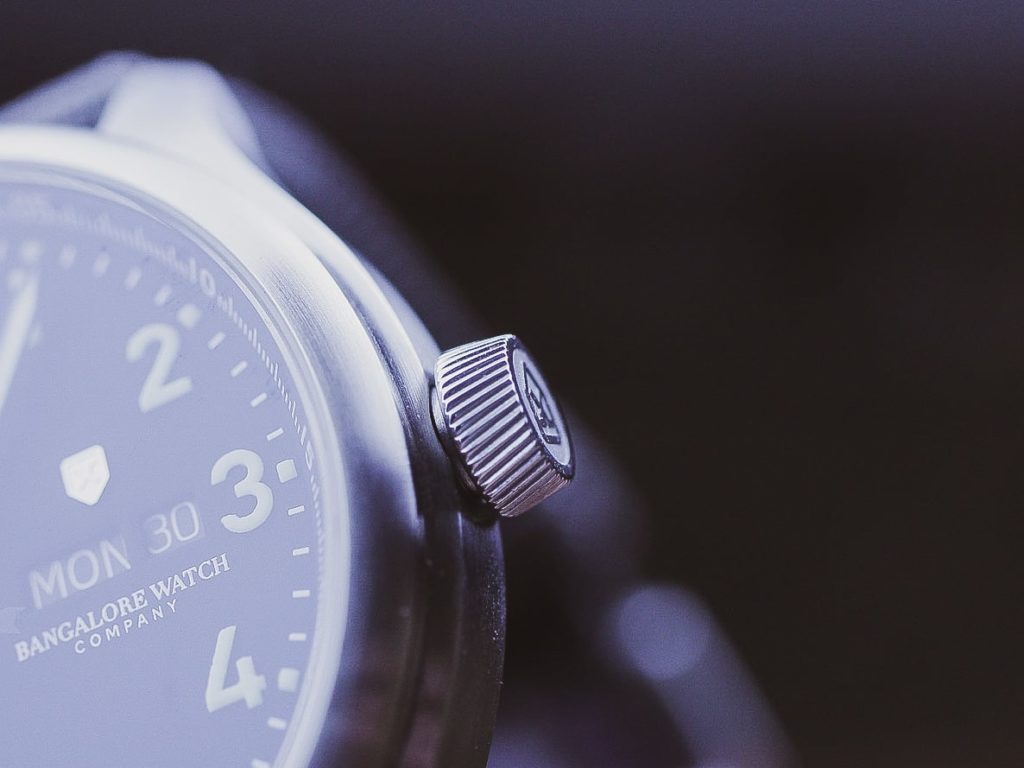 It is a screw-down crown etched with the company logo at the end, giving this piece 100m of water resistance and it is shaped and designed to make you think of the afterburner nozzle on a fighter jet.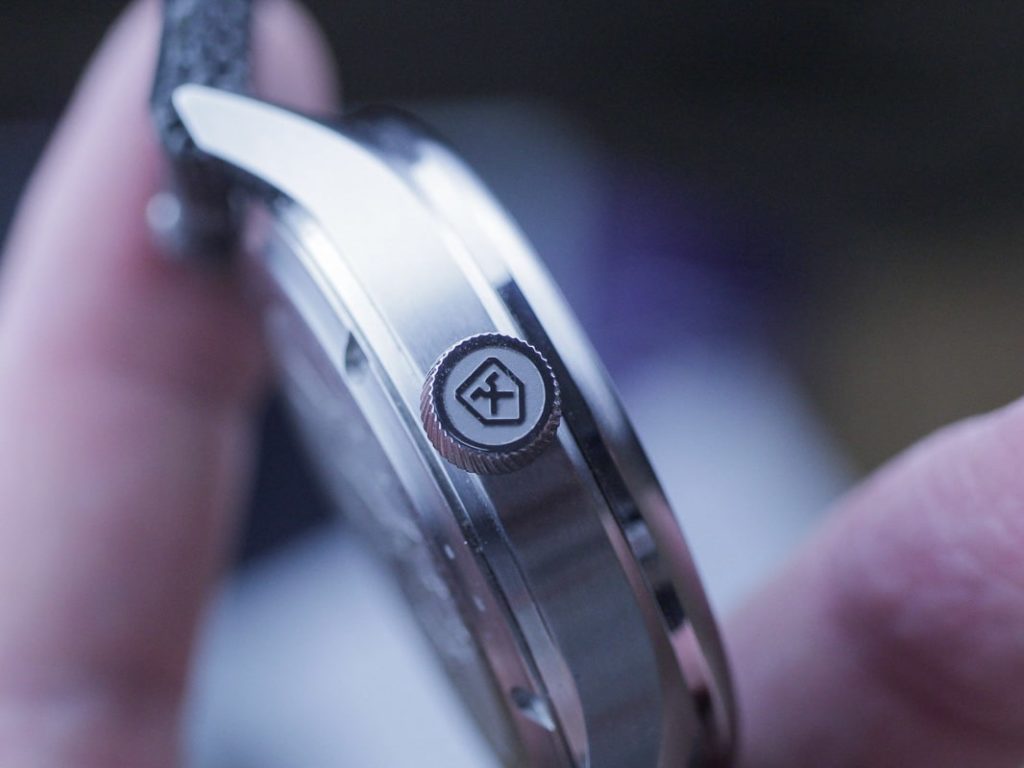 The conical shape ridged crown, however, had a slight issue, in that, I found that when pushing the crown back in it would pop out regularly, meaning that I had to struggle to find the biting point to get it to screw in. Flipping the watch over and you are faced with a solid screw-down case back that proudly displays three MiG 21 Type 77 fighter jets, India's first supersonic fighter. However, on the wrist, I found this case back to be slightly harsh and it rubbed against my skin too much for my liking.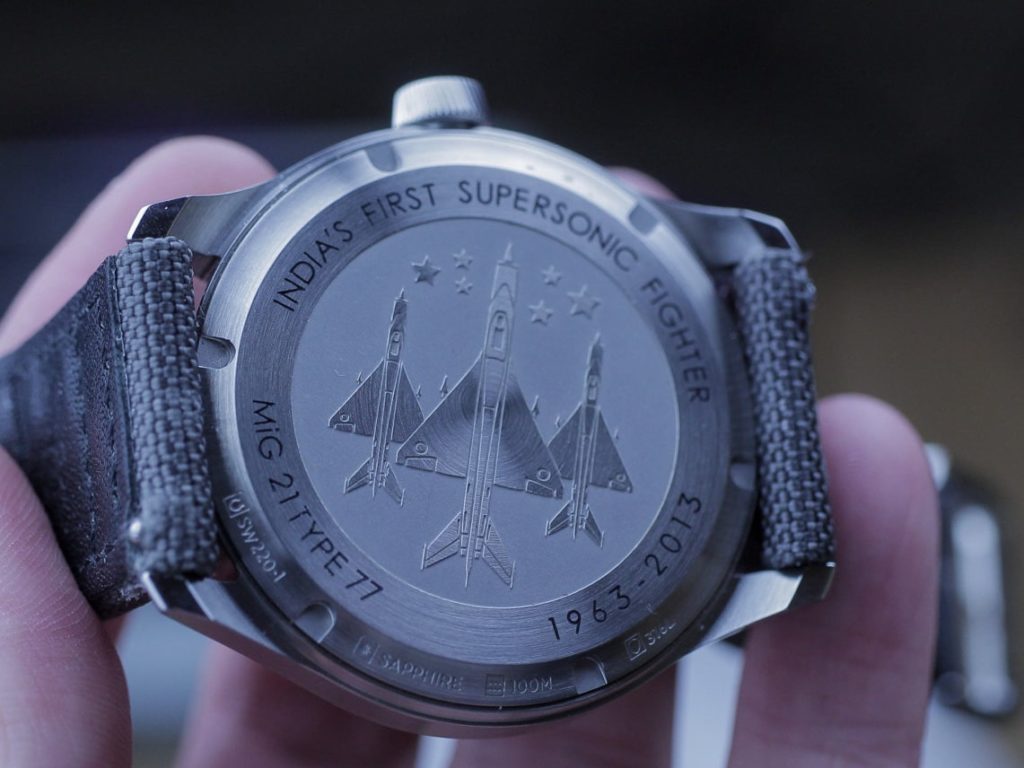 The strap was another point of interest for me,
In my Hervé review I mentioned that the strap massively let it down, well, in this case, the same cannot be said. The seatbelt inspired textile strap is a pleasure to wear. It is a lovely olive colour and features a smooth and comfortable leather underside for maximum wearability. I've said before that companies sometimes see the strap as secondary, unimportant so I'm extremely please to see Bangalore chose a fitting strap to match this excellent watch.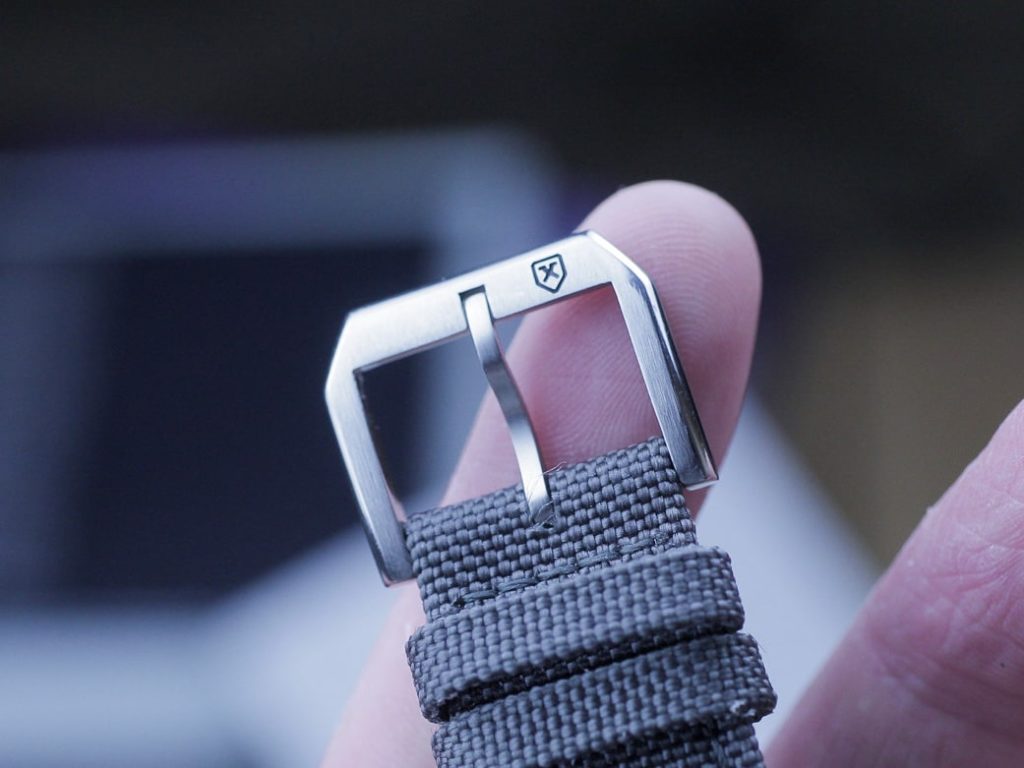 So I ask you again, in terms of Indian watchmaking, what do you think of? If it is still Frankenwatches then I have failed in this review. But for me, Bangalore has forever changed my opinion on Indian watchmaking and this is a company that I'm excited to see more from.
For more information on this watch and to view all models offered by BWC visit their official website here.