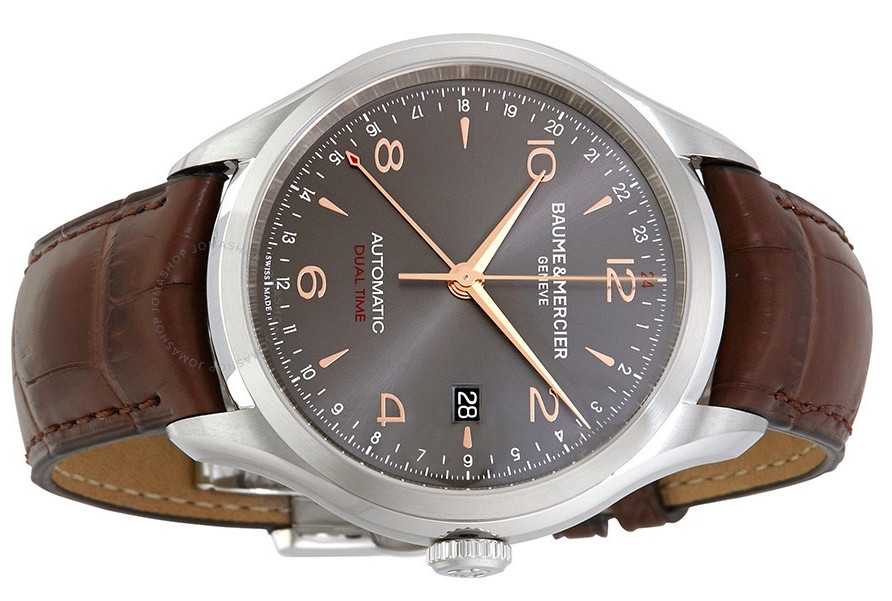 There are many things people look for in a watch today; dependability, technical features, design and last but not least, style. The Baume & Mercier Men's BMMOA10111 Clifton Swiss watch ticks all of the above and provides an all-round stylish and detailed time piece, offering the best of the best to consumers. The world of watches has changed significantly and especially over recent years with the introduction of fancier and more complex design features. This watch is a throwback to the classical days with a touch of today thrown in for good measure.
> > > Click here to see ratings, reviews, specifications and prices on Amazon < < <
BMMOA10111 Design & Function
The use of traditional watchmaking can be clearly seen in this watches stunning design, featuring a 43mm classical stainless steel case which holds within it the elegantly designed grey face, featuring rose gold hour, minute and second hands. Baume and Mercier have ensured that the BMMOA10111 stands out and grabs your attention with the nicely curved face and the 11.6mm thick case, giving it a sense of sturdiness when you wear it. Although the case may be thicker and heavier than some other watches, I believe this shows the quality and effort put into this design to ensure a high level of strength and dependability, which is an important feature in a watch of this stature.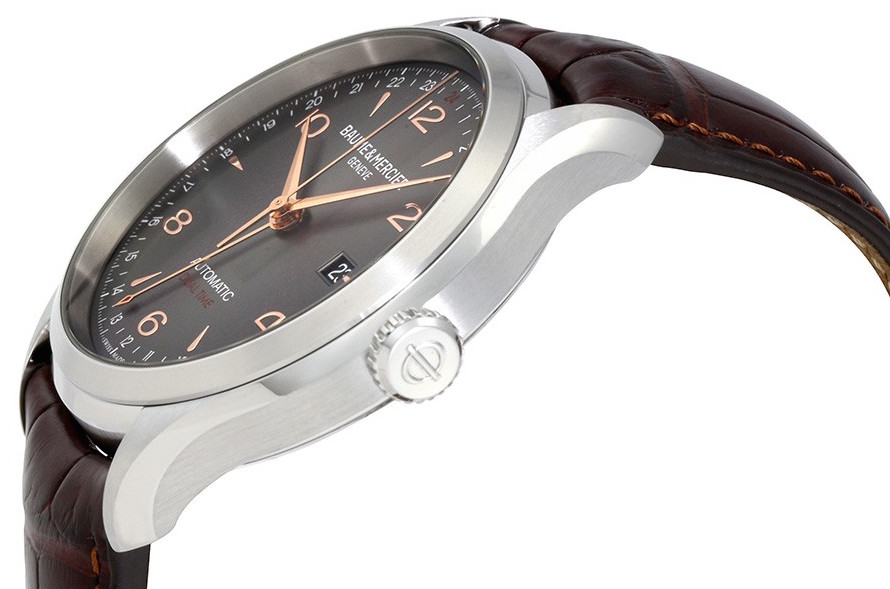 > > > Click here to see ratings, reviews, specifications and prices on Amazon < < <
The display, although not anything out of this world, offers a simpler design with some excellent features such as the date – found across from the 3 o'clock position – giving you the chance to take a quick look at the date whenever you need. The watches rose gold tinted hands, powered by Swiss automatic movement, gives a smoothness to the design and backs up the quality provided by Baume and Mercier.
It is important in life these days to have a piece which you can rely on and the BMMOA10111 compliments this well. Its face is protected by a sapphire crystal scratch resistant layer to prevent those easy to happen knocks and scrapes. This timepiece also comes with a water-resistant depth of up to 50 metres/165 feet, which will protect you from a little more than just a splash. These features really show how this watch has taken a classical design and pushed it into 2016, a real treat for those who choose to wear it around their wrist.
The watches strap really deserves a mention of its own – so here it is. The brown alligator leather strap looks the part paired up with the stainless steel case. The unusual choice of leather, being alligator, further proves the intense quality of this timepiece and is understandably a unique and interesting choice – which I can imagine will be popular with its consumers. The 21mm thick strap looks sturdy and comfortable to wear, gaining bonus points in my book.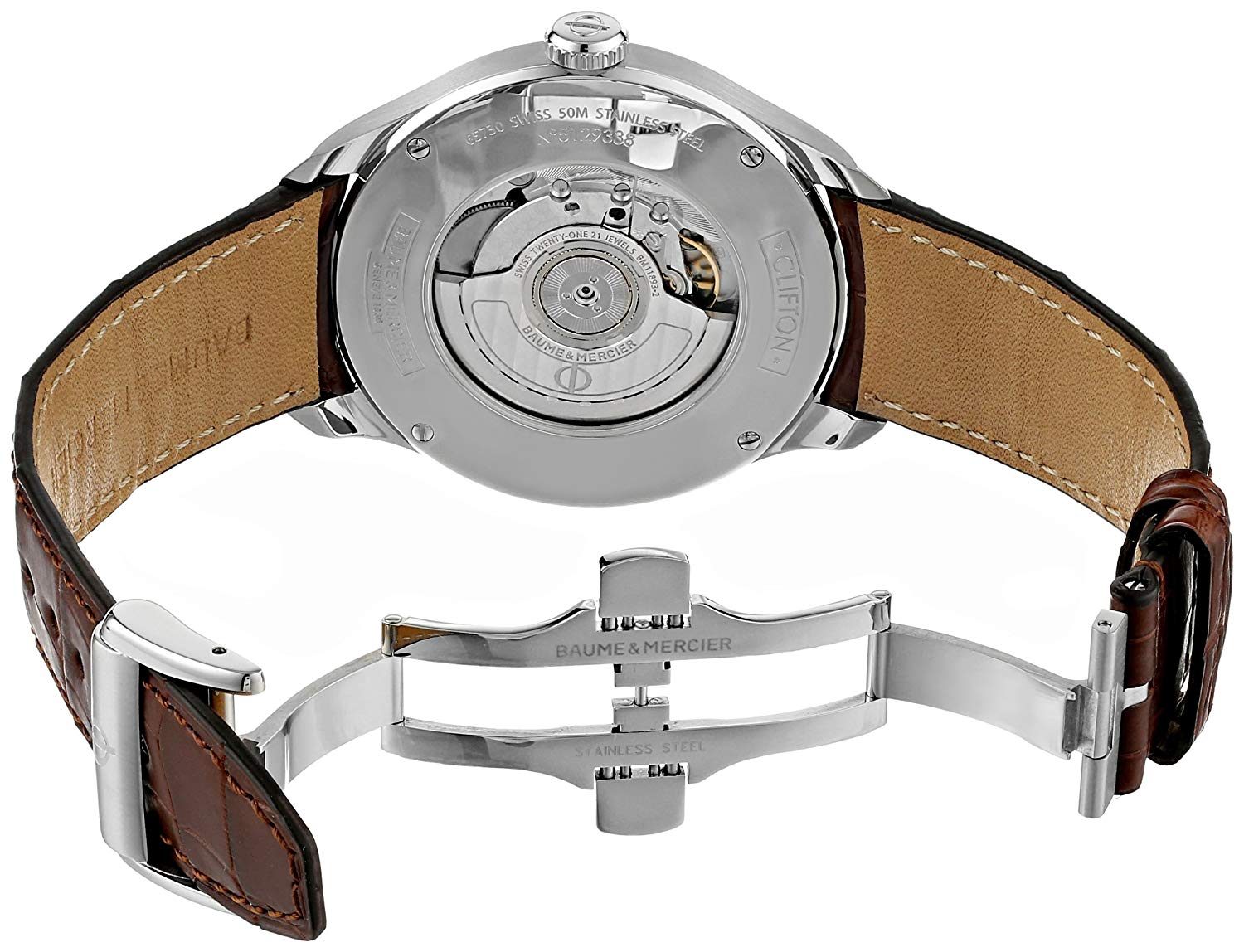 Overview
Overall, the Baume & Mercier Men's BMMOA10111 Clifton provides a high end, professional grade watch, accessible to those who crave a sense of uniqueness and a high-quality time piece. Baume and Mercier are professionals in the act of watchmaking, which is quite apparent when looking at the details and mechanics of this timepiece. The high quality alligator leather strap matches perfectly with the stainless steel case, which therefore becomes even better when the simplistic face comes into context with its rose gold hands and analog date feature. As previously mentioned, this watch from the front, looks like an everyday classical watch, however, when digging deeper you can see the intricate details and modern features that are secretly put in to give a touch of class.
This watch comes in at a price of nearly $2000, which for those who are looking for the style and quality that this watch comes with, is not a problem. It's an outstanding piece and I certainly would buy one myself.
> > > Click here to see ratings, reviews, specifications and prices on Amazon < < <