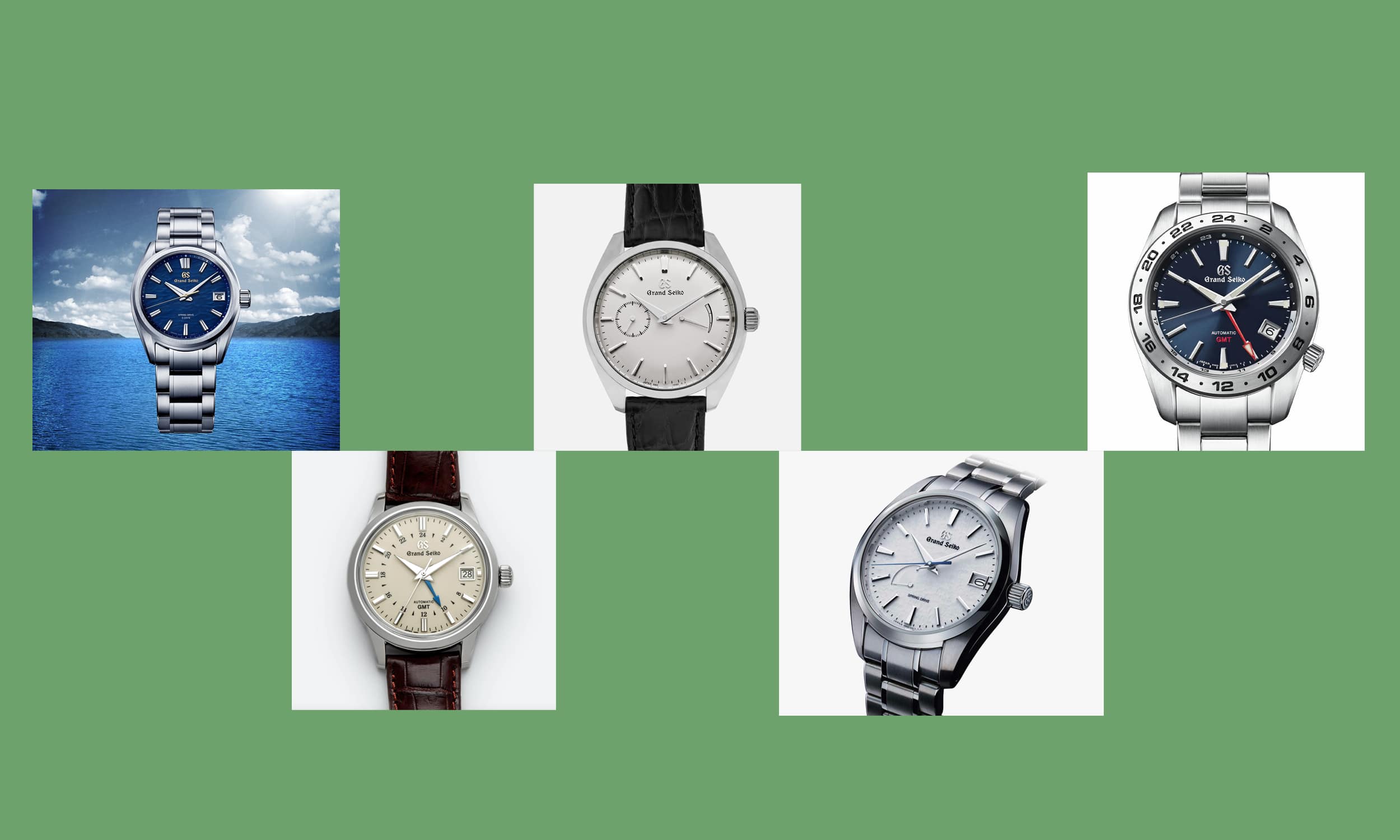 In the world of watches, Seiko and Grand Seiko are a lot like Ford and Lincoln. The first is a reliable brand that appeals to the average person's budget. The second is a premium, luxury brand that is designed for people with the most discerning tastes. Even so, both of them exist under the same umbrella.
These watches are made primarily with Seiko parts, although most of Grand Seiko's parts are made with much higher-grade materials. They're also made by hand by skilled watchmakers, whereas your run-of-the-mill Seiko watch is manufactured by machine on an assembly line. This includes hand polishing on many components, which you won't see on an ordinary Seiko.
Today, I'm going to discuss five of the best Grand Seiko watches for collectors of high-quality timepieces. These come in many varieties to meet many tastes, but they all come with the quality you'd expect from a high-end watchmaker.
Spring Drive Snowflake Ref. SBGA211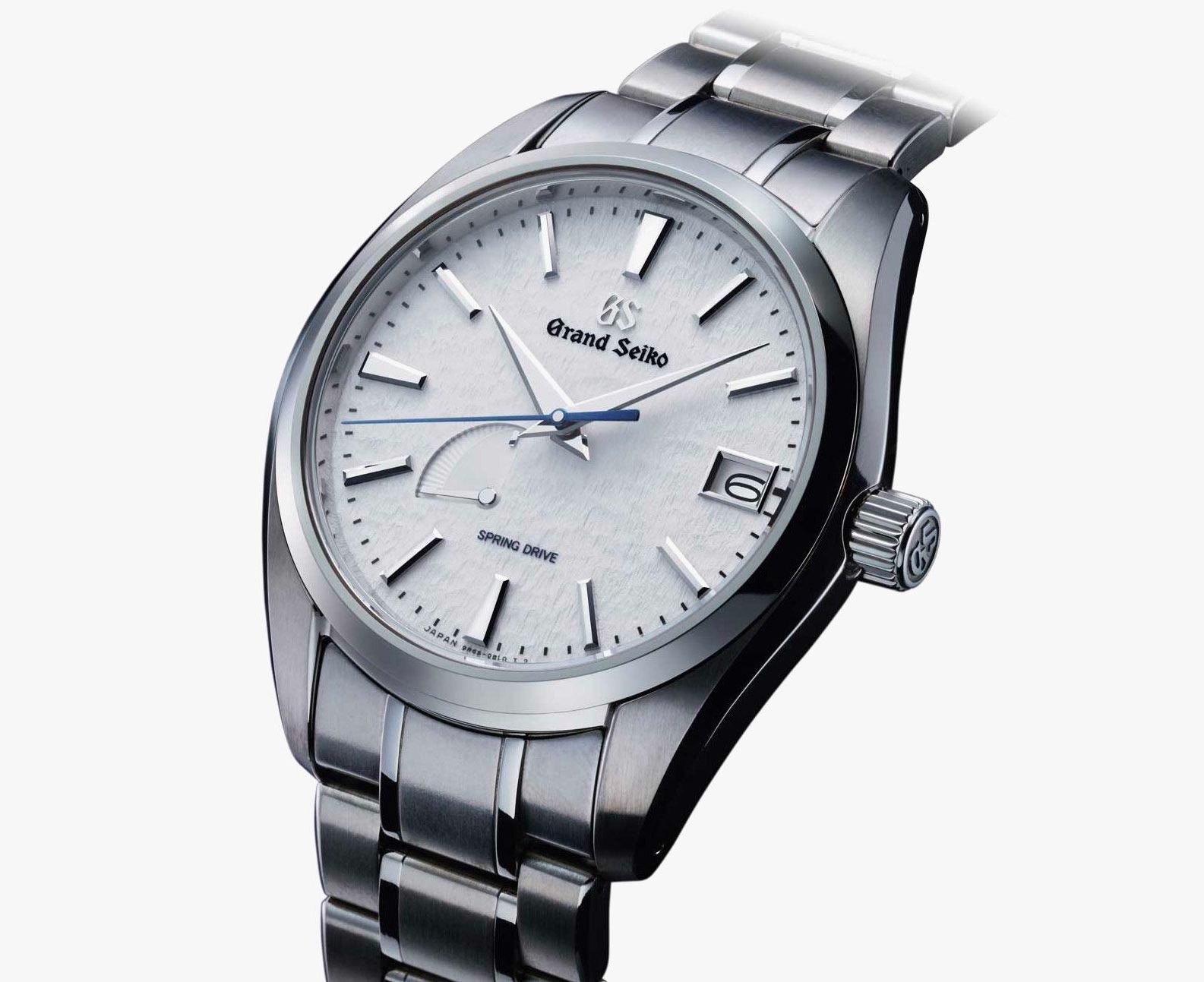 The Spring Drive Snowflake Ref. SBGA211 has a round titanium case with a 41mm diameter. This makes it the widest watch I'll be reviewing today, but not by much. In practice, all these Grand Seiko watches have a medium wrist presence. That said, they're all different in pretty much every other respect.
The bezel on the SBGA211 is sloped, as is the side of the case, from the bottom edge to where it meets the crystal at the top. The crystal has a slight indent at the edge, and an ever so slightly curved design that doesn't distort the dial. The watch is also water-resistant to 100 meters, so it's perfectly safe for swimming.
The dial is a textured white, with silver applied indices at the five-minute positions. The one minute marks are indicated by tiny blue hashes. The hands have a sword-like profile, with short, angular bases and longer, triangular tips. The sides of these hands are beveled, which has an eye-catching, shimmering effect as it reflects the light. To the lower left of the dial, there's a power meter, with a little silver needle to indicate the current power reserve. At the 3 o'clock position, in lieu of the applied index, you'll find a date window. It's outlined in silver, with a white background, and black Arabic numerals.
The SBGA211 utilizes Grand Seiko's in-house Spring Drive movement. The specifics of how it works are a bit outside the scope of this article. However, it has the mechanical, ticking action of an automatic movement, as well as the precision of a quartz movement. It's accurate to +/- 1 second per day, which far exceeds the accuracy of fully-automatic brands like Rolex. It also boasts a 72-hour power reserve, enough for a three-day weekend.
Elegance GMT Ref. SBGM221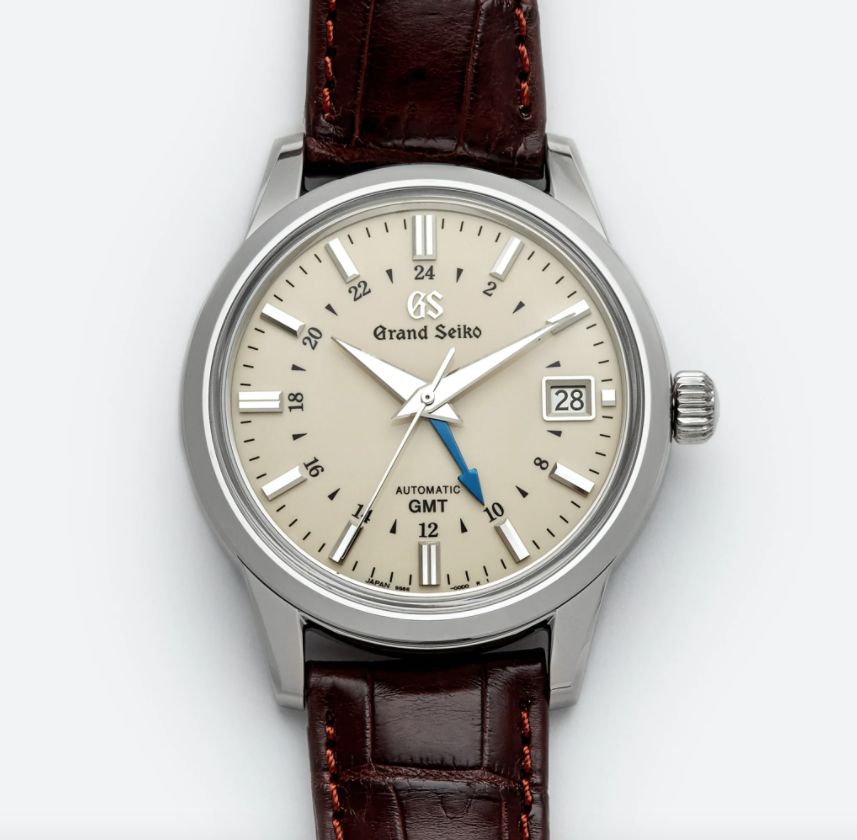 Where the SBGA211 is spartan and utilitarian, the Elegance GMT Ref. SBGM221 is all about classic, old-school appeal. This watch has a retro dial, with a pinkish cream colored surface, and tiny black hashes at the one minute marks. The five minute positions feature silver applied markers, with double indices at the 12, 6, and 9 o'clock positions. At 3 o'clock, instead of a bar, there's a small white date window with black Arabic numerals. Inside the primary index, you'll also see a second, 24-hour index. This has small black Arabic numerals at the even numbered hours, and little black arrows at the odd numbered hours.
The hands are stainless steel, tapering from fat bases to fine points at the tips. And no GMT watch would be complete without a GMT hand, which is cobalt blue and arrow-shaped. The crystal rises high above the bezel, which distorts the dial when viewed from an extreme angle. When viewed from any normal angle, it's just a nice accent. The crystal also has an anti-reflective coating on its inner surface.
The 39.5mm stainless steel case is understated, with a narrow bezel and a knurled crown. It secures with a slick brown crocodile leather strap, which lends a touch of character to what already looks like an explorer's watch.
The SBGM221 utilizes an automatic Caliber 9S66 movement, which is accurate to +5/-3 seconds per day. You'll probably need to reset it once a month or so, but the three-day power reserve gives you plenty of flexibility if you want to set it aside now and then.
Sport GMT Ref. SBGM245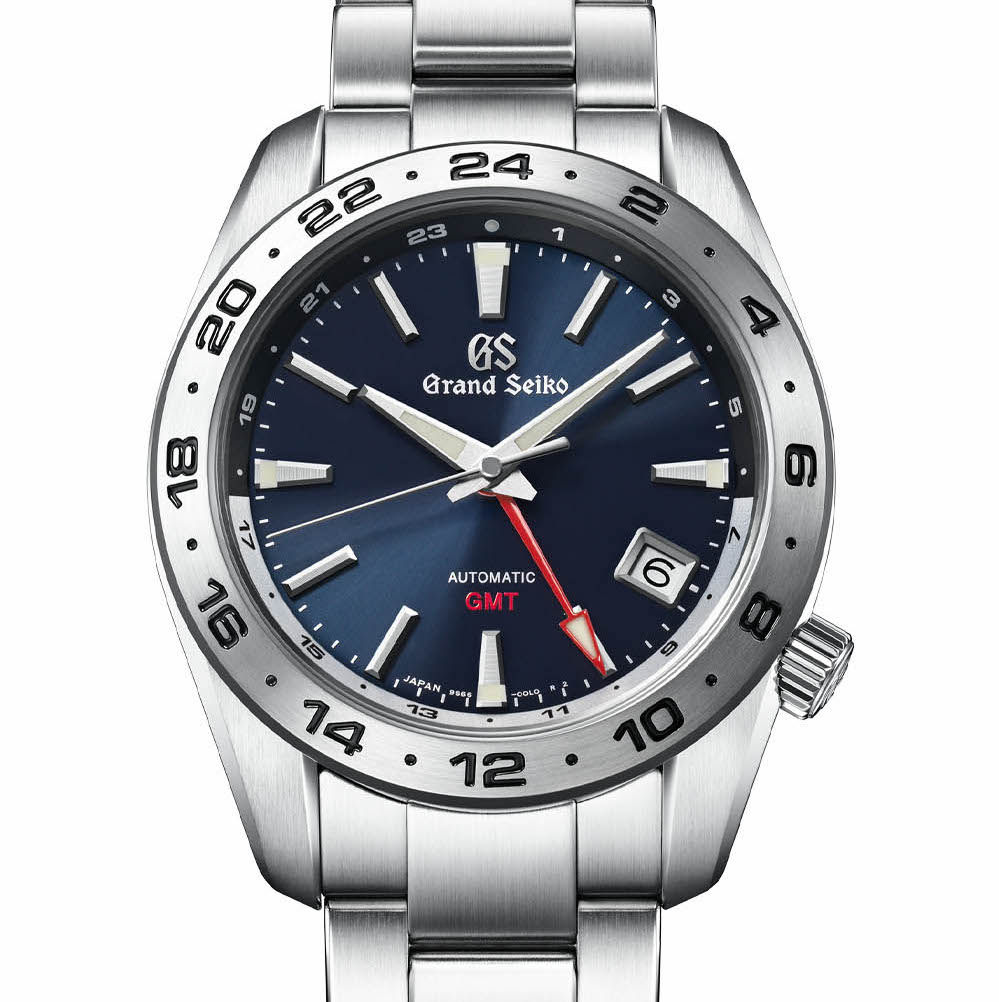 The Sport GMT Ref. SBGM245 is also a GMT watch, but it has a much more modern appearance. Its 40.5mm stainless steel case has big, fat lugs, which make it look much bigger than it is. It also has a wide bezel, with blue Arabic numerals marking out a 24-hour index. The case is water-resistant to 200 meters, making it just as capable as any dive watch. And the dual curved sapphire crystal is treated with an anti-reflective coating.
There's an additional 24-hour index around the outside of the dial, with a black and white split color scheme that forms a neat day/night pattern. The rest of the dial is a metallic blue, with a date window at the 4 o'clock position, which corresponds to the offset crown. The main index is relatively simple, consisting of applied silver lume markers. The flat-ended hour and minute hands are also silver, with lume stripes down the center, while the GMT hand is a slender red arrow.
This watch uses the same Caliber 9S66 movement as the SBGM221. You get the same +5/-3 second accuracy, and the same 3-day power reserve.
Spring Drive Lake Suwa Limited Edition Ref. SLGA007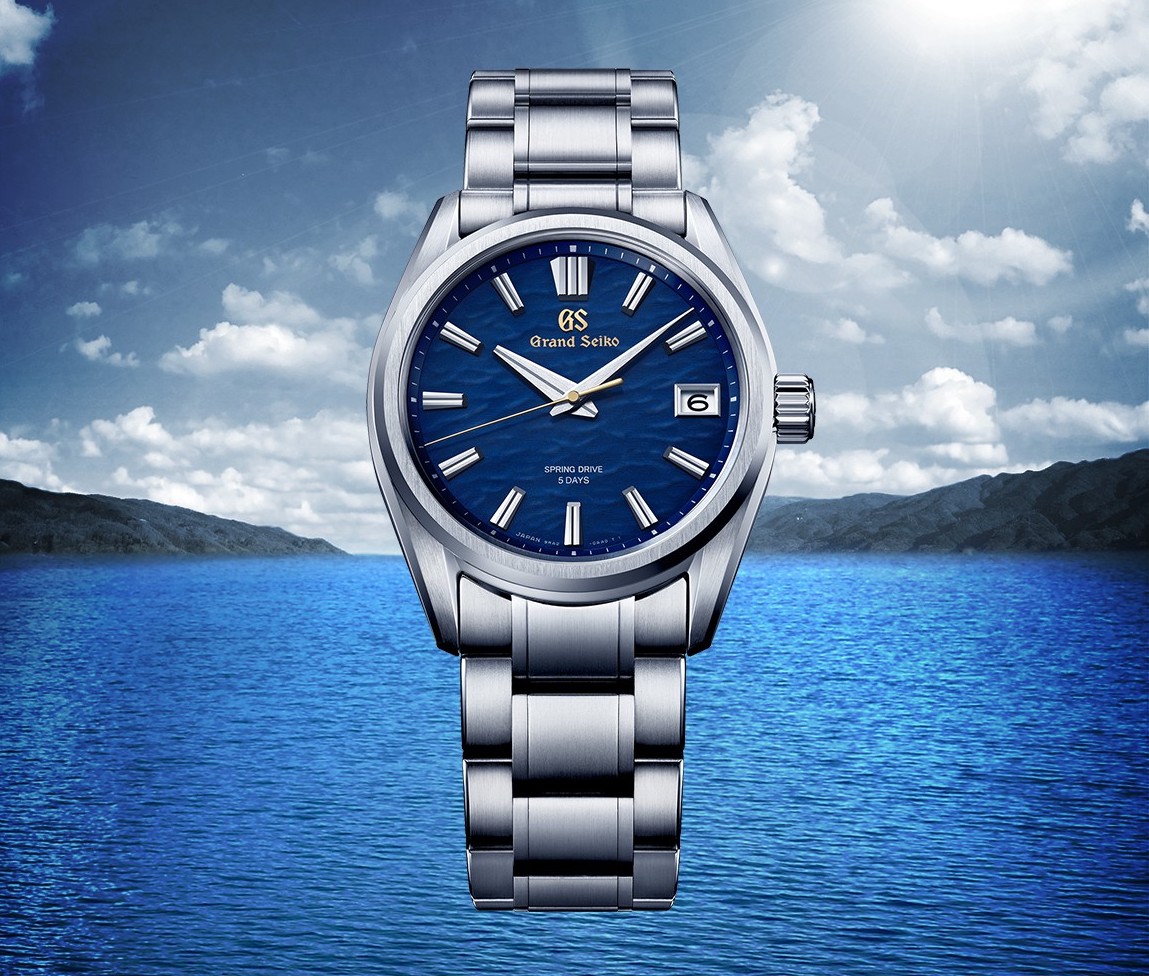 The Spring Drive Lake Suwa Limited Edition Ref. SLGA007 has a maritime theme, with a blue wave pattern backing the dial. The five-minute positions are marked by applied double markers, with a triple marker at 12 o'clock and a date window at 3. This is a similar date window to Grand Seiko's others, with a white backing and black Arabic numerals. Other than that, the look is clean and uncomplicated, with broad silver hands and a needle-thin red second hand.
The stainless steel case has a diameter of 40mm, and the sapphire crystal slightly distorts the edge of the dial. There's also a display crystal on the back, where you can view the 9RA2 spring drive movement and its integrated power reserve meter. This movement is fully automatic, and is extremely accurate, down to +/- 0.5 seconds per day.
Elegance Manual Wind Ref. SBGK009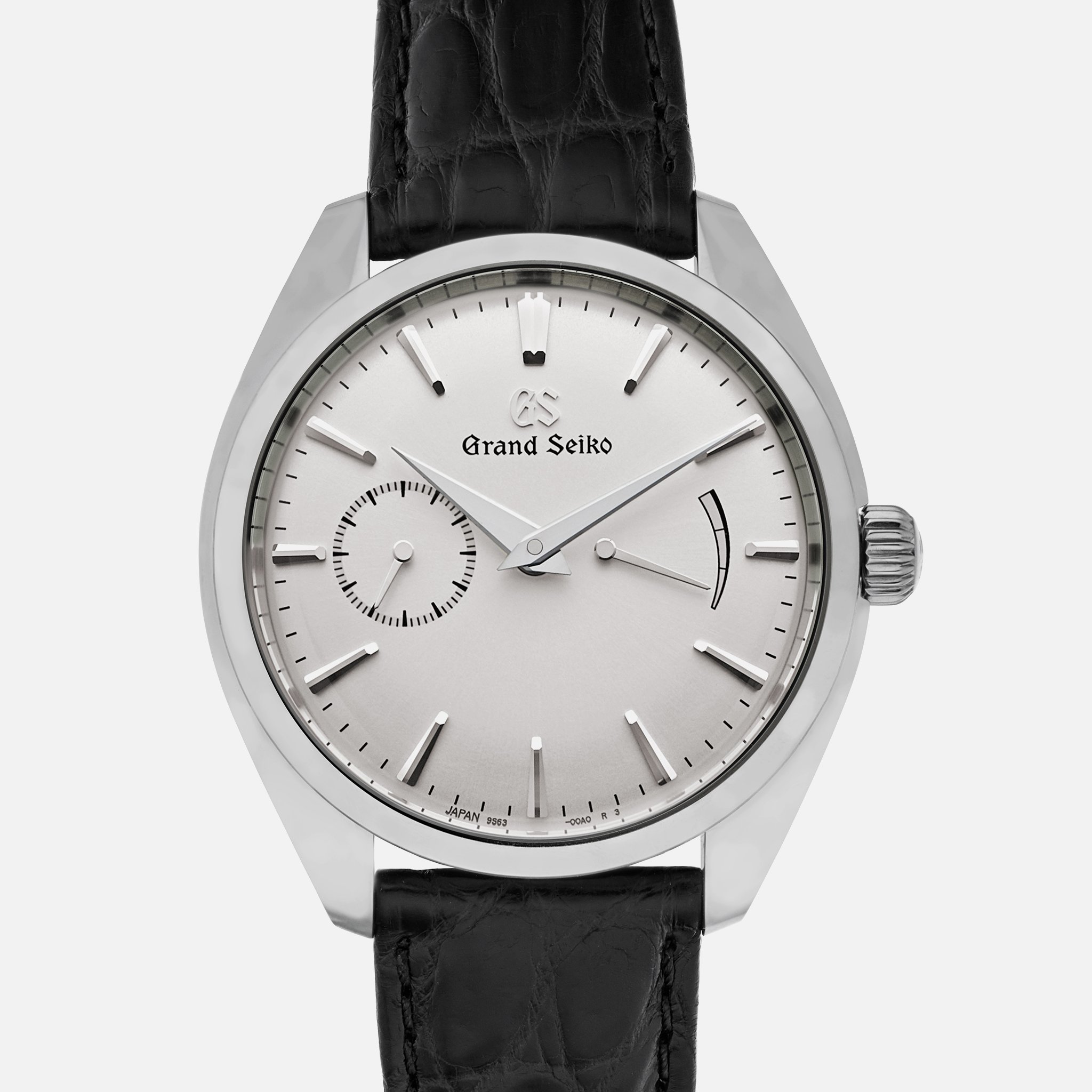 The Elegance Manual Wind Ref. SBGK009 is a throwback watch with a plain brown dial. The minute positions are marked by fine silver hashes, with larger applied silver bars marking the five minute positions. On the right, there's a power reserve meter, with a little silver needle on a fan-shaped silver bar. On the left, there's a 24-hour subdial, with a similar fine hand. The main minute and second hands are long and triangular, with beveled edges that catch the light in interesting ways.
The 39mm stainless steel case is splash-resistant, but can't withstand full submersion. It sports an anti-reflective sapphire crystal, as well as a display case back. It's also secured with a fine, 9-link bracelet that wraps comfortably around any wrist. The 9S63 movement is accurate to +5/-3 seconds per day, and boasts a 72-hour power reserve. This makes it comparable to Grand Seiko's other mechanical watches, but it's hand-winding, not automatic.
For more information on these watch models visit the official Grand Seiko website here.