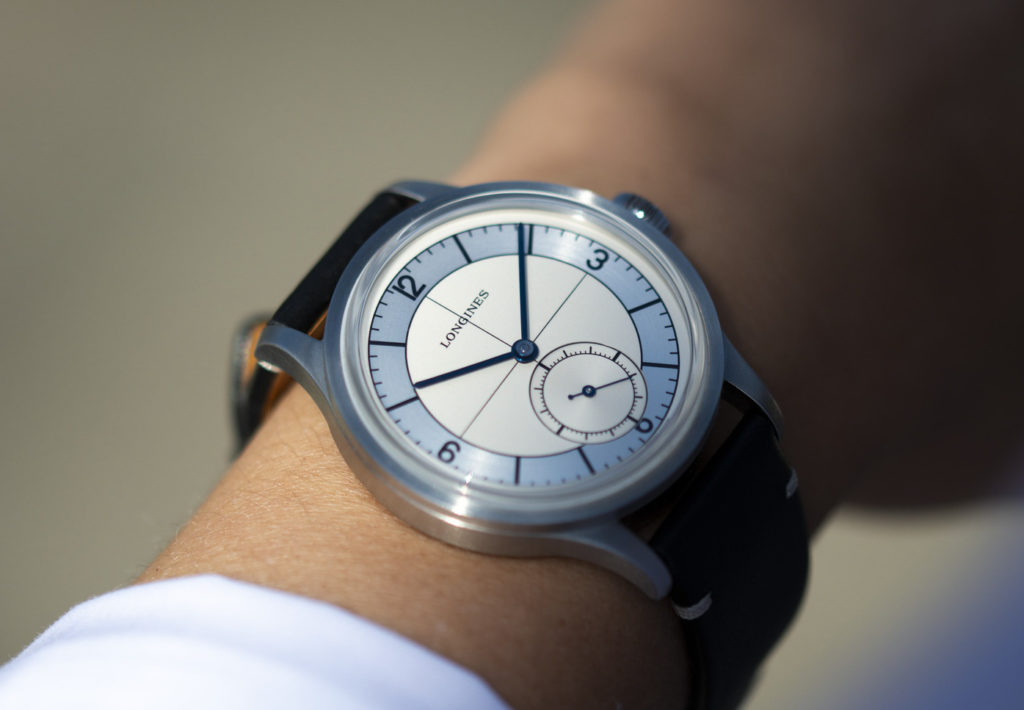 The term "sector dial" is a little bit vague, and the exact definition can vary depending on who you ask. As a result, manufacturers have a lot of fudge factor when they design one. In general, when I'm looking for a sector watch, I'm looking for a watch with concentric outer rings. One of these rings will typically have hashes at the five-minute marks, while another will have single minute hashes. Also, the center of the dial will have a clean look. A date window or similar complication is acceptable, but there shouldn't be more than one. The whole idea is that the design should draw your eye to the outer rings.
Sector dials are sometimes referred to as "scientific dials" or "railroad dials". However, a railroad dial is not the same as a railroad watch. A railroad watch is an ultra high-precision watch made for railroad operators to keep the trains running on time. A railroad dial simply refers to the segmented appearance of many sector dials' outer rings, which look like a set of railroad tracks, with the minute hashes laid out like railroad ties. Now that I've cleared up that potential point of confusion, let's get on with the reviews.
Jaeger-LeCoultre Master Control Date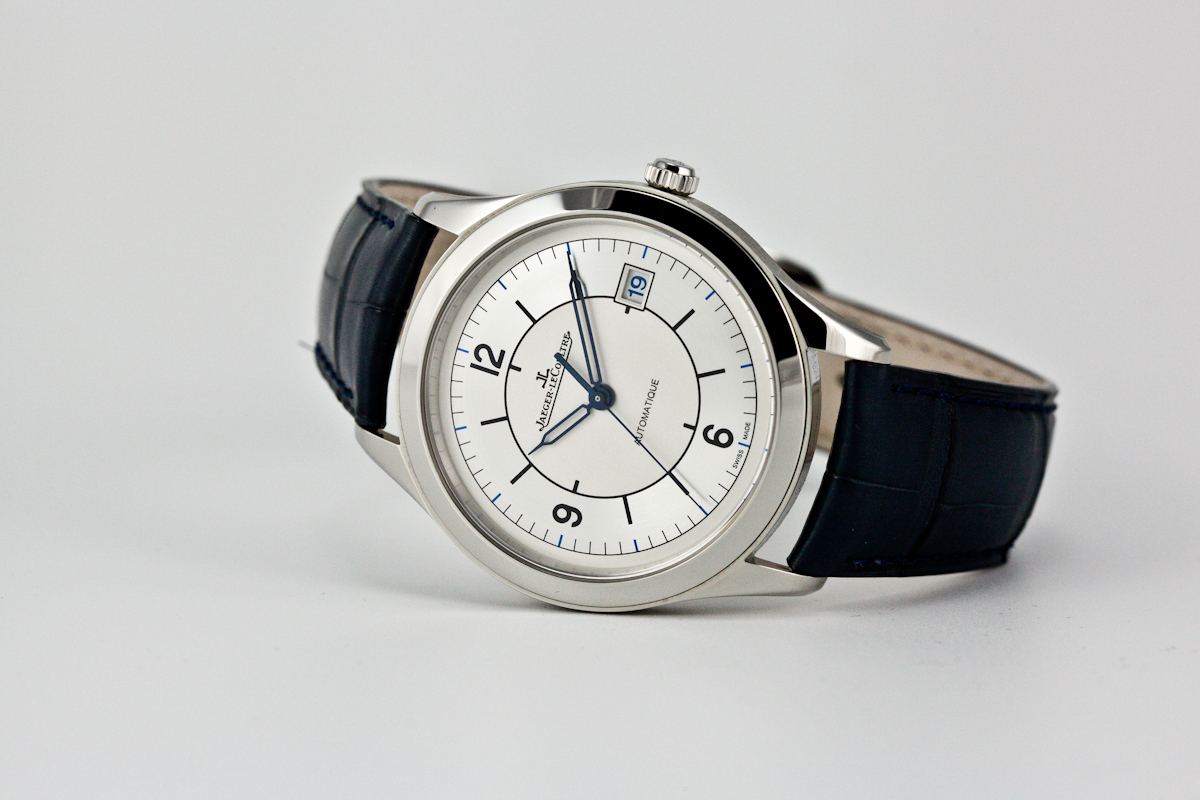 The Jaeger-LeCoultre Master Control Date Sector Dial is a mid-sized, 39mm watch with a medium, 8.5mm thickness. The case is constructed from stainless steel, with a rounded, polished bezel and brushed sides. This naturally draws your eye to the top of the watch, while lending the sides a relatively muted appearance. The sapphire crystal is flat, once again drawing your attention to the dial itself, rather than to the other features.
The dial itself is understated, with a silver finish and date located at the 3 o'clock position. The inner index features long black hashes, with numerals at the 6, 9, and 12 o'clock positions. The outer index features smaller hashes to indicate the individual minutes. The 5-minute marks are indicated by blue hashes, which are small enough to add an attractive accent without being overly distracting. The hour and minute hands are skeletonized, with narrow tips, while the second hand is long and very fine.
The movement is a JLC Caliber 899/1 automatic movement, produced in-house by Jaeger LeCoultre. It has a 38-hour power reserve and a frequency of 4 Hz. The solid gold rotor is gorgeous, perfectly designed for viewing through the Jaeger's display back. The rotor cleanly occupies a third of the space, with the other two thirds allowing for a clear view of the steel inner workings.
The Master Control Date Sector Dial is water-resistant to 50 meters, so it's suitable for showering and other light water contact. This is a fine timepiece and collectible, but it's not a dive watch. The black alligator leather strap is elegant enough, with a simple pin closure that's easy to open and close.
Longines Heritage Classic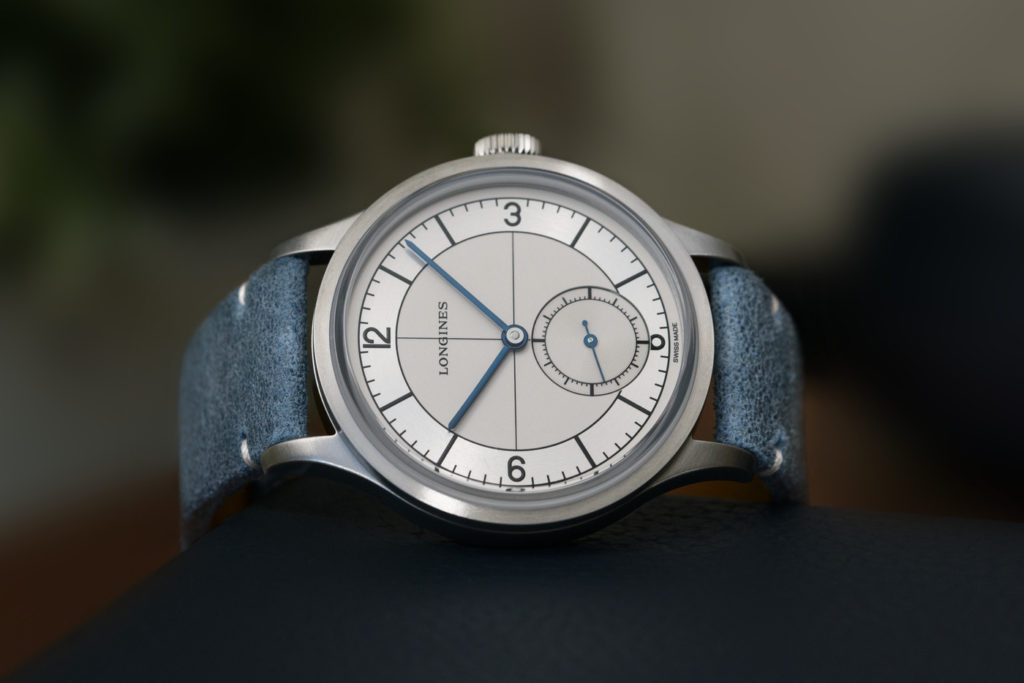 The Longines Heritage Classic Sector Dial is a 38.5mm stainless steel watch that's designed with an elegant, rounded look. As we'll see, everything about this watch is circular, which all ties together very well into a unified look. The sapphire crystal is slightly raised, with a steep bevel at the outside. It's scratch-resistant, and it has a multi-coated underside that prevents glare.
The silver watch face has a black cross pattern in the center, which divides it neatly into four quadrants. The outer ring is a darker silver than the center, with large hashes at the five minute marks, which connect the center area to the outer edge of the watch. Smaller, single-minute hashes are positioned around the outer circumference, and there are bold numerals at the 3, 9, and 12 o'clock positions. The hour and minute hands are nearly the same length, crafted from electric blue for easy visibility. Rather than a second hand, there's a small 60-second subdial at the 6 o'clock position.
The automatic caliber L893 movement is well-engineered, with a frequency of 25,200 beats per hour. This is slower than many automatic movement, but only slightly. If you like to actually hear your watch tick, this unusual frequency makes it a solid choice. It also offers a 64-hour power reserve, enough to set it aside for a few days without needing to reset it.
Like most sector dial watches, the Heritage Classic Sector Dial isn't designed for use in the water. It's rated for 20 meters of water resistance, which makes it splash-proof. Go ahead and wear it in the shower, but take it off if you're going swimming. It comes with a black leather strap which has a flat, smooth finish, and small steel reinforcing clasps at the lugs.
Vacheron Constantin FiftySix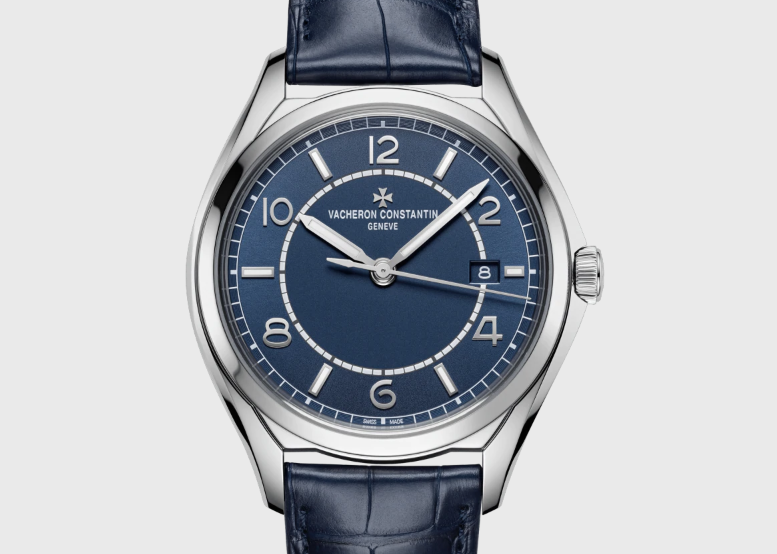 The Vacheron Constantin FiftySix 4600E/110A-B487 is a medium-large watch, with a 40mm diameter and 9.6mm thickness. This gives it plenty of wrist presence, while the display back ensures that it looks attractive when it's not on your wrist. The outer edge extends almost to the end of the crown, providing a measure of security, while the flat sapphire crystal is scratch-resistant and glare-resistant.
The dial is a royal blue, with silver indexes and hands. Large hashes indicate the five-minute marks, with large numerals at the even-numbered hour positions. At the 3 o'clock position, there's a small date window that's a bit small for easy reading, but adds a nice accent. The outer index features small hashes at all 60 minute marks, with circular lines on the inside and outside that create a true "railroad track" appearance. The hour and minute hands are relatively wide, with white lume stripes down the center, while the second hand is very slender and exceptionally long.
The Constantin FiftySix utilizes a Caliber 1326 movement, customized for a beautiful appearance through the FiftySix' display case. It moves at a rate of 28,800 beats per hour, with 25 jewels and a respectable 48-hour power reserve. The gold rotor features a large Maltese cross, which is also Vacheron's logo. It's mostly see-through, allowing for a clear view of the rest of the movement.
The FiftySix is water-resistant to 20 meters. In reality, this is effectively splash-resistant, not truly water-resistant. Don't wear it while you're swimming, or you're liable to ruin your investment. The band is sturdy and attractive, with a 5-link design that makes it exceptionally flexible. However, like any metal watch band, you're most likely going to need to have it custom fitted.
Laurent Ferrier Galet Square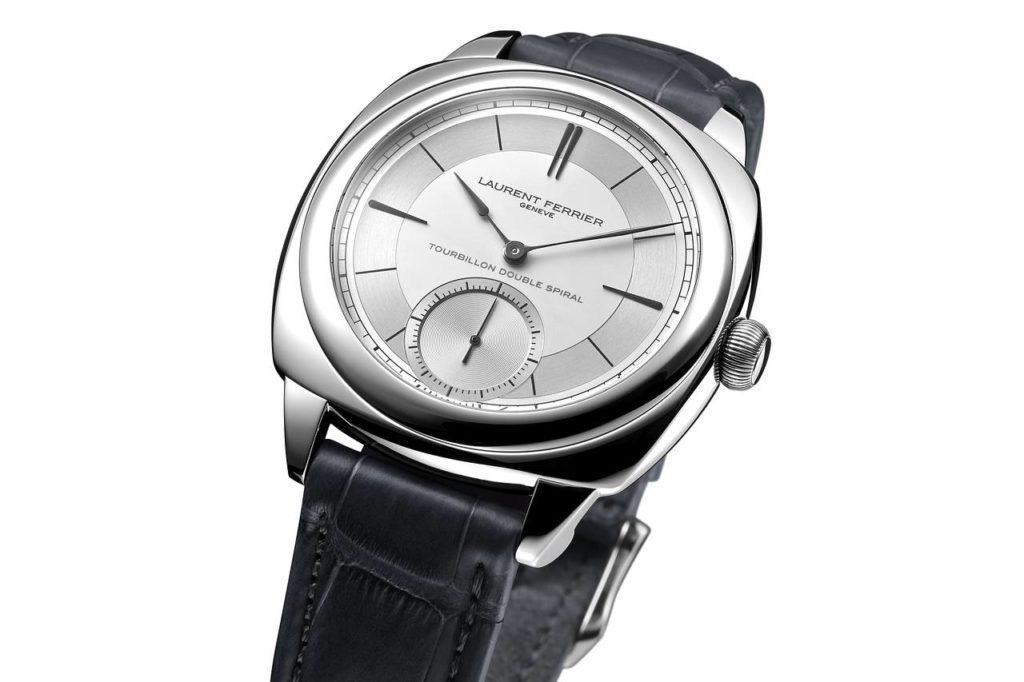 The Laurent Ferrier Galet Square Sector Dial has a square case, just as the name implies. It measures 41mm on each side, with a raised bezel that's rounded, and that transitions cleanly into the domed sapphire crystal. This lends the watch a fat, raised profile, but without so much curvature that it distorts your view of the dial.
The dial itself is available in 7 different color patterns, from rose gold to black to deep blue. Depending on the variant, the case is either stainless steel or a matching rose gold, although they all share the same profile. The inner index features large hashes at the five-minute marks, with no numerals cluttering up the design. The outer index has a railroad track design, with tiny numerals marking off the 5-minute positions. The minute hand is long and slender, with a short hour hand with a long spear tip. At the 6 o'clock position, there's a small 60 second subdial with a hand that extends to its edges.
The automatic Caliber FBN 229.01 movement is reasonably accurate, although the unidirectional micro-rotor means that you can only set the time in one direction. Be careful when setting it. If you go forward by an extra minute, you'll need to advance 29 hours and 59 minutes to get back where you want to be. That said, it's an in-house movement, so it's more finely crafted that most off the shelf movements.
This is not a water-resistant watch. Unfortunately, you can't take it swimming, or even into the shower. If you spend a lot of time in the water, you'll probably want a different watch. The brown leather strap has a workmanlike appearance, with heavy stitching at the outer edges that make it sturdier and act as an accent.
Patek Philippe Calatrava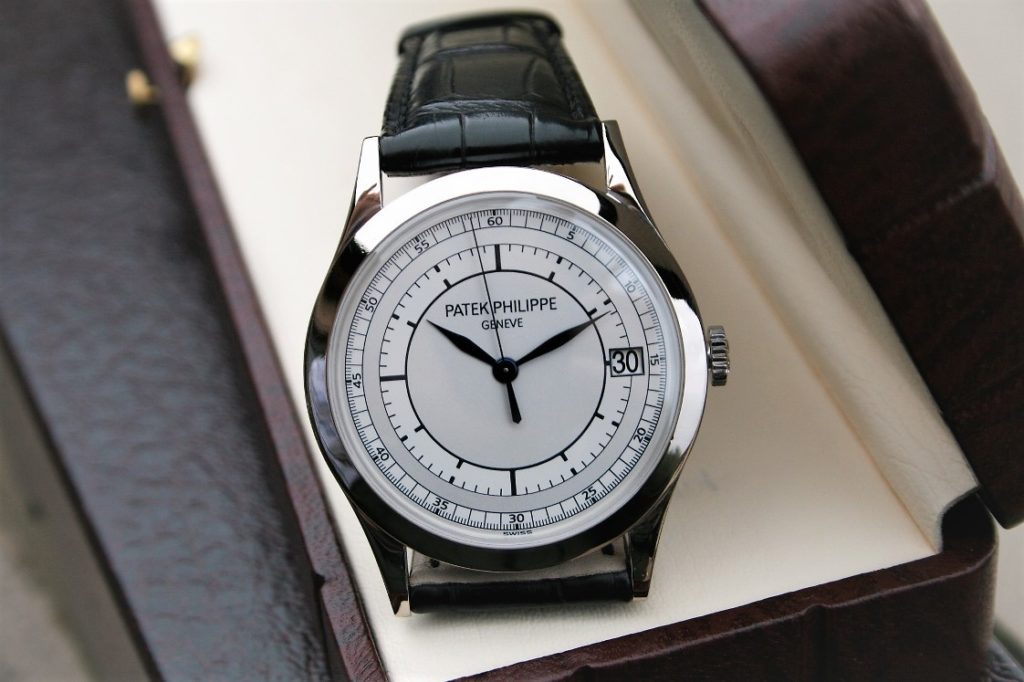 The PAtek Philippe Calatrava Sector Dial is beautifully round, with a 38mm diameter and 8.43mm thickness. It has a sloped bezel, as well as a sapphire crystal that's resistant to scratching and glare. It also has a sapphire display back, which allows for an unobstructed view of the movement.
The white dial has a clean look, with no complications other than the small 3 o'clock date window. The inner index has large hashes at the 5-minute marks, with larger hashes at the quarter-hour marks that extend to the outside of the index. Smaller hashes indicate individual minute marks. There's also a narrow, railroad-style outer index with hashes for individual minutes. Small numerals mark off the 5-minute marks. The hands are broad and spearhead shaped, with a black finish that stands in stark contrast to the dial. There is no second hand, which contributes further to the Calatrava's clean appearance.
The automatic Caliber 324SC movement has 29 jewels, and ticks along at a brisk 28,800 beats per hour. It has a 45-hour power reserve, so you can take it off for nearly two days without experiencing any problems. The Calatrava is water-resistant to 30 meters. As with the other watches I've covered, this essentially means it's splash-resistant, suitable for showering but not for swimming. And the black alligator leather band is sturdy, with decorative stitching along the outer edge.