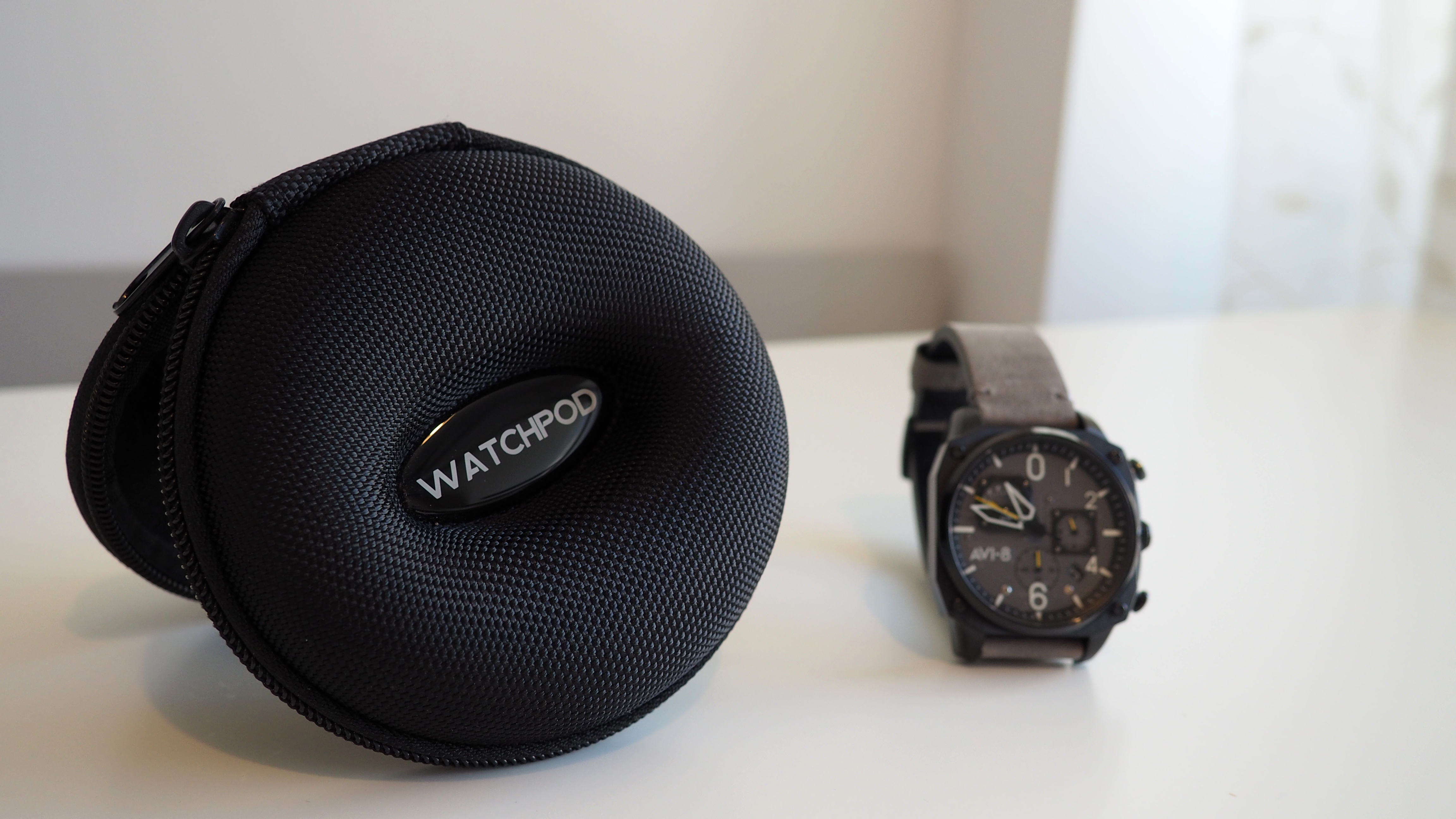 We understand just how difficult it can be to keep your watch safe while you travel, and the last thing you want is to arrive at your destination and notice that there is an incredibly scratched crystal on your watch. This time, we are going to look at five completely different single watch travel cases, all of which are currently available on the market.
Whether you are going on a quick road trip, or storing your watch in a suitcase for a plane journey, you have to be certain that your travel case is capable of protecting your watch. With so many different options available on the market it can be difficult to tell which ones are actually worth purchasing, and which will offer your watch as much protection as possible. So, what questions should you be asking yourself?
How durable is it?
What material is it made out of?
How large?
What shape?
Does it offer good value for money?
First up, we have the WATCHPOD. If you are looking for an affordable way to protect your watch, and a way to ensure that you do not have to worry about your watch, then the WATCHPOD ticks all of those boxes and more.
The exterior of the POD is made out of a heavy-duty ballistic 1680 denier nylon, so it is highly unlikely to crunch under pressure! The durability of the material means that it can protect your watch from a number of outside elements, as well as knocks and bumps. While the interior is the opposite, as it is cushioned, making it soft enough to protect even the most luxurious of timepieces.
The inside is worth noticing, as it comes with a deep concave centre. It features an ergonomic shape, which has been specially designed to maximise the amount of security that it can offer. The structure of the interior locks your watch in place, preventing the back of the watch from touching the bracelet. Most travel cases miss out on this feature, leading to watches rattling around within the cases.
If you have a number of watches, or you need to be able to carry different watches, then this single case is a great choice. It is compatible with the majority of watches that are readily available on the market, be they men's watches or women's watches, as long as the diameter of the watch face is smaller than 48mm.
To top it off, it's durable and comes with both a one-year warranty, and a full satisfaction guarantee. It would be best for people that are looking for an all-rounder, or a product that would be suitable for use with a wide variety of watches.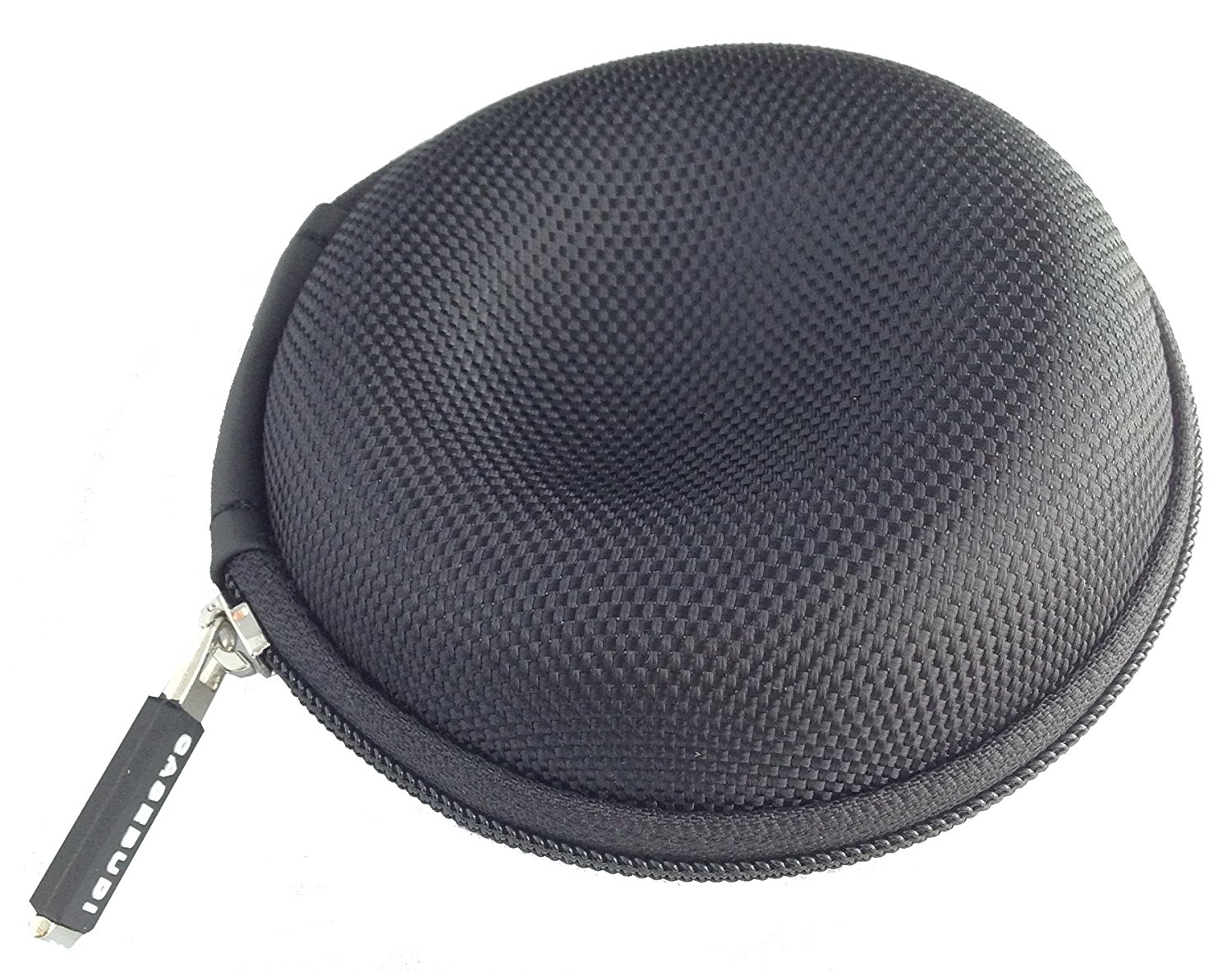 Moving on, and we have the slightly smaller CASEBUDi. The material that the exterior is made out of is incredibly similar to the material featured on the exterior of the WATCHPOD, as it is made out of a black ballistic nylon.
Due to the CASEBUDi being slightly smaller than the WATCHPOD, it would only really be suitable for use with watches that have a face size of up to 44mm in diameter. In our experience, we have found that the interior of this watch does present certain problems. Smaller watches rattle around in the case, because there is no support for the actual bracelet of the watch. This means that this travel case would only really be suitable for use with 'standard' sized watches, but it would not be advisable to use it with smaller watches.
The case itself has been made relatively well, including the use of a high-quality Japanese zipper. All of the cases are individually tested to ensure that they work correctly, and the product does come with a 1-year warranty. But, it is worth noting that only the final packaging of the CASEBUDi is actually done within the USA.
Overall, this is a good option for people who own 'standard' sized watches, but we would not recommend it to be used with watches smaller than 38mm in diameter. The watches would rattle far too much inside. It offers a good level of durability, but for the price there are slightly more durable products on the market.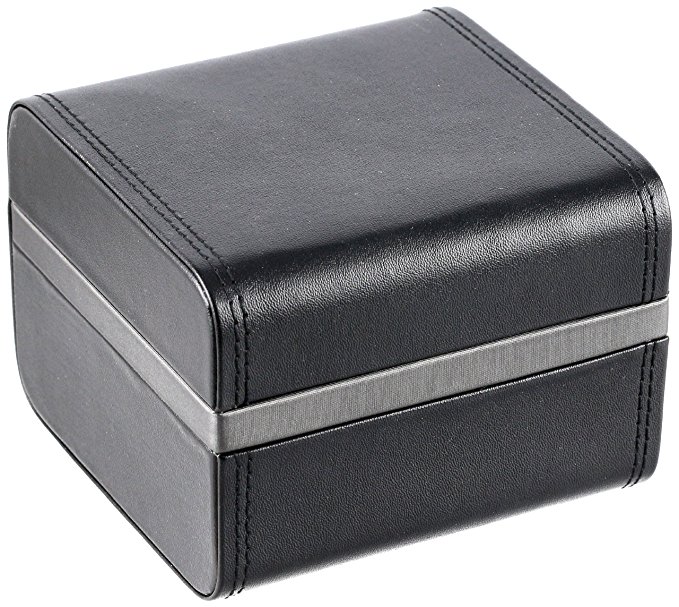 If you do find yourself stuck attempting to find a suitable travel case due to owning a larger watch, then the Diplomat 32-086 might be the product that solves all of your case hunting problems. It features a microfiber interior that can be used to hold watches up to 110mm wide.
The actual exterior of the Diplomat 32-086 features quite a classic appearance, as it is covered in a black faux-leather. This makes the aesthetics of this product stand out, as it appears to be expensive in both look and feel, while actually being relatively inexpensive and affordable. In our opinion, the appearance of this product alone would actually make it ideal for sending watches as gifts at Christmas time, or for someone's birthday.
You will not have to worry about your watch rattling around within the Diplomat 32-086, as it features a properly sized insert pillow. In our opinion, it is not as durable as our other options, mostly due to the shape of the actual product. Similar products are shaped as if they have been molded around the watch, to ensure that there is no 'wiggle room'.
We would definitely advise that this product be used for gifting watches, opposed to travelling across the country with. It would really catch the eye of the person receiving the gift, and we are certain that they would appreciate the classic and expensive appearance of the this box.
Sometimes it can be difficult to find a product that we actually like the appearance of, and if you don't find standard travel cases appealing, then the cylindrical design of the Heiden could be perfect for you. Unfortunately, the design does mean that this one is a little bit harder to tuck away into a corner of your suitcase, but it does look rather appealing.
The exterior of this product is made out of a black leather, opposed to a ballistic grade material, so the overall durability of this product could be questionable. If you were to travel with it, you would have to ensure that the top of the travel case was not placed in an area where it could be knocked, or dropped.
The soft grey velvet interior of the Heiden looks rather attractive, and it comes with a removable watch pillow. We would advise that you always use the removable pillow, otherwise the watch could really rattle around inside. This could result in the watch that you are trying to protect getting scratched.
In our opinion, this particular product would be best used to protect affordable watches, on short trips where it couldn't get knocked. The case itself is more expensive than other models, and it isn't quite as durable due to the lack of ballistic level material.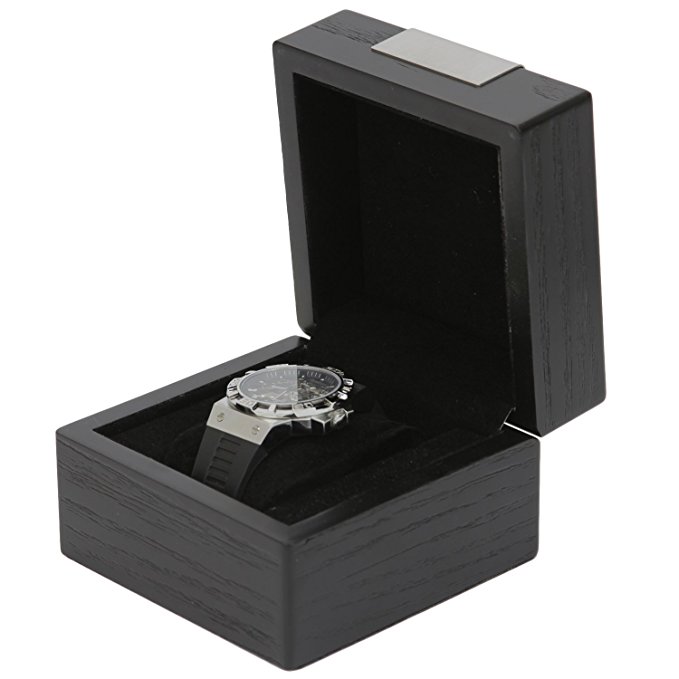 If you are looking for a travel case to give someone as a gift, or a luxurious looking single watch box for yourself, then the Tech Swiss TSBX100BX might be the right product for you. It has an expensive appearance that can be customised, and it looks aesthetically different when compared to all of the other products that we have reviewed.
Unfortunately, we have found that the Tech Swiss does not perform too well as a travel case, but it does prove to be an attractive option for storing away your timepiece. It would also be suitable for gifting watches. The reason that it doesn't perform well for traveling is because of how large it actually is, it has been made to hold large men's watches without an issue, which means that the watches rattle around when the box is moved.
The Tech Swiss features a signal metal plate that is thick enough to be engraved, and you could place someone's initials, their name, or a small shape there. This would result in a highly personalised gift, and the contrast of the metal against the wood grain of the box makes the box appear to be more expensive than it actually is.
Final Thoughts
Choosing a product to protect your watches can prove to be a difficult decision, as it is a hard choice that could result in a broken watch. Narrowing it down to just five options has been hard, and we hope that you have enjoyed the options that we have presented you with. Whether you are looking for a travel case to survive numerous flights, or one to gift a watch in, we are certain that there will be a case here that will be suitable for you.