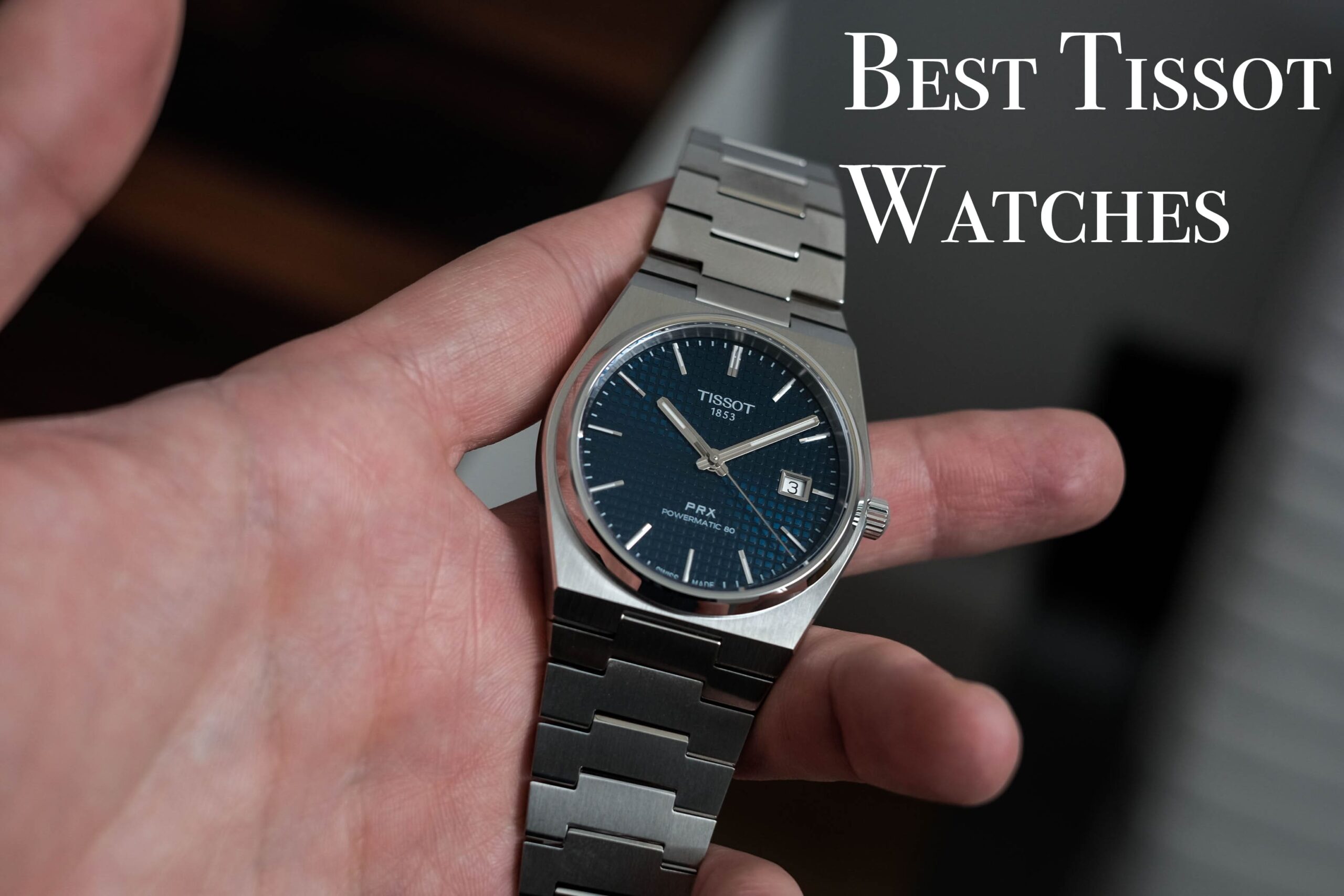 First founded in 1853, Swiss-based Tissot has been at the forefront of many watchmaking innovations. In their very first year, they released the first pocket watch with dual time zones. In 1930, they followed up with the first watch with magnetic-resistance. If that's not enough, Tissot manufactured the first plastic watch (1971), the first stone watch (1985), the first mother of pearl watch (1987), and the first wooden watch (1988). That's an impressive track record of achievements!
With each year comes a slew of new releases that shakes up Tissot's catalog. So, what are their best offerings of 2023? Here are my top five choices, all of which are reasonably durable and come with Tissot's two-year warranty. Let's take a closer look!
Tissot PRX Powermatic 80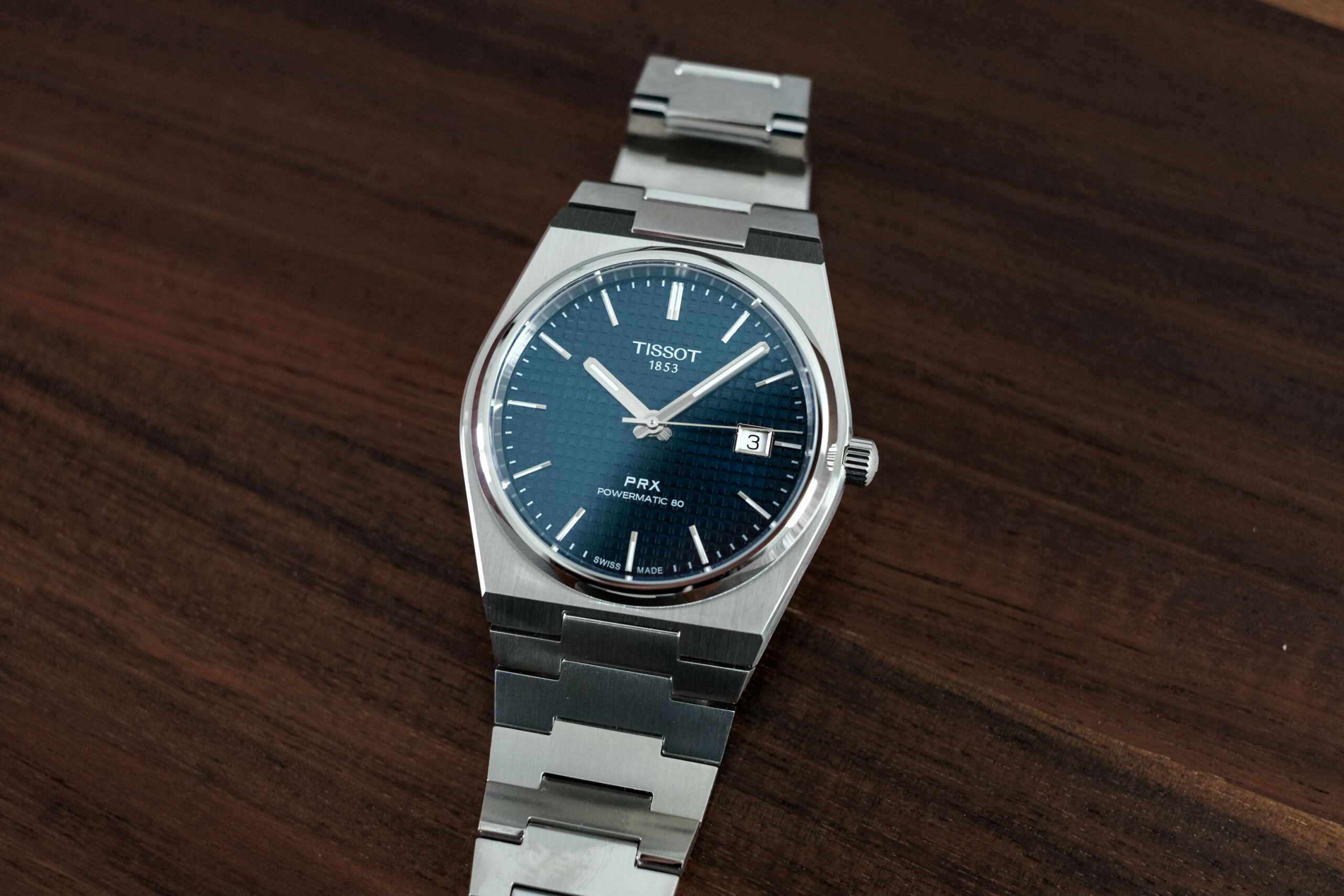 The Tissot PRX Powermatic 80 is a tonneau-style watch with a diameter of 40mm. The stainless steel case is fairly slim, at only 10.9mm thick and the lugs are set at 12mm. This allows for the attachment of a single-link stainless steel bracelet. The watch is water-resistant to 100 meters, which is safe for showering or swimming.
The sapphire crystal is scratch-resistant, with an anti-reflective coating on one side. It's mostly flat, with a slight bevel around the edge that creates an attractive accent. A display case back is made from a similar sapphire, and gives you a good view of the Swiss automatic movement. This movement has a power reserve of up to 80 hours, enough to leave it off over a long weekend.
The blue dial has a square grid texture, and is surrounded by a narrow bezel. It has a spartan appearance, with tiny applied silver indexes at the minute marks. The 5-minute positions have larger applied indexes with lume striping, with a double-index at 12 o'clock. A small date window adorns the 3 o'clock position, and is outlined by a silver border. Other than that, there's nothing to interrupt the textured finish of the dial. The hour and minute hands are fat, with lume stripes down the center, and the second hand is needle-shaped.
Tissot PRX Chronograph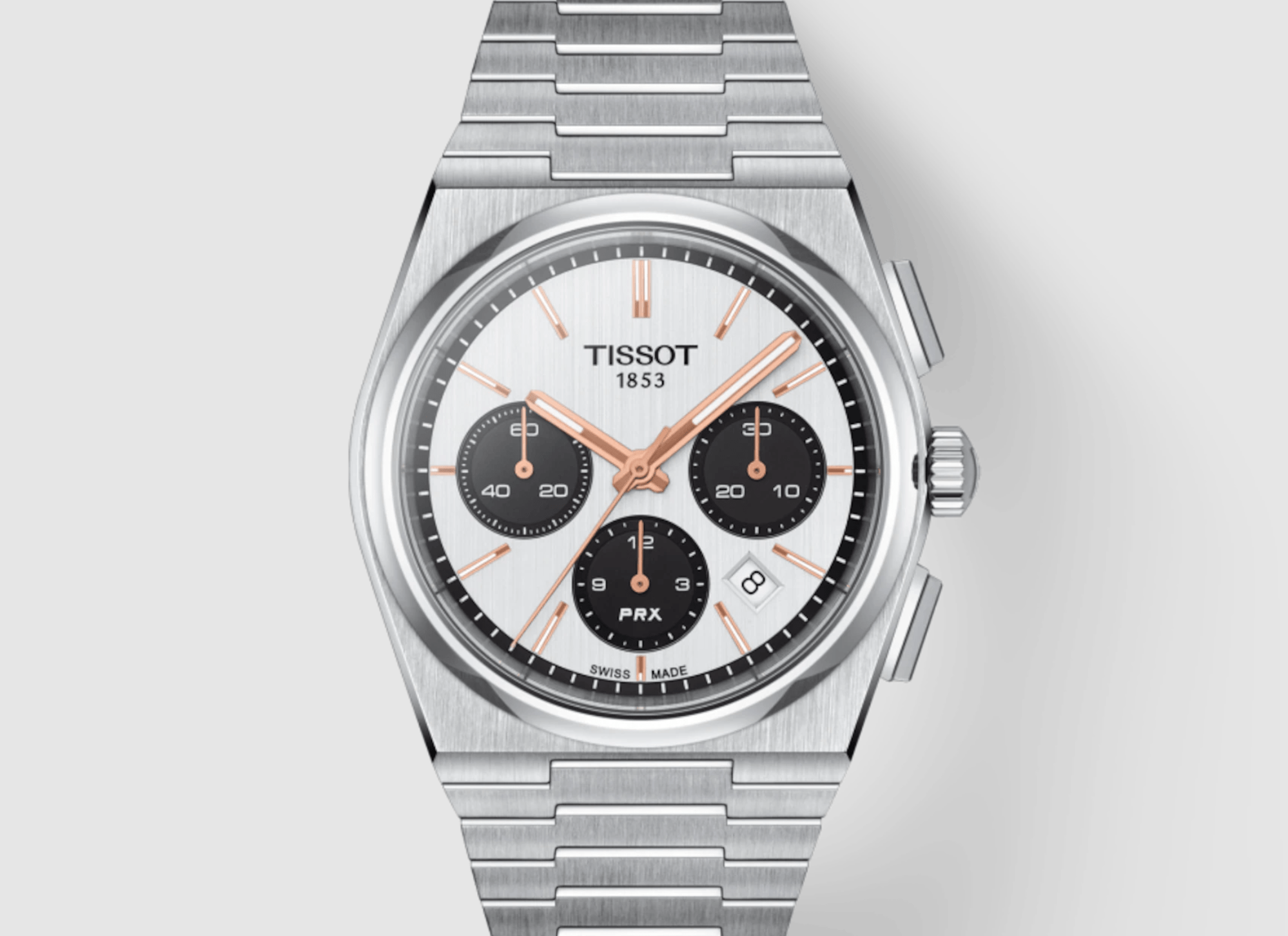 The Tissot PRX Chronograph is another tonneau watch, but it's a bit wider, with a diameter of 42mm. The 316L stainless steel case measures 14.5mm thick, with narrow 13mm lugs. The strap is made from a matching brushed stainless steel, and has a tapered profile. It's fat at the watch, and only about half as wide at the clasp.
The watch is water-resistant to a depth of 100 meters, and sports a scratch-resistant sapphire crystal with an anti-reflective coating. This crystal is totally flat, and doesn't distort your dial or create any distractions. On the other side of the watch, a display caseback provides a clear view of the Swiss automatic movement, which has a power reserve of up to 60 hours.
The white dial has a vertical brushed finish, with a black ring around the outside that forms an outer index. A series of white hashes are painted into it at the individual minute positions. Inside of this is a set of copper applied indexes at the five-minute positions, with lume striping down the centers. There's a double-hash at the 12 o'clock position. Three black subdials are positioned at the 3, 6, and 9-hour positions, with a date window between 4 and 5 o'clock. You can also order an alternate version with a blue dial and a white outer ring and subdials.
Tissot Heritage 1973 Chronograph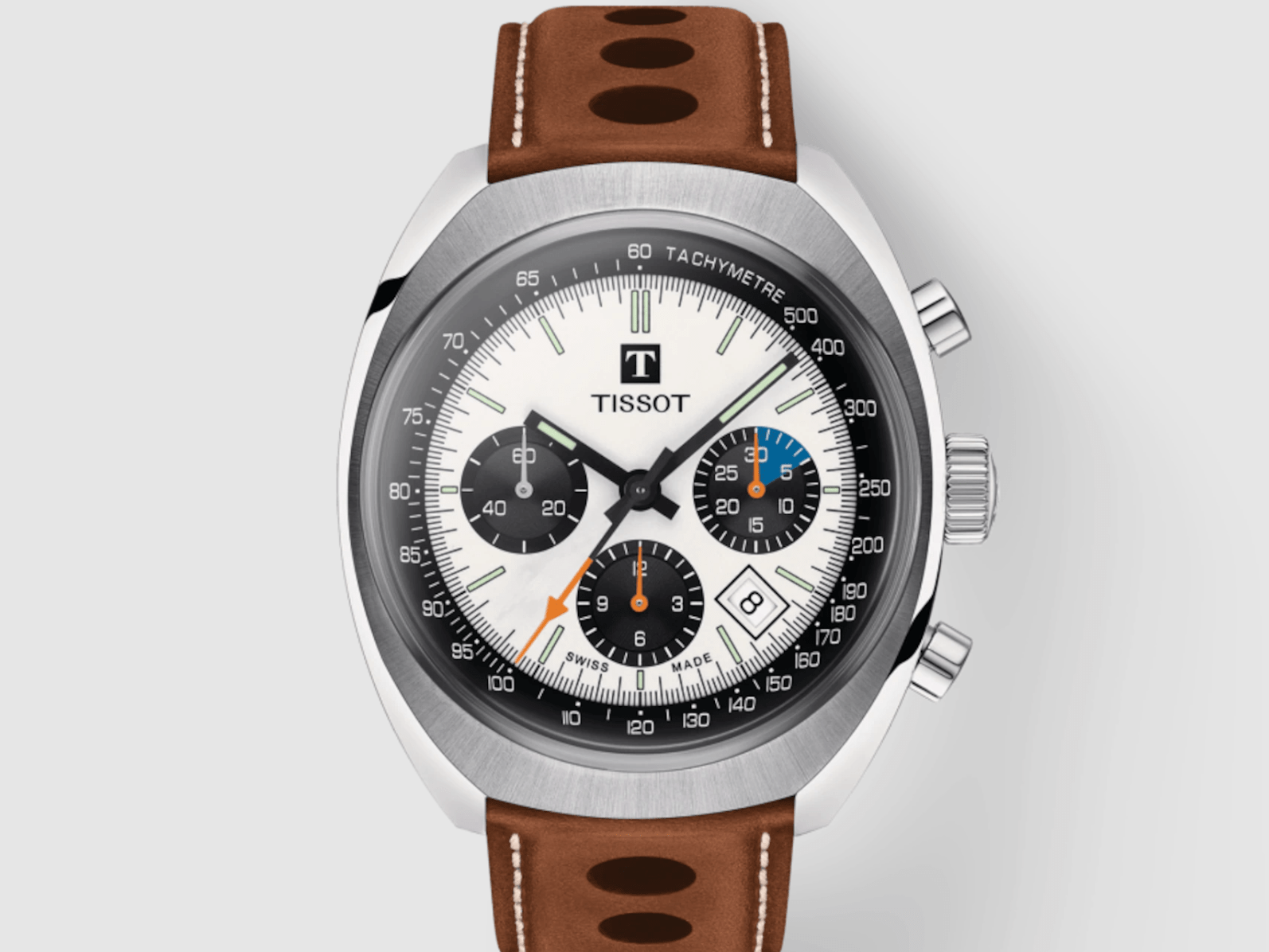 The Tissot Heritage 1973 Chronograph also has a tonneau case. However, it measures a fairly beefy 43mm in diameter and 14.8mm thick, with 22mm lugs that are wide for a tonneau watch. These lugs connect to a brown calfskin strap with white stitching down the edge and a folding steel clasp with safety pushers. The watch is water-resistant to 100 meters.
The 1973 Chronograph has a bezel-free design, with a scratch-resistant, anti-reflective sapphire crystal that sits flat to the front of the case. On the reverse is a display caseback, which shows off a stunning Swiss automatic movement. This movement has a power reserve of up to 60 hours, which should be plenty for most people.
The outside of the dial consists of a black tachymeter ring, which starts at 500 and runs down to 60. The main portion of the dial is white, with black subdials at the 3, 6, and 9 o'clock positions, and a black-bordered date window between the 4 and 5 o'clock positions. Fine black hashes indicate the individual minute marks, with fatter green lume hashes at the five-minute marks. The black minute and hour hands are entirely rectangular, with green lume striping. The second hand is mostly black, but sports an orange arrow-shaped tip.
Tissot Visodate Powermatic 80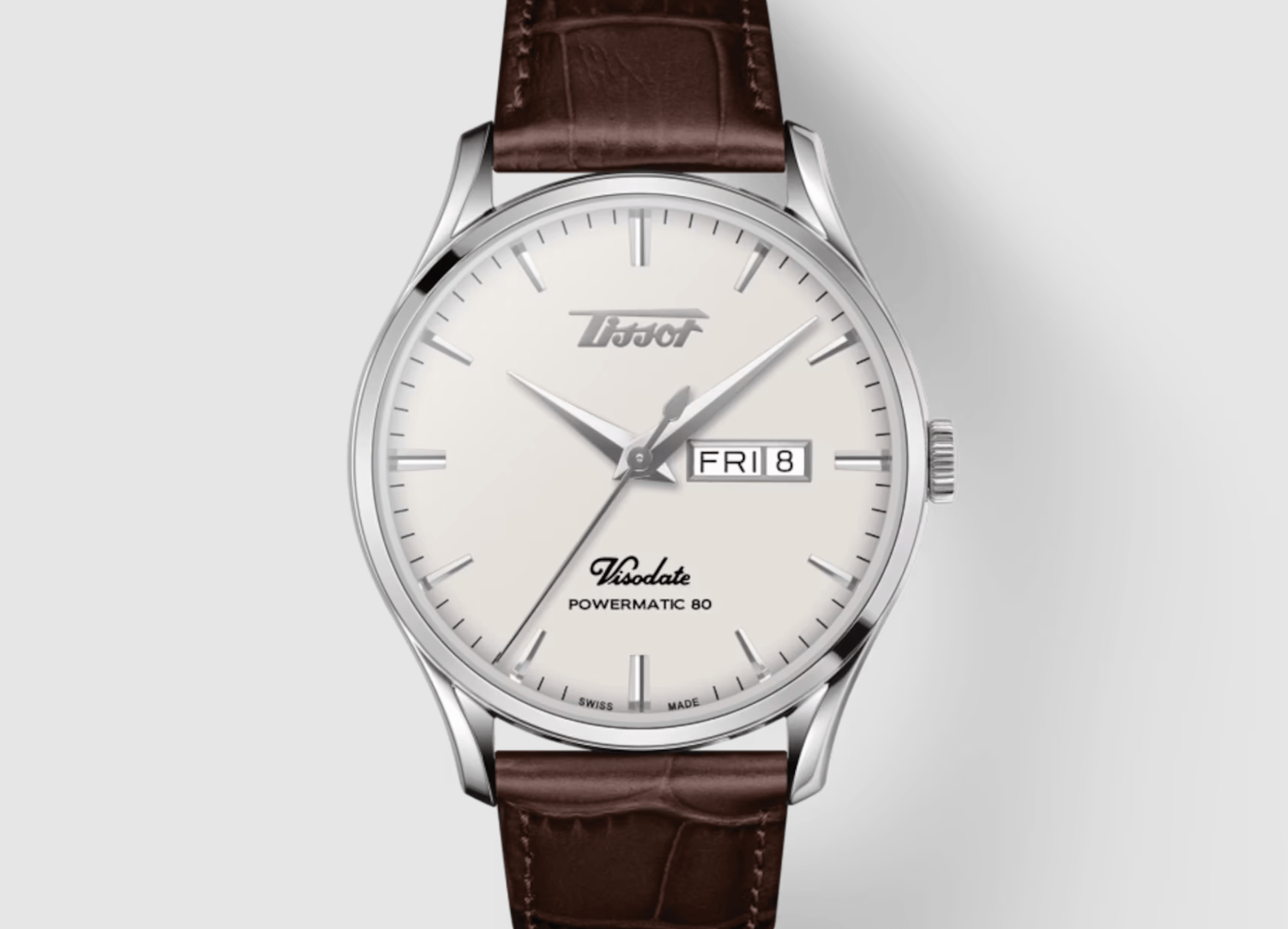 The Tissot Visodate Powermatic 80 has a circular form factor with a narrow bezel and slender arched lugs. Its case is engineered from 316L stainless steel, and measures 42mm in diameter and 12.1mm thick. The lugs are set 21mm apart, and attach to a brown alligator-grained leather strap with a push button clasp.
The domed crystal is made from scratch-resistant sapphire, and slightly distorts the edge of the dial when viewed at an angle. You'll also find a display caseback on the back. The movement inside is a Swiss automatic, with a long-lasting 80-hour power reserve. That said, the water-resistance rating is only 30 meters. You can take it in the shower, but that's as wet as it should ever get.
The dial is matte eggshell / cream white, with fine painted silver hashes at the minute positions. A set of larger applied silver hashes indicate the five-minute positions. The hands are also silver, and have a tapered form factor. The top surfaces are peaked at the center and sloped to the sides, providing a 3D appearance. The second hand is far more slender, and has a small lump at the back. You'll also notice a pair of day and date windows next to the 3 o'clock position. These are ringed with silver, which ties the whole look of the dial together.
Tissot Telemeter 1938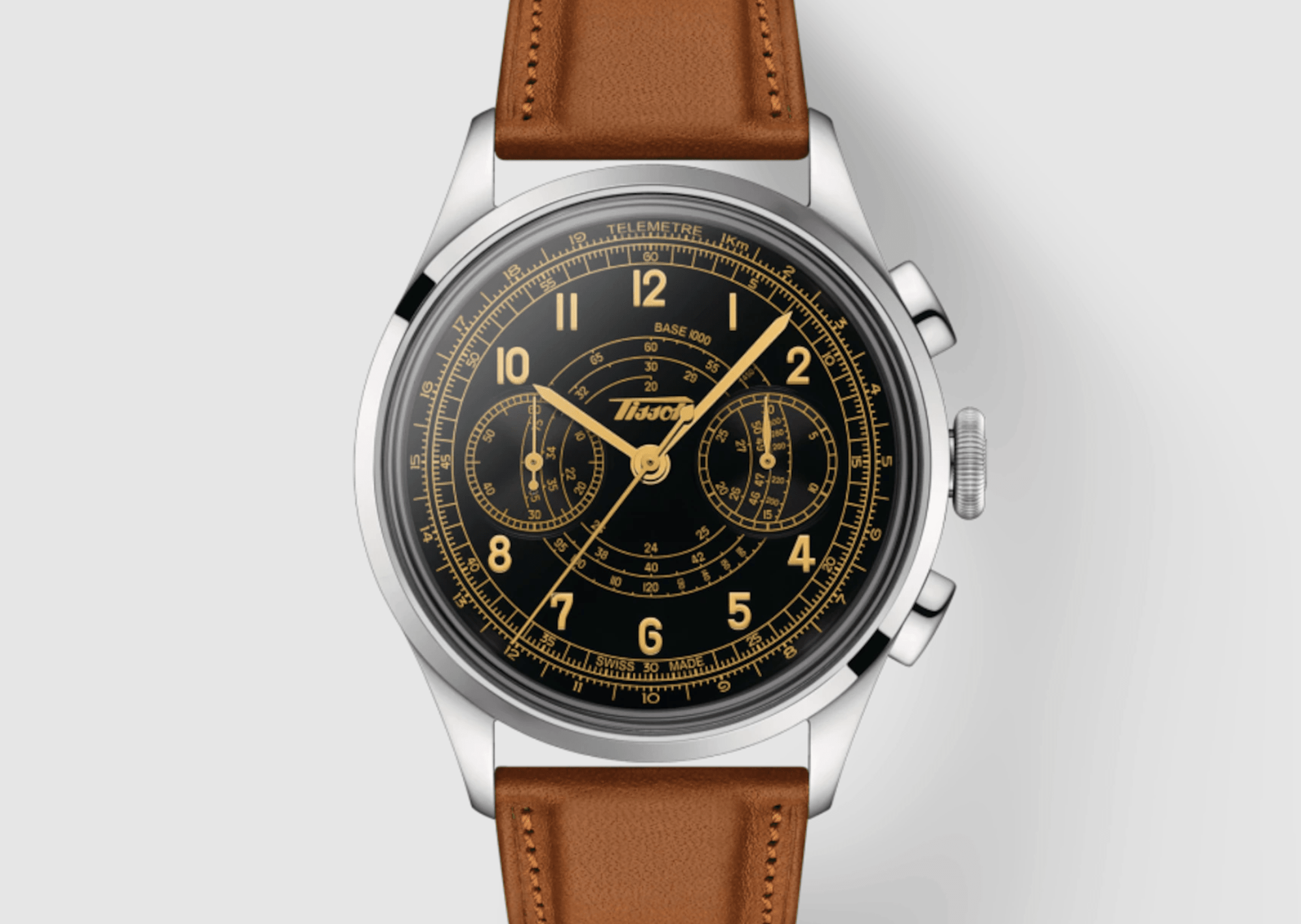 The Tissot Telemeter 1938 is, as its name implies, a throwback. The 42mm stainless steel case has a round retro shape, with a flattish crown and pushers. It's fairly thick, at 13.9mm, and the 22mm lugs attach to an attractive embossed leather strap. And while it's only rated for 30 meters of water-resistance, that's good enough for everyday life.
The scratch-resistant sapphire crystal is very tall, and provides an attractive distorting effect when viewed at an angle. The display caseback is also very durable, and is made from the same material. Inside of the case is a Swiss Tissot automatic movement, with a long-lasting 68-hour power reserve.
I loved the black dial, with its overlapping copper markings and accents. Around the outside is a ladder index that shows the minute positions in tiny Arabic numerals every five minutes. Inside of this is the primary index, with large Arabic numerals at all hour positions except for 3 and 9 o'clock. The copper hands are large and broadsword-shaped, with a long, narrow second hand. A pair of subdials are positioned at 3 and 9 o'clock, which count of 30 minutes and 60 seconds respectively. At the center is a 60-second chronograph index that overlaps with the subdials. This index is almost as wide as the primary index, and utilizes the second hand when active.