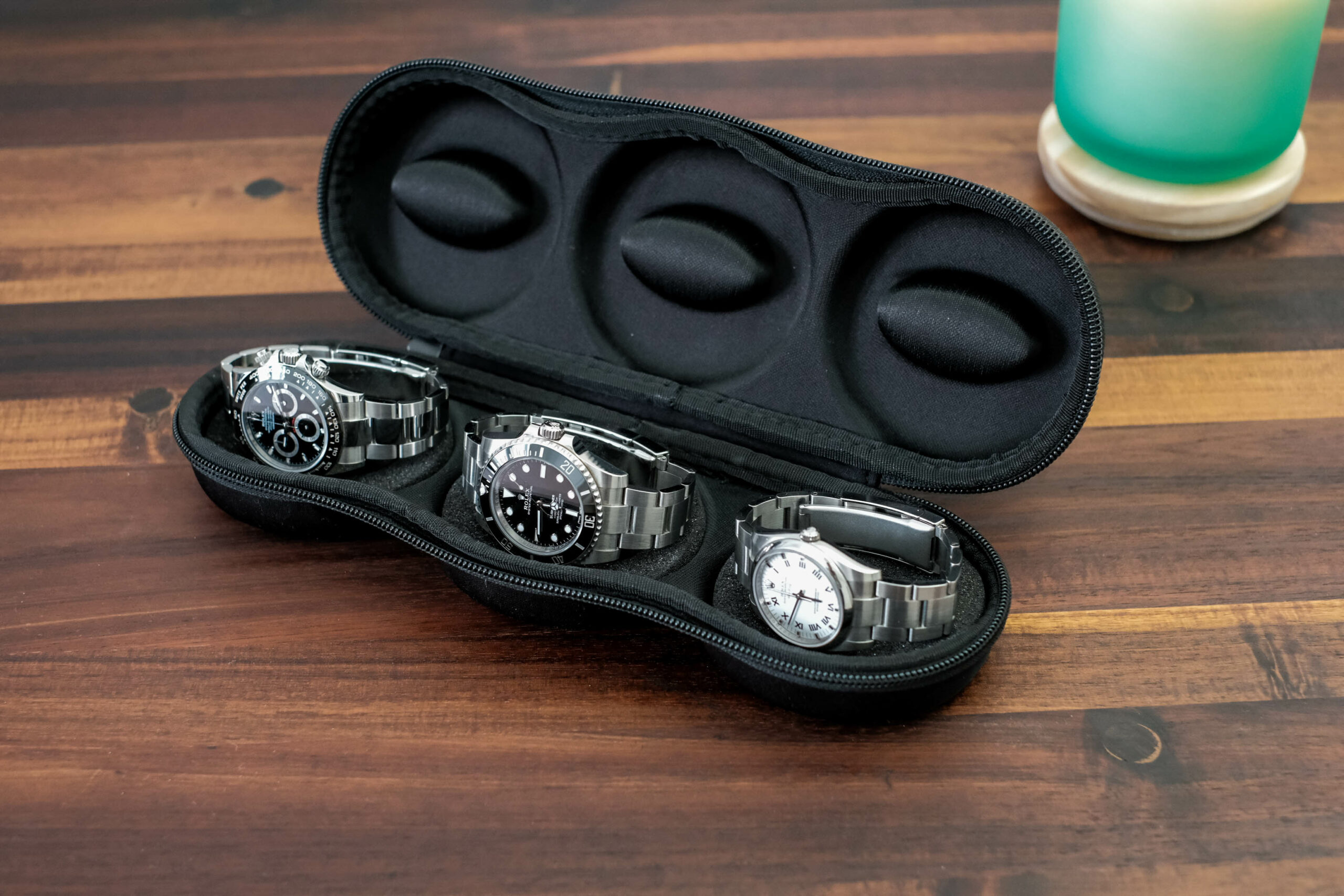 If you're a watch enthusiast, you probably have more than one watch. This presents a challenge. With one watch on your wrist, you'll need somewhere to stow your other watches. Sure, you could just use the box the watch came in, but it's not the ideal solution. Unless all your watches come from the same collection, they're liable to ship with different cases. The better solution is to use a single case that's built to hold more than one watch.
Today, I'm going to talk about three of the best watch cases for home storage. I'll go over all the details, and you can decide which one is right for you. Let's get started!
WATCHPOD Triple Watch Box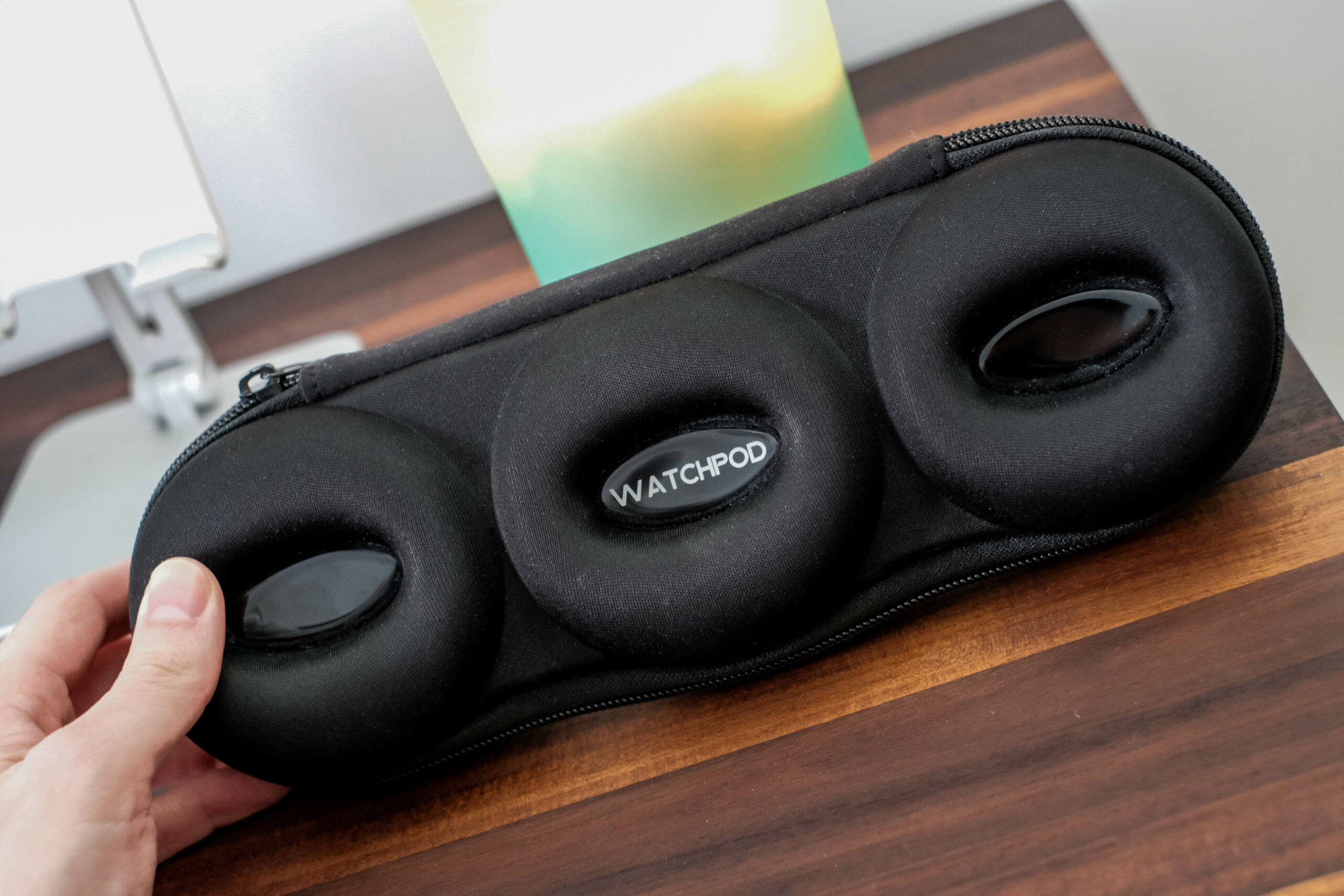 The WATCHPOD® Triple Watch Box was designed by the folks right here at the Watch Review Blog. We got tired of traditional watch cases and decided to create something a little bit different.
The problem with a lot of traditional cases is that they leave your caseback sitting against part of your clasp. If you've got a metal bracelet, it can scratch up your caseback. This can be particularly distressing if your watch has a display case. To prevent that, this case houses your watches in donut-shaped wells. You set the watch in on its side, with the strap looped around the protrusion in the middle. When the case is closed, a similar protrusion closes the center of the case. This keeps the strap from rubbing on the caseback and vice-versa.
The WATCHPOD triple case is designed to accommodate three watches. It measures 10.5 inches wide, 4 inches deep, and 2.25 inches thick, and can accommodate watches up to 50mm in diameter. In addition to the triple watch design, it's also available in single or double watch sizes. The interior is entirely surrounded with a soft padding, which cradles your watch and keeps it protected. The padding is extra-thick, to ensure that your watch won't get damaged even if you drop it.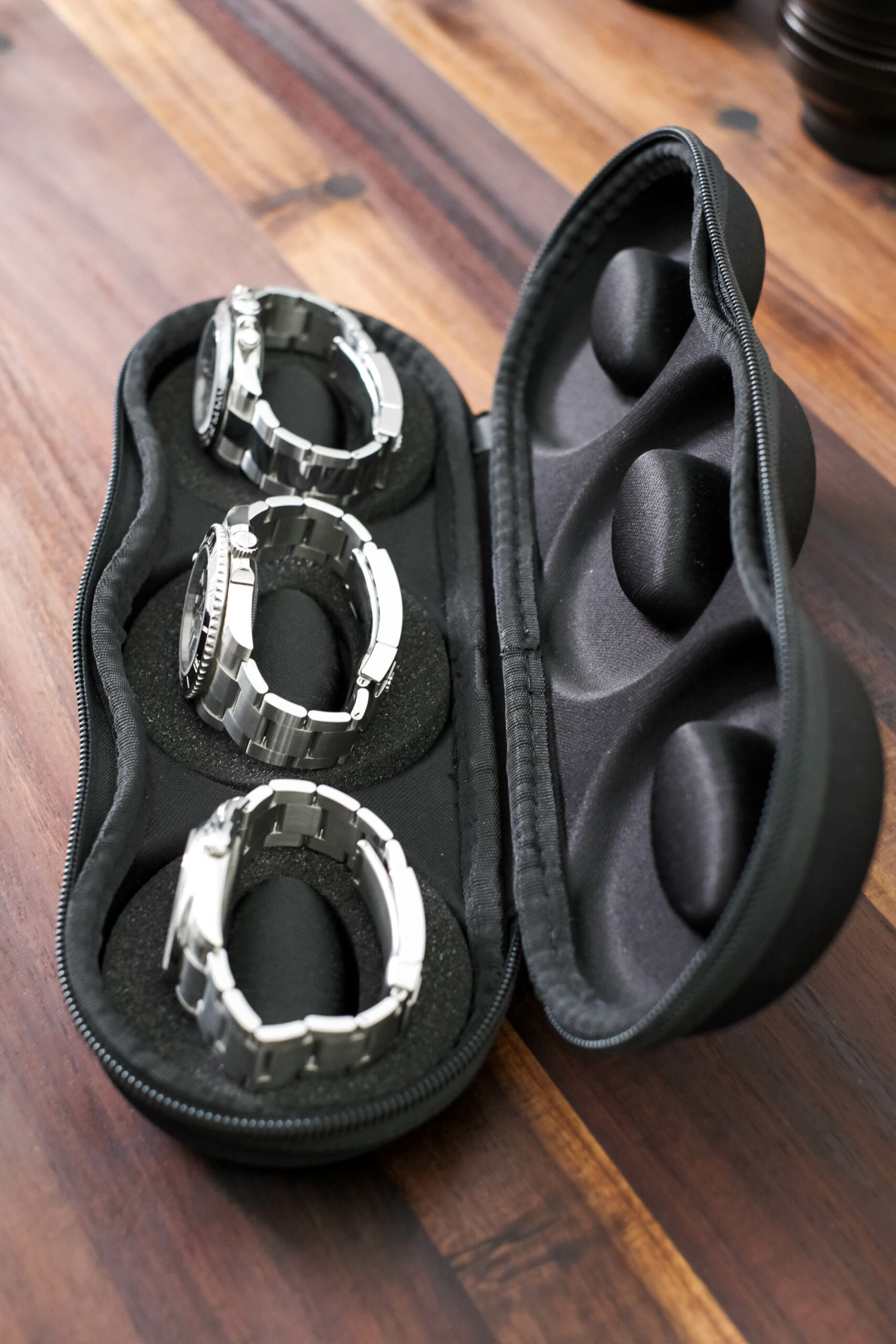 The outer shell is constructed from a thick, premium lycra that can stand up to a lot of abuse on the triple and double size, or 1680 Denier Nylon on the single. It's even partially water-resistant, as long as you don't fully immerse the case in water. We also liked the zipper, which is high-quality and closes securely. Meanwhile, the only branding is a white "WATCHPOD" imprint in the middle of the center compartment.
There are a few features of the WATCHPOD case that make it unique. To begin with, it's very compact. While it's not ornate, it's also easy to stow. If you're keeping it in your dresser drawer, you can tuck your watches in right next to your socks. And if you keep your watches in a safe, you won't have to mess around with storing a bulky case.
Along the same lines, this case is very discreet. It's just black nylon, and it looks like it could be carrying pretty much any small device. To the casual eye, it certainly doesn't look like it contains valuable watches. This is good news if you take your watches with you on vacation, since it's less likely that you'll become a mark for thieves.
The WATCHPOD case is affordably-priced, which is a welcome break if you've just bought an expensive new watch. And with a 12-month warranty, you'll have plenty of time to make sure there are no manufacturer's defects. Our WATCHPOD triple cases are available for purchase through the official store here. as well as on Amazon USA, UK, and Canada.
WOLF Watch Boxes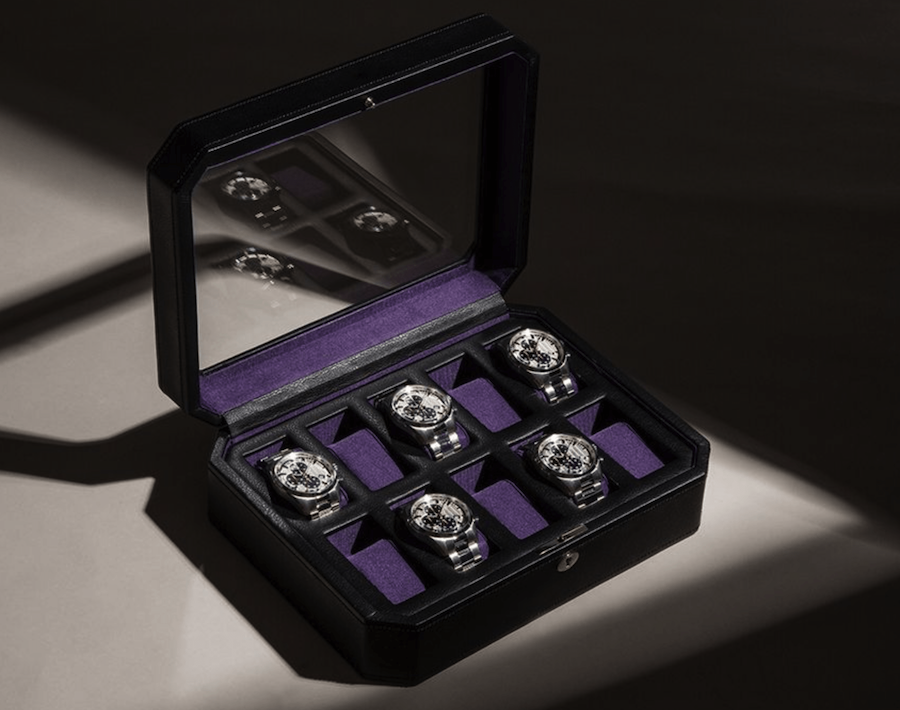 WOLF Watch Boxes have a more traditional design. They're rectangular cases, where your watches sit inside in individual square compartments. Inside of each compartment is a padded cylindrical insert, which goes in the middle of your watch. The insert protects your watch, much like the donut-shaped indents in the WATCHPOD case. The difference is that the watches sit inside vertically rather than horizontally. The result is a fatter design that's a little bit tougher to travel with.
To be clear, these cases are very durable. They're made from metal, which allows them to take a bit of a beating. They're also gorgeous, with a vegan leather shell that's available in multiple colors and styles. Some have a quad-angled lid with peaked panels that make it look like a roof. Some have flat lids with a mirror on the inside. Still others some with a beautiful display window on the top, the better to show off your watches.
You can choose from multiple sizes. WOLF's boxes are available in 5, 6, 7, 8, 10, and 15-watch sizes. Some options come with a little storage drawer for stowing accessories like extra bracelet links and any small tools you may have. Other versions are specifically designed for smart watches, with little holes in the back for your charging cables. This is a great relief for anyone who hates having to charge their smart watch when they take it out of storage.
WOLF charges mid-range prices for a good quality product. Their cases lock with a key and are very secure. Then again, they're very conspicuous, and are liable to quickly attract the attention of thieves whether inside the home or while travelling.
For more information you can visit the official WOLF 1834 website here.
Molequin Watch Boxes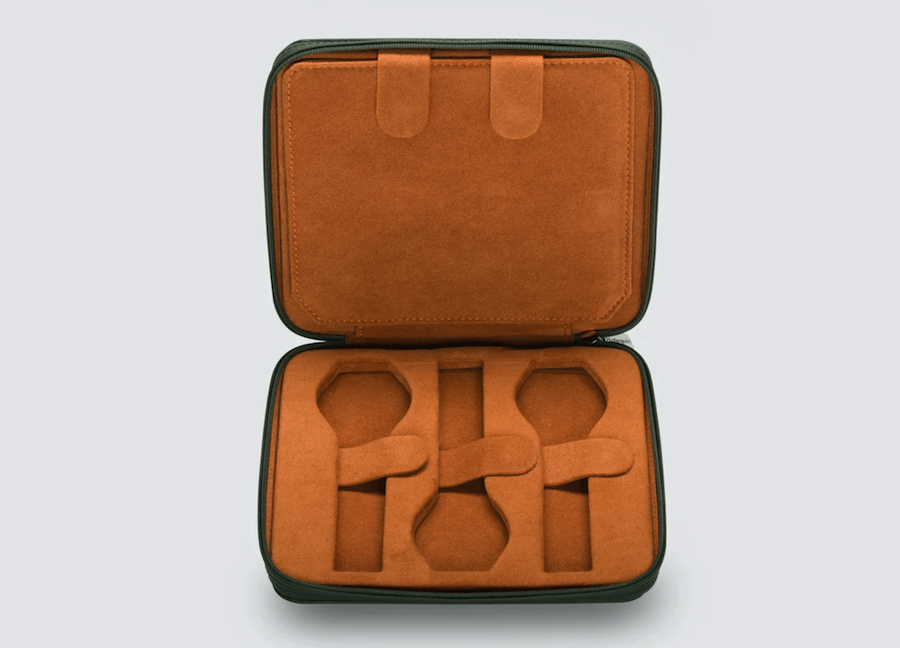 Molequin Watch Boxes are constructed from the highest-quality materials. The outer shells are crafted from luxurious grained calf skin, and is available in four colors: black, whiskey tan, hunter green, and taupe. It's also durable, with stitching around the edges that's colored to match the leather.
The inner portion of the housing has an Alcantara finish, which is pecan-colored regardless of the case color. This is a synthetic material that's often used as a replacement for suede. In fact, if no-one told you it was artificial, you'd probably just assume it was suede. But while it's soft and supple, it's exceptionally durable. Alcantara is even used in automobiles due to its ability to withstand years of abuse.
You have a choice of five sizes. Molequin makes cases to fit 1, 2, 4, 6, or 8 watches. On all sizes, the design is pretty similar. You unzip the side of the case and it opens like a book. You then lie your watch in on its side, where it fits in a recess that accepts watches up to 46mm wide and 12mm thick. A snap-on closure retains the strap in place, keeping the watch more secure. In the 2, 4, 6, and 8-watch versions, both halves of the case have an equal number of watch recesses, with a soft dividing flap in-between.
These are luxury cases, and they look gorgeous. That said, they're somewhat conspicuous, and the leather can be stained if it gets wet. Not only that, but one side of your watch band runs back behind your watch, so it's not suitable for watches with metal bracelets.
For more information you can visit the official Molequin website here.
Final Thoughts
All three of these watch case selections are pretty well-designed. Which one is best for you will depend on what you're looking for.
Obviously, I'm partial to the WATCPOD case. To begin with, it's discreet enough for travel. It's also easy to get your watches in and out, and it won't scratch the back of your watch.
That said, the WOLF case is available in many attractive variants, including some with see-through lids. And the Molequin boxes are as premium as it gets, with calfskin leather shells and soft Alcantara interiors. Both of these options are very much worth considering.