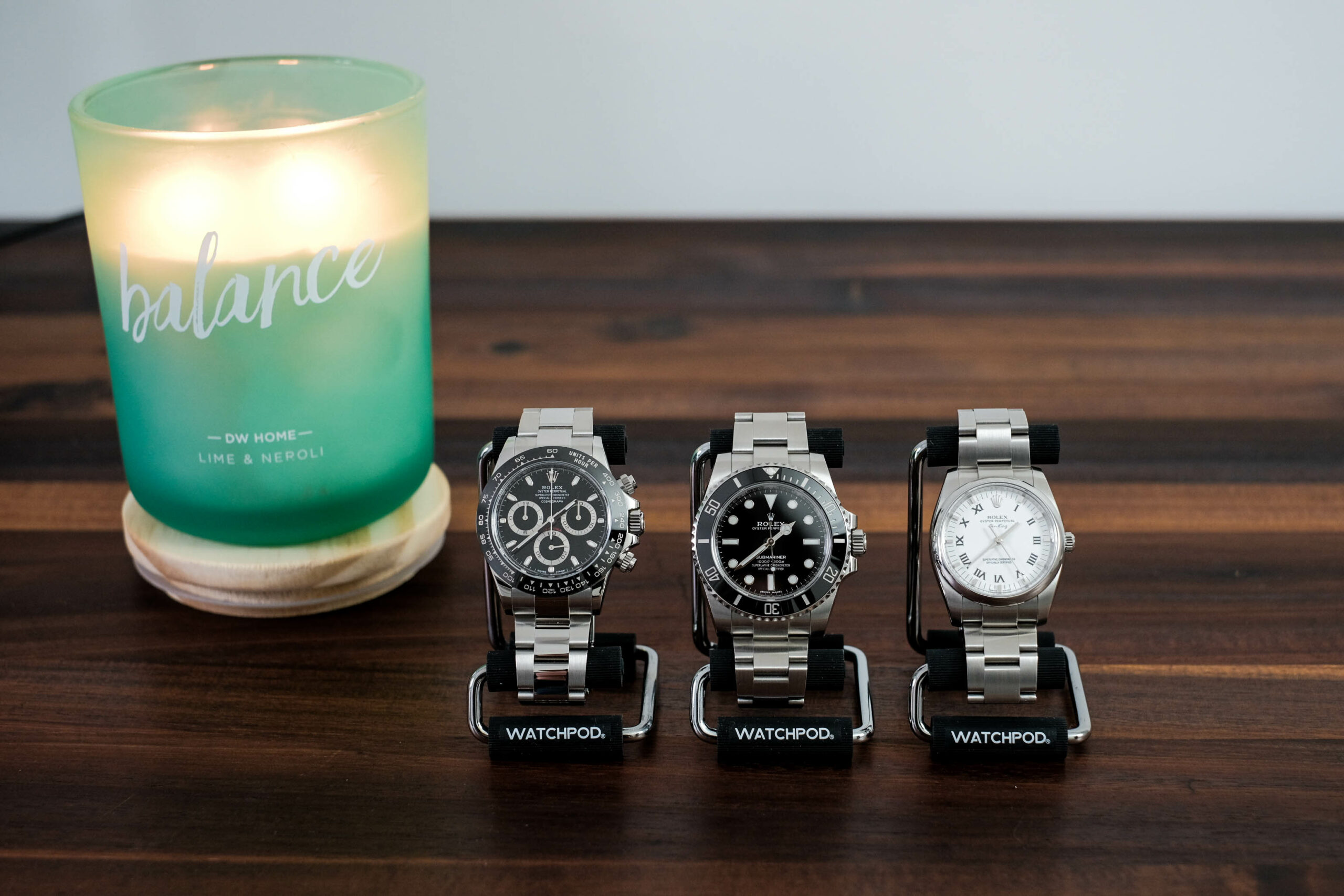 When you think of a wristwatch, you probably picture it on your wrist. But when you're not wearing your watch, it needs to go somewhere. Maybe you have a carrying case for storage or travel. But you may also want a convenient stand to place your watch when you're sleeping, or to set it up for photographs. After all, you can only fit so much stuff in your nightstand drawer, and you don't want to scratch your watch.
Watch display stands have become very popular, particularly for luxury brands like Rolex and Omega. They're a great way to display your collection, as opposed to a case, which is generally kept closed. But a lot of today's watch stands are overly elaborate. You'll see stands with fancy granite bases, fine wood supports, and even glass and acrylic options.
I'm not a big fan of these stands. If I want to show off one of my watches, I don't want a fancy stand that distracts from it. I want a minimalist stand that allows the watch to speak for itself.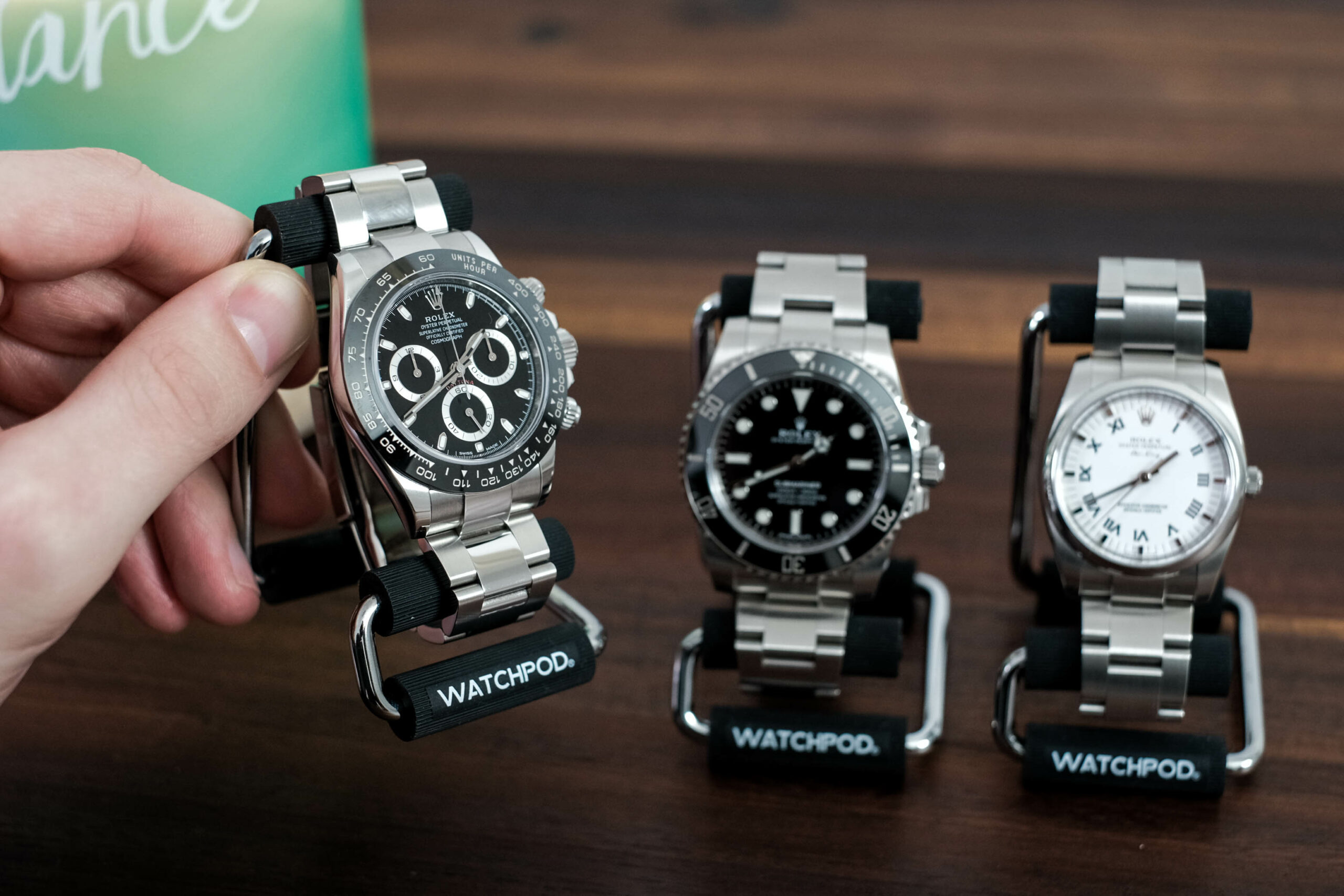 That's why we at the Watch Review Blog have designed the WATCHPOD® Display Stand. It's a spartan, minimalist stand that's designed to display a single watch without any distracting embellishments. And while I like to think it's very high-quality, it's also very affordable. That's good news for anyone who's just spent a small fortune on a brand new watch.
Here's everything you need to know about this display stand.
Introducing the WATCHPOD Display Stand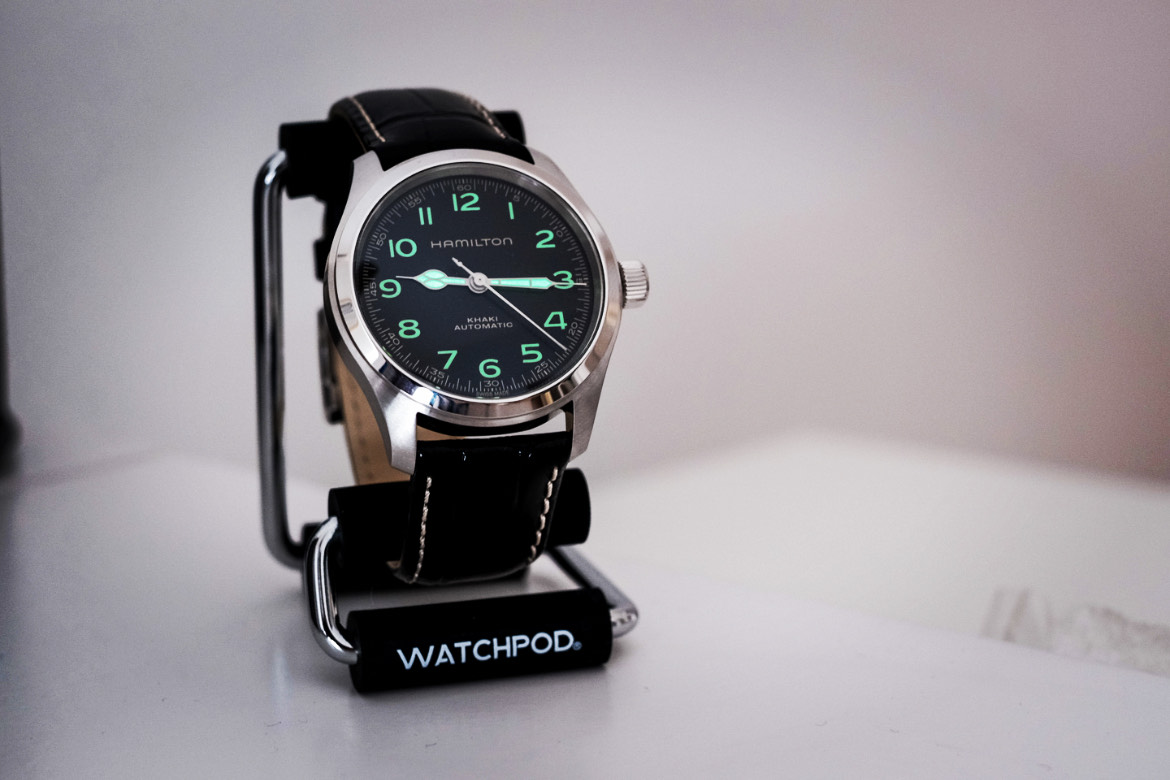 Not long ago, CP discontinued their popular watch holder. But what seemed like a sad thing for watch enthusiasts turned into an opportunity. WATCHPOD was able to use a similar design, but build it with higher-quality materials and add a few improvements. The result is the ultimate luxury watch display stand.
The frame is a single piece of stainless steel – a circular rod that's bent at right angles to form the perfect bracket. There's a horizontal bar at the top to support the top of your watch. This bar turns down 90 degrees, then angles right, forward, and back left again to form a three-sided base. There's a shorter horizontal bar at the front, to hold the bottom of your watch strap.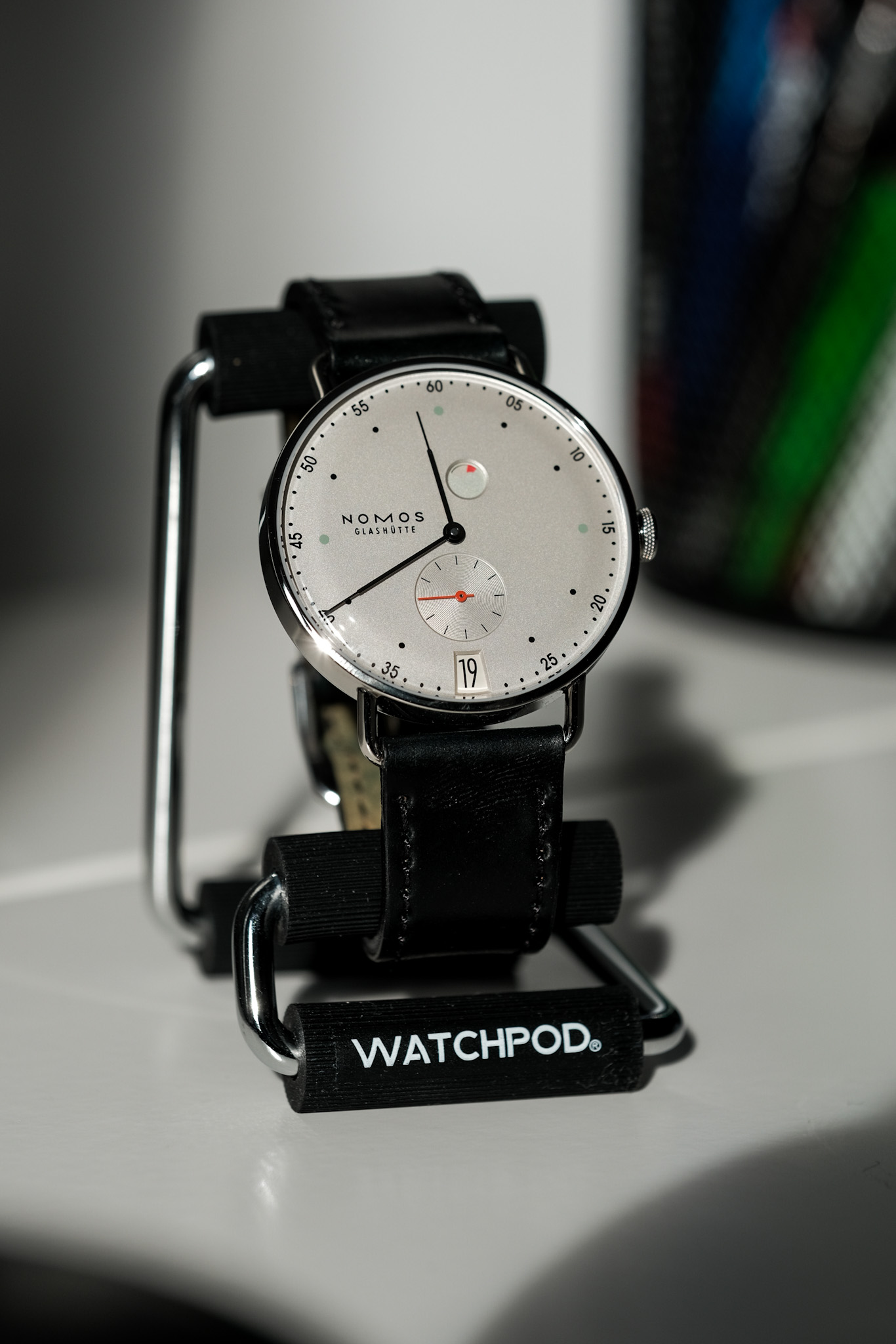 The two watch supports and the front and back of the base are covered with a black silicone sleeve. This protects your watch, as well as whatever surface the stand is sitting on. The black on steel look is sleek and minimalist, and the only branding is a white "WATCHPOD" imprint on the front of the base.
You can order the WATCHPOD stand in two sizes. The small version measures 3 inches high and 2.25 inches wide, while the larger variant stands 3.5 inches tall, with a width of 2.5 inches. The stands are available for purchase through our official online store here, and are also available on Amazon USA, UK, and Canada.
WATCHPOD Display Stand Benefits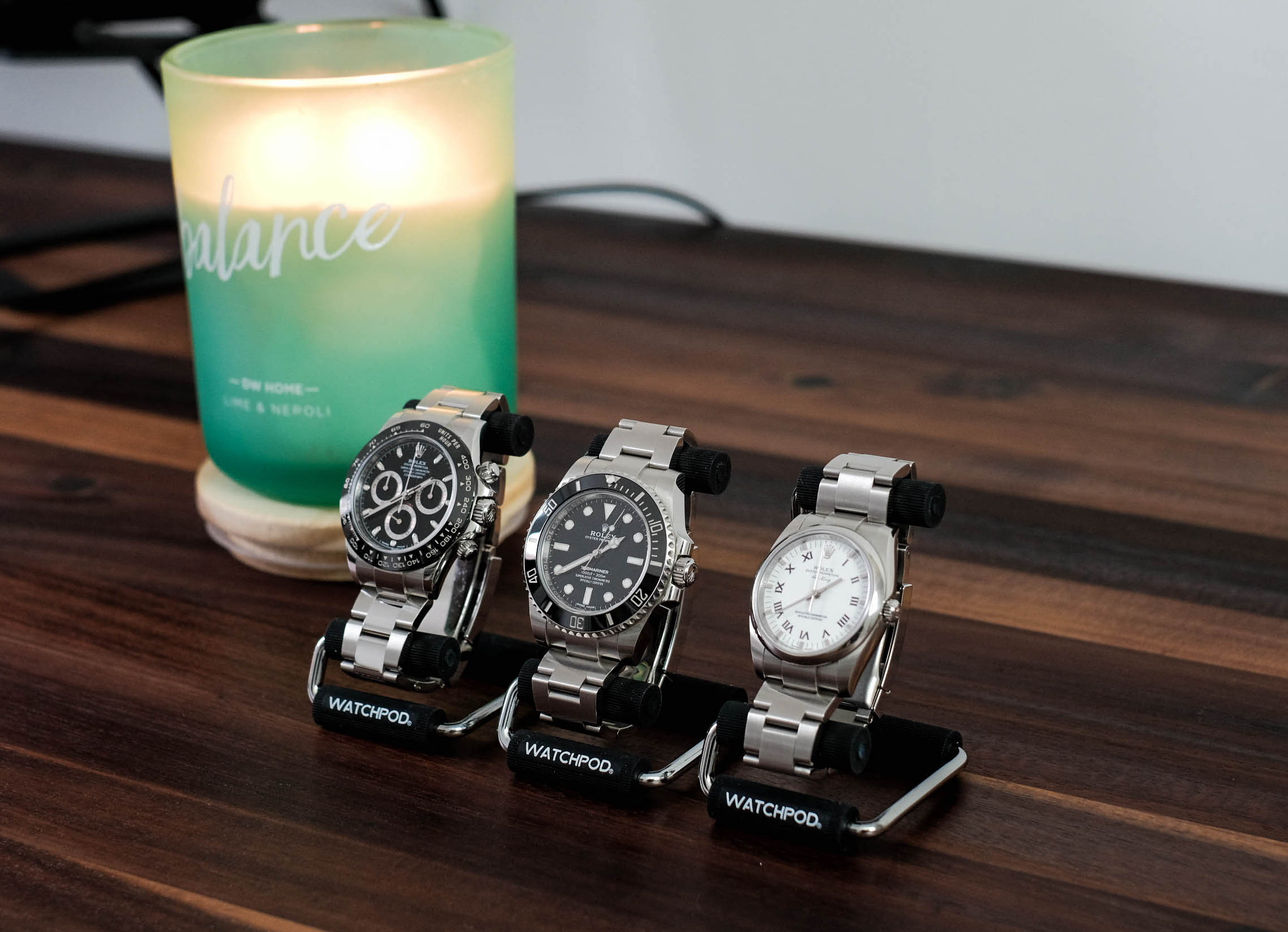 WATCHPOD is well-known for making high-quality watch accessories. This has been true since the release of the original WATCHPOD travel case, with its pioneering donut-shaped design. But what is it that sets this stand apart? Here are a few benefits.
Top Quality Materials
The WATCHPOD stand is built to last. It's constructed from polished stainless steel that's corrosion-resistant and can take a serious beating. It matches beautifully with any stainless steel watch case, with a clear reflective finish. Meanwhile, the silicone protective bumpers are nice and thick, and are both softer and tougher than cheap plastic bumpers.
Each WATCHPOD stand is also manually inspected in the US, UK, or Canada before being shipped to the consumer. This means the risk of receiving one with a factory defect is practically zero.
An Elegant Appearance
A display stand is supposed to do just what it sounds like – display your watch. A lot of stands are designed to look fancy, with the idea being that a luxury watch deserves a luxury stand. But a fancy stand can be distracting, and can actually diminish your watch's appearance.
The WATCHPOD stand's spare, elegant design ensures that your attention is drawn to your watch, which is where it should be. The same goes for the designers, who were able to focus solely on making a product that works.
It's an Improvement Over Traditional Stands
If modern display stands aren't gaudy and distracting, too often they go the other route. Acrylic display stands, for example, are as minimalist as it gets. But the material can potentially scratch your watch. And when the acrylic itself gets scratched or scuffed, it can permanently mar the stand's appearance.
Along the same lines, many "soft" stands use foam or rubber instead of silicone. These materials can be just as soft, but it wears down easily over time.
Two Sizes to Choose From
Most watch stands are one-size-fits-all. This can work well for most watches. But ultimately the stand will be too small for large watches or so big that smaller watches look awkward on it. The WATCHPOD stand gives you choices, so you can accommodate any watch.
It Has a Small Footprint
Even the "large" WATCHPOD stand has a minimal footprint. This is great news if you're displaying your watch on your nightstand, since you don't need to take up a ton of space.
The small footprint is also a good feature for displaying an entire collection. You can line up a row of watches across your mantle, or house your collection in a glass display case. Smaller stands mean you can fit more watches in less space.
It's Great for Retailers and Resellers
This stand isn't just good for your own personal collection. It's perfect if you buy and resell watches online, since it allows for clean, clutter-free photographs.
Along the same lines, the WATCHPOD stand is perfect for retailers. The same small footprint that benefits private collectors is also helpful in a retail setting, where space is always at a premium. And if your store has an online presence, you'll appreciate the ability to take perfect photographs.
You Can Take it Pretty Much Anywhere
A lot of watch stands are on the big side. That's not necessarily a terrible thing if you're leaving the stand in one place. But if you want to take your stand with you on the road, a bulky design can be a problem. You want something that's compact enough to carry in your luggage – ideally in your carry-on bag. The WATCHPOD stand is not only small but very lightweight, which makes it an ideal travel companion.
Final Thoughts
Finding a good luxury watch stand can be a challenge. Admittedly, a lot of this comes down to taste. There are plenty of stands out there, but there probably aren't many that meet your particular desires. The stand that's perfect for one collector might strike another collector as outright ugly.
That said, there are a number of good reasons to choose the WATCHPOD stand. To begin with, it's made of good quality stainless steel and soft silicone. It's lightweight, compact, and easy to take on the road. It's great for photos, as well as for showing off your collection in a display case. And with two sizes to choose from, you can order it to fit pretty much any watch.