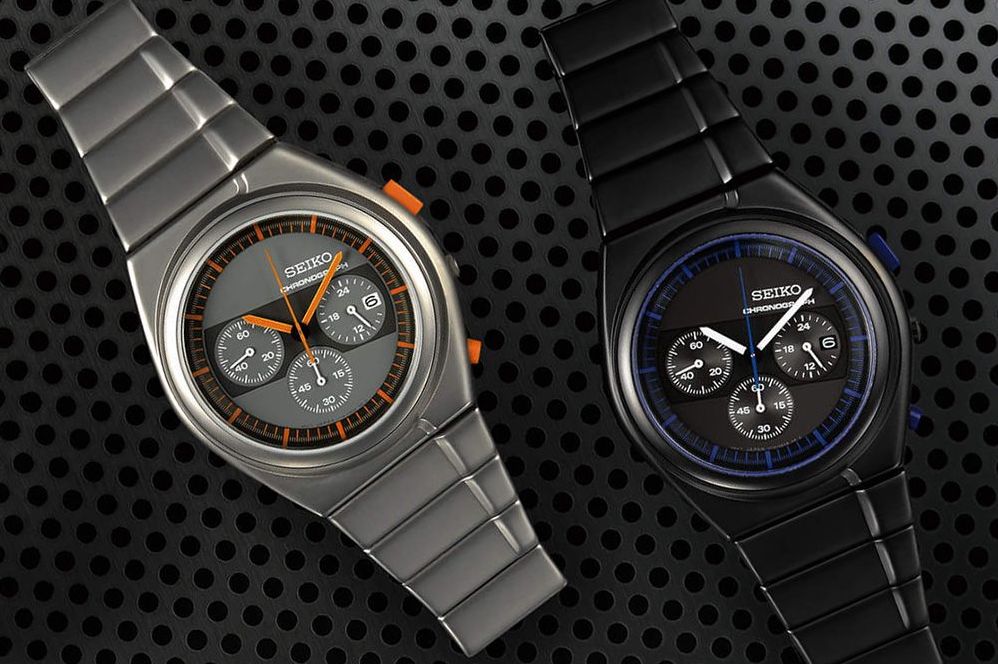 When you're riding your motorcycle, you can't exactly stop to pull out your cell phone every time you want to tell what time it is. And unless you're riding a tricked-out bike with a digital display, you need a wristwatch to tell the time.
This is no job for a fashion piece. You need a watch with high visibility, so you can tell the time at a glance without taking your eyes off the road for too long. I've come up with five watches that are ideal for cruising down the open highway.
Seiko Spirit Giugiaro Design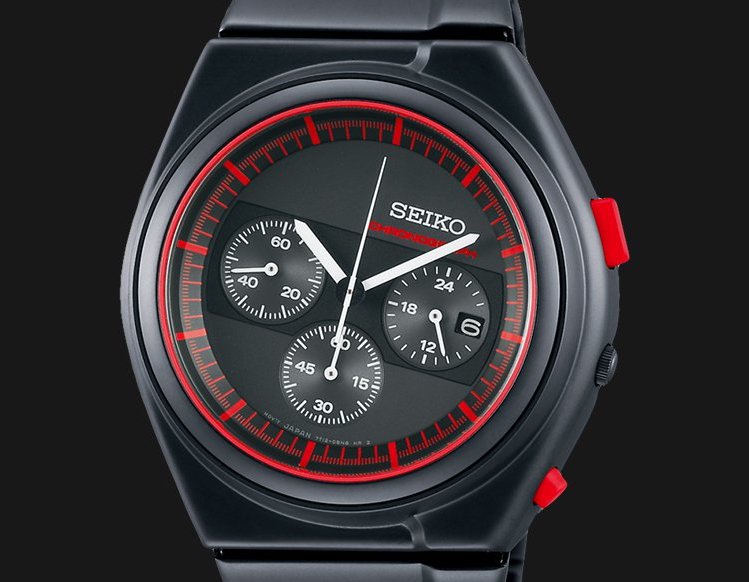 This watch was designed in a partnership between Seiko and Giugiaro, back in the 1980s. This watch was designed specifically as a "Rider's Chronograph", and was one of the most popular watches of its day. Now, Seiko and Giugiaro have issued a commemorative limited run to commemorate the original.
At first glance, Seiko and Giugiaro might seem like an odd partnership. However, if you're familiar with the brands, you're probably already aware that these two companies have already partnered on some of Seiko's most popular watches of the past thirty years..
This is a limited run, with five different variants. In terms of specifications and construction, they're identical. The only difference is the coloring. The black/red and black/orange versions were both produced in 1,500-unit runs, while the black/blue, black/yellow, and grey/orange versions were produced in more limited 1,000-unit runs.
The original, 1980s Spirit was available only in black and red, and didn't offer a timer feature on the subdials. Other than the color variation and the addition of a timer function, the Limited Edition is identical to its original 1980s version.
The cases on these watches measure 43mm in diameter, and are 11.4mm thick. The band connects directly to the top and bottom, with flush lugs that will fit comfortably under a motorcycle jacket sleeve or the cuff of a heavy riding glove.
The dial features three subdials at 3 o'clock, 6 o'clock, and 9 o'clock. A small date window intrudes on the 3 o'clock chronograph, which functions as a 24-hour dial. The left and center dials display hours and minutes respectively.
Of course, I've saved the best for last. While the large, luminous hands provide plenty of visibility, the entire dial is rotated to the right. This makes it easy to read while you've got your arms out in front of you.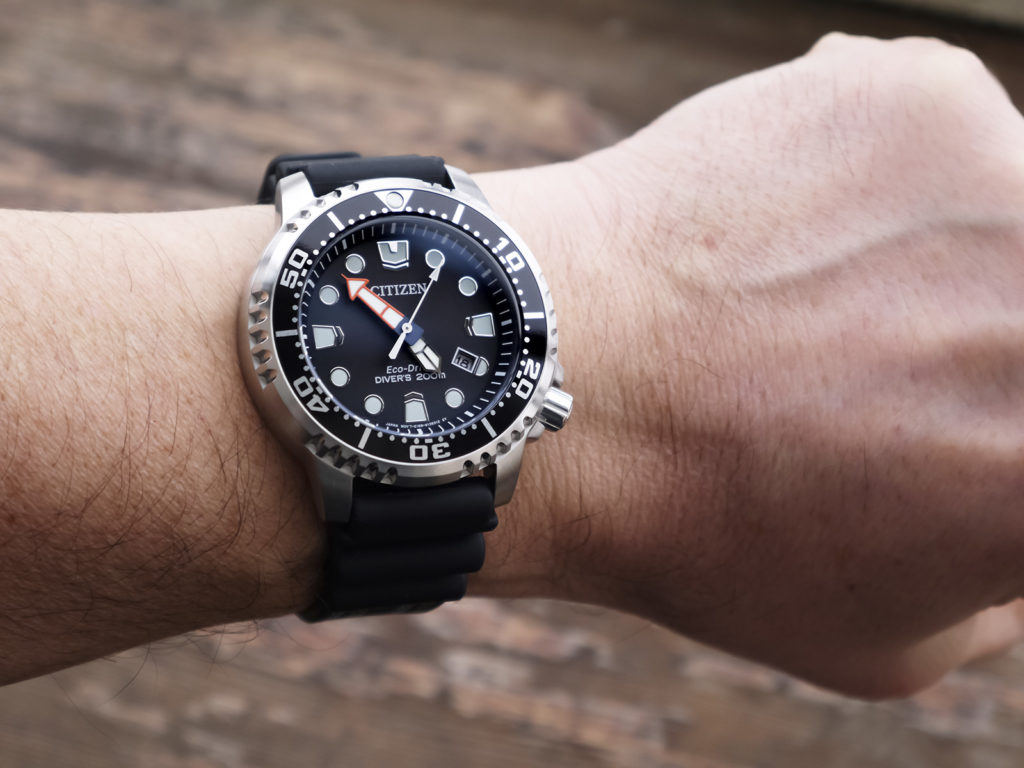 This watch is designed specifically for people who are active. Not only is it just as tough as your riding gear, it's equally well-suited to other outdoor activities like rock climbing or even diving. It's fully submersible to 200 meters, which also means it's not going to fail you if you get caught outside without your rain gear. It happens to all of us sometimes.
This watch uses a Citizen Promaster movement, which is solar-powered and will hold a charge for up to 90 hours in the dark. Needless to say, this means you won't have any issues if it stays covered by your riding jacket during a long ride.
The dial is very high visibility for an analog. Instead of numerals, it features large dots, with thick arrows at the 3, 6, 9, and 12 o'clock positions. The hands are also wide, with red outlines on the arrow-shaped minute-hand. All of these features offer a bright lume glow, for excellent visibility in the dark. This makes it a great choice for night riding. You'll also find a small date window at the 4 o'clock position, with the crown protruding from the 4 o'clock position as well.
The case is constructed from heavy steel. It tips the scales at 15.2 ounces, so you'll know for sure when you're wearing it. It measures 43mm in diameter, and is 12mm thick, which is actually fairly flat for such a wide, heavy watch.
This watch has a heavy bevel, with indents around the outer edge. The lugs are heavy and sturdy, and offer plenty of support. It comes with a rugged band that's ribbed and flexible, so you can put it on and take it off easily.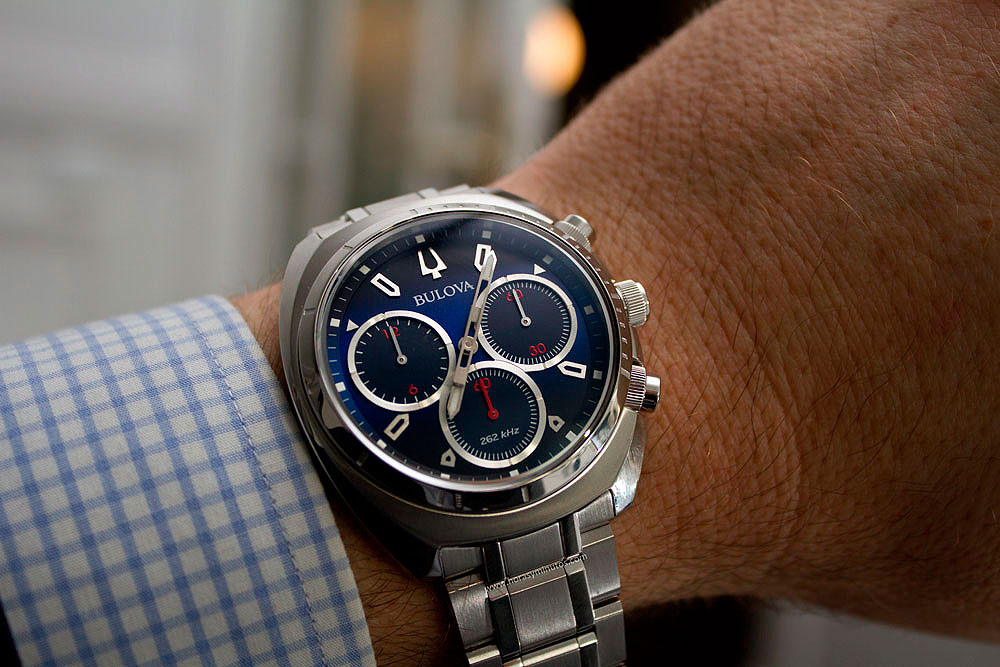 This is a newer watch, just announced in Spring, 2016. The Curv line comes in several different variants, from 43 to 45mm cases, with a variety of features. However, I chose the 96A185 because of its sleek design. Normally, I wouldn't want a watch with large pushers on a motorcycle. That's just one more thing to snag on my gear. But the case on this watch extends around the crown and pushers, preventing them from snagging or getting accidentally pressed.
This watch has large, high-visibility scala at the 5-minute marks, with slender 60-minute scala that are easy to read at your desk, if not while you're on your bike. Still, it's easy enough to tell the time while you're riding, at least within five minutes. The hands are mostly skeletonized, but have solid, highlighted tips that are easy to read. The bright lume finish on both the hands and the scala allow for excellent visibility, both during the day and at night.
The case is constructed from titanium, and features extended 47mm lugs that give it an elongated profile. It's relatively heavy, at 15.84 ounces.
The Curv features three large subdials, at the 3, 6, and 9 o'clock positions. And when I say "large", I mean large. They take up the majority of the watch face, and measure hours, minutes, and seconds respectively.
This watch has a Japanese quartz movement, which is reasonably accurate but nothing to write home about. Another thing to be wary of is the Curv's limited water resistance. It's only rated down to 30 meters, so be careful about getting it excessively wet.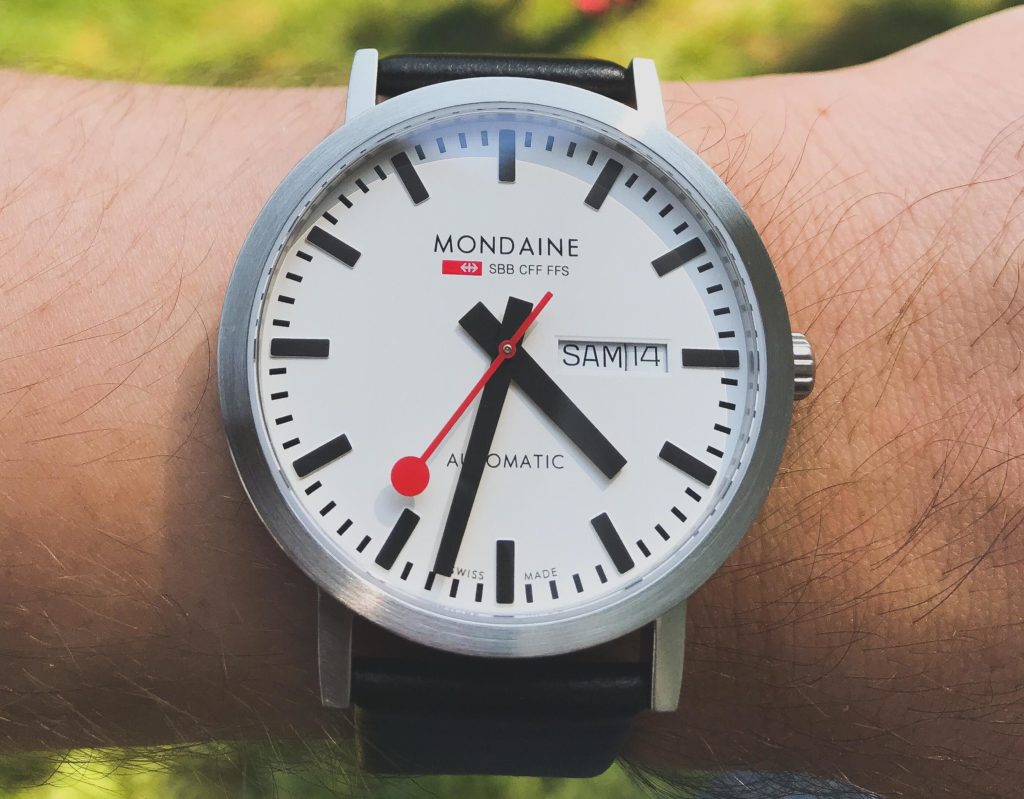 The Mondaine SBB Classic is a truly unique watch. It's inspired by the AE6/6 locomotive, a steam engine that was built in Switzerland in 1952. 120 of them in total were produced, and it was one of the last genuine steam engines ever made. These locomotives remained in use until they were decommissioned in 2016, and Mondaine created the SBB as a tribute. The bezel is actually constructed from steel that was melted down from the original locomotives' cab doors. Because of natural variations in the metal, each of these watches is truly unique.
This watch features a Swiss-made 58-02 movement, which is designed to run exactly the same way as an old-fashioned Swiss railway clocks. This movement is unique, in that the second hand actually rotates all the way around the dial in only 58 seconds. When it reaches 12 o'clock, it stops for a full 2 seconds. While it's stopped, the minute hand advances to the next marker, and the second hand resumes its journey around the dial.
The dial itself is relatively Spartan, with a flat white face and large black scala that are easy to read. The hands are long, fat, and easily visible, although there's no lume finish, so you'll be left in the dark if you're caught out, well, in the dark.
The bevel is slender, and protrudes slightly above the lens. Controls are simple, with just a smooth crown at 3 o'clock. The case measures 36mm in diameter, and 8mm thick, but thanks to the slender bevel the actual viewable surface is comparable to most 43mm watches.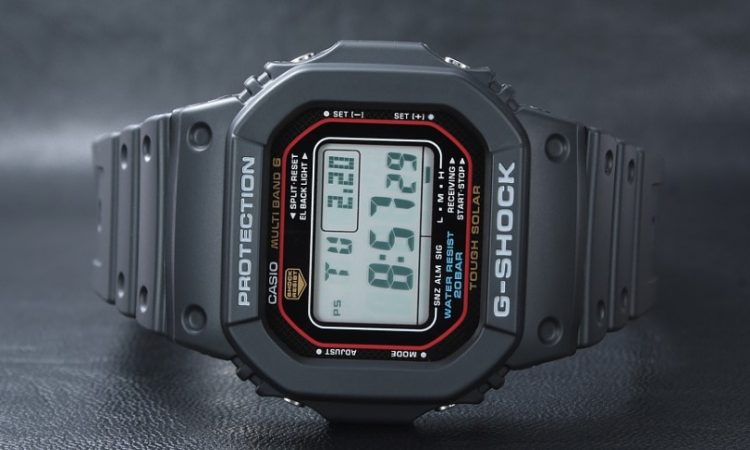 I hardly ever review digital watches, because modern watches are more of a fashion statement than a utilitarian accessory. However, in the case of a motorcycling watch, I'm willing to make an exception because you're actually going to need a watch you can read easily at a glance. The Casio is also very reasonably priced, making it an excellent choice if you're trying to get a solid biking watch without a lot of expense.
The 5610 displays hours, minutes, and seconds on the bottom two thirds of the display, with a 12/24-hour format option. The top third of the display shows the day, date, and month by default, but also display what mode your in when you're using alternate functions, and the day/window doubles as a lap display if you're using the stopwatch for multiple laps.
This watch utilizes Casio's atomic clock, which not only keeps accurate time in perpetuity, but also adjusts your time zone automatically when you're on the road. Even if you're out in the wilderness well outside of radio range, the movement is accurate to +/- 15 seconds per month. That's far more accurate than any mechanical movement, and a great feature if you're a stickler for accuracy.
Like all G-Shock watches, this one is solar powered. At full charge, it's rated to last for 10 months in a dark room. It also features a hands-free backlight. A small gyroscope inside the watch senses when you move it towards your face. Since "hands-free" is a necessity on a motorcycle watch, this is a much-appreciated feature, particularly if you frequently go night riding.