Introducing the beautiful limited edition Golden Ratio dress watch from Biatec watch company.
The word 'Biatec' originates from the name of a King who started to appear on the old Celtic coins minted in the area now known as Bratislava, the capital of Slovakia during the 1st Century B.C. Biatec are proud of their Slovakian heritage so each watch that they produce features a logo at the 12 o'clock position that closely resembles the national emblem. At Biatec they like to design elegant and stylish, but simple watches and that's exactly what the Golden Ratio edition is, inspired by the past, driven by the future.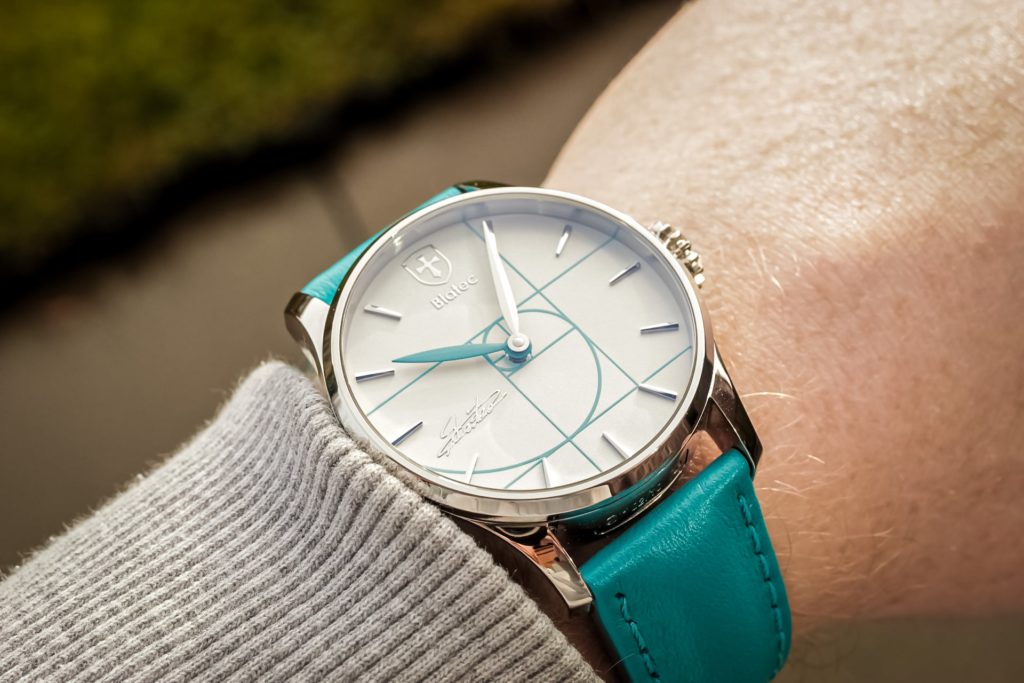 So what is the golden ratio? In mathematics two quantities are in the golden ratio if their ratio is the same as the ratio of their sum to the larger of the two quantities What does that mean? I have no idea but it got me thinking. Which leads me to Fibonacci, one of the greatest mathematicians to ever live. The Fibonacci spiral is a set of numbers that starts with a one or a zero, followed by a one, and proceeds based on the rule that each number is equal to the sum of the preceding two numbers.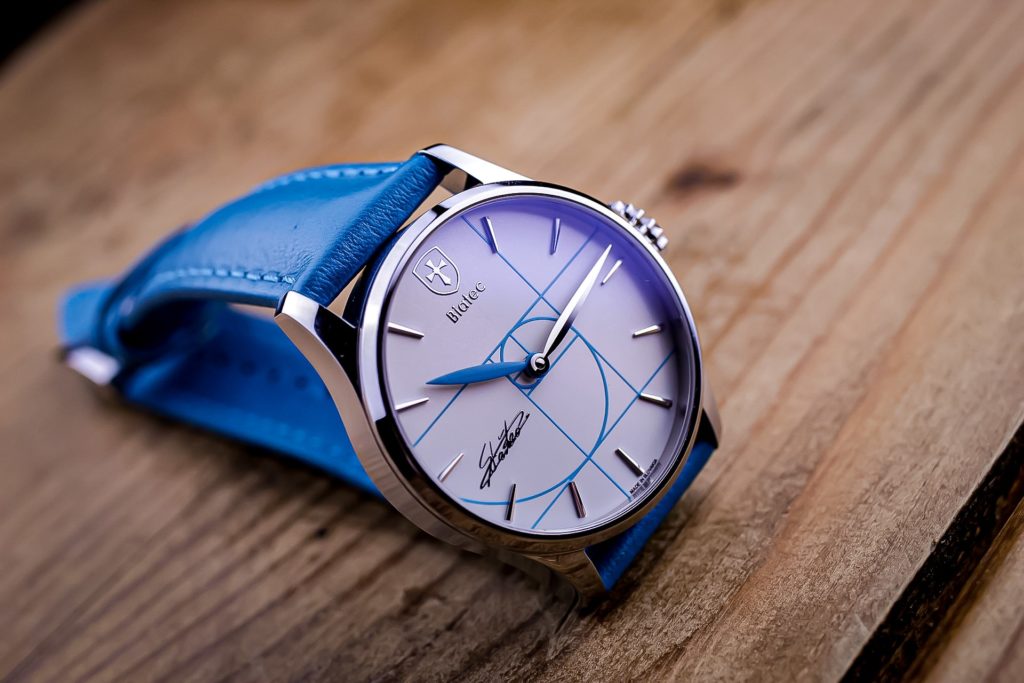 And the Fibonacci spiral features on the wonderful 40mm in diameter dial of this watch. A silvery white dial that looks creamy in some lights only interrupted by that spiral in a vibrant turquoise colour that spirals out from the middle in a beautiful poetic fashion. At the 9 o'clock position is the signature of the designer behind this watch; a Slovakian designer Michal Stasko. A unique design feature on a watch, a clear mark of individuality but it actually works, it flows effortlessly on the dial and doesn't look out of place at all.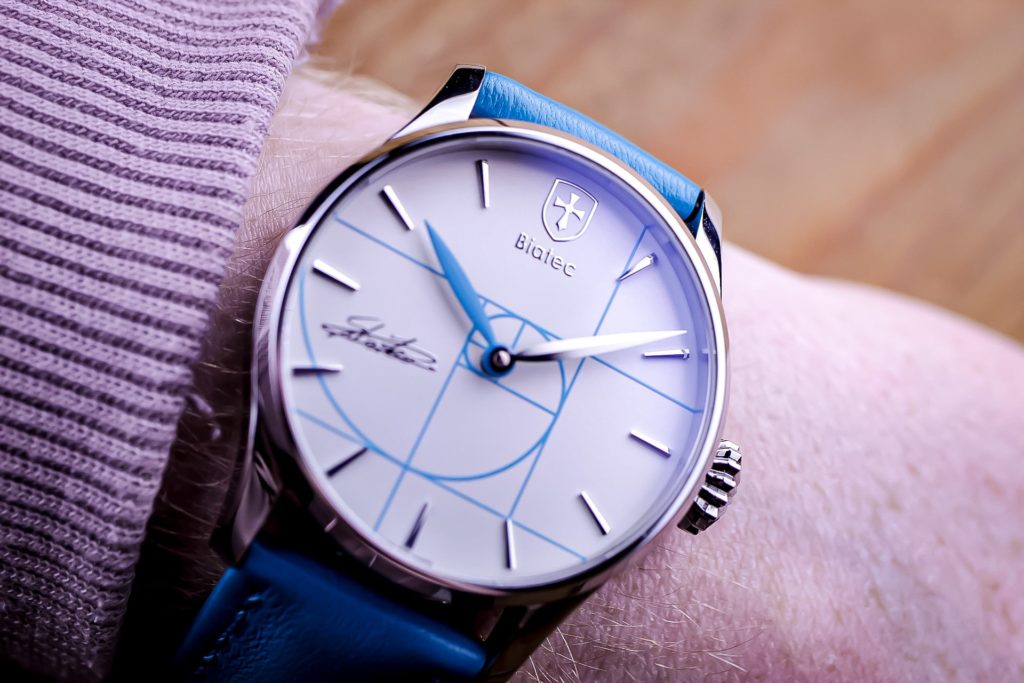 At the 12 o'clock position features the signature big logo of Biatec printed on the dial in a wonderful shiny silver that glistens in every light. There is no numerals on this dial, just silver indices that fit the whole theme of the dial and make this an excellent looking dress watch. The classic dauphine hands have no lume but are excellently finished, the minute hand is a clean silver contrasted by the matte turquoise blue hour hand. There is no minute track surrounding the dial and no seconds hand sweeping around the dial, which makes the dial simple looking, yet complex at the same time. The dial does not need these additions, it keeps it looking classy and I can see this slipping perfectly under the cuff of a shirt.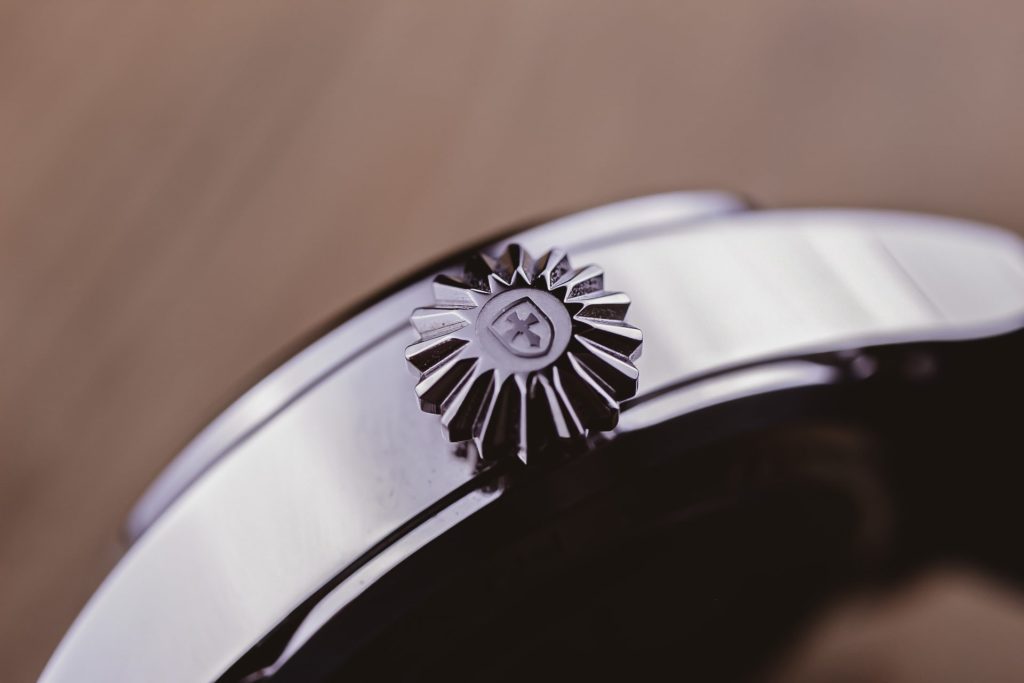 The 316L stainless steel case is 12.83mm thick and is highly polished, making this case catch the eye and glisten each time you move your wrist. It's smooth finish and seamless transition from case to lugs made me stare at this beauty all the more. A dust and dirt magnet, and I imagine an absolute scratch magnet, but a quick rub with a cloth and the case is gleaming beautifully again. The oversized diamond crown takes the total diameter to 44.20mm but it really doesn't feel like that at all. It features the Biatec logo engraved into it and the crown is a piece of art on its own, It's expertly crafted and has no rough edges.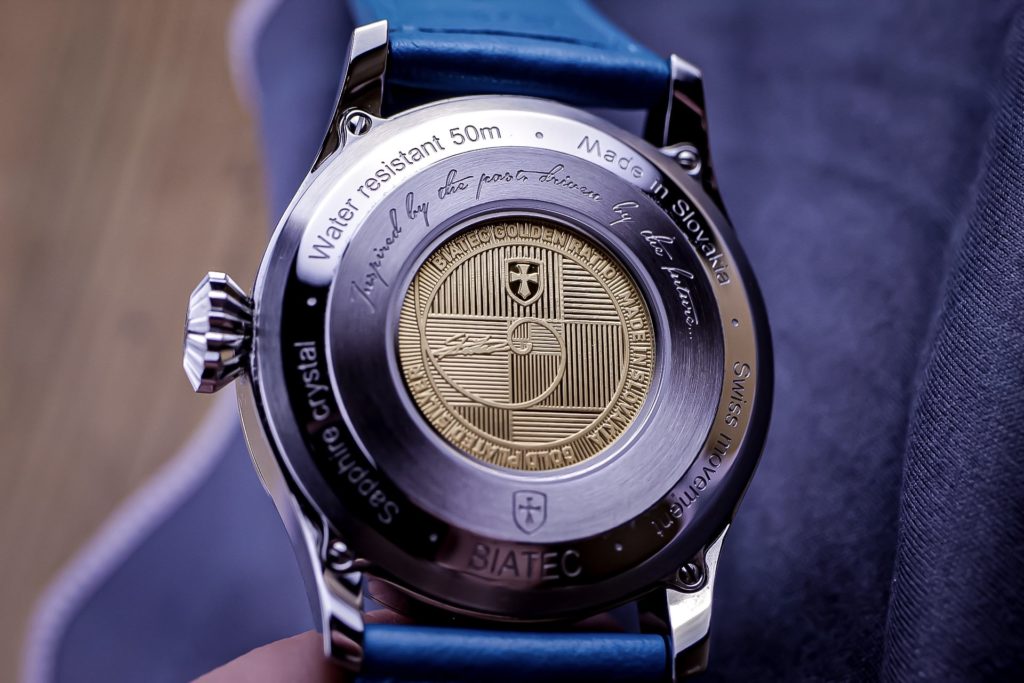 The case back is closed and on this occasion I feel that it's the right decision. Gracing it is a 316L stainless steel case with a wonderful gold plated silver coin with the golden ratio motif printed on it in the middle which is coated with a sapphire crystal with double AR coating. The case back is smooth but visually there is a striking amount of textures on show that makes you stare and stare and stare. The case back is sealed with 4 screws and is Viton sealed to protect against chemicals.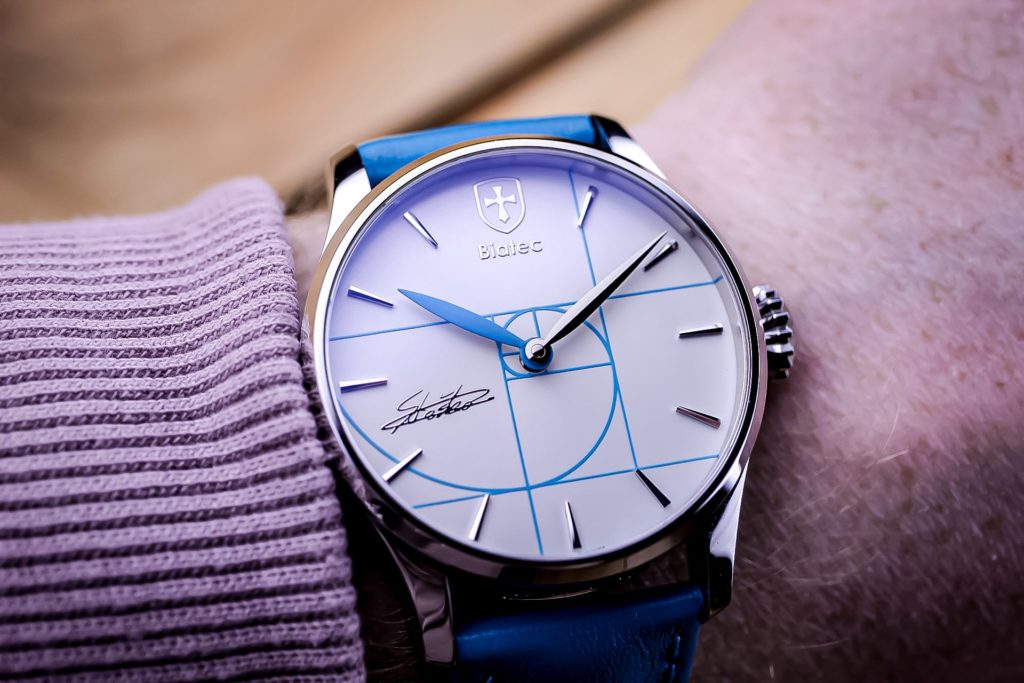 Behind this case back is a first for me and it's the Eterna calibre 3901A which is an automatic movement beating at 28,800 vibrations per hour and has 29 jewels. In 2020 I feel that movements these days should have a minimum 48 hour power reserve, but this one goes beyond that and has an extremely impressive power reserve of 60 hours when fully wound. With no seconds hand I don't have an accurate timing report but I had absolutely no issues with time keeping and never had to adjust time whilst wearing it. The movement is rhodium plated and features a pearl pattern on the bridge, and whilst I said before that a closed case back was the right decision it's a shame that a beautifully decorated movement like this is hidden.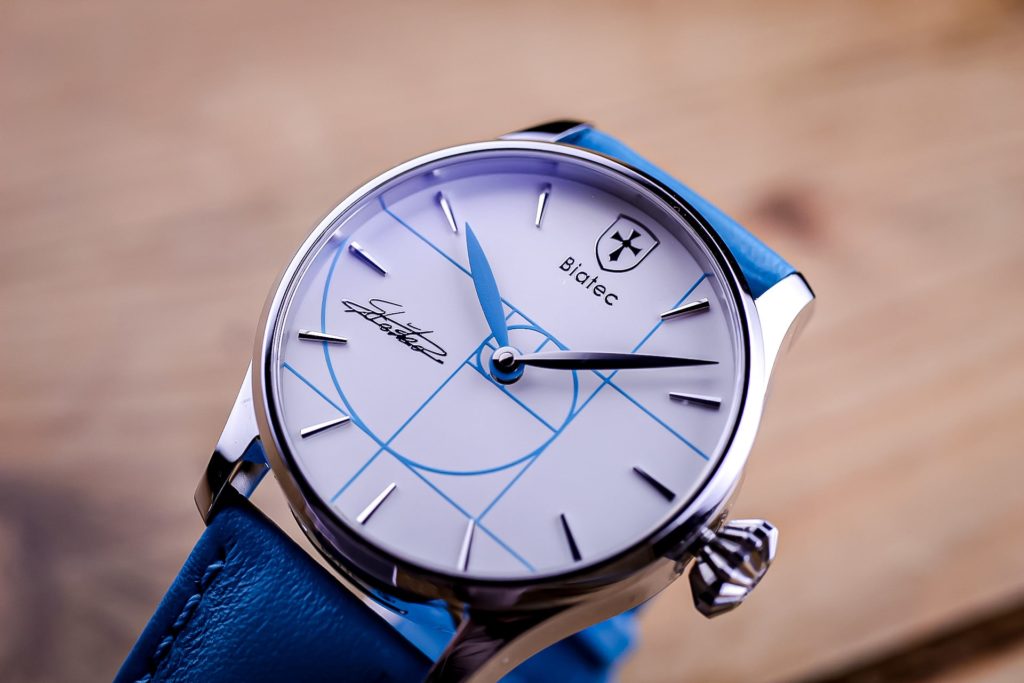 The watch features an excellent 4mm thick calf leather strap that's an out there but excellent turquoise blue colour with matching stitching. The strap has been treated in such a manner that makes it highly resistant to water and scratches. It features a 316L stainless steel large buckle and proudly bears the Biatec logo. The strap is what initially stood out for me on this watch and it's a definite talking point sure to divide opinions, but I personally love it. It's bold, offensive and absolutely beautiful.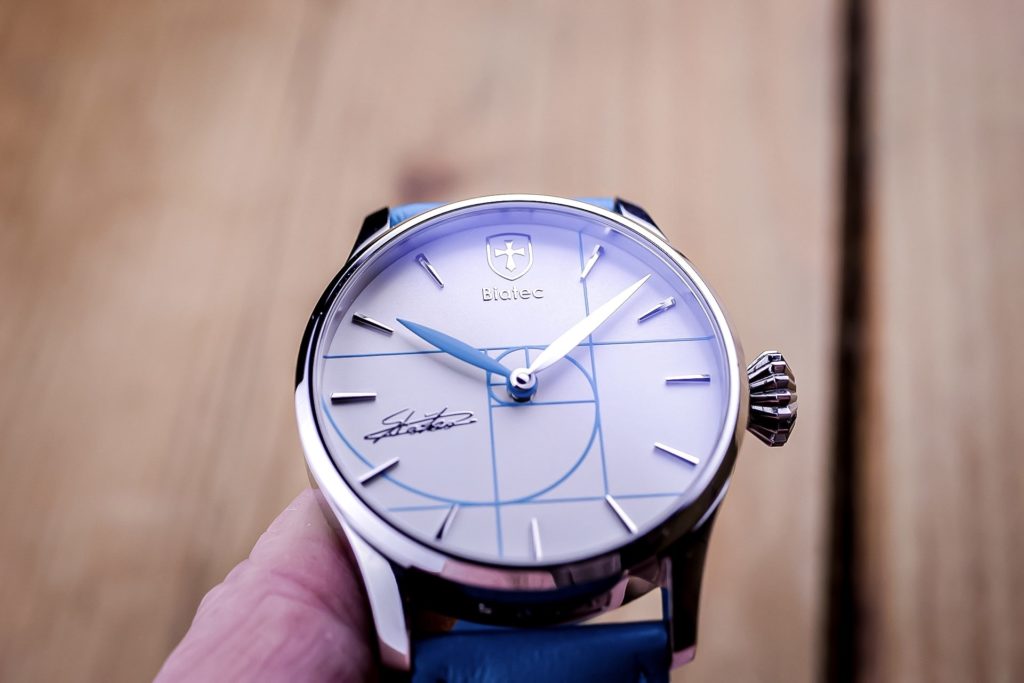 This watch is unashamedly proud of its Slovakian heritage, it's a bold statement piece from Biatec and it absolutely delivers on all fronts for me.
To have a look at the full Biatec collection of watches visit their official website here.