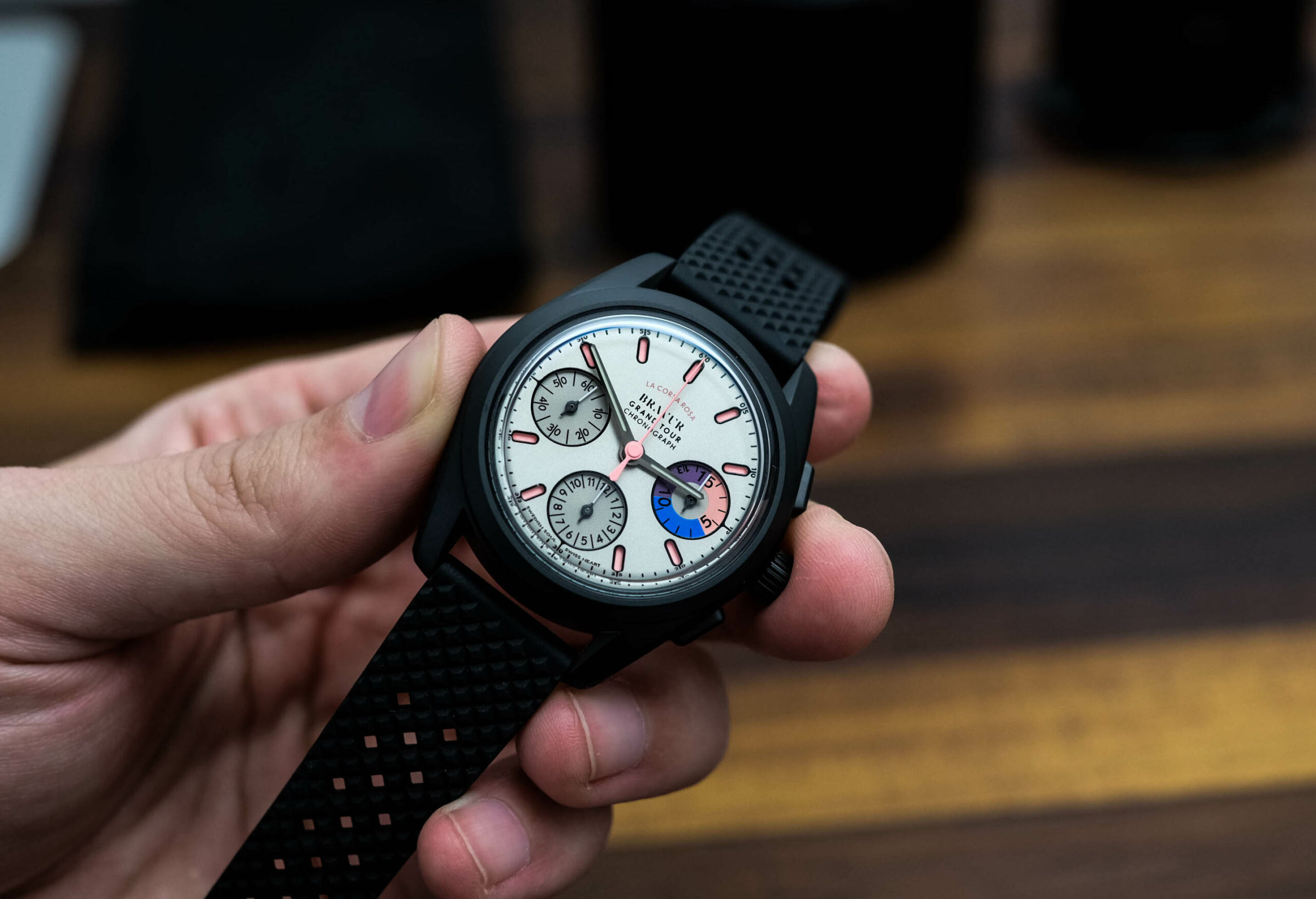 Hand-built in Switzerland, and designed with cyclists in mind, the Bravur Grand Tour La Corsa Rosa III is undoubtedly one of the most quirky yet surprisingly pretty watches you'll see this year. This watch comes with a rainbow of colors in the dial, unique chronograph functionality, and a quality Swiss movement.
If you want a watch that breaks all the rules, you need to look no further than the Grand Tour La Corsa Rosa.
At a Glance
Case Diameter- 38.2mm.
Case Material- Stainless Steel with Black Ceramic Coating.
Strap Material- Rubber (black).
Movement- Sellita SW511b.
Functionality- Chronograph.
Price- $3618 CA
Corsa Rosa Design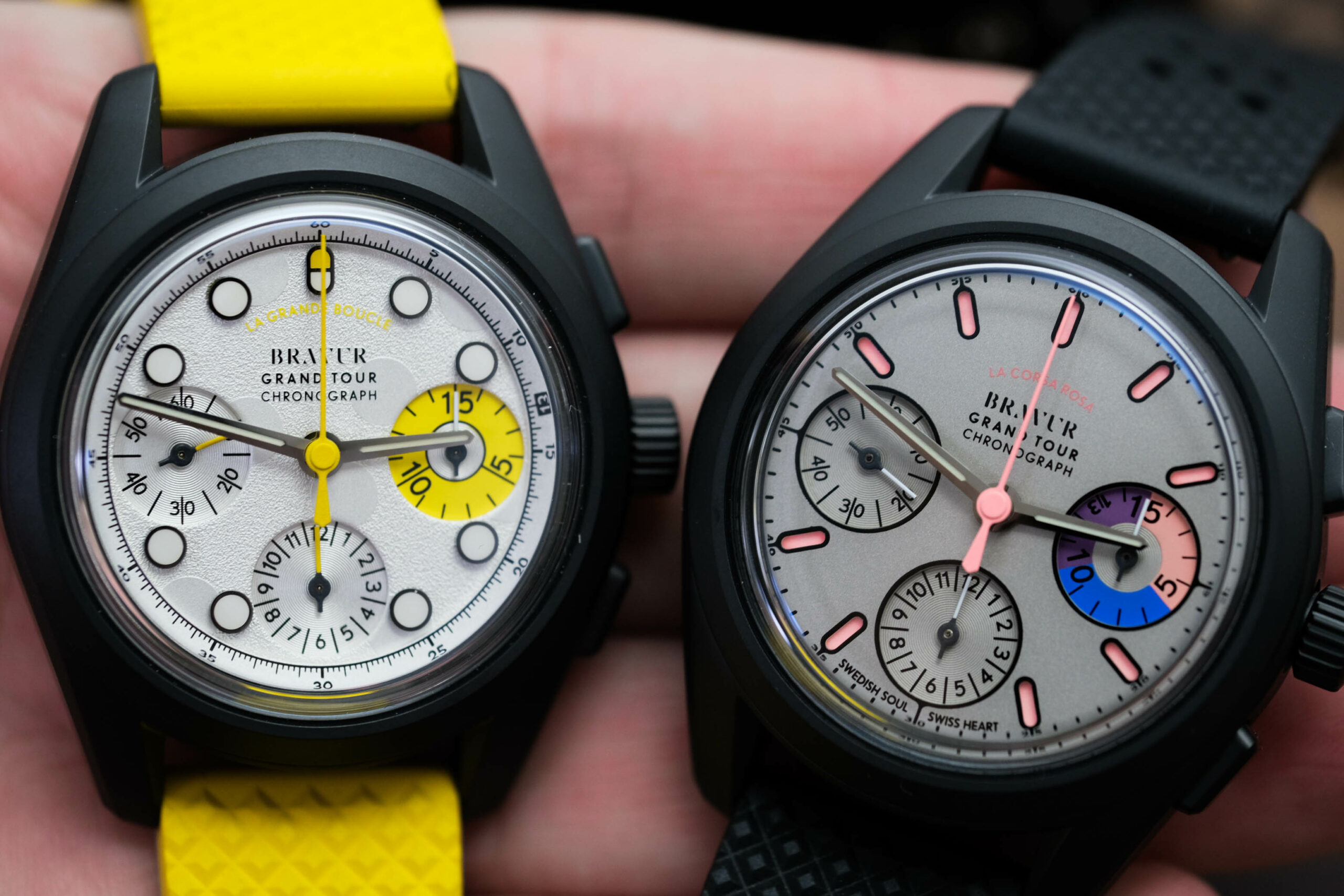 The design of the Corsa Rosa III breaks virtually every unwritten rule in the luxury watchmaking book.
First of all, there are a total of six different colors on the dial! The main dial is a light silver/grey and the hands share the same color with a small white fleck running in the center.
Things get interesting when you take a look at the sweeping second-hand and indices which are fluorescent pink! The right-hand chronograph is also ⅓ blue, ⅓ pink, and ⅓ purple, with the other dials sporting a much more subtle grey/black color scheme. This three-way color tone represents the three leader's jerseys in the Giro D'Italia.
Things don't calm down with the case, which has been coated in Black Ceramic. The rubber strap shares the same shade, while also sporting a diamond-texture pattern, which has been designed with comfort in mind.
Despite breaking every rule in the book, the Corsa Rosa actually looks awesome! The dial is unlike anything we've ever seen, and the use of the black case and strap gives the dial a nice pop, making those quirky colors stand out even more. Beyond being strangely stylish, these colors will make it so much easier to see your lap times and intervals during a bike ride.
If you prefer a traditional, stainless steel case and standard dial color scheme, the design of the Corsa Rosa probably won't float your boat. But, if you enjoy wearing something a little edgier, you'll love the flare that the Corsa Rosa brings.
Functionality
As mentioned earlier, the Corsa Rosa has been designed for cyclists who need a way to time their laps and rides easily. And the chronograph functionality fits these requirements pretty perfectly.
The three subdials consist of a 15-minute counter, which is intended to time racing intervals, a 12-hour counter, for tracking your riding time, and the final dial displays the running seconds as standard.
Presumably, to allow for easy timing on the go, the pushers are also wider and flatter than normal and bring to mind the design of the Tissot PRX chronograph.
Selita SW511b Movement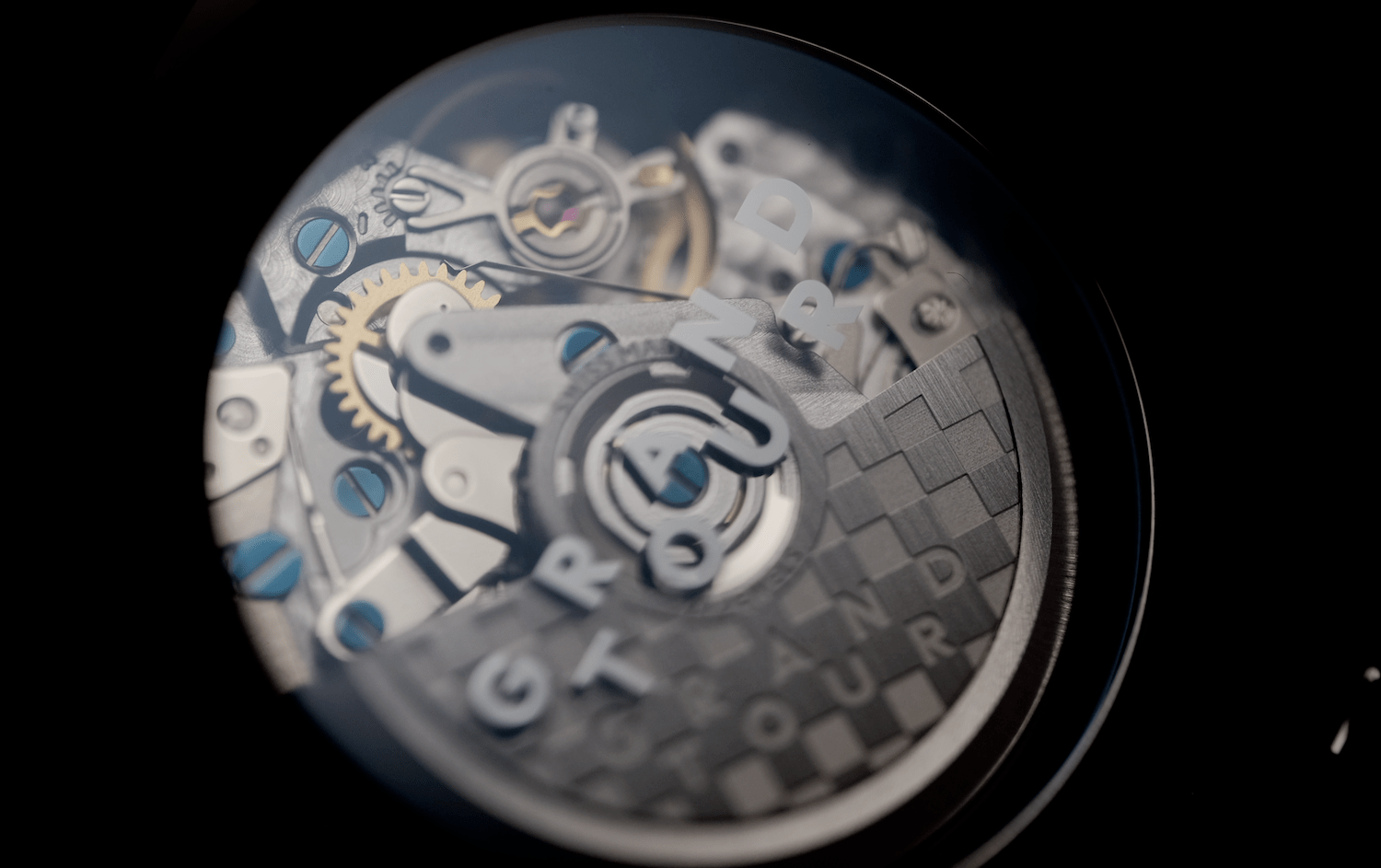 Quality of movement can be a sore subject when it comes to microbrands such as Bravur. However, the Corsa Rosa is free of any kind of concern thanks to its use of a Sellita SW511b movement.
Sellita definitely isn't the most known or talked about manufacturer out there, but over the years, the company has proven to make reliable, quality movements that last for years when looked after. Even brands like Oris and Baume et Mercier have made use of Sellita movements in the past.
The SW511b specifically makes use of 27 jewels, has a frequency of 4 hertz, and has an impressive power reserve of up to 62 hours when fully wound. Accuracy is a little trickier to deduce, but most users have reported somewhere in the range of +/- 12 seconds per day, which isn't fantastic, but it's also not a dealbreaker.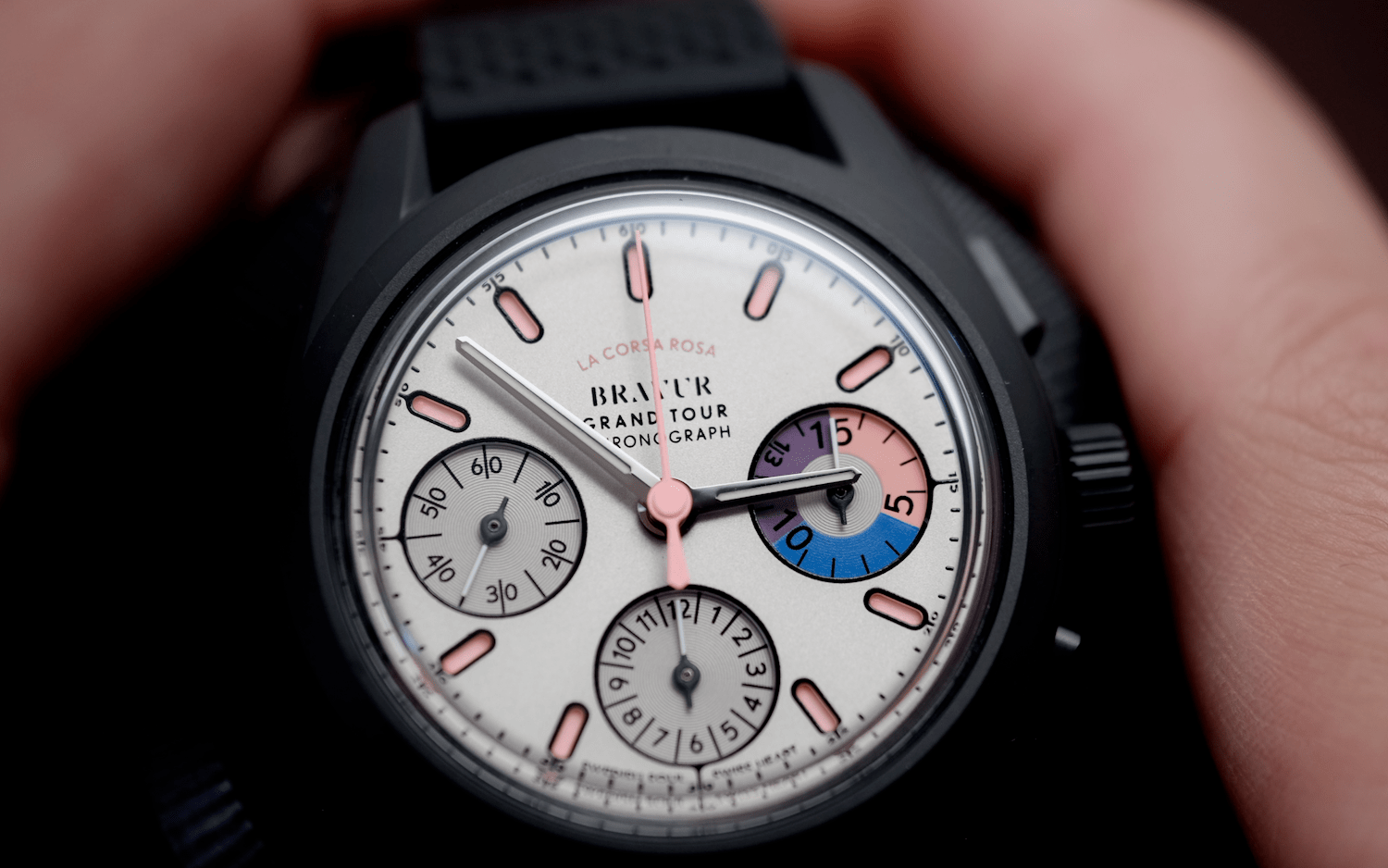 Aside from its solid stats and functionality, the SW511b is a very pretty movement to look at through the open case back. Abd the fact that the main disc has been painted in a checkered pattern makes this view even better.
Price and Availability
Currently, the Corsa Rosa is priced at $3,618 CAD, which puts it in Longines and even quartz-Tag territory. For the price, you're probably not going to find better quality from these brands. You'd also be stretched to find something that looks quite this different, or functional specifically for a cyclist.
What's interesting with regard to availability is that each watch is hand-built in Switzerland upon being ordered. This really adds a sense of personability to each order and is something you don't experience from larger luxury watch brands.
Final Thoughts
Ultimately, the Bravur Grand Tour La Corsa Rosa III represents something completely different in the luxury watch world. It's bold, doesn't conform to industry standards, and is absolutely awesome because of it.
It's important to remember that when you're buying a specialized watch from a microbrand like Bravur, you're simply not going to get unbelievable value for money. If this is what you're after, then look to Grand Seiko, Longines, or Hamilton. If, on the other hand, you value functionality and/or unique looks over overall build quality, the Corsa Rosa is an excellent choice, and it would make anyone's watch collection a little more exciting. This watch is also a great way to show off your love for the sport of cycling.
Let us know your thoughts on the Corsa Rosa in the comments box below.
For more information visit the official Bravur website here.