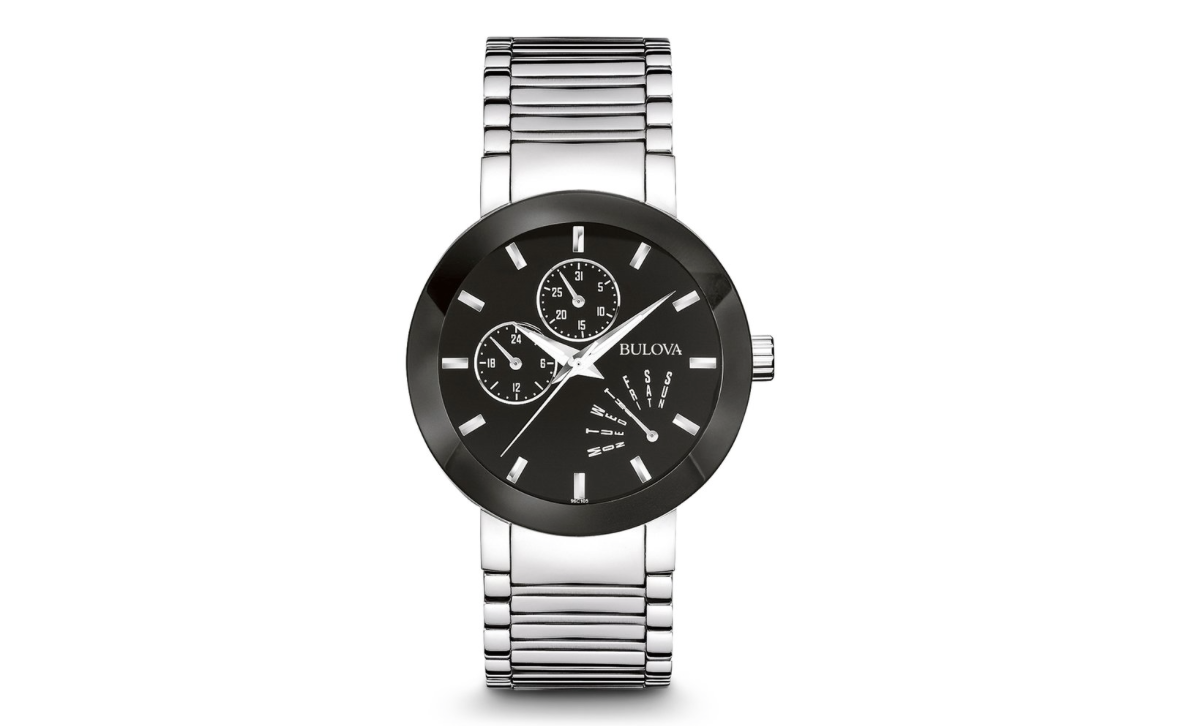 The Bulova 96C105 model features a Japanese quartz movement that also comes with an analog display. This watch has been sized at 40mm in diameter which makes it a very reasonable size. This watch most definitely is not overly large but it would still be perfect for those with larger wrists. The 40mm round casing, which features a screw back case, is completely stainless steel which features a black metalized outer rim that matches wonderfully with the black enamel dial.
> > > Click here to see ratings, reviews, specifications and prices on Amazon < < <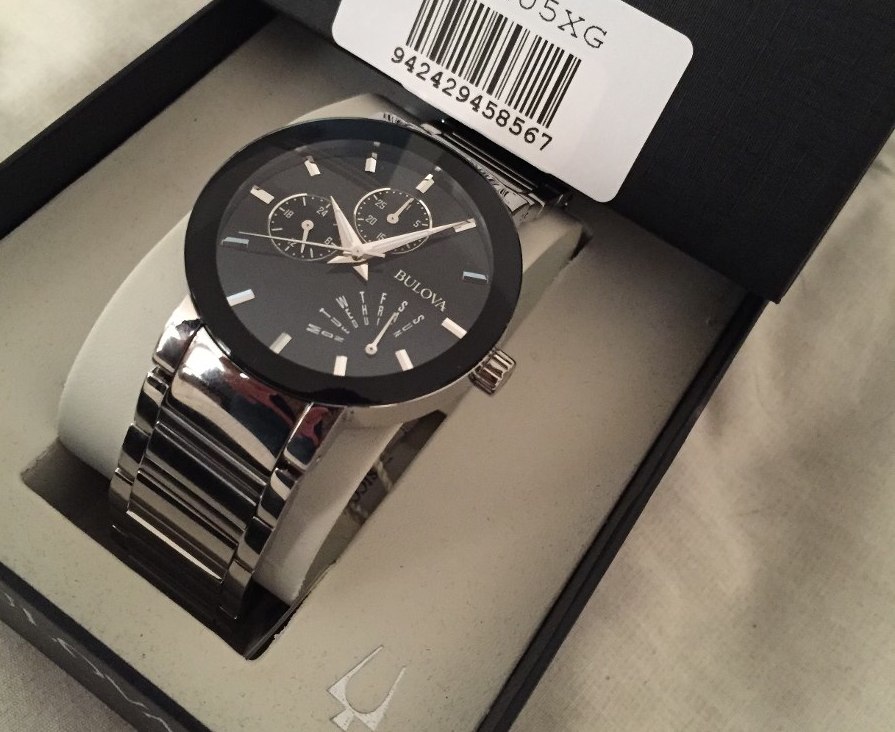 The black dial comes with further three sub dials which display the day, date and 24-hour functionality. On the watch dial, there are 12 silver markers that mark out at every 5 minute intervals. Instead of having markers in between the bigger ones to mark each and every minute, this watch model has sub dials. The sub dials each individually show something different. One sub dial shows the seconds while the other shows the minutes and there is an additional third and final sub dial that displays the day and date. The day and date sub dial is located in the bottom left hand corner of the dial, along with the 'Bulova' brand engraved directly above in silver lettering.
The mineral dial window has been designed to be ever so slightly domed in shape which adds a great finish to the final look and style of the watch. While on topic of the dial, the hands also have a great future. The hour, minute and second hands are all luminous which allows the wearer to see the time and continue using the watch within both daylight and at night time.
96C105 Appearance & Style
Following on the theme of stainless steel, the bracelet on the 96C105 is also stainless steel just like the casing. The bracelet has been designed with a deployment clasp closure for easy wearing of the owner. The theme of stainless steel, silver and black makes this watch absolutely perfect for both casual and somewhat more formal wearing attire. While you would not necessarily choose to wear this watch to your best turned out events, you could definitely wear it for a range of evening events as well as during the daytime for general wearing and while at work.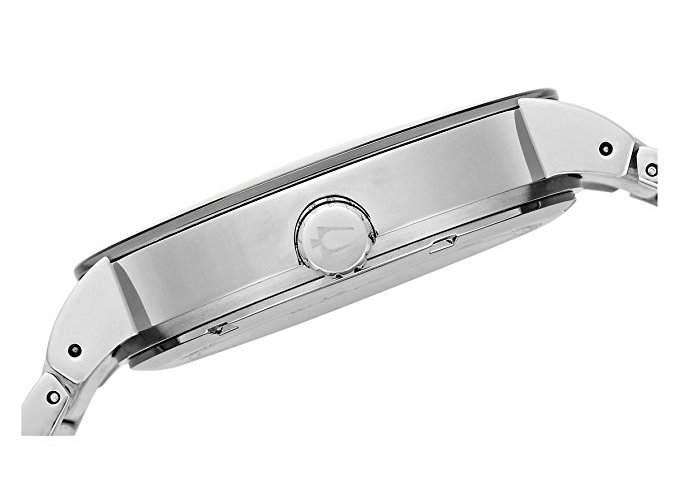 > > > Click here to see ratings, reviews, specifications and prices on Amazon < < <
Special Features
Something that a lot of watch collectors look forward to finding out about a new watch that they are considering to purchase is that it will be water resistant. While you may be pleased to hear that this model is in fact water resistant and can withstand water for up to 30m (equivalent to 99ft), it is most definitely not suitable for swimming or being immersed in water for a lengthy period of time.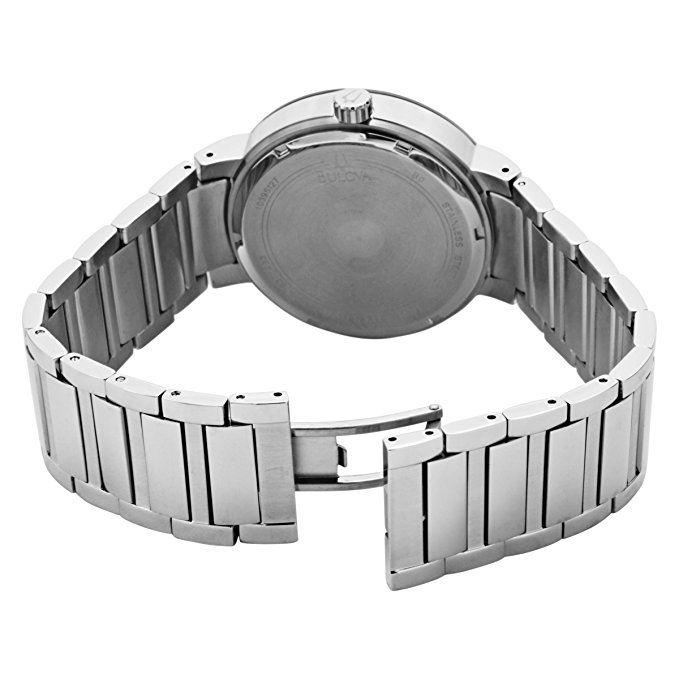 It is recommended by the manufacturer that the owner of this watch only uses it where small splashes and brief immersion is going to occur. This of course covers you for accidents, forgetfulness and bad weather but certainly does not allow you to use it for a range of sports and activities.
Upon reading that you cannot use it for most things that you would with a watch that has a water resistance feature, you may be understandably a bit disheartened about purchasing it. However, if you are not the type of person to use watches at times when it is going to be required to be immersed in water, then this will not be a problem at all.
Conclusion
For a watch that comes from a company that has been built on a passion to break out of the boundaries within the watchmaking industry, the 96C105 certainly does not quite measure up in that respect. While the watch itself looks elegant and stunning, it does not 'pop' like many other models or other watches out on the market. It also has not been protected against general wear and tear such as scratches as other models and watches out there have been. So, if this is something that concerns you and is a must then you may be better off looking for other watches on the market to consider first.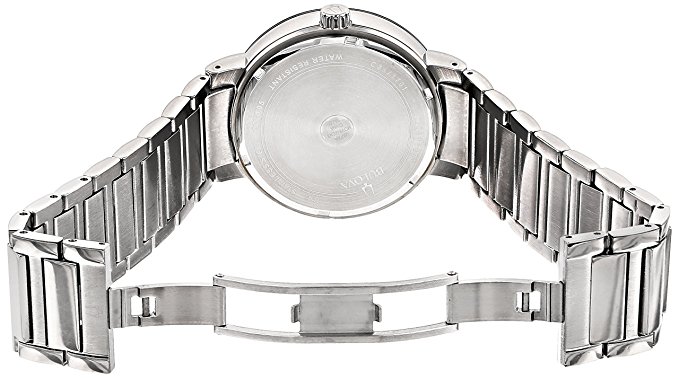 However, based on the price you do certainly get what you are paying for. The great thing about Bulova is that they are great for providing watches to suit a range of lifestyles, styles and budgets. Regardless of your budget, you will be able to find a watch that suits what you are looking for within a watch.
The day and date sub dials are not model specific and do appear within many other models in the Bulova range. What cannot be questioned is that this watch will add a unique and wonderful look to any watch enthusiast's collection. The black and silver dial of the Bulova 96C105 Stainless Steel Watch are absolutely stunning and cannot be faulted.
> > > Click here to see ratings, reviews, specifications and prices on Amazon < < <