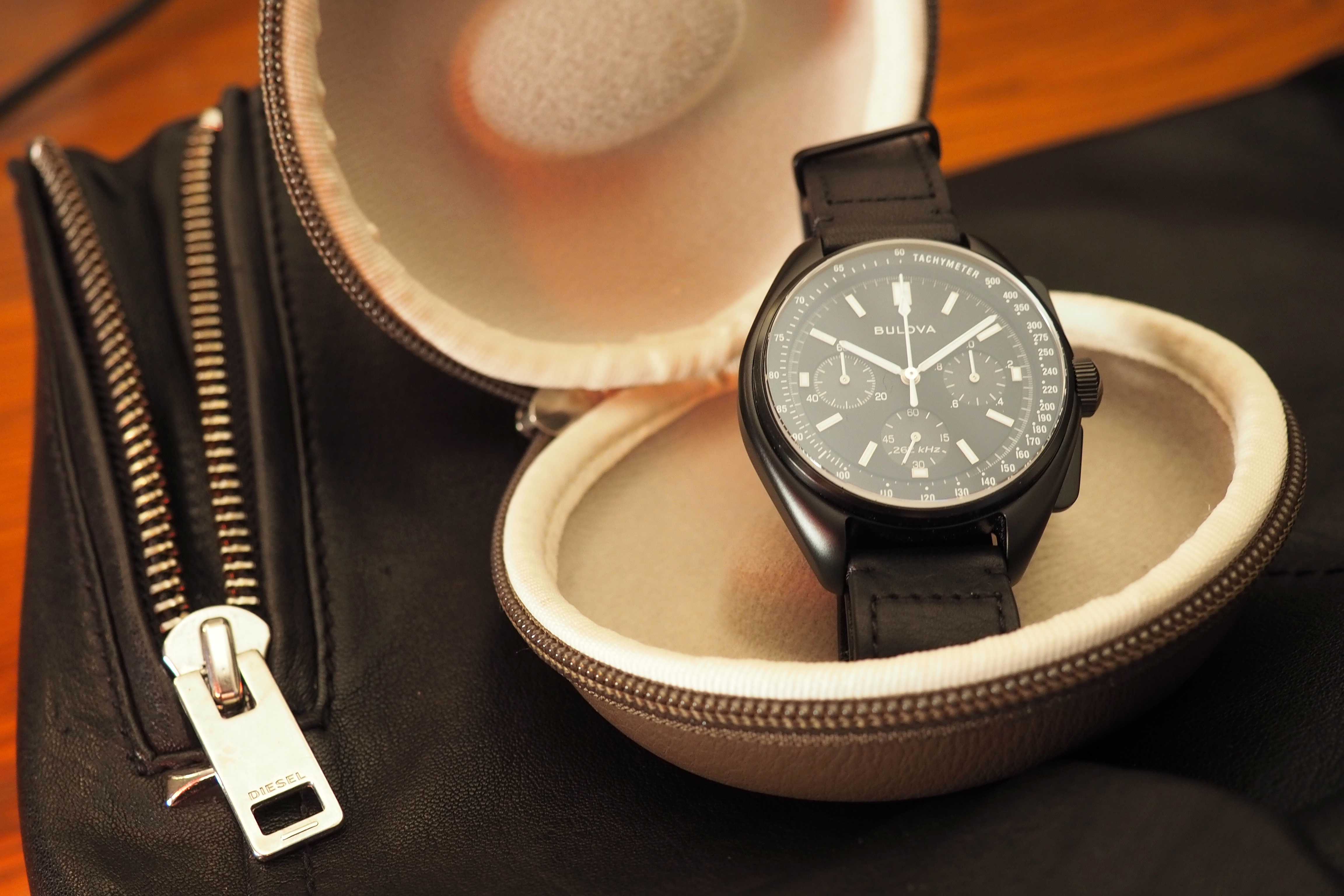 Let me introduce you to a moon watch that is not an Omega but was nevertheless used on a lunar mission. I bet not too many of you are familiar with this watch: an astronaut's privately-owned Bulova. The story goes that astronaut Dave Scott's government-issued Omega Speedmaster broke, so he resorted to wearing his personal Bulova as a last-minute backup on the 1971 Apollo 15 mission. The fact that the Bulova is styled very similarly to the Speedmaster is either a coincidence or maybe Commander Scott did this intentionally, hoping no one would notice he had switched out his government-issued watch.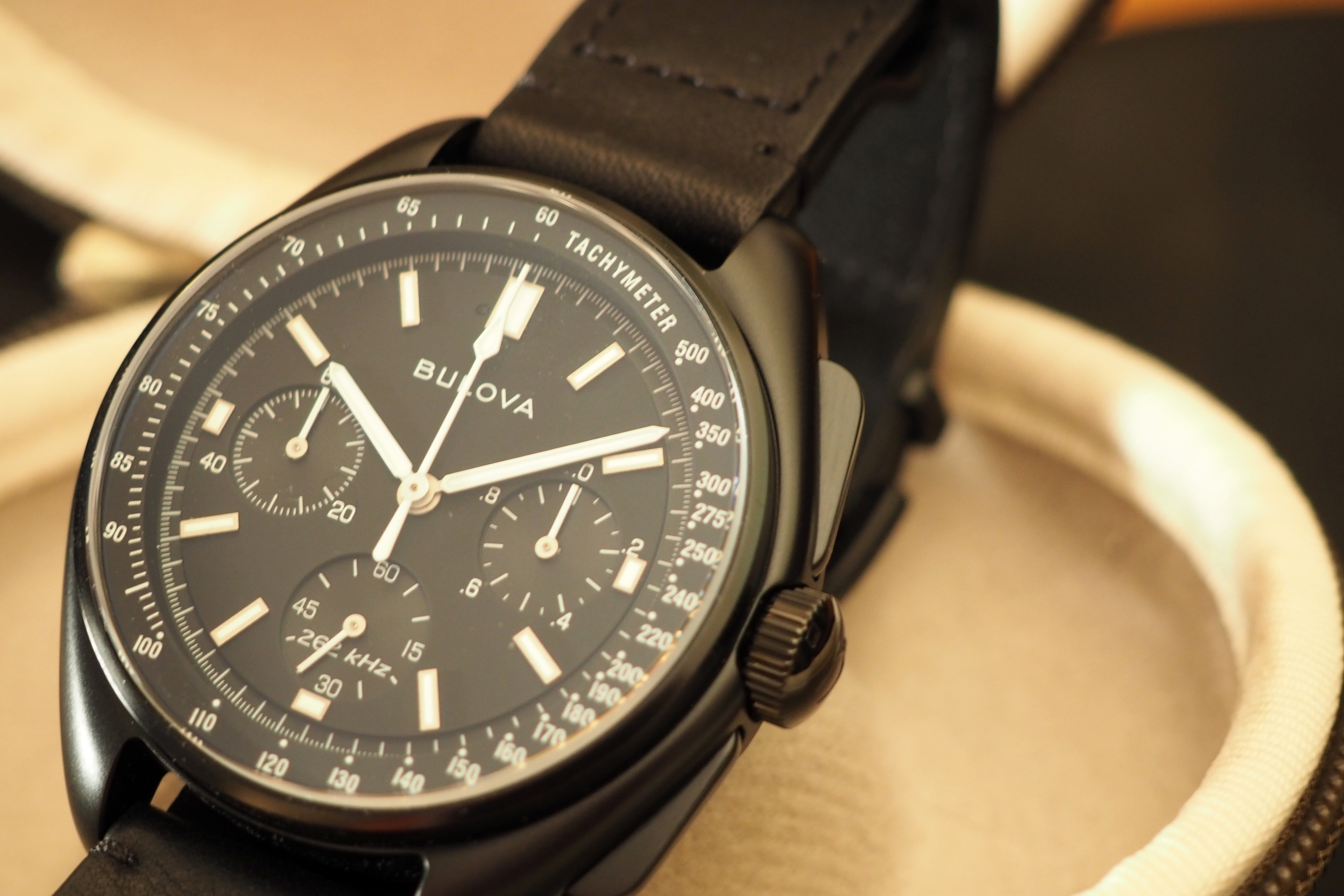 > > > Click here to see ratings, reviews, specifications and prices on Amazon < < <
Either way, that Bulova survived the trip to space, no doubt a great point of pride for the mid-level watchmaker to have made a watch that did what the esteemed Omega moon watch could not. Commander Scott's watch went on to sell for over $1.6 million at auction just over two years ago.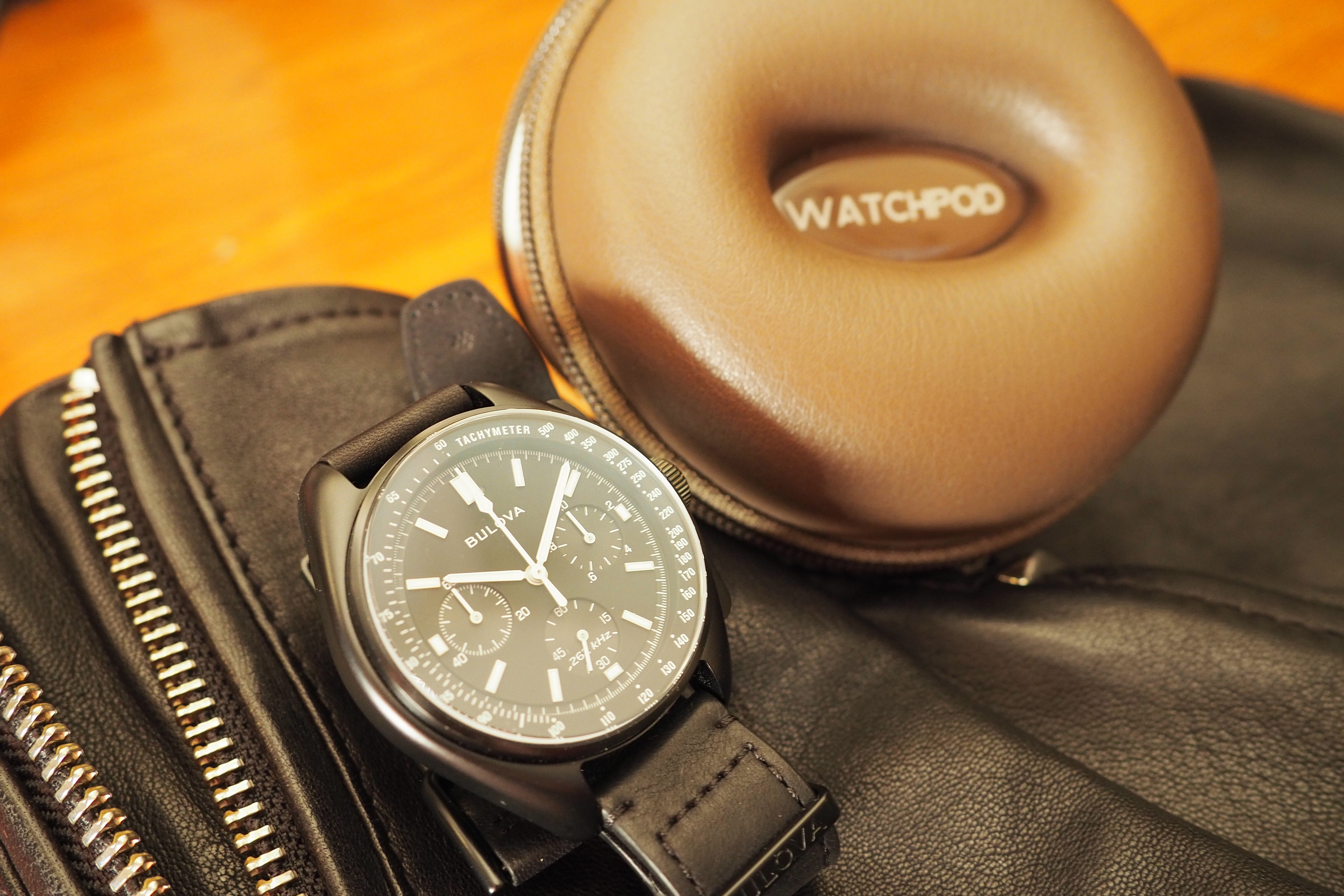 Well, to commemorate such an incredibly great testament to the quality of its watches, Bulova has created an updated version of that watch, now called the Lunar Pilot. The new model is a fairly faithful recreation of the original watch that famously actually made it to the moon. While the design of the new model was inspired by that original piece, this new watch has been thoroughly refreshed, bringing the style and technology into the modern era.
PVD Coated Case
The 316L-grade stainless steel case sports a matte black finish thanks to its PVD coating. This rounded-at-the-corners case features elongated pushers on either side of the crown, just like the original watch that inspired it. At 45 millimeters wide and 50 millimeters lug-to-lug, it's worth keeping in mind that this watch might be too large for some buyers' taste. The bezel is quite thin and stationary, just like the one on the original Bulova moon watch, giving plenty of space to the dial.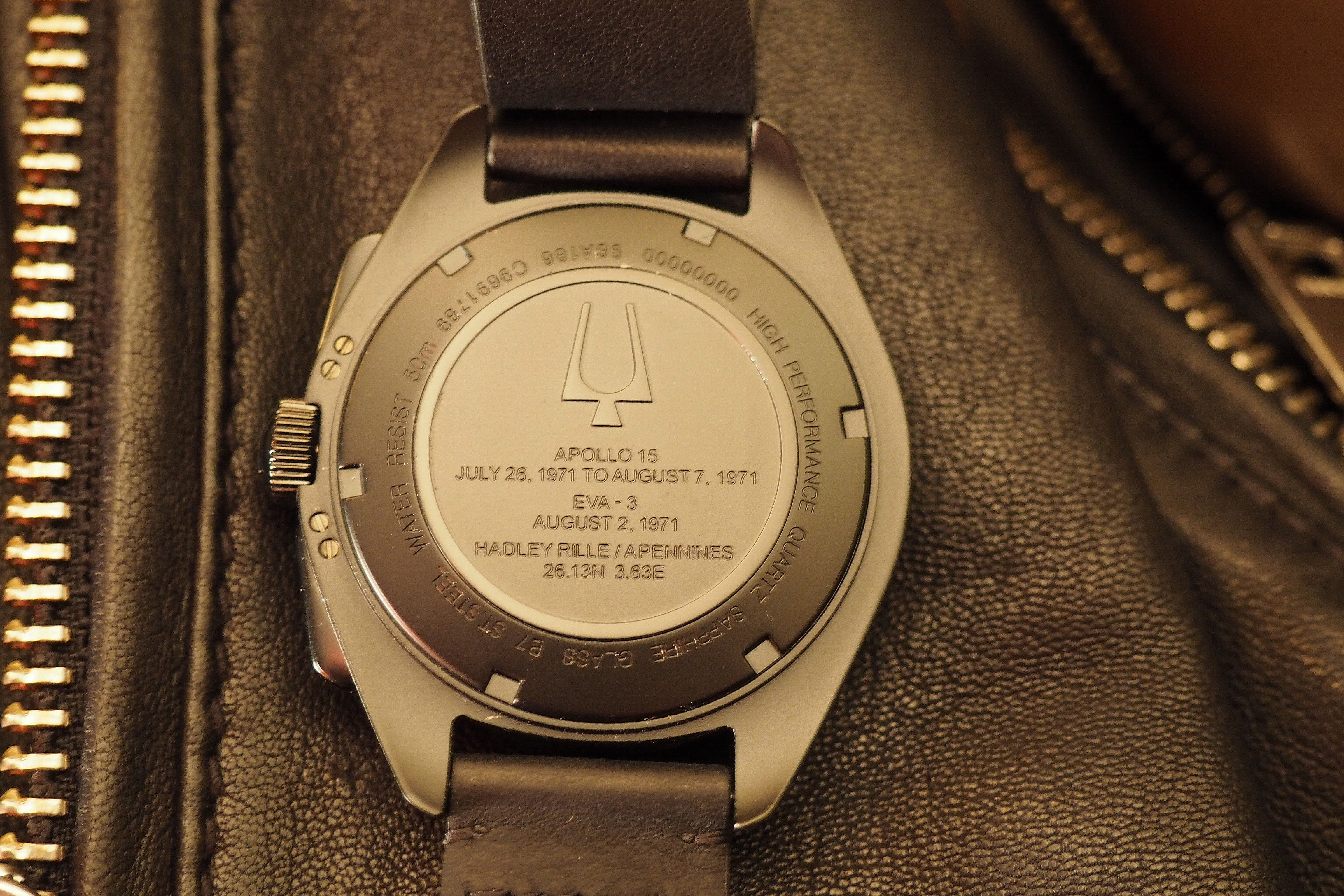 > > > Click here to see ratings, reviews, specifications and prices on Amazon < < <
A 50-meter water resistance rating is somewhat underwhelming for a sporty watch like this. Of course, this is a moon watch and not a diver so prolonged submersion really isn't this watch's forte. A commemorative engraving on the back of the case proudly lists several details of the Apollo 15 lunar mission that this watch's forbear took part in.
Easy To Read Dial
White on black is the theme of the dial, and it lends a very elegant and sophisticated look to the watch. An AR-treated sapphire crystal covers the dial. Speaking of that crystal, notice how the dial window extends a great deal above the bezel, making for a very interesting side view.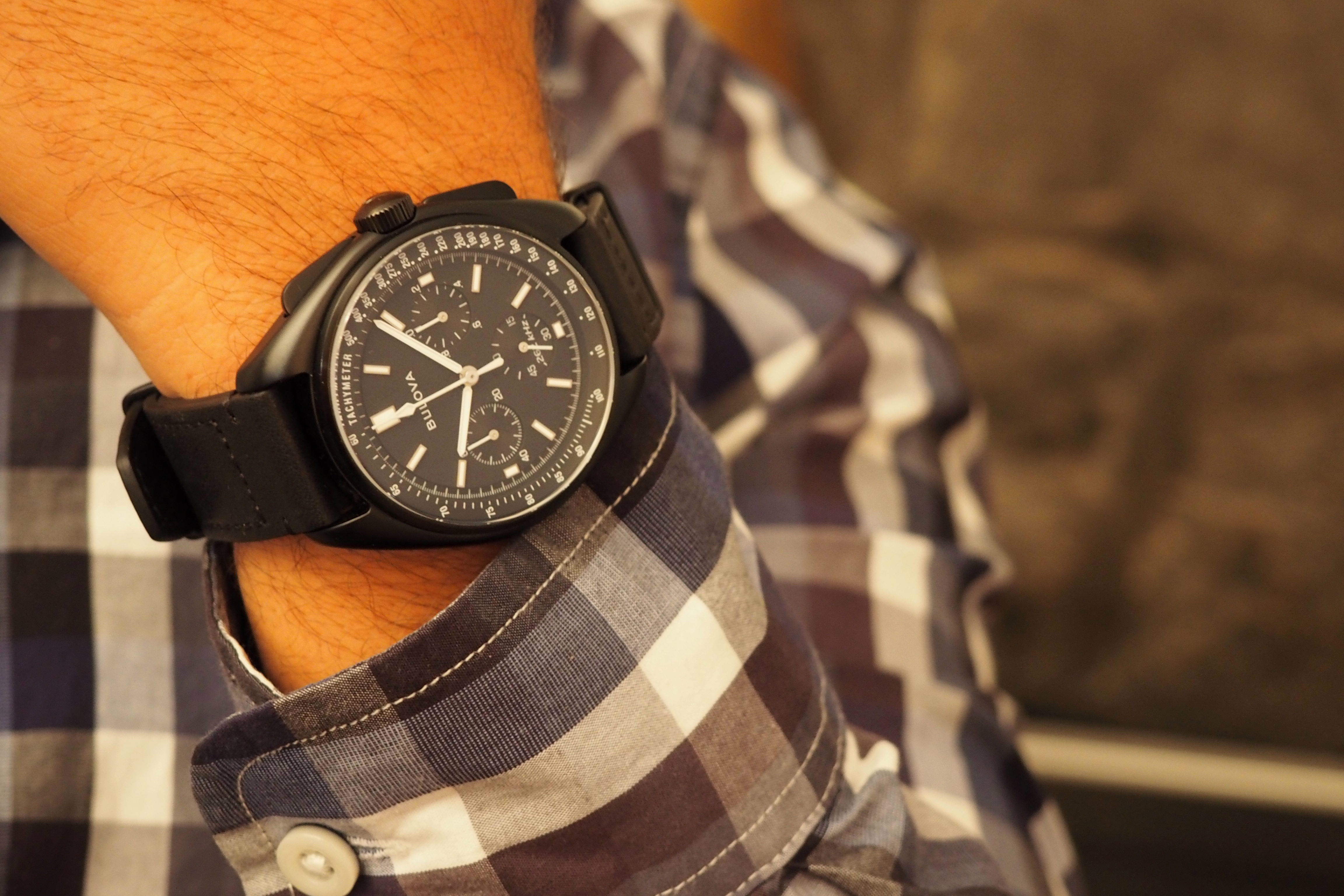 "262 kHz" is proudly written on the lowest of the three dials, which is basically Bulova boasting of its high-end movement (more on that later). As you can see, this watch also has a chronograph function, with the long white hand actually being a chronograph hand, while the seconds are counted on a subdial.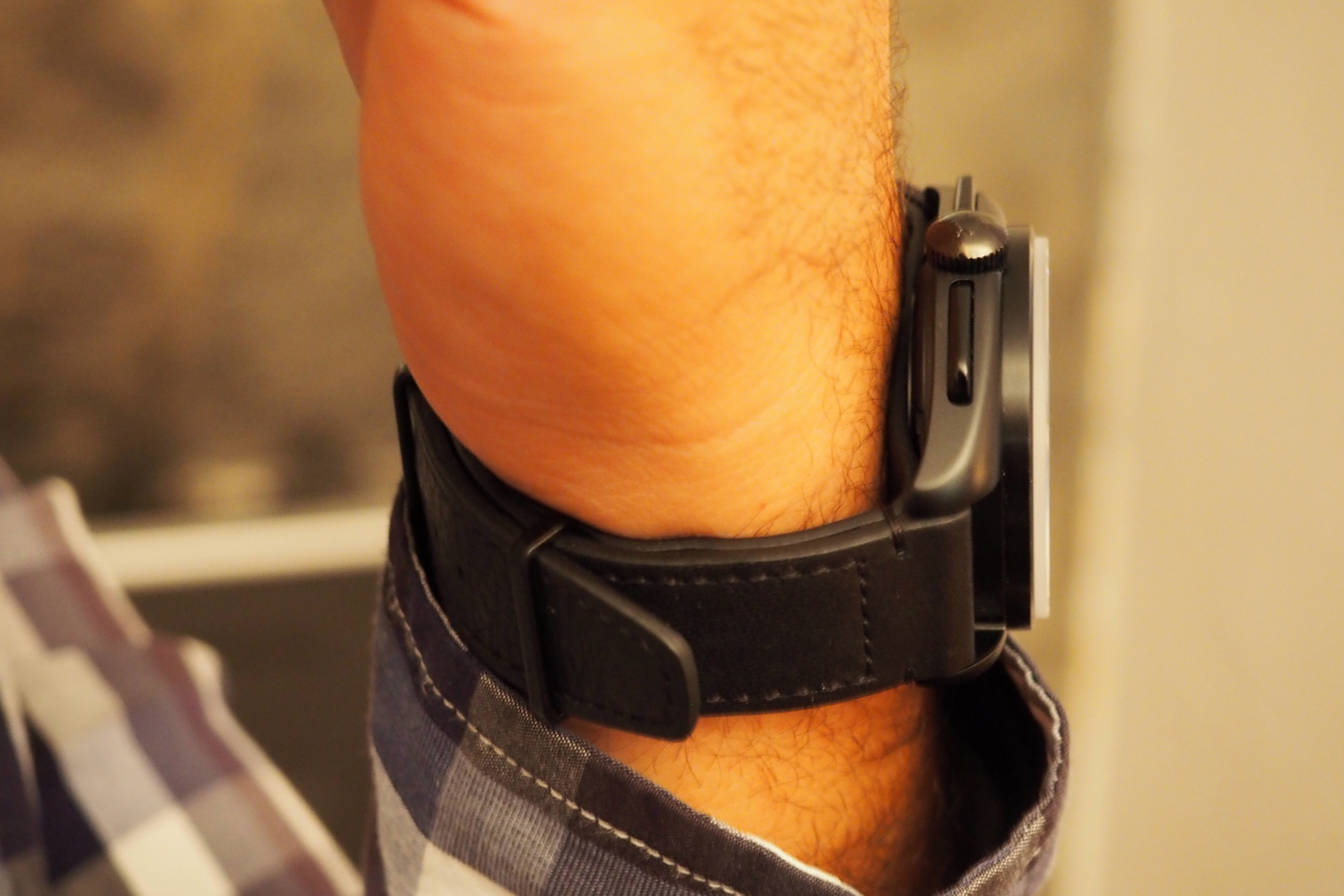 > > > Click here to see ratings, reviews, specifications and prices on Amazon < < <
Super luminous are the hands and hour markers, and you would need them to be if you were to actually take this watch to the moon, but a very handy feature even for those of us with no plans to leave Earth. A tachymeter sits on the very outside of the dial, used for measuring speed and distance. Unlike the original Bulova moon watch, a date complication is standard on the new model, with the window situated between the 4 and 5 o'clock markers.
Movement
Bulova uses a proprietary 262 kHz quartz movement that features chronograph and date complications. Known for their extreme accuracy even compared to normal quartz movements, these 262 KiloHertz movements are rated to have a variance of only about 10 seconds per year, so even when it is running poorly, you shouldn't be much more than a minute off in the span of 10 years. Not only that, but this movement also gives the second hand and chronograph a very smooth, automatic-like sweeping motion. Simply incredible.
Strap
The Lunar Pilot's black leather NATO strap feels very high quality, It's thin with a supple touch. The black is very dark and matches the pitch black color of the PVD case. The NATO strap that comes with the 98A186 version of the Lunar watch is quite different to the two piece band that comes with the silver cased model .
Final Thoughts
I don't think I am alone in being attracted to watches with a famous history. The amazing story behind the new Bulova Lunar Pilot is sure to draw loads of interest from the watch community. The good news is that Bulova has given the watch a lot of great features to retain buyers' interest beyond its history. I am thinking primarily of the great thick sapphire crystal and trick high-frequency quartz movement.
While it certainly is no Omega, this Bulova's $595 suggested price seems more than justified. It also comes with a 3-year manufacturer warranty; a nice reassurance that the manufacturer is confident in the quality of this timepiece.
You can view Bulova's entire range of watches on their official website here.