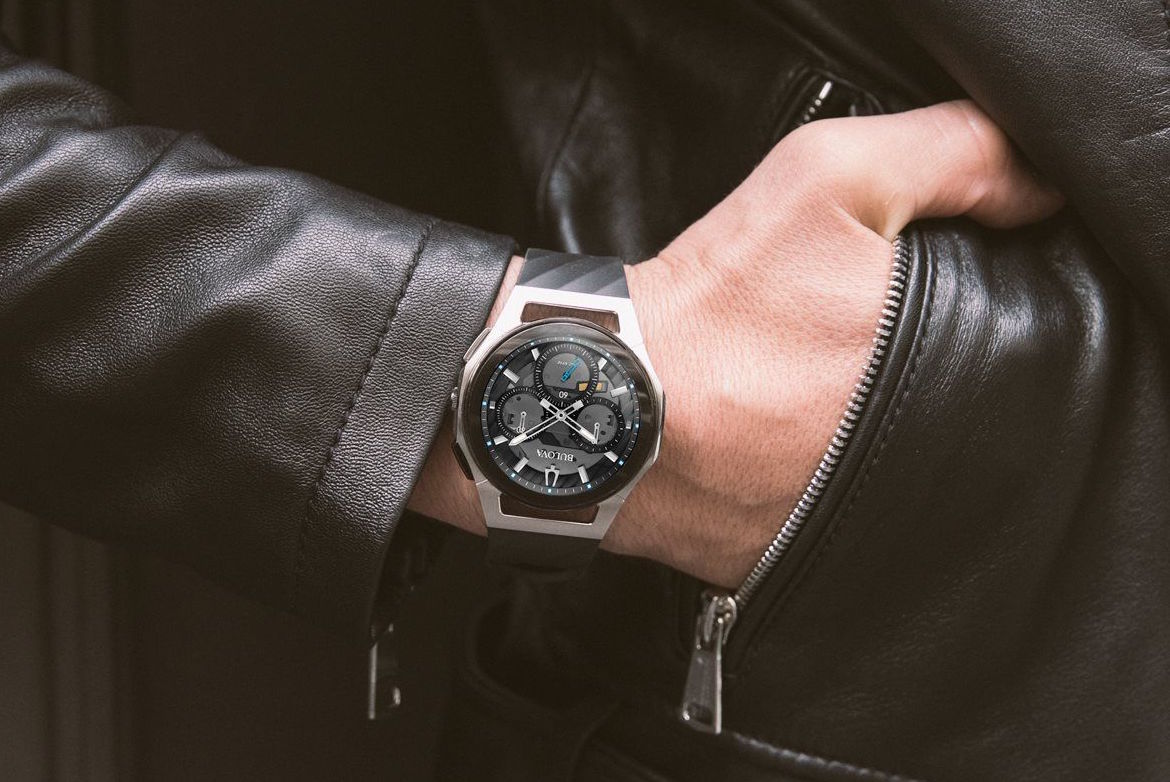 The Curve collection from Bulova are a very interesting and revolutionary set of watches that feature Bulova's new high-performance quartz movement, running at 262kHz to ensure peak precision and unparalleled accuracy. The model 98A161 is extremely unique and fresh, featuring curved sapphire glass, a five-hand chronograph in a stainless steel case with a black bezel, a dark grey exhibition faceback, and an exhibition dial with blue accents. This is one of the cleanest and best-looking watches on the market in this price range, and it's a fantastic addition to Bulova's patented Curv series.
> > > Click here to see ratings, reviews, specifications and prices on Amazon < < <
98A161 Specs & Wearability
You really need to try a watch like this on to truly get a feel for what it's like and how it looks. The band material on the 98A161 is high-quality rubber, so it certainly will hug your wrist comfortably without sliding all over the place and ripping out arm hair along the way. The quality alone of the band is pretty incredible and looks absolutely fantastic while being equally as comfortably and easy to wear. Additionally, the watch is water-resistant up to 30 meters, though I wouldn't actually test this out because even though I trust Bulova based on their track record, I can't bear the thought of ruining this timepiece in anyway and choose to avoid any risk altogether.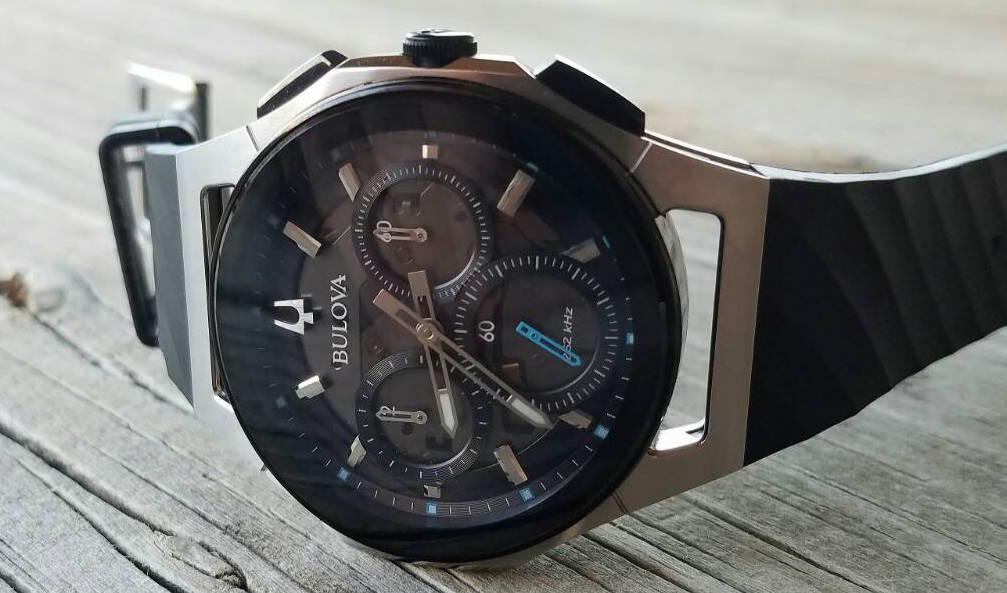 Along with the beautiful appearance and aesthetic of the Bulova 98A161 watch, it has fantastic functionality and precision in its movements. This watch features high-frequency quartz movements that operate at 262kHz, offering unparalleled accuracy when compared to other watches that have "traditional" quartz movements. The dial located at the bottom of the timepiece (6 o'clock) is used to measure seconds, as the watch itself lacks a standard second hand that many people might be used to. Although, if you're thinking of buying this watch you probably already knew this.
As other watches in the Curv series, this watch obviously features a curved display. However, unlike other watches that claim to be curved, the 98A161 is actually entirely curved. It doesn't have a flat display put into the case that appears to be curved; it's literally entirely curved. Again, it's really important that you try a watch like this on because it feels and looks completely different than what you'll see in a picture.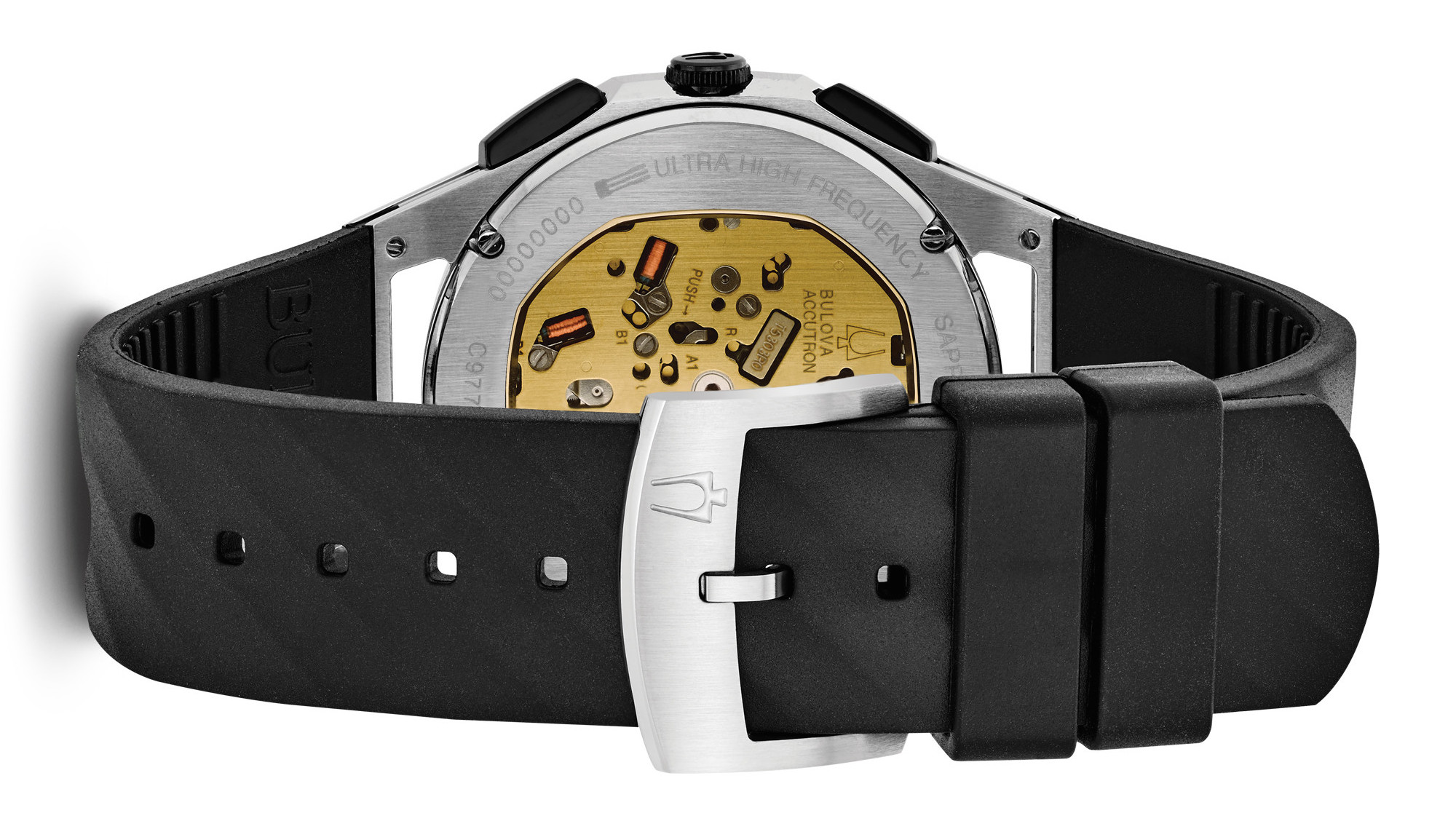 Does it suit you?
Overall, this is a premiere timepiece that features unparalleled accuracy and incredible precision as a result of the cutting edge high-performance quartz movement system that runs at a staggering 262kHz. The band is made of high-quality rubber and fits comfortably to any wrist and feels fantastic to wear, and it feels especially unique because of the curved engineering design of the watch. In addition to the outstanding functionality, the Bulova men's 98A161 CURV looks absolutely beautiful with the black design, silver dials, and ever-so-subtle blue accents that make everything else pop. If you prefer a watch with steel links, fabric bands, and gold or silver accents, check out other watches in the Bulova CURV collection series.
> > > Click here to see ratings, reviews, specifications and prices on Amazon < < <