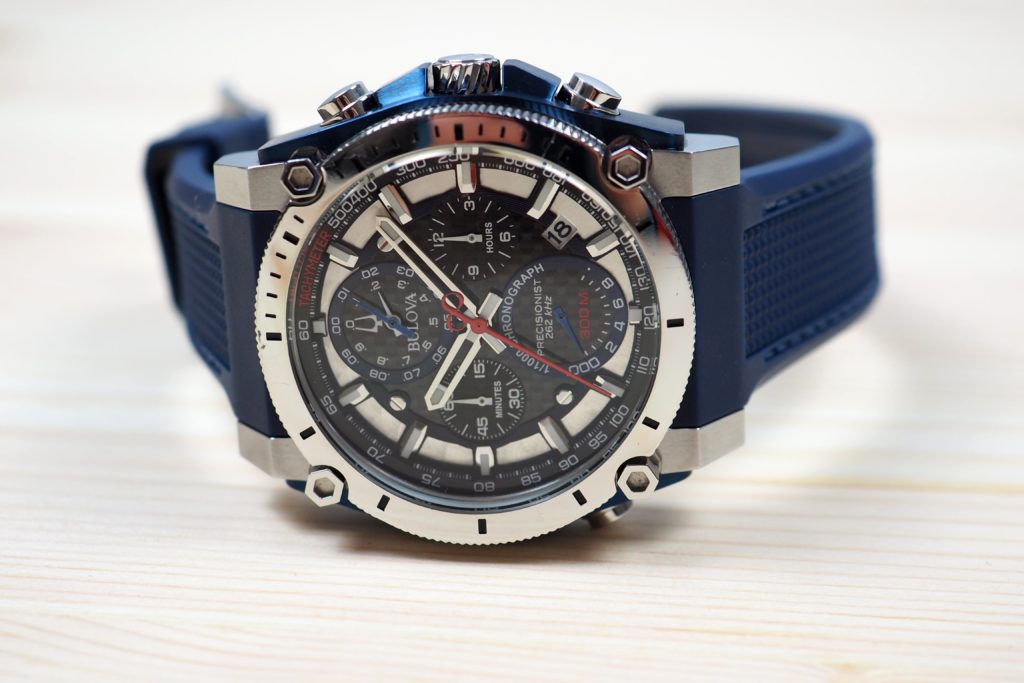 For fans of mid-range collectible watches, Bulova is one of those brands that needs no introduction. They've been around for over 100 years, and even though they're now owned by Citizen, they continue to produce quality, American-made watches. And while Bulova's Precisionist Chronograph line has been around since 2010, it seems like they're constantly releasing different versions. One of those, which I've had the pleasure to review, is the 98B315.
The 98B315 Movement
The most attractive feature of the entire Precisionist Chronograph line is the Precisionist movement, which utilizes a quartz crystal with a blazing fast 262kHz vibrational frequency.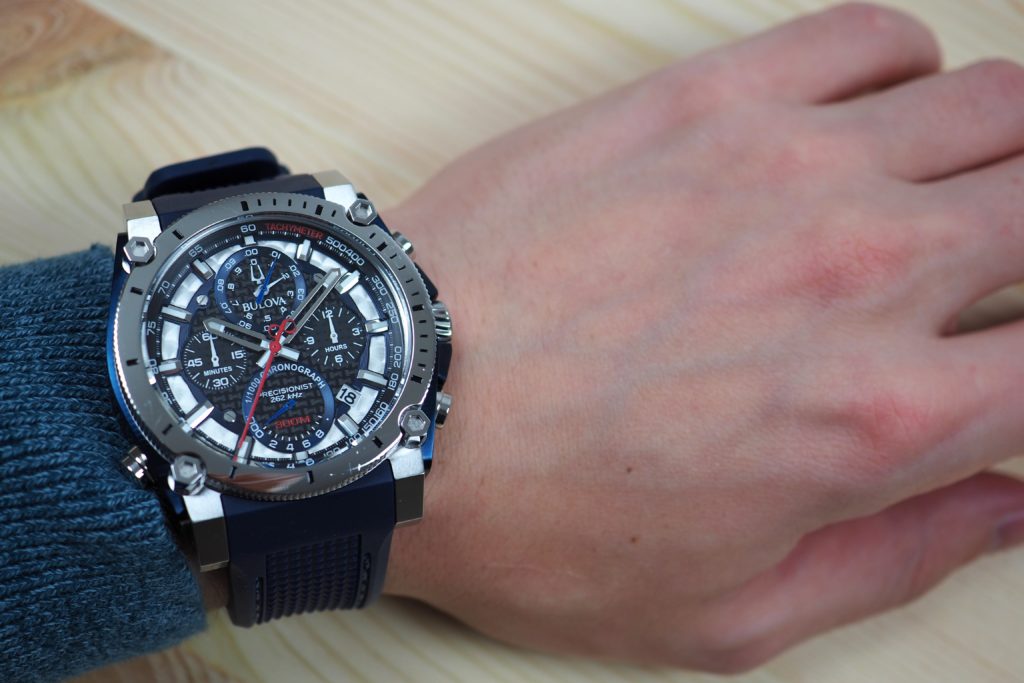 By comparison, a 22,000 BPM mechanical movement is ticking at an equivalent of 22kHz. While this is an apples to oranges comparison, the long and short of it is that the Precisionist is extremely smooth ticking. This can be a bad thing if you like to see and hear audible ticking. Instead, the Precisionist's hands transit the dial smoothly, with a sweeping second hand that's constantly in motion.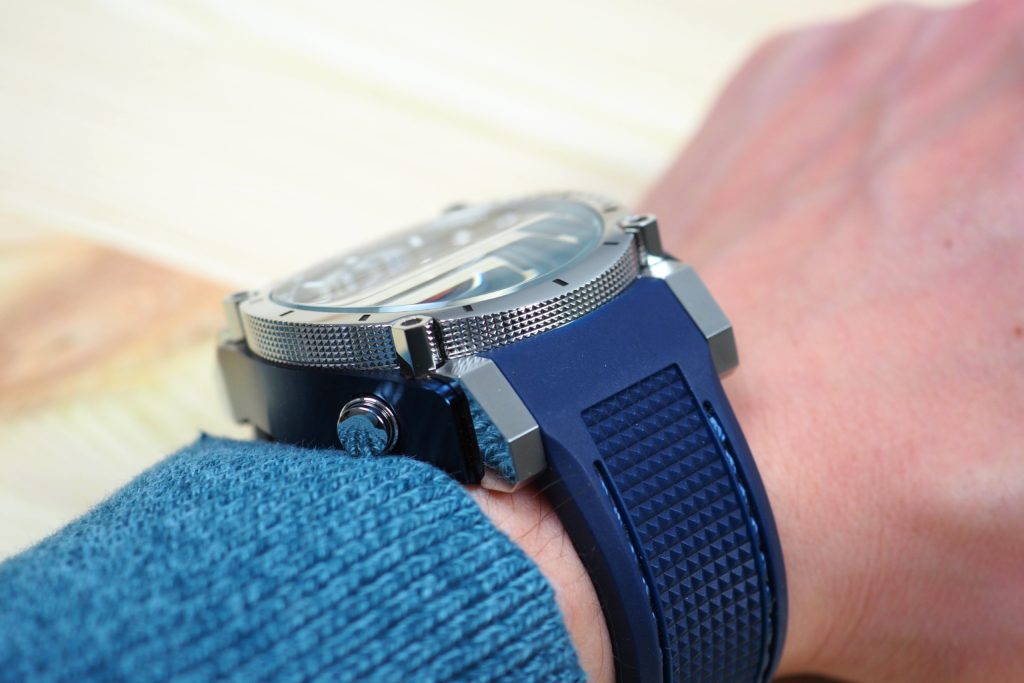 One benefit of this smooth motion is that you won't have to worry about the second and minute hands not lining up exactly, which happens all too frequently with quartz movements. Since the hands are always in motion, there's nothing for them to "line up" with.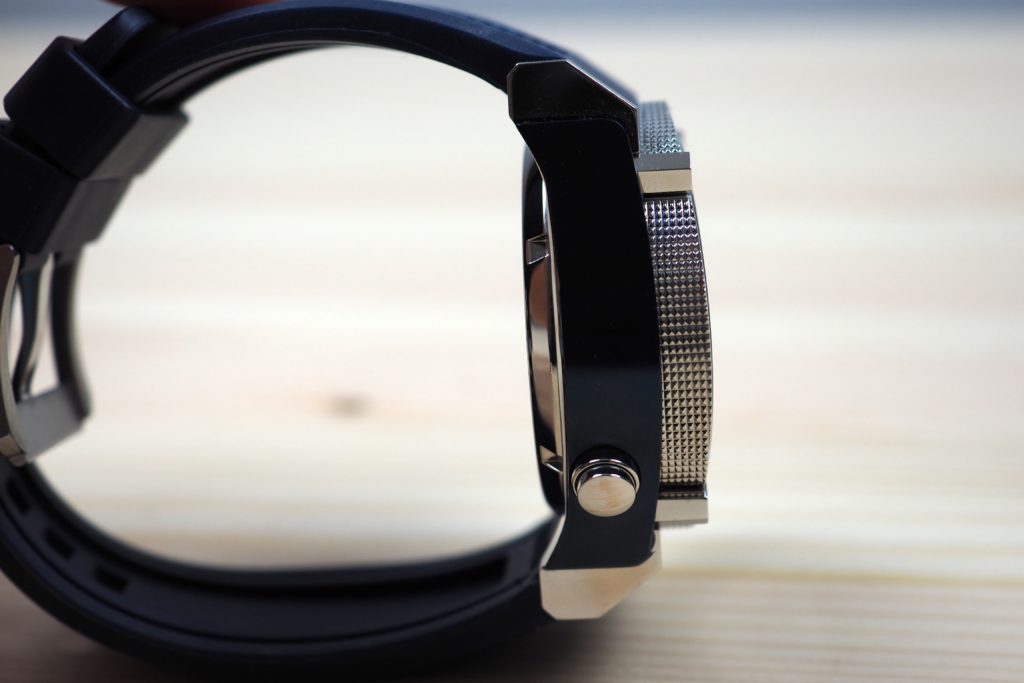 In addition, the Precisionist movement is true to its name. It's accurate to within +/- 10 seconds per year. That's not a typo. At that level of accuracy, this is a true chronograph, not a mere wristwatch.
The Dial
The Precisionist Chronograph's dial is a textured black towards the center, with a brushed chrome ring that contains the indexes. The indexes themselves are located at the 12 hour marks, with white lume hashes for night visibility.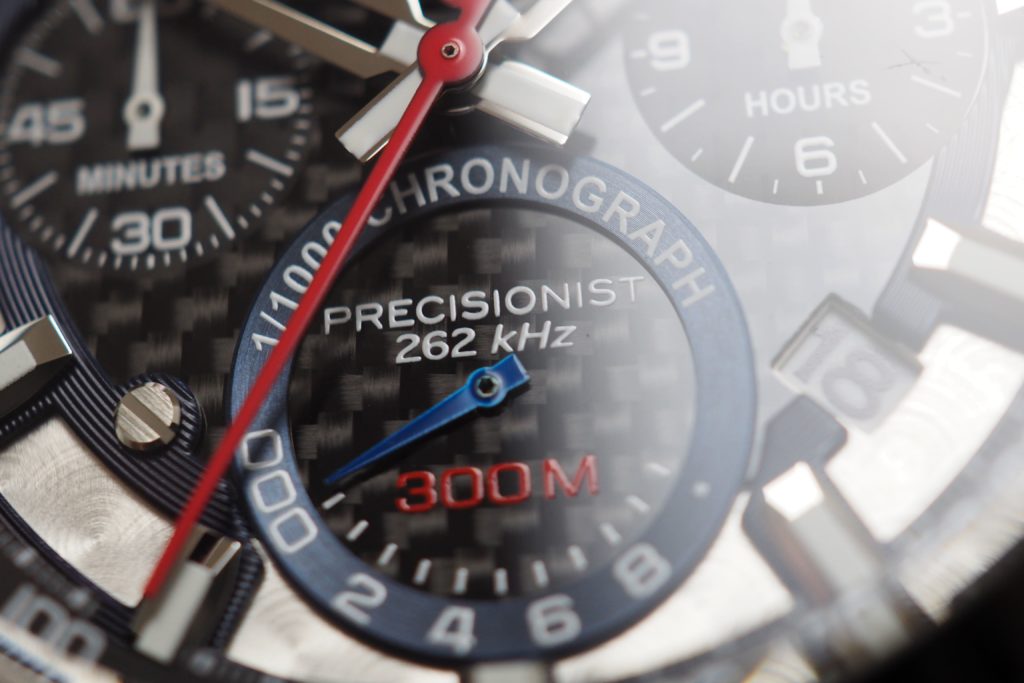 The hour and minute hands consist of wide steel frames, which are see-through towards the center and have small lume arrows at the tips. The second hand is slender and red, and doubles as a stopwatch hand. At the outermost edge, a red and white tachymeter dial offers you yet another function.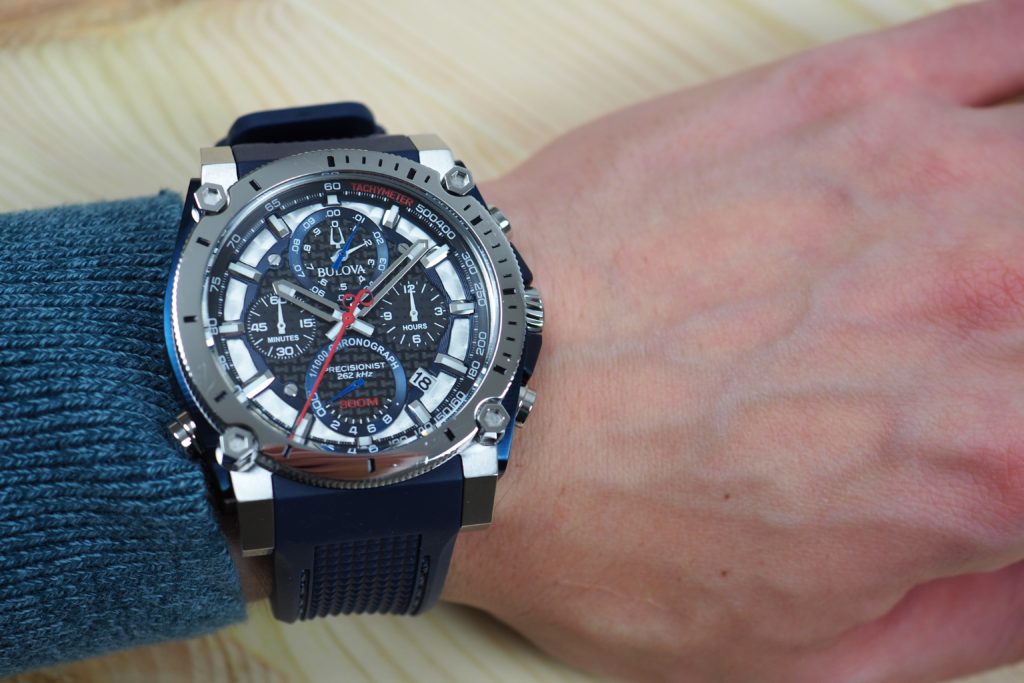 This watch has four separate subdials, located at the 12, 3, 6, and 9 o'clock positions. The top subdial is designed to count tenths and hundredths of a second, with two sets of indices for both of them. A pair of long and short hands track tenths and hundredths respectively. The 9 o'clock subdial counts minutes, while the 3 o'clock subdial counts up to 12 hours. The bottom subdial marks off thousandths of a second. When the chronograph is running, this subdial remains fixed at 0. Once you stop the chronograph, the hand will snap to the appropriate position.
The Crystal and Case
If you're looking for a small, classy watch, look elsewhere. The Precisionist Chronograph 98B315 is built like a brick, with a 46.5mm diameter and an even larger lug to lug measurement of 54.6mm. If that's not enough, the case is also 17.9mm thick, with a heavy-duty construction that includes a set of oversized Allen screws on the lugs. Needless to say, a case this beefy has some heft to it; at 260 grams (9.17 ounces), it weighs more than half a pound. You'll definitely know you're wearing it.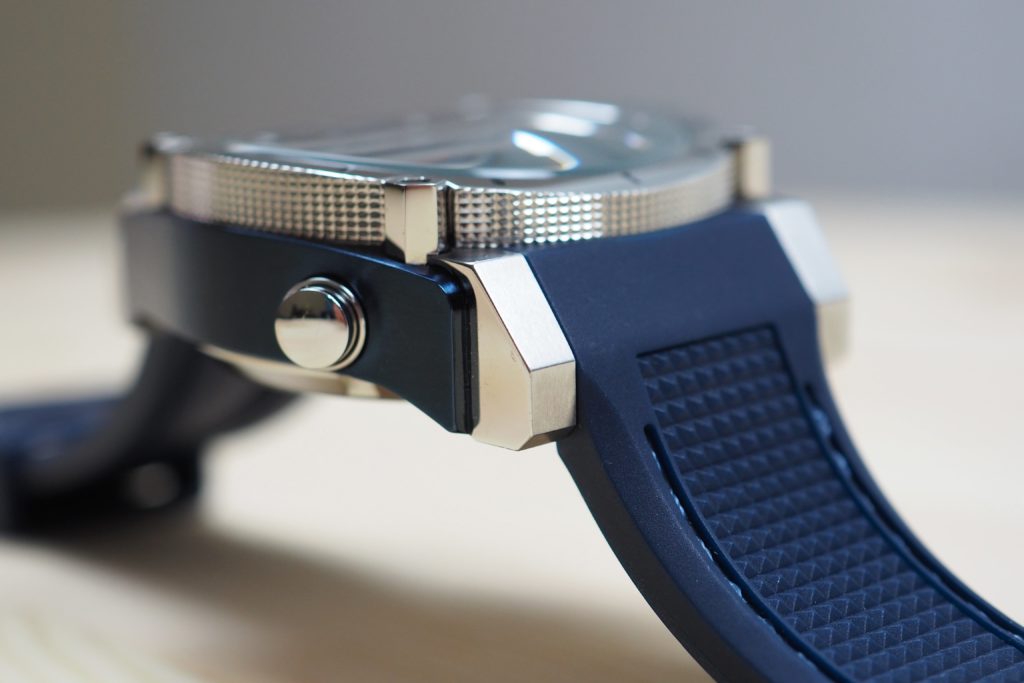 The four Allen screw heads cut into the edge of a large, fixed bezel that's more decorative than functional. It has black hashes that line up with the hashes on the inner tachymeter bezel, which slightly improves readability but is mostly just cosmetic.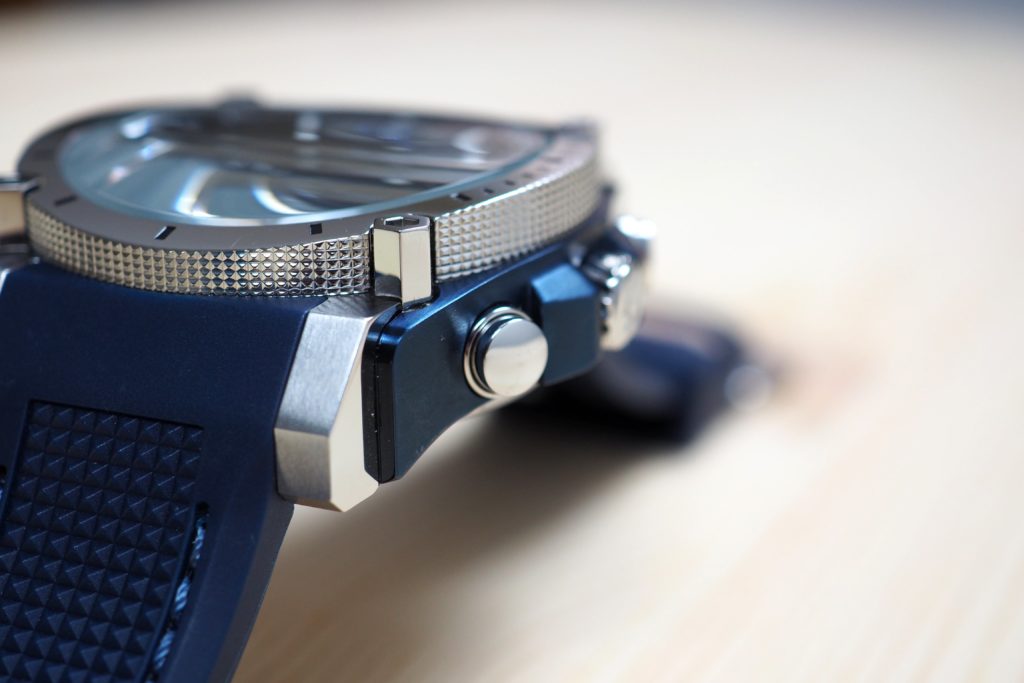 The mineral crystal is curved, further adding to the Precisionist's thickness. This crystal offers excellent glare protection, but can distort the dial when you're viewing it from a shallow angle.
A grooved, screw down crown occupies the 3 o'clock position, with smooth, hockey puck-shaped pushers at 2, 4, and 8 o'clock. The 8 o'clock pusher is used to switch between watch and chronograph modes, so it's positioned to be conveniently operated with your thumb. The case is water resistant to 300 meters. While this isn't technically a dive watch, you can wear it while diving without any issues.
The Extras
The Precisionist comes with a blue polyurethane band, with a finely textured center stripe that keeps the watch in place without feeling sticky. The band has stitching down both sides, which is purely cosmetic, but which adds a pleasant detail to a band that's otherwise pretty pedestrian. The stainless steel buckle is fairly standard, but it's well-built enough to do the job.
The Inspiration
The Precisionist Chronograph 98B315 was clearly designed as a racing watch. From the multiple subdials to the 1/1000 chronograph to the tachymeter on the bezel, it's hard to look at this watch without imagining yourself in the cockpit of a Formula One car. The fat, heavy case offers a lot of wrist presence, with a glistening dial that brings to mind the gorgeous chrome finish on a classic muscle car.