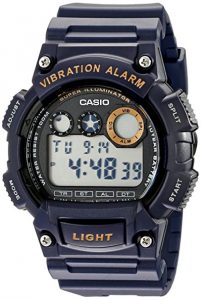 Since the late 1950's, Casio has been producing quality technology based products for consumers. From their first calculator to electronic keyboards and cell phones, Casio has had their finger on the pulse of what technology society is craving. In the 1970's Casio started working on their first wrist watches and eventually came out with the first G-Shock watch collection. This revolutionary watch was the first shock resistant watch that brought a new level of durability to the watch marketplace. Digital electronics are Casio's specialty, and they have been able to perfect this in the sports series of watches including the Casio Men's W735H-2AVCF Super Illuminator Watch.
> > > Click here to see ratings, reviews, specifications and prices on Amazon < < <
W735H-2AVCF Durable and Rugged Design
This rugged sports watch is an economical choice if you are looking for a timepiece that is both functional and durable. The W735H-2AVCF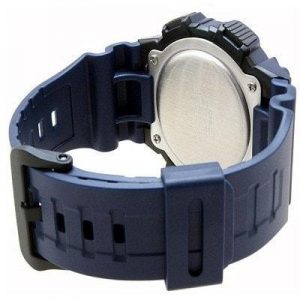 watch is made of resin and includes a 44mm case that is 15mm thick. Its masculine lines and large dial are perfect for any casual environment or sports related activity. The flexible wristband comprised of resin as well is 38mm wide and is standard men's length. It comes with a buckle clasp for added security and is relatively easy to change to a different band.
A stationary bezel and small function buttons surround the mineral crystal spherical glass window case that is scratch resistant but not as strong as a sapphire crystal window. At this price point, though, you cannot expect the higher end additions. With a digital display that is easy to read and three small dials that are placed at the top of the face, all your time keeping is positioned for maximum convenience.
> > > Click here to see ratings, reviews, specifications and prices on Amazon < < <
Time Keeping at its Best
You will find the extra features on the Casio W735H-2AVCF Super Illuminator perfect for sports related activities. There is a stop watch function that counts 1/100 sec – 24 hours, a timer that counts 1/1 sec. A second time zone can be added to the watch as well for those that travel for business or leisure. All of this can easily be read with the super illuminator high brightness LED light that is placed strategically on the casing for easy access.
One of the best features that the W735H-2AVCF Super Illuminator watch incorporates is the vibration alert and alarm element. You can set the clock to chime for those alarms that don't need discretion, or you can set the alert/alarm to vibrate for reminders in cases where being quiet and prudent are necessary. For individuals that are in loud environments or are hard of hearing, this digital timepiece is a great choice for you.
Keeping Track of Your Time
Automatic calendar rounds out the functions on the W735H-2AVCF watch, so you will never have to worry about what month, day or date it is. This sporty watch has a water resistance rating of 100m/330ft, so it is perfect for any sporting endeavor except scuba and diving. It comes with a 10-year battery for long lasting usage and changing the battery is simple with the screw back casing. It even comes with a battery level low tone that reminds you its time to change the battery.
Overall, the Casio Super Illuminator is a great watch that will give the wearer a sporty look combined with rugged durability. The price point is low, but you will find that the functions that this watch comes with are more than expected. With features like the vibrating alarm and high powered LED backlighting, this watch is a great addition to any man's wardrobe. It can be worn every day and is the perfect choice for sports minded individuals.
Creativity and Contribution
Casio believes in customer valued durability and this watch is synonymous with their vision. Their primary objective has always been to create products for the marketplace that are reliable, durable and economical. Through Casios comprehensive quality testing and high levels of manufacturing technology, you can rest assure that your purchase is made soundly.
With advancements in technology, Casio continually brings great products to the marketplace. From the newest G-Shock series with six multi-band radio controls (the first of its kind) to radio controlled solar-powered timepieces, calculator watches, to wrist mp3 players, Casio is there to discover and create the newest trends.
Casio believes in contributing to world sustainability. With their corporate vision and creed, Casio is reducing their carbon footprint to make a better future for generations to come. The combination of all of their beliefs makes Casio a leader in technology, sustainability, and innovation. With simple designs and modern conveniences, the Casio Men's W735H-2AVCF Super Illuminator Watch is spot on with the Casio brand and is a watch that you can rely on for years to come.
> > > Click here to see ratings, reviews, specifications and prices on Amazon < < <